The iconic Blackhawk tire name originates from the strength, agility, speed and razor-sharp grip found in the powerful bird of prey itself, so it should come as no surprise that the authentic tire company goes beyond making great tires.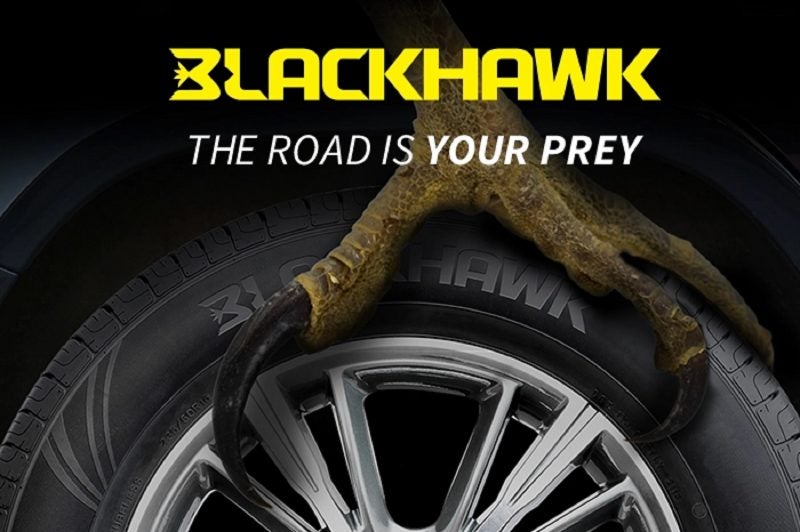 Today fans of the Blackhawk brand can purchase premium Blackhawk tire clothing and accessories through the official online store at blackhawktire.com. Whether you are a fan of the sleek Blackhawk hoody or the motorcycle-inspired t-shirt or one of the many other Blackhawk accessories, the new Blackhawk e-commerce site has something for everyone.
The full lineup of Blackhawk tire products are designed to symbolize the same adaptive attributes and confident characteristics as the fearless Blackhawk bird, in order to deliver inspiring performance for cars, trucks, crossovers and SUVs. Ruggedly tested to meet the highest of standards, the instinctive engineering behind our bold tread patterns and extensive use of complex rubber compounds allows drivers to command the road ahead and never look back.
"We're excited about the launch of this e-shop to provide merchandise that matches the brand attitude and qualities. Blackhawk believes in delivering great quality tires at fair prices for every driver. We want consumers and retailers to proudly wear and use our merchandise knowing that it represents a brand with authentic passion for performance and a voice that demands to be heard," says Rob Ulias, VP Commercial Sales, North America at Blackhawk Tire.
Blackhawk tires can be found exclusively at OK Tire retailers in Canada and through the Tire Alliance Group in the United States. The new e-shop can be found under the 'SHOP' menu tab at blackhawktire.com. Current Blackhawk retailers can also reach out directly to their sales reps if there are any Blackhawk brand items that they would like for their shop.
Mark Pereira, Director of Marketing at Sailun Tire Americas (STA) added that "this represents a great opportunity for the Blackhawk brand to grow and share the humble, yet fearless culture found at its core. Everywhere we go, people ask where they can get one of the Blackhawk shirts or hoodies and now fans of the brand can pick up whatever Blackhawk clothing or accessories they would like through the e-store or by contacting their sales reps."
With Blackhawk tires, the road is your prey.
Direct link to e-store Canada
Direct link to e-store USA