A well-dressed man never goes out of style. Whether you're at work brokering a business deal, or you're heading to dinner with your latest love interest, the clothes make the man. Dressing for style doesn't need to be complicated. In fact, with a closet filled with several key pieces, you can easily elevate any look.
Most attire is only worn in very specific situations, so you can likely categorize your clothes by what you're going to do while you're wearing them. It's unlikely that you'll wear a suit and tie to the gym, or sweatpants into the boardroom.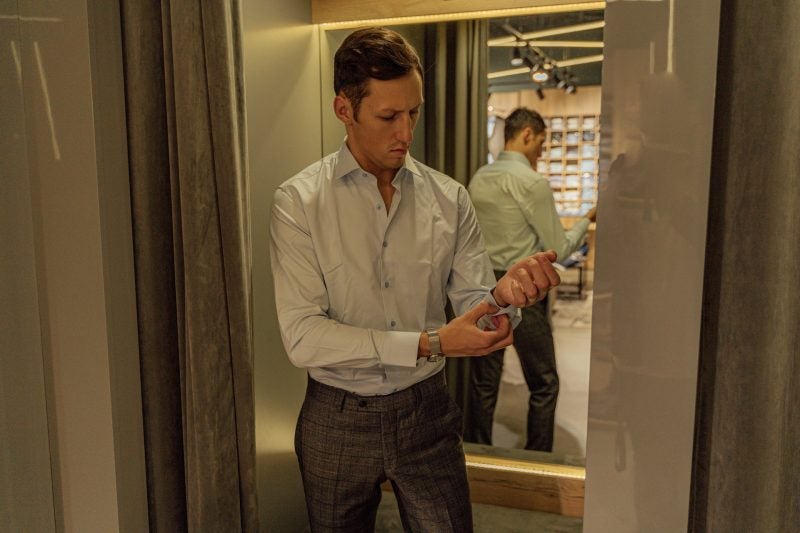 Work
It all depends on the kind of work you do, but if you're in an office, running to business meetings, or you're leading a team, it's likely you'll need a great suit, button-up shirts, and several ties. While many things have changed in fashion over the years, the value of a great suit should not be underestimated. It's best to focus your work wardrobe on subdued ties, a pair of slacks for each day, and a suit jacket when appropriate. You'll need a good pair of dress shoes. And you can easily add some personality to your look when you carry your things in one of many bags.
For a business casual look, you can add in a pair of khakis, and perhaps even a modern polo or other top-button style of shirt.
Date Night
The nice thing about a date night look is that you can easily take your work clothes to an evening out with just a few shifts. Of course, it depends on how formal you want to be during your date, but take off the tie, unbutton the top button of your dress shirt, and untuck your shirt (if it's designed for that). You can easily have a dressed-up date night with just a little shift. Men's designer clothes are the perfect way to impress any date.
For a casual date, a great pair of jeans and a clean t-shirt never go out of style. They are classic and make a man look and feel amazing. Add a stylish jacket or sweater to complete the look. You can even switch out the dress pants for jeans, and keep the button-up shirt on. The key is to pick clothes that make you feel your best.
Home
While it's likely no one cares exactly how you dress at home, the stylish man cares. Home clothes will depend on so many factors. Of course, if you're working on messy projects around the house, something sturdy that you don't mind getting dirty will go a long way. For working out, functional is best. You want pieces that fit your body and help you with the activity you're doing. Lifting weights requires tighter fitting clothes than running in the snow. You can wear stylish sweatpants, gym shorts for playing basketball, and athletic shirts that look good and wick away the sweat.
Special Events
Weddings, funerals, conferences, and even late-night parties each have a unique level of dress expected. You can't go wrong with a stylish suit for a wedding. You just want to make sure you don't try and outshine the bride or the wedding party. A simple black suit for a funeral shows respect for the family and isn't flashy. The key here is to wear something subdued and considerate.
Conferences usually offer the opportunity for business casual attire. A nice pair of dress slacks, khakis, or in some cases even a good pair of jeans can be worn. Learn some great manners for those coffee meetings and you'll make a statement with any new connection you make. For shirts, think button-ups, sweaters—those convention centers can get cold—and a few simple accessories. Getting dressed up for a late-night party should be comfortable but sharp. Take your date night look and add some extra style. Colorful shirts are more appropriate in this environment and can be a lot of fun to wear.
Dressing for any occasion does not need to be hard. As you build your stylish wardrobe, have dress slacks, a suit jacket, a couple of sweaters, and button-up shirts that are both subdued and wild. Have fun with your accessories, shoes, and even your ties. Your home looks can include jeans, t-shirts, and so much more. Add style with jewelry, watches, and even hats.