Men's luxury personal care brand Blu Atlas has released its signature eau de parfum fragrance, Atlantis. This drop isn't just any drop. It's one that will pave the way for many other companies in the future. This natural brand is starting a movement in men's care, which could cause men's lines to move in a more natural direction for their skincare products and fragrances.
Atlantis, with notes of bergamot, clary sage, and patchouli begs the wearer to embrace the unknown and remain outside the box– the aroma seems to encourage the consumer to be their true self. The sweet, herbal, woody scent brings out the sensitive, more seductive side of man.
Why Blu Atlas?
Many companies release colognes with a specific audience in mind, tailoring their fragrance to consumers either by their price or product descriptions. This may be a good sales tactic to attract consumers who have more money to blow, I guess, but an everyday individual might read the description of some colognes and turn away, thinking it's not for them. Blu Atlas's Atlantis is not that kind of cologne. In my opinion, Blu Atlas could be worn by anyone.
Blu Atlas is one of the most accessible luxury men's colognes I have seen, based on a simple Google search where the prices of luxury colognes were listed anywhere from $120 to $3500. Meanwhile, Atlantis retails at $100, and a steal of $80 if you subscribe to receive the cologne every thirty days. With Blu Atlas being an all-natural brand, the price is surprising. Usually, all-natural brands hike up their prices because the cost of natural ingredients can be so much more expensive than synthetic ones!
A lot of luxury fragrance and personal care brands do not promise safe ingredients for their consumers; Blu Atlas does while also being budget-friendly. Talk about trendsetting! It seems like people have picked up on this fragrance, as on the Blu Atlas website they reveal that due to high demand they currently are not able to ship their fragrance out until May. All of this being said, Blu Atlas as a whole may start becoming a household name, as it stands completely in its own lane.
When I first read reviews about Atlantis by Blu Atlas and saw that the keynotes were bergamot, clary sage, and patchouli, I wasn't sure if I'd like it. expected it to be muddier because of the patchouli while having an earthy, sweet but malodorous scent because of the clary sage. I honestly didn't know what to expect with the bergamot top note. Boy was I wrong.
Atlantis makes me envision a beautiful spice garden next to an orange tree. I see cardamom and cinnamon plants waving in the hot, summer breeze while the oranges fall with a strong gust of wind. The initial whiff of Atlantis threw me for a loop! It is strong but quickly becomes delicate and balmy, continuously reeling me in. I kept inhaling, closing my eyes, enraptured by the scent. If my boyfriend wore this cologne, I honestly would not be able to stay away.
The scent of Atlantis feels inviting, warm, and welcoming. This cologne is sexy; the clary sage and patchouli mingle for a clean, suave, and versatile scent. It is probably the most different men's cologne I have smelled and would be one I also recommend for people defying the regular binaries of gender expression.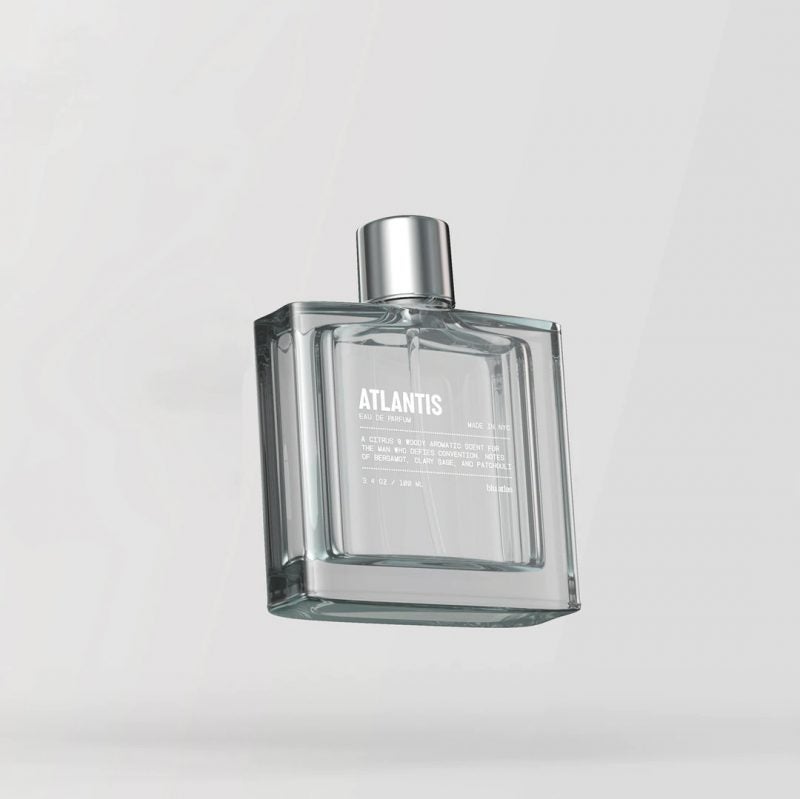 It's masculine, but also quite delicate, and as a non-binary femme I would pair this cologne with a feminine look and allow myself the comfort of having the seductive, masculine pull. My boyfriend would pair this look with a nice set of khakis and a simple turtleneck with his favorite Toni Braxton sweatshirt on top. It would smell so much differently on both of us—and that's what makes Atlantis so special.
Atlantis Eau de Parfum can be worn daily if you like—I would suggest applying it to the neck and around your torso, to your wrists, too. But don't rub them in—just let the scent dry naturally. For everyday wear,  I would make sure your skin is moisturized, which allows the fragrance to last longer! If you're interested in other products in the Blu Atlas catalog, I would suggest trying the whole skincare routine: the shave cream and aftershave, face cleanser, the serum and moisturizer, the eye stick, and then spritzing Atlantis.
If you like to layer colognes or want an extra boost, I would recommend a similar cologne depending on the vibe you're going for—something fresh and light for the spring and summer months, or something deep and earthy for the fall and winter, something crisp! Play with this fragrance and create what you want it to be, as it could match well with so many things. You could also wear it by itself for a woody, natural scent that lasts all day.
For special occasions like weddings, fancy work parties, and big events, I would layer Atlantis with another fragrance just to turn heads because I'm flashy. On a normal day, I'd just stick to Atlantis by itself, not overdoing it, just using enough for that all-day natural tinge. The scent reminds me of a botanica, and it makes me want to go shopping!
I want to give you a good glimpse into this cologne before you try Atlantis. Bergamot as a top note is a strong beginning to the aroma of Atlantis with its down-to-earth, fancy orange soda kind of scent. It's youthful and playful but has its serious moment as clary sage takes over the scent while it starts to dry. The era of the bergamot in Atlantis is quite short-lived, and even though I wish it didn't go away so quickly, clary sage does a good job of coming in to save the day.
Clary sage, an aphrodisiac by inhalation, is what gets me the most. This sweet and herbal heart note blends this unique scent. Though quite popular in men's cologne, the addition of clary sage to this blend makes Atlantis feel so original. It has a slight hint of a classic men's cologne that transforms into a fresh, new-age combination.
This fragrance is young-minded, but not in an immature way. It can be worn by people of any age. It would be a surprise to find a man in his 70s wearing this, but it would add a certain originality to him that would attract many, just as it would for a man in his 20s. The base note of patchouli adds a depth that bergamot and clary sage could not touch. Patchouli has a cryptic amount of spice and flair that flirts with you in a way that makes you ask, "Why does this smell so good?"
As previously noted, Blu Atlas may become a household name in the near future. As Atlantis Eau de Parfum keeps booming in online sales and physically around the world, more people will become aware of its amazing aroma, which I hope encourages Blu Atlas to add more fragrances to their catalog. I can't help but wonder—will Blu Atlas's Atlantis become a natural classic? I'll let you decide.