At 30 years of age, with over a decade of professional Mixed Martial Arts fighting, and some 20-plus wins to his credit, Conor McGregor is retiring. For the moment.
So is Connor REALLY Retiring?
The announcement came Tuesday morning on Twitter, with McGregor simply stating, "I've decided to retire from the sport formally known as "Mixed Martial Art" today. I wish all my old colleagues well going forward in competition. I now join my former partners on this venture, already in retirement."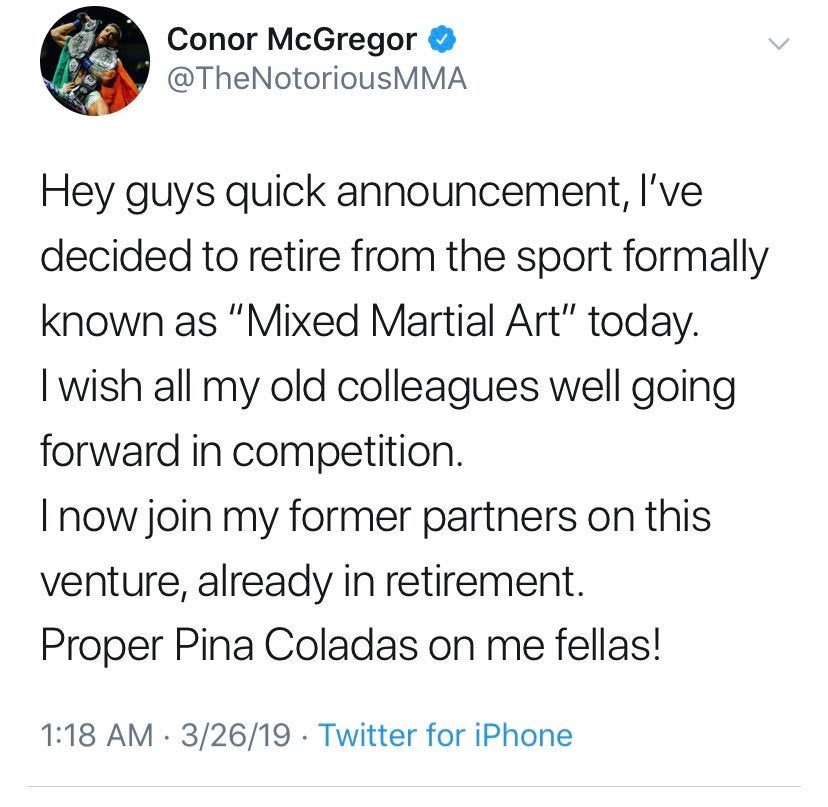 He's looking to forward it, adding, "Proper Pina Coladas on me fellas!"
While it's not necessarily a surprise given his age, UFC accomplishments, and successful branding efforts that will allow for a lucrative post-fighting career, what's in question is whether or not McGregor will stay retired.
"I love to compete, I love to fight," said McGregor during a taped segment on The Tonight Show with Jimmy Fallon that aired on Monday night. McGregor talked about celebrating St. Patrick's Day in New York; the statements he made are very recent. When Fallon asked what's next in terms of fighting, McGregor responded, "We're in talks for July. To my fans, I am in shape, and I am ready."
"There are many opponents, I fought a lot, I never pulled out of contests." However, he then added, "I don't necessarily need to fight. We will see what happens."
Of course the reason he was featured on Fallon, and the reason he doesn't "need to fight" is that he is working hard to promote his new whiskey venture. Proper No. Twelve is a triple distilled Irish whiskey blend, which both McGregor and Fallon enjoyed while drinking at a bar during the segment. UFC President Dana White made sure to mention the whiskey during a supportive tweet responding to McGregor's retirement. The whiskey has gained a lot of press and attention, as well as a big following on social media, so McGregor has already found success (and money) in marketing.
It was only a few weeks ago that McGregor was arrested in Miami Beach for allegedly smashing and stealing a fan's phone. He was booked and charged with strong armed robbery and criminal mischief, later released on a $12,000 bond.
The retirement announcement comes just a couple weeks ahead of the culmination of a six month suspension McGregor received for his part in an October 6, post-fight brawl with Khabib Nurmagomedov. If he does in fact stayed retired, that will have been his last fight, a Pay-Per-View event in Las Vegas that saw him submit to the Russian fighter for the championship.
So take it with a grain of salt – especially since McGregor announced his retirement from fighting in a cheeky 2016 tweet, although that was a bit more vague and casual. Announcing retirements from sports in general aren't sacred; when part of the job is generating hype and attention, it's far from set in stone. It's a lucrative narrative for McGregor: he gets attention for his Whisky with this announcement, while perhaps setting up a fighting in secret, and then returning triumphantly to the ring with all eyes on him.