Before the days of smartphones, social media or even the iPod, life was all about playing Snake on our Nokia 3310's while busting out the same album on repeat from our CD Walkmans. Taking out an enemy playing their Xbox from across the world with a sniper head-shot in real-time while shouting profanities to them via a microphone didn't exist, there were just plain old simple Crash Bandicoot and its three islands that needed conquering.
The speed of technology's evolution is at an all-time high. As we speak, one of the most immersive, disruptive and life-changing technologies of this decade is being developed across the globe. One that has the potential to alter just about everything we ever do from socializing and dating to the way we shop, eat, and travel.
What are we talking about?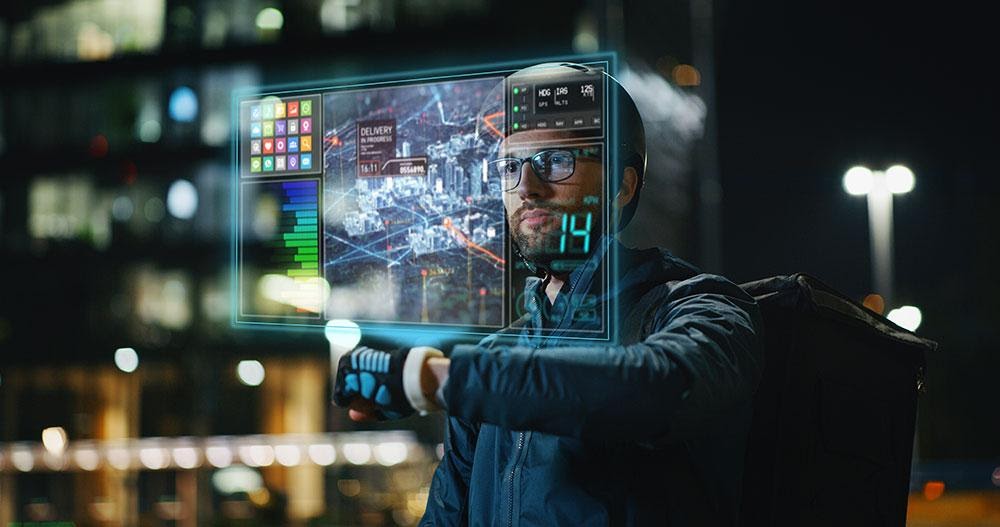 Augmented Reality
Augmented reality, or AR, is a technology that allows us to modify the real-world environment by merging it with interactive 2D and 3D virtual objects. AR expands our physical world by blending the real with the virtual, effectively altering and enhancing our perception of reality.
It's been thirty years since the word 'augmented reality was first conjured up, but it's not until recent years that AR has begun finding its place within society. This has a lot to do with improved smartphone capabilities and specialized platforms like ARKit and ARCore making AR more accessible to people like you and me.
In general, technology has proven hugely popular with the general consumer. Billions of people use Snapchat, Facebook and Instagram's 3D AR stickers, and the AR game 'Harry Potter Wizards Unite' received 100'000s of downloads and raking in over a million dollars within 3 days of being released.
While that's all pretty cool, the thing that piques our interest with augmented reality isn't the social media side of things of even the gaming sector. Its the fact that with AR comes a far more 'compelling' medium of entertainment.
Yes, you guessed it, it's augmented reality porn.
Where Does A Horny Dude Find Some AR Porn?
Many have heard about VR porn. Millions of us are clicking around on VR porn sites every month. And a lot of us I willing to lay down some cash for the full-length, highest quality 6K videos because it's just that good. Virtual reality porn offers immersive experiences that just can't be found with regular porn. It's just you, the hot girl, or girls, in front of and your wildest dreams coming true. Pair this with a teledildonic sex toy that synchronizes the sex as it takes place in the video, and some even swear its better than the real thing.
So why hasn't AR porn seen the same sort of success? Quite simply, the technology just isn't up to speed with that of VR just yet. But after checking out AR porn its bluntly obvious that progress is being made and adult developers are taking advantage of the latest tools and software available at this stage.
Pioneering this technology in this space is VRBangers, a top adult VR company that helped pioneer the virtual reality porn revolution. The company's new AR app, ARConk allows us to experience having a kinky 3D virtual girl perform in our physical environment.
A quick download and you'll be met with around 15 different animations to choose from such as positioning her on top and having POV (point-of-view) cowgirl sex, to watching her perform on a virtual couch from the other side of the room. Considering this is only a first-release demo, its pretty impressive given the amount of choice in the app and the detail gone to making the model appear as realistic and life-like as possible.
VRBangers was able to do this using a specialized 4D volumetric technology. In other words, the company scanned the body and movements of a real-life girl and then translated that into a 3D virtual avatar. Unlike computer-generated imagery which involves a person manually trying to create the movements, volumetric video allows you to capture to actual movements of a real person, maximizing the authenticity of her in the process.
The app is headset compatible meaning anybody with an Android smartphone (and soon iPhone) can slip on a cardboard AR headset like Holokit or Aryzon and then just kick back and watch the show unravel. You can also watch directly from your smartphone if you don't own a headset. This still gives you all the cool features but it means you have to move the phone around with your hand instead of your head.
Next Level Potential
The potential of augmented reality porn is boundless. Seeing the success of VR porn only brings assurance that AR porn will be just as, if not more successful.
Headset porn is in demand and the coolest thing about AR porn is that the girl stood in front of you is completely 3D which removes all barriers to the viewing experience. You're not tethered to watching from one point of view, and you aren't required to press buttons to alter that point of view. You just get up off your ass and walk around her. She'll stay exactly where you positioned her and you can enjoy the show in whichever which way your heart (or something else) desires.
For now, the technology still needs to be developed and matured before we can consider AR porn as the go-to source for streaming xxx entertainment. But in years to come, we can see that changing in a big, big way.