For men with a certain level of sartorial courage, the Gucci Princetown loafer is an accessory fit for a king. I am not one of those men.
Trimmed in fur, with a bold golden buckle that looks like a pair of tortoiseshell glasses, a red snake on the upper and nothing to cover your heels, they've become more than a statement shoe. They are the statement shoe, with a price tag (around $1,050 in some stores) to match.
For much of the past year, however, the Princetown has managed that rare feat of moving from the runway to the near-mainstream, as evidenced by celebrities from Aziz Ansari to Wiz Khalifa sporting them publicly. Its success has even attracted the attention of Bloomberg, which gushed:
Gucci's turnaround from tired to tantalizing has been nothing short of phenomenal. And indications from the third quarter are that it has continued to win market share.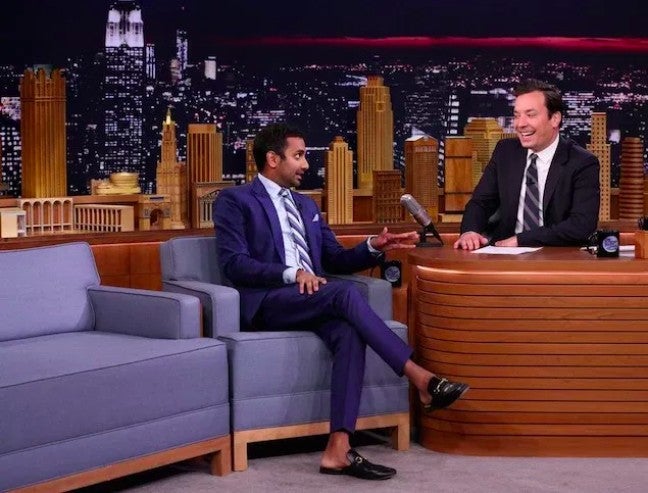 A few weeks ago, Gucci made even more news by announcing its intention to go fur-free across its product line. Before anyone could panic, though, Footwear News confirmed that the Princetown is now made with lamb fur, which is considered in line with the Fur Free Alliance guidelines. That said, something as in-your-face as the Princetown could also become  as antiquated as, say, colored laces in dress shoes without warning.
Until then, here are a few ideas of where you could reasonably to pull off the Princetown, or whatever knockoffs and imitators follow it:
The House Party
A man's home is still his castle, which means you should be able to get away with pretty much anything you damn well please. It's probably no coincidence that the Princetown look as though it was specifically designed for the late Hugh Hefner, who knew how to live in extreme luxury while also looking as though he were ready to turn in for the night. If you're staying in this New Year's Eve, greeting your guests in Gucci might be the right call.
The Spa
Oh yes, you're far too manly to go the spa, right "bro?" Here's the thing: there are now lots of places offering discounts to women who bring their boyfriend along. You can have a couple's massage, extremely good food and time to relax by a great pool. Is that really too much to handle? And if you do, you can just take the robe they give you and the one-size-fits all flip-flops that have been worn by how many other guys? Or you can bring your Princetowns and look like you own the place.
The Ball Game
Say you decide to splurge. I mean really splurge — like on courtside seats for your favorite basketball team. It's incredible how many times you see people with the best seats in the house looking like they just woke up. Instead of that, a shoe/mule/slipper/whateveritis like the Princetown will reinforce the fact you're there to relax and enjoy the view, while the enormously tall guys in the high tops do all the running around. Holding "court" suddenly takes on new meaning.
This isn't an endorsement for the Princetown, by the way. In fact, this article may be proof such footwear has already had its 15 minutes. But something even crazier will come along to take its place. And when that happens, be open to exploring how it can further your personal sense of style. Just make sure — no matter how outlandish they are — to keep your feet on the ground.