When you need a good laugh, need to figure out how to handle a simple auto repair yourself, or simply have some time to spend, YouTube is the place to go. But your entire mood can be spoiled with the continuously spinning buffering wheel.
When you notice YouTube buffering, it typically implies that your connection to the YouTube servers is lagging, which is quite inconvenient. It's much worse when you're attempting to upload a video that's bound to go viral!
YouTube videos that keep buffering without stopping is a common problem, regardless of whether you're using Chrome, Firefox, or Safari on a Windows/Mac computer, or the YouTube app on an iPhone/Android phone. Furthermore, this issue mostly arises suddenly, rendering the videos unwatchable. In this article, we will explain the causes of YouTube app buffering and list down numerous tried-and-tested troubleshooting methods.
Possible reasons for YouTube buffering 
Your Internet connection is most likely the blame for your slow YouTube experience. But this issue is also experienced by those who have fast fibre-optic connections. It really all boils down to your Internet connection to YouTube's servers.

Other common reasons of YouTube slow buffering include: 
Insufficient capacity for your internet connection for streaming HD videos 

Mac and PC browser difficulties (cache, add-ons), as well as iPhone and Android smartphone app issues 

Slow server for YouTube

Flash player not functioning properly. 

HD videos having extremely high resolution. 

YouTube incompatibility with other ad-blocking software or third-party add-ons. 

Unknown YouTube issues, such as error codes 400, 401, or 503.
YouTube has one of the world's most powerful internet connections. However, when a large number of people access the platform and try to view videos at the same time, the servers' performance is put to the test. In such instances, the servers have to continually communicate with all of the clients and transfer data. If something goes wrong, consumers will experience a variety of problems, one of which is YouTube slow buffering.
The next section covers some of the easiest solutions for the issue.
Solutions to Fix YouTube Video Buffering
YouTube allows you to watch videos in a variety of resolutions, including 240P, 360P, 480P, and 720P. High resolution is preferred for an excellent watching experience, however the greater the resolution, the slower your YouTube videos may be. Worse, YouTube will continue to delay while you are watching high-resolution videos with a weak internet network connection.
If you were watching YouTube videos with at a high resolution, please switch to a lower one. For this, on the video playback screen, click the gear icon and select a lower video resolution from the Quality option.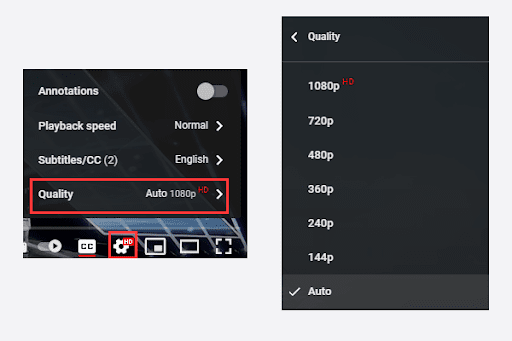 Clear the Cache and Cookies on Your Browser
Video viewing needs a certain amount of loading space. If a browser has too much data saved on it, the loading capacity is insufficient and the YouTube video will continue to lag. So, if that's the case, you'll need to clean data to make room for video watching.
Here's how to clear data (cache and cookies) in Google Chrome: 
Click the three dots in the upper right corner to open the Google Chrome menu. 

Hover your mouse over the

More Tools

menu and select the

Clear browsing data

option.

You will be sent to the Clear Browsing Data window. Select a time range in the window, check the boxes next to Cookies and other site data and Cached pictures and files, and then click the Clear data button.
Reboot or Restart your router/computer/iPhone. 
Restarting the router is an efficient method for resolving network issues. It can clean away any residual internet muck that has accumulated and then speed up your connection. Simply switch off the router and restart it after at least 30 seconds. You can also restart your computer or iPhone if the problem is with your device.
Download YouTube videos and watch offline
If you can't do anything about your internet connection's speed, the best thing to do would be to download the videos you wish to watch and view them offline.
You can use multiple free YouTube video downloaders for the purpose. Most such tools let you download videos not just from YouTube, but also from DailyMotion, Vimeo, Facebook, Instagram, and other 900+ sites to your computer with no size or quantity restrictions. 
What should you do if nothing works?
Yes, that is very much possible. If the originally video uploaded to YouTube is incomplete or of low quality, you may not be able to watch it properly even after downloading it to your device. In such a scenario, the best way to overcome YouTube slow buffering issue is to repair the downloaded video and then trying to play it. A reliable video repair tool can help you with this task and make unplayable videos play smoothly.
We recommend using Stellar Repair for Video for this purpose. Stellar Repair for Video is an easy-to-use video repair tool that can work flawlessly with more than 17 video file formats including MOV, MP4, AVI, MKV, and more. The software uses advanced algorithms to fix issues like blurring, flickering, stuttering, sync mismatch, etc. in video files of various sizes and helps you enjoy a glitch-free entertainment experience.
Here are easy to follow steps to repair your videos with this software:
a. Go to the official website for Stellar Repair for Video and download the tool
b. Install the application with recommended settings and then launch it
c. From the home screen, click on Add File and select all videos you want to repair
d. After the videos have been imported, select them and click on the Repair button
e. Wait for the process to complete. The application will take some time according to the number of files and their size.
f. After the video files are repaired, you can click on an individual file to preview it in the software interface's right-hand side panel
g. Click on the Save Repaired Files button and browse to the location where you want to save the repaired video files.
To Conclude
Thus, as already mentioned, your YouTube buffering experience is primarily determined by the speed of your internet connection. If you go over your monthly data limit before the end of the month, most ISPs will slow down your connection. Further, if the YouTube servers are under-performing, there is really not much you can do about increasing buffering speed.
Nevertheless, we hope the above-mentioned strategies help you resolve the YouTube slow buffering issue on your device. Remember, if nothing else works, you can always download your desired videos and watch them offline. If the downloaded videos also don't play smoothly, don't hesitate in repairing them with Stellar Repair for Video.