If you plan on hitching up a trailer and going for a weekend adventure, nothing beats the versatility and capability of a pickup truck. Thanks to their big engines and rugged chassis, most trucks can easily tow a boat or a trailer. But, if you plan on doing a lot of towing and hauling in your daily life, some pickup trucks stand apart from the rest, and you won't have to pay top dollar to get your hands on one of them.
In the modern automobile market, there are plenty of new options. Buy, if you're looking for affordability, there are also plenty of options available in the used market. Here, we are going to list some new and used pickup trucks with the best towing capacity.
Before we get started, we have to understand what towing capacity means. In general terms, towing capacity can be explained as the weight you can safely pull behind your truck. Compared to payload capacity which considers the weight the truck can carry, towing capacity will be higher since the truck is pulling the trailer and not directly carrying its weight.
Always take note of both the payload and towing capacity when you consider a truck. In simple terms, the more weight you carry, the less weight you can pull.

Most manufacturers list the truck's payload and towing capacity in the owner's manual or you can calculate it by yourself. To find the towing capacity, just subtract the truck's curb weight from the gross combined vehicle weight rating.
As explained above, if you're carrying a certain amount of weight on the truck, it should also be subtracted from the towing capacity. Also note that, if the truck has a max towing capacity of 8,000 lbs, and you plan on towing the same weight every day, it will harm the truck. So, always leave some headroom for reliable operation, if you're planning on towing a lot.
If you exceed the recommended towing weight, it can damage the engine, tires, transmission, or frame. It is also unsafe as the truck won't be able to stop in time.
With all that out of the way, let's take a look at some affordable pickup trucks, both new and used with towing capacity in mind. Most of these trucks can be bought for under $15,000 in the used market, making them a great choice for customers on a tight budget.
2014 Ford F-150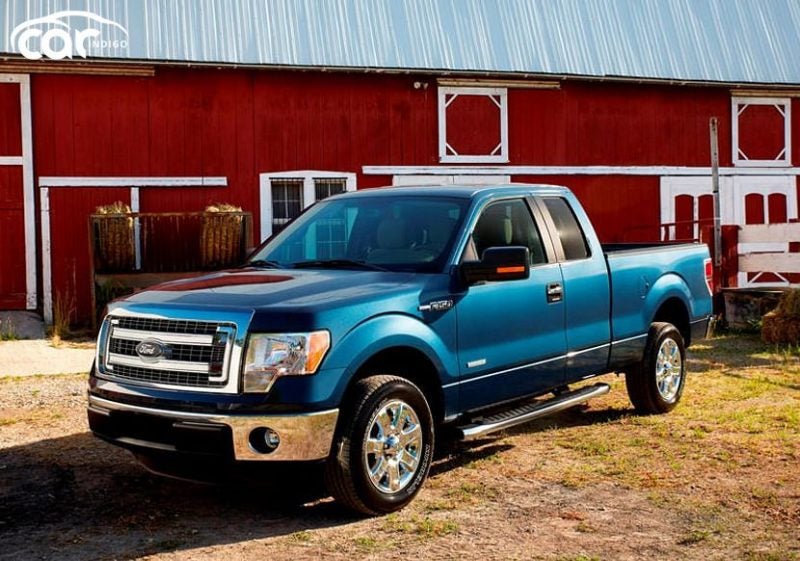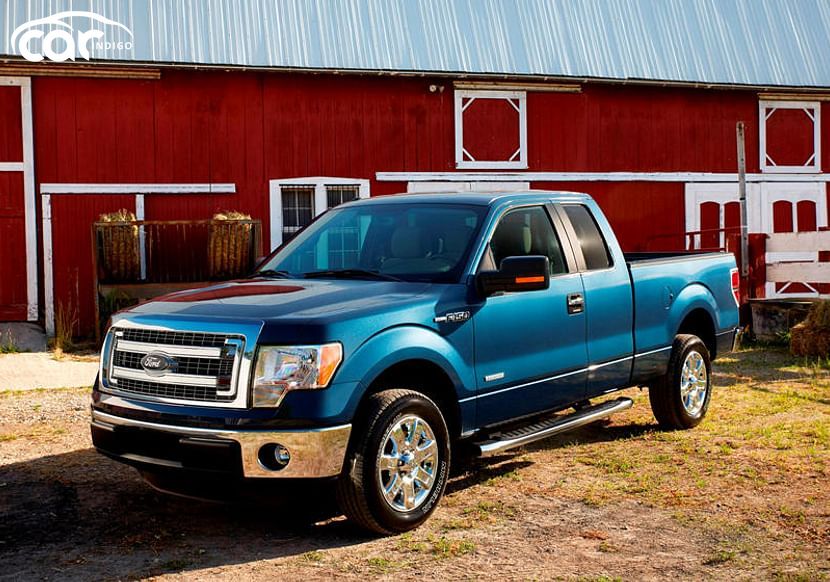 No list is complete without including America's best-selling pickup truck. Ford has been continually upgrading the F-150 over the years, and with a limited budget, you can easily get a 2014 or older model year. The F-150 offers plenty of luxury for a pickup truck, especially if you opt for a super crew model. Of all the engines on offer, the 3.5L Ecoboost and the 6.2L V-8 offers the best towing capacity at 11,300 pounds with an axle ratio of 3.73.
2009 Ford F-250 SuperDuty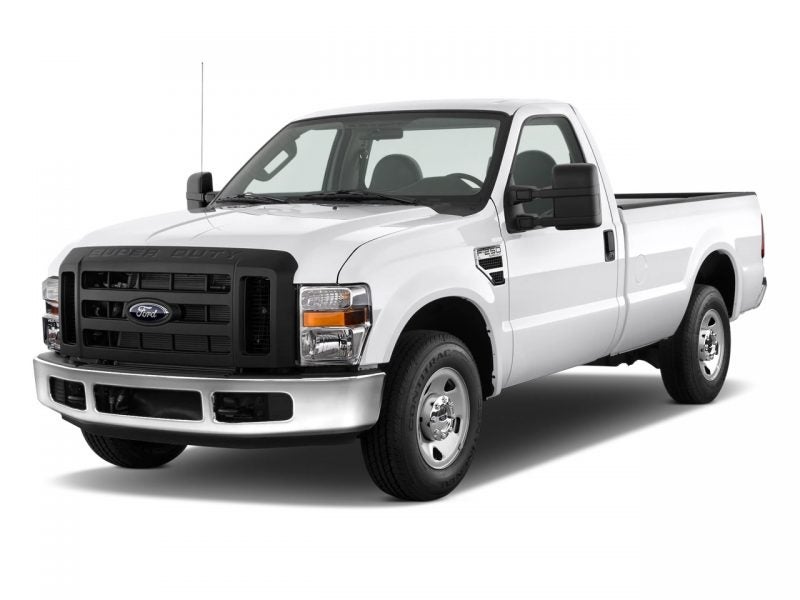 For heavy-duty applications, the F-250 fares a lot better than the smaller F-150, mostly because of the standard V8 engine and two more capable engine options including a massive 6.8L V-10 and 6.4L power stroke diesel. With the right packages, four-wheel-drive, and a 3.73 axle gear, the F-250 can tow up to 12,500 pounds with a weight distributing hitch. Ford also includes the TowCommand system which is essentially a trailer brake controller with adjustable trailer braking gain and uses hydraulics to improve braking pressure.
2009 Chevrolet Silverado 2500HD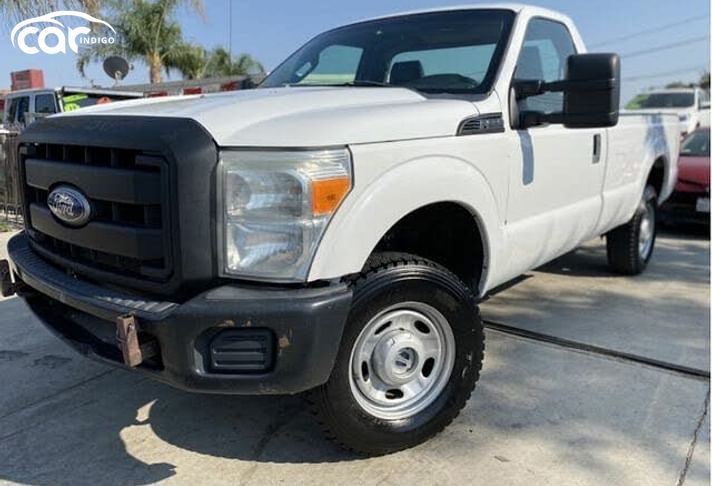 Unlike the Ford's on this list, the Silverado 2500HD gets a bigger 6.0L V8 engine as standard. Chevrolet also offered a 6.6L turbodiesel engine with 660 lb-ft of torque. Despite the engine, the towing capacity is impressive at 13,000 pounds thanks to the standard 3.73 rear axle ratio and rearview camera system. The 2500HD also received a significant update in 2009 with plenty of new features and a rearview camera.
2009 GMC Sierra 2500HD
Almost identical to the Silverado 2500HD in terms of drivetrain and specifications, the GMC Sierra 2500HD gets unique styling to distinguish itself from its sibling. Towing capacities are also identical between the two pickup trucks.
2008 Toyota Tundra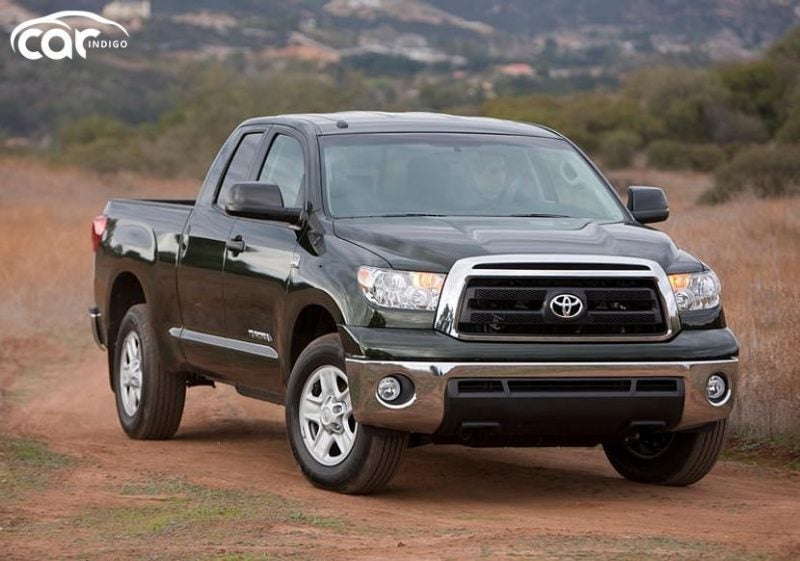 Often regarded as one of the most reliable and capable full-size pickup trucks in the market, the Toyota Tundra feels built to last. Available with a powerful V8 engine under its hood, towing capacity is impressive at 10,600 pounds. As a bonus, the Tundra is also very comfortable with a pliant ride and a spacious cabin.
2012 Chevrolet Silverado 1500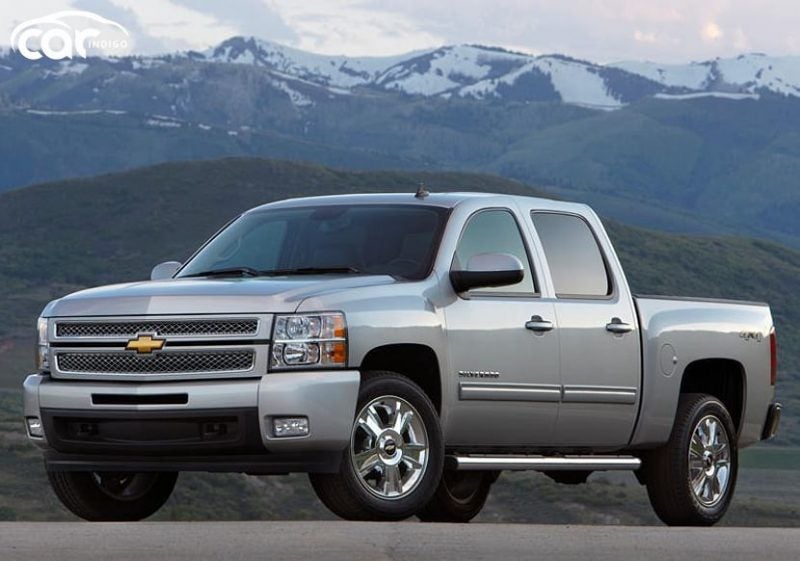 If you don't want a more capable truck, and your load is limited to 10,000 pounds, the Silverado 1500 is an excellent choice, especially with the optional 6.2L V-8 engine and the NHT trailering package. Towing capacity maxes out at 10,700 pounds.
2012 RAM 2500 Heavy-Duty
The RAM 2500 is a good alternative to the F-250 and Silverado 2500HD. Offering similar features and capability as its rivals, the RAM 2500 gets a unique design, and when equipped with the 6.7L Cummins turbodiesel engine with 800 lb-ft of torque, can tow up to 15,000 pounds.
2014 RAM 1500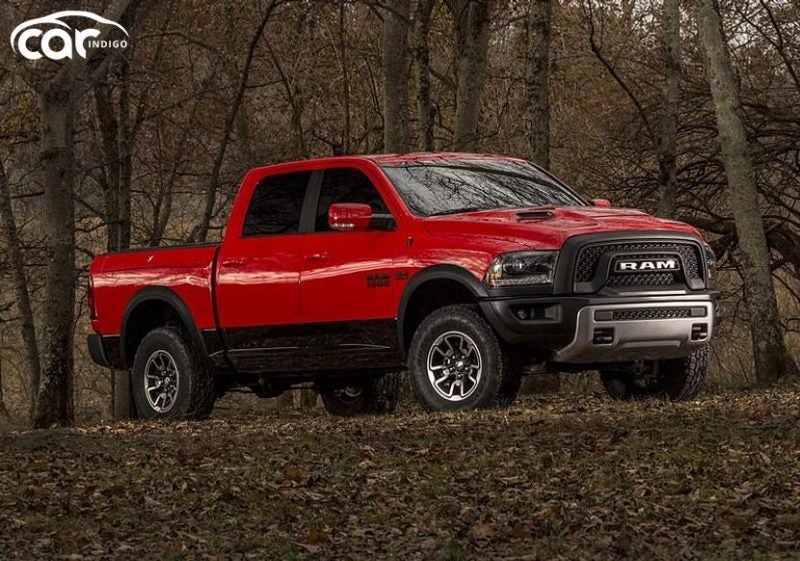 For around $15,000, you can also get a RAM 1500 which is renowned for offering the best ride quality among pickup trucks. The interiors are also very comfortable with plenty of luxury and optional air suspension. When equipped with the 5.7L V-8,  towing capacity is impressive at 10,450 pounds, while the base V6 engine is limited to just 7,450 pounds.
Some other honorable mentions include the Nissan Titan with a towing capacity of 9,400 pounds and the Chevrolet Colorado with 7,000 pounds.
If you're shopping around for new models, the latest 2021 Ford F-150 still tops the list with a starting price of $28,940. Max towing capacity stands at 14,000 pounds with the 3.5L Ecoboost engine. Next in line is the 2021 Chevrolet Silverado 1500 with a similar starting price, and a max towing capacity of 13,300 pounds with the optional 6.2L V-8 engine. Modern pickup trucks also include several advanced technologies like advanced camera systems and improved brake controllers.