When we think about supercars, we often picture a monstrous engine that is a marvelous piece of engineering, capable of immense power. One stat we love to see is the big displacement figures; right from a 5.0L, 6.0L, or even 8.0L; these supercar engines have some big displacement figures.
However, as much as we have come to love these big figures, there are still cars that were made with displacement figures that would make you think that they were regular sedans.
The moral of the story is, not every engine needs to offer a huge displacement figure in order to be put in a supercar. With clever engineering, there have been supercars in the past and present that use smaller engine displacement.
Call it cost-cutting or trying to reduce the weight, the smaller engines still pack enough punch. Carmakers usually introduce these to cut taxes in some way. Anyway, here is a list of some of the supercars rocking it with smaller engines. For more information about these cars, be sure to check out CarIndigo.
Jaguar XJ220
The XJ220 is an icon among the early 90s supercars. It was produced from 1992-94. It was built in conjunction with the race engineering company Tom Walkinshaw Racing. It was the fastest production car from 1992 to 93 until the McLaren F1 toppled it over. It had a top speed of 212.3 MPH and a 0-60 MPH time of 3.6 seconds.
The power at its heart? It was a 3.5L V6 producing 542 horses and 473 lb-ft of torque. The figure is not "small" per se, but back in the era of 90s supercars, it did seem quite small. The XJ still kicked hard, thanks to some clever engineering and extremely aerodynamic shape.
Porsche 911 GT1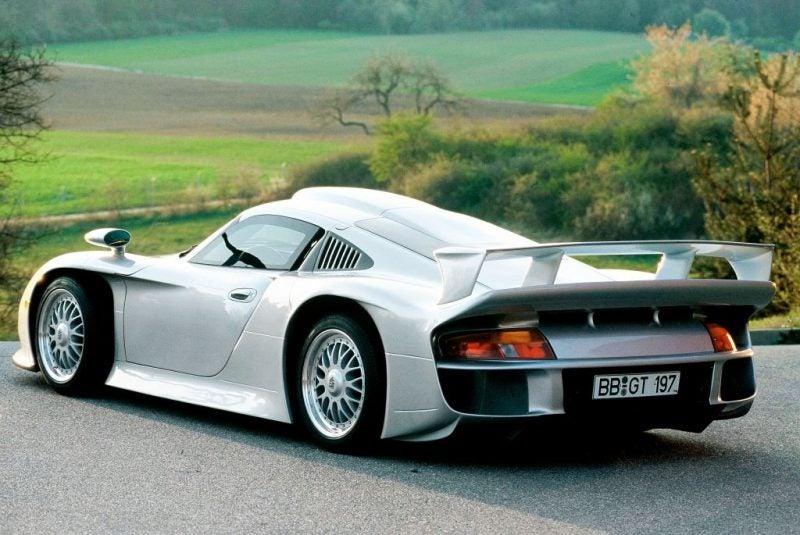 The 911 GT1 was developed by Porsche to compete in the GT1 class of racing. However, Porsche also had to develop a street version, called the Straßenversion. The GT1 was made to compete in the Le Mans and won the 1998 24-hours of Le Mans.
The engine? It was a 3.2L flat-six engine with fuel injection by Bosch Motronic 5.2 fuel injection. It had a rear mid-engine setup and the engine delivered 592 horsepower and 443 lb-ft of torque. Not every racing car needs a big figure to win.
Acura/Honda NSX
The Acura NSX (also known as Honda NSX outside North America) is not exactly a "supercar", but it surely is not a normal car either. The first generation was produced from 1990 to 2005. Then, it took a hiatus and returned in 2016.
It was pretty influential and the Japanese car even inspired Gordon Murray to design the legendary McLaren F1. At the heart of the NSX was a 3.0L V6 that developed 274 horses and 210 lb-ft of torque. That engine beat the Ferrari 348 and also could be revved till 8,000 rpm. Spicy.
Ferrari F40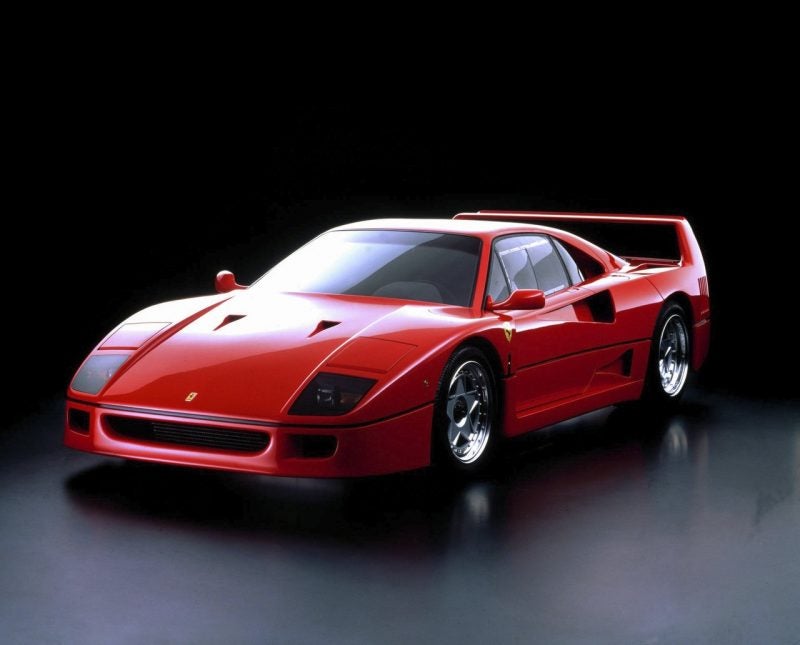 One of the most legendary and most iconic cars of all time, only 1,315 were ever produced. Its production lasted from 1987 till 1992. It was also the last car commissioned by the legend, Enzo Ferrari, himself.
During its production, it was wickedly quick and also the fastest Ferrari of the time. Sitting at its heart was a 2.9L twin-turbocharged V8, capable of producing 471 horsepower and 426 lb-ft of torque. Despite the seemingly small figure, it could do a breath-taking 228 MPH and had a 0-60 time of 4.7 seconds. What a great small engine!
Porsche 959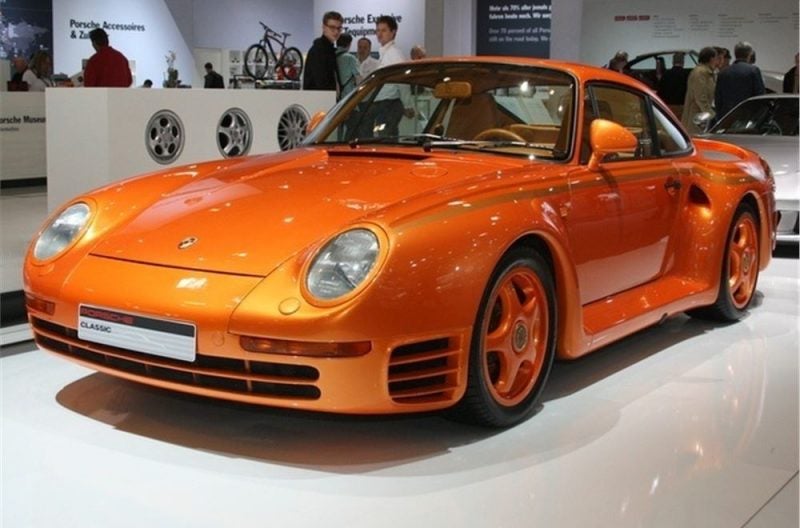 The 959 was produced from 1986 till 1993. It was actually a Group B rally car, but there were road versions made later on. However, only 337 were ever produced. It was also the fastest production car in the world when it was first released in the mid-80s. It had a top speed of 197 MPH. Yes, it too used a small engine – a 2.8L twin-turbocharged flat-six that spat 444 horses and 369 lb-ft of torque.
Ferrari 208 GTB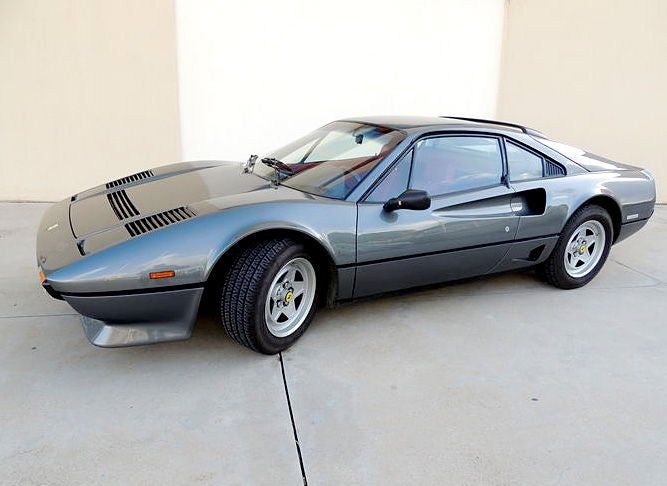 The 208 was not on the list of the most famous Ferraris of all time. It was only in production for 2 years – 1980 and 1981. What engine did it use? A tiny 2.0L V8. Yes, we know how ridiculous it sounds.
Italian government added a tax of 38% for all engines above a 2.0L displacement, so Ferrari had to think cleverly. It was one of the smallest V8s ever and only produced 153 horses. They were pretty slow. Maybe that's why you haven't heard of them.
Lancia 037 Stradale
The 037 was initially produced as a mi-engine sports car for rallying. Its objective was to compete in the FIA Group B World Rally Championship. The 037 Stradale was the car created to meet the homologation requirements. It meant that Lancia had to produce a minimum of 200 road production cars.
They used a tiny 2.0L inline-4 engine, the ones you will find in typical sedans and crossovers these days. However, it also used an Abarth Volumex Roots-type supercharger and it spat out a total of 205 ponies and 167 lb-ft of torque. It was also the last RWD car to win the World Rally Championship in 1983.
Jaguar C-X75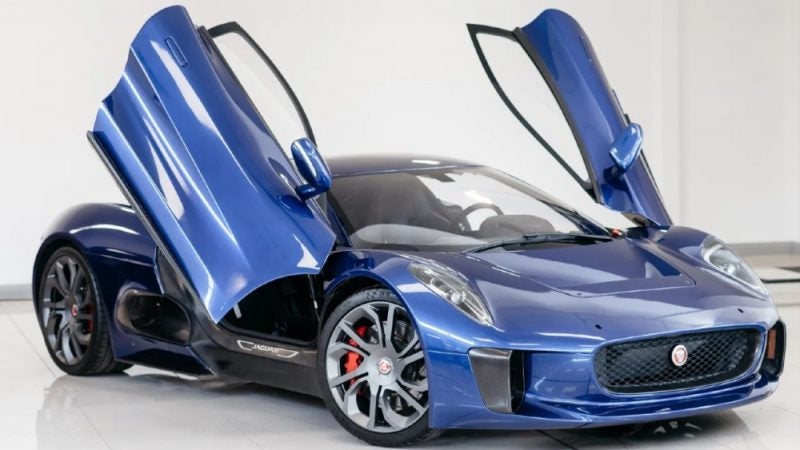 The C-X75 was a hybrid sports "concept" car, made by Jaguar in collaboration with Formula One and Williams F1. It was shown at the 2010 Paris Motor Show. Granted that was only a prototype and had a very limited production run, it had attempted to use an absurdly small engine.
A small 1.6L twin-charged (that means both supercharger and turbocharger) inline-4 was still able to produce an impressive 500 horses. However, the concept car made 778 horses. Also, it had a 19-kWh battery to help it reach these figures. We wish it could've hit the streets.
BMW i8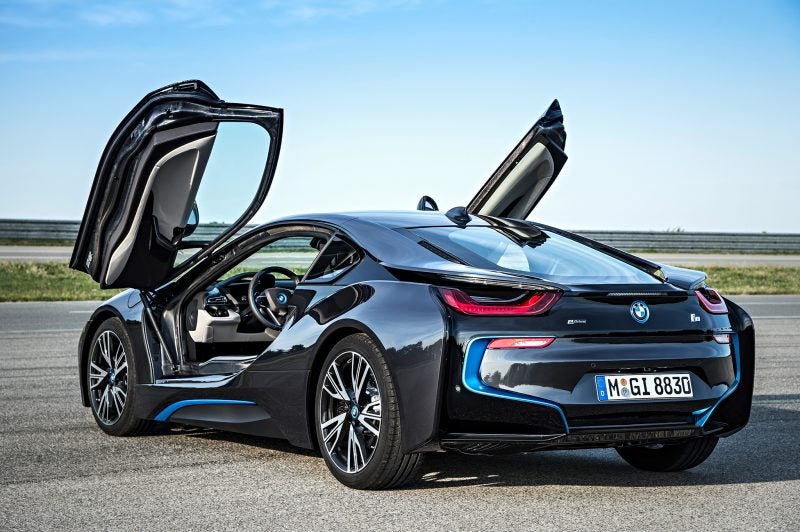 The i8 was an iconic PHEV produced by BMW from 2014 till 2020. It is the latest car on this list and has one of the coolest and futuristic designs. It was one of BMW's early attempts at hybrid cars. It also used a pretty small engine. A 1.5L turbocharged inline-3 powered the Bimmer. Yes, a 3-cylinder engine in an exotic car.
Of course, that engine was not alone. There was also a 98-kW electric motor. The latest model could produce 369 horses and 420 lb-ft of torque, which is very impressive for a small engine. Sad to see it leave the German's line-up, but every car gets the axe once.