You'll be hearing a whole lot more about the town of Charlevoix, Quebec, now that the Club Med franchise has opened up its next all-inclusive there.

Located an hour or so from Quebec City, guests of this four-star resort will immediately notice the stunning views of gorgeous mountainous slopes, and the sweeping panorama of Saint Lawrence River.
It's an adventure or chill-ax destination for anyone – be it families, couples, singles, or friend getaways. The resort features 302 family and couple rooms, as well as 25 suites in their 5-star Exclusive Collection. The Suites have all you need to pamper yourself, including a private lounge, a dedicated ski room, round-the-clock concierge and a private terrace with whirlpool.
Whichever room you choose, enjoy the resort's array of all-inclusive dining options that can suit any eater – from seafood, fresh salads, pastas, meats, fresh breads and cheeses, and wow-worthy live plating preparations. With an eye for sustainability, the majority of food items are sourced locally within Canada, and about a third of ingredients come from within a 100km of the property.
A range of heart-stomping activities are available year-round. In the colder months, visitors of all ages can enjoy on-premises ski slopes with snowboard and ski rentals. But if you're not the ski type, or taking a break from high adrenaline, get your fill of the great outdoors with Nordic walking, snowshoeing, ice-skating, offsite ice fishing and snowmobiliing.
In warmer weather, get the circulation pumping with area hikes that overlook the wonders of the St. Laurence River and area hilltops. Try your hand – and your legs! – at the 20km of mountain biking paths through the scenic landscape, or gets sporty with a game of mini-golf or volleyball.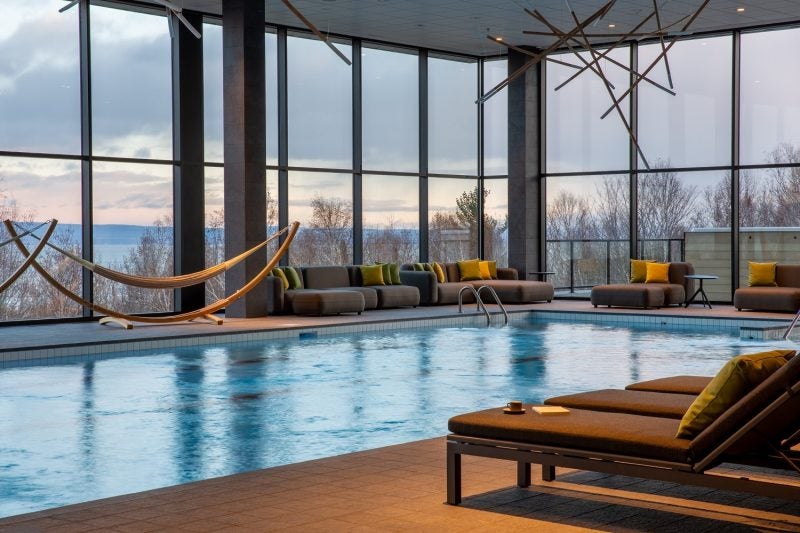 Regardless of season, the resort is ready for the wellness-focused, fully loaded with workout and cardio classes, weight rooms, yoga and meditation – and à la carte well-being services, with world-renowned luxury spa brand Sothys. For indoor water relaxation, glide through the 23-metre long heated pool, overlooking the outdoors' lush hilltops, and then get some ooh-ahhs from the state-of-the-art jacuzzi.
So if you're looking to decompress and disconnect, this is the place.
Off site, there's so much to take in of the area's French-Canadian vibe. Short train rides away are culture-rich towns, including Baie-Saint-Paul, with streets hopping with arts and music festivals in the summer months, and a year-round tourist strip of local fare, knick-knack shops and candy purveyors.
For those who want to wind up, instead of wind down, at night the place light up with live concerts, performances, and free-flowing drinks. Dress to the nines, dance and mingle!
Club Med in Charlevoix really does have something for everyone, and is the kind of place that'll keep you wanting to come back again.