He has been introducing attractive singles to each other on TV for 18 years now, but there was a moment on an episode of the Bachelorette that aired Oct. 27 where even longtime fans were surprised to see Chris Harrison pop up.
Earlier in the episode, Bachelorette Clare had been on a spa date with one of her suitors, Zach, and hesitated before giving him a kiss. Suddenly, Zach grabbed her by the arm and seemed to force her into a lip-lock.
The two were supposed to reconvene at a candlelit dinner later, but when the time came, Zach found himself in a close encounter with Harrison — host of both the Bachelorette and its predecessor, The Bachelor — instead.
"I know I'm not who you were hoping to see," Harrison explained. "Clare isn't coming to dinner," and "unfortunately, this means that I will have to send you home."

Though this made for great viewing, it was the kind of confrontation that would have sent most television personalities running. Not Harrison.
"I've gotten really good at awkward," Harrison, 49, told Swagger during a recent phone conversation. "This is a show where everybody's feelings are involved. It's all about relationships and pride. I have to be able to do all of it, whether I'm cancelling a cocktail party, or telling someone they're not going to get the time they wanted with someone, or that they have to go home."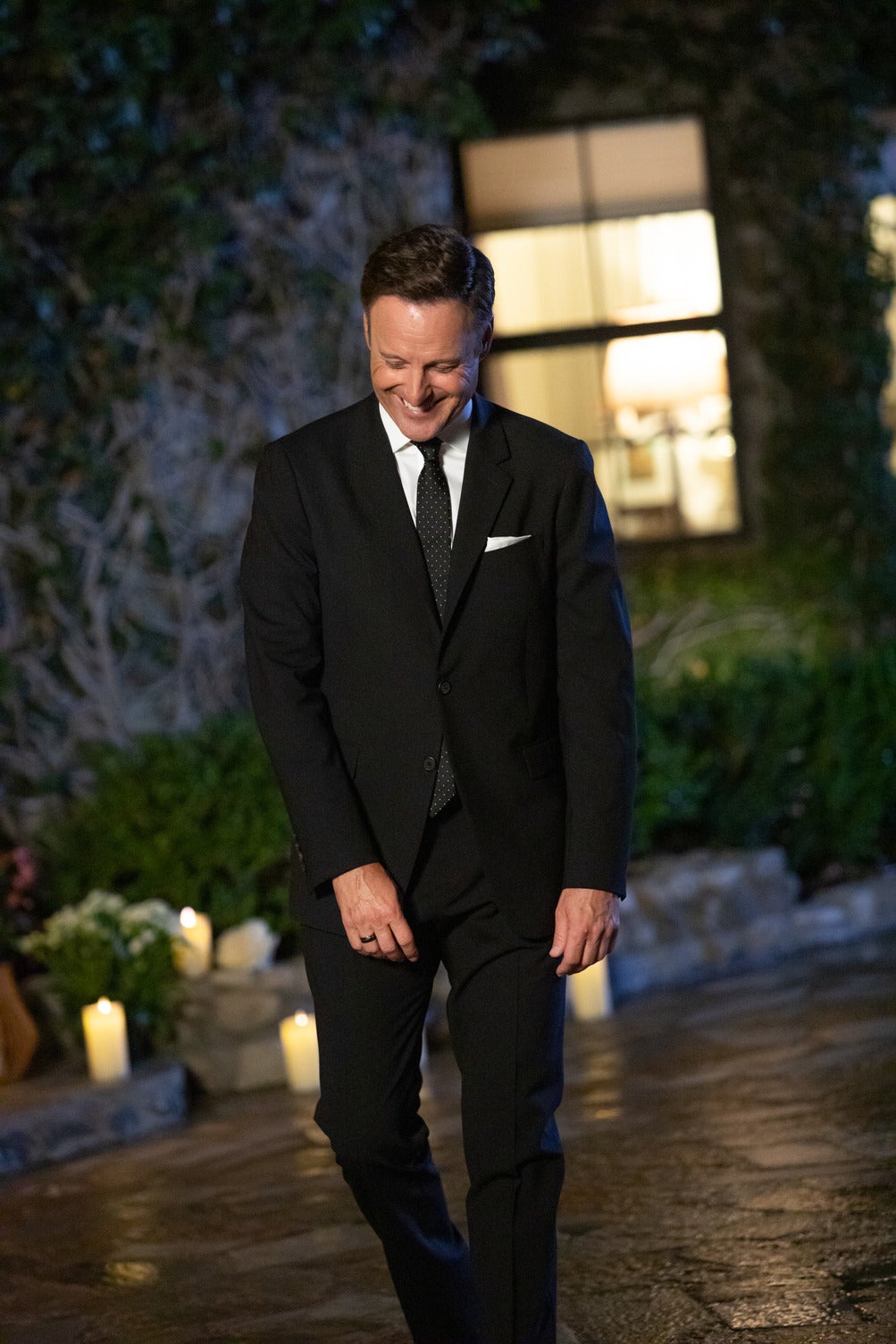 After the somewhat rough kiss, Harrison explained, it was clear to Clare that Zach wouldn't be her chosen mate and that "it made no sense to drag it out" and have her go through with the dinner date. It won't be the only eyebrow-raising scene this season, however.
"What we're about to see next week is something pretty big," he said, in a tone not unlike the one where he became famous for promising (repeatedly) "the most dramatic rose ceremony EVER."
The premise, of course, is that those appearing on The Bachelor or the Bachelorette won't clash but will instead have a spark that leads to a proposal and, eventually, marriage. That made it particularly appropos that Harrison would partner with Manly Brands to create his own line of wedding bands for men, which launched this week.
"(Manly Brands) had reached out me about doing something a little bit smaller and promotional and I didn't know about the company," he said. "When I dove in and looked them up, I found out they were this mom and pop shop, this husband and wife combination. I decided I wanted to do something more substantial."
It is. The Chris Harrison Collection actually includes 24 different bands, which range in colour and material from silver and cobalt chrome ("The Pefection") to Titanium and teak wood ("The Honeymoon").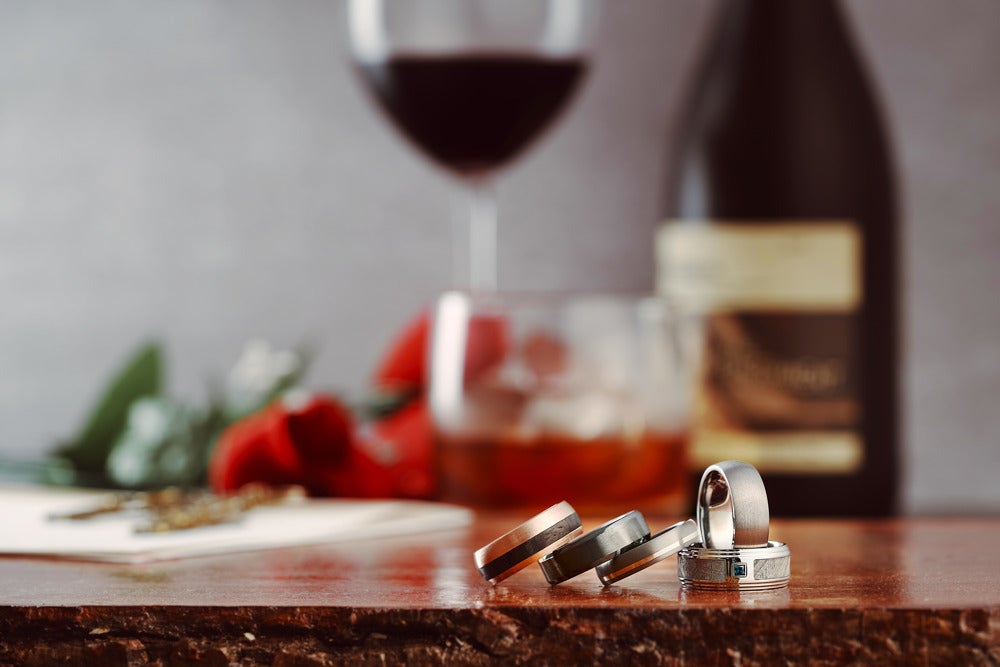 "There's always been a lack fo variety and lack of choice when it came to men's wedding rings," Harrison points out. "We wanted to offer more possibilities in terms of material, price and personality. The idea was that, no matter who you are, what you do, there's a ring for you."
Harrison played a hands-on role in the rings' design, and many of them have details with personal resonance. A native of Texas, "The Strait" is a nod to George Strait, while "The Napa," with its barrel-like inlay, hints at his love of wine.
"I see a day where it's okay to have multiple wedding rings," he said. "Women don't carry the same purpose or wear the same dress every day. Even I've been wearing different rings if I'm wearing flannel and jeans versus something more formal."
How 'The Bachelor' Community Emerged
Wedding bands might seem like a natural fit for Harrison now, but it wouldn't have been as obvious when The Bachelor made its network TV debut in 2002. Even before the advent of social media, he said it became quickly apparent the show's audience would become an unusual community — one commonly referred to today as "Bachelor Nation."
"There was a moment when I realized a lot of people don't watch the show alone," he said. "It really brings people together. It's the show when you call your Mom, when you call your best friend. It drives conversation."
Though it has had a longer lifespan than most reality TV fare, Harrison argues The Bachelor and The Bachelorette's escapist fun is even more socially relevant and necessary today, though the events of 2020 might have suggested otherwise.
"Going into this season, I really didn't want this to be the COVID version of the Bachelorette," he said. "What's great is on Tuesday nights when I'm looking at Twitter and reading the feed, people are just talking about the show. Do you know what they're not talking about? They're not taking about politics. They're not talking about COVID."
In his personal life, meanwhile, despite becoming the face of men's wedding bands, Harrison is actually . . . a bachelor. Since his divorce in 2012, he has been in a two-year relationship with Lauren Zima, an Entertainment Tonight producer he met while filming segments for his show. This begs the question: does his day job mean people nag him about making a second trip to the altar?
"I actually don't get any pressure. I am happy though, I'm glad I have found some peace and love in my own life," he said, adding that he does get pigeonholed in the ways. "I am the victim fo my own success. Once you've been doing something 20 years, I'm never not going to be the relationship guy, the 'doctor of love,' the matchmaker. It's a badge I wear with honour. I'm proud of it. I'm proud of this franchise."