Spending more time at home during the pandemic may have meant spending more time in the kitchen. It's cause after the take-out, the deliveries, the insta-foods – we just wanted the comfort of our own creations. It was only a matter of time before we took a look at the machines and kitchen toys at home and thought "well, if I'm going to use these a whole lot more, why not play with the best."
And play with the best we must, because we're Swagger men. It's time to jump into 2021 (and 2022) with the stuff every man needs in the kitchen to be in charge of all things food. We like (and crave) a robust meat grinder, an elite food processor, a killer oven, piercing knives and a fridge that's more than just a fridge.  Luckily, the recipe to make your kitchen great again, is right below…
Vitamix® Ascent® Series A3500 Rocks the Blender World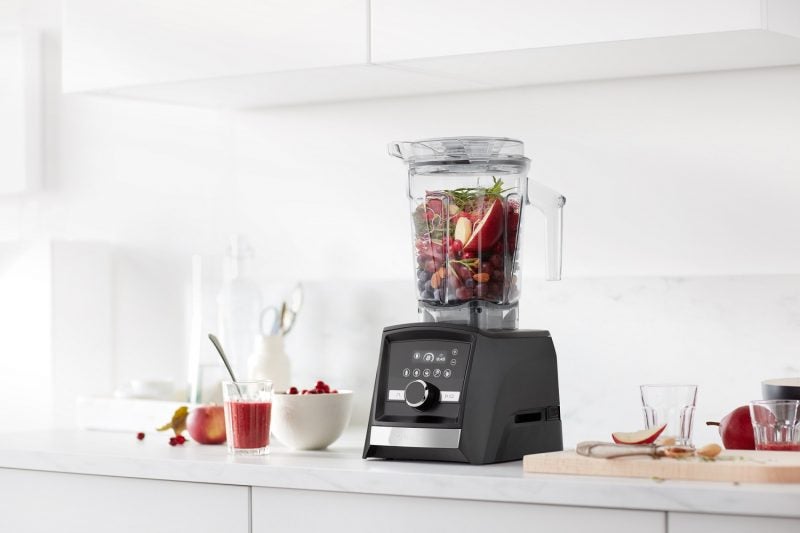 Taking the next step in your health regimen often begins with a blender to mix smoothies, soups and healthy recipes. It's important not to skimp on your purchase, because the last thing you want is to be let down. Performance and versatility are key: you want easy assembly, rugged durability, speedy blending, and customizable settings.

The Vitamix Ascent Series A3500 slam dunks this category, in so many ways.
Whether you're making smoothies, soups, dips, or desserts, the Vitamix A3500 has a setting for that.
Built for power and precision, it's easy to adjust the speed and intensity of the blending, using the touchscreen to personalize any recipe you may dream up.
The A3500, as do all Ascent Series products, features Vitamix's SELF-DETECT® technology, enabling users to leverage multiple containers and accessories that connect with the machine wirelessly. The machine will read each container and automatically adjust blending times. Users can also time any recipes they're making and control the power through variable speed controls.
Plus, your limited counter space is probably full of appliances vying for access to the nearest outlet. But the Vitamix A3500 is a strong contender, since it wirelessly connects with so many different containers and attachments, including the 12-Cup Food Processor Attachment. That makes it a convenient and truly versatile space-saver.
Of course, you may not know what to make if you're just getting into the blender game.
That's why the Vitamix Perfect Blend™ App comes with 17 programs and over 500 recipes to get you into the healthy meal on-the-go lifestyle.
Another "power of wow" of this blender-above-blenders is that it's tough enough to be put to the test with its 10-year-warranty.
Getting healthy isn't easy for anyone, let alone staying fit. The best place to start is with your diet, and the simplest way to maintain a healthy diet is by blending fruits and veggies into tasty meals you can enjoy quickly and conveniently.
You don't have to be a great chef to make healthy food taste great; all you need is a Vitamix A3500.
Chef Declan Horgan uses Vitamix.
GoWISE USA 3-in-1 Electric 2000-Watt Meat Grinder & Food Processor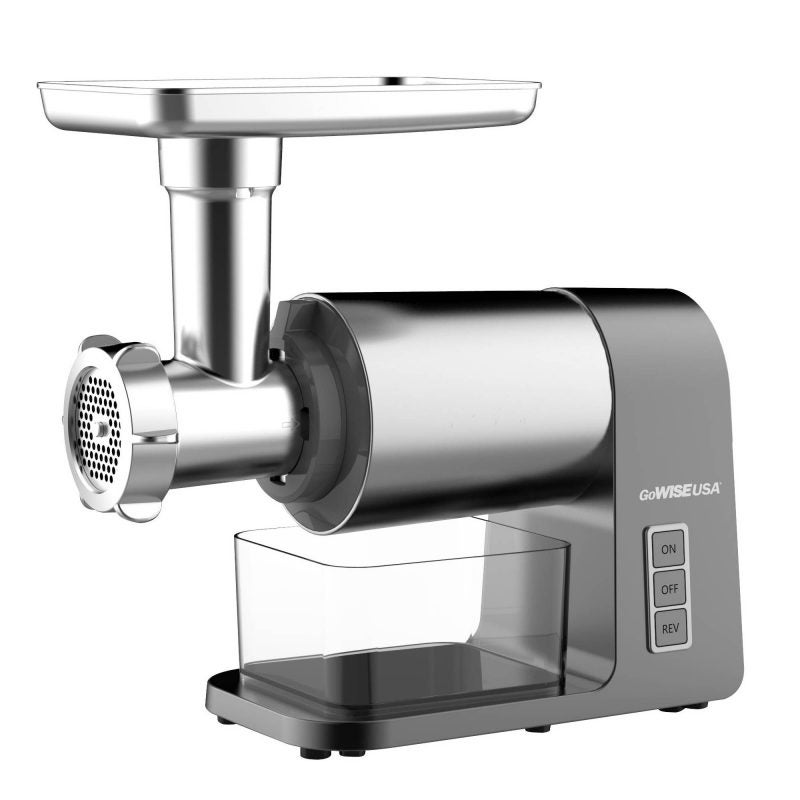 Grind like a boss with the GoWise 3-in-1 meat grinder
Buying ready-made burgers and hotdogs full of preservatives is a beginner move.
Level up to making your own sausages, meatballs, or any protein that goes on the grill by getting a meat grinder. But not just any – the one that kills it in the kitchen.
You can be your own meat-stylist for a $189.99 investment in the GoWISE USA 3-in-1 Electric 2000-Watt Meat Grinder and Food Processor.
Grinding 4 lbs. of meat per minute, this bad boy is all you need to be the king of BBQ season – or any indoor party.
Featuring a sausage maker, a kibbeh kit, a food pusher, a stainless steel blade, and three metal alloy plates, this machine is as much about meat design as it is grinding.
That means kielbasa, chuck beef burgers, kibbeh, and spicy Italian meatballs can now all come with the disclaimer "I made this".
With its three restaurant-quality attachments for any meaty project, all you'll need is the ingredients, and an oven or grill.
The 3-in-1 Electric 2000-Watt Meat Grinder & Food Processor comes with a reverse button that unclogs the unit between uses. Of course, it also has a forward button for slicing, grinding, and stuffing all your meaty delicacies.
If you're having guests over, there's a chance one of them might be vegetarian.
But you'll still be able to use the 3-in-1 Electric 2000-Watt Meat Grinder & Food Processor for their meal too, while respecting their diet.
This grinder can easily be used to make veggie burgers or veggie dogs, just by changing up the ingredients you put in the grinder.
Eventually, this'll be an indispensable part of your appliance repertoire, particularly if you enjoy handmade homemade from-scratch bad boy burgers.
As seen in our Celebrity Feature: Hell's Kitchen Chef Declan Horgan
SubZero Fridge: The Next Generation of Appliance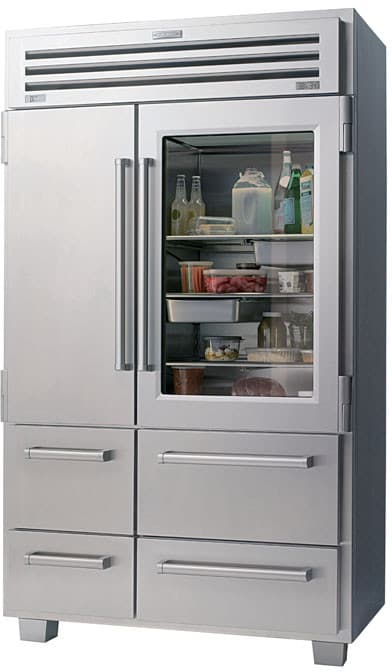 Have a dream kitchen vision? Traditional, industrial, transitional, contemporary, retro, or even visionary? There's a lot to consider, which can get overwhelming.
But once you have some idea (or are still trying to figure it out), SubZero appliances will fit in exquisitely to both beautify and amplify any design.
With over 75 years of innovation and creativity, Sub-Zero refrigerators guarantee food's freshness and quality. And better yet, your kitchen will look stunning.
So how does Sub-Zero accomplish this? It can't be more than just a cool climate space for your food, right? Sub-Zero focuses on three pillars of food preservation. There's temperature control, where a microprocessor maintains a consistent internal temperature throughout the day (unlike many other refrigerators that fluctuate temperatures over time – bet you didn't know that!). There's humidity, in which Sub-Zero can provide different levels of humidity inside the fridge and freezer. That way the flavour of fresh foods will stay that way with humid air and frozen foods will get the dry and cold air it needs. Lastly, there's Sub-Zero's air purification system, which protects fresh foods against compounds such as ethylene gas that quickens ripening and spoiling.
Let's talk design: Did you know that Sub-Zero was one of the first companies to manufacture designer units that seamlessly blend in with the décor? From the outside, it appears like any other drawer or cupboard in your kitchen, but open it up and there's your fridge.There's of course Classic Refrigeration, which comes with the tried, tested and true stainless-steel look or finished in custom panels. Then there's undercounter refrigeration, which brings cold storage to literally anywhere in your home. Call it anywhere refrigeration.
And who can forget wine? Your bottles deserve more than just a dingy or hidden away place to be stored (you probably paid good money for them too!) Like our other units, Sub-Zero offers wine storage options that put your wine on display, or perhaps keep them more discreetly hidden and most importantly, keeps the wine in tip-top condition.
With Sub-Zero, you're bound to find your new favourite fridge.
RÖSLE
The RÖSLE brand is all about the security and happiness of the home. This is why the focus of their company is on sustainability and modernity in all their kitchen gadgets, cookware, and grills. Since 1888, RÖSLE has produced quality, functionality, and innovation in kitchen utensils, and their 40 cm Locking Tongs are no exception. Anyone who cooks at home, from the novice to the expert chef, can attest to the necessity of a good pair of tongs and all the uses for them.
The grill master of the family will be proud to have this utensil in their arsenal. The selling point of these particular tongs is the patented coupling mechanism that allows for locking and unlocking with just one hand. The ergonomic design of the Locking Tongs provides comfortable fit and use in the hand. The Locking Tongs are composed of stainless steel for a sleek and durable finish. The innovative, space-saving shape is not only functional but also appealing. For use in food preparation, preservation, and serving, the Locking Tongs can provide better precision and greater efficiency than other utensils like forks, spoons, and spatulas.
The 40 cm length of the Locking Tongs is the perfect size for grilling, stovetop cooking, and even baking, keeping hands a safe distance from hot surfaces.
Shun Knives Are a Cut Above
The knife has been around for nearly 2.5 million years, yet we humans are still finding ways to improve upon its functionality and efficiency. There's a certain beauty in combining an existence worth's of crafting and development and a vision of innovation into an item used by literally everyone. This is the blueprint of the Shun Cutlery.
Though the brand itself is young (2012), its knife-making approach and pedigree date back to Japanese blade-making traditions from over a century ago from a shop in Seki City. That shop grew to become Kai Cutlery (now Kai Group), which produces the Shun Brand today.
Shun Knives are scary sharp. The signature fine edges of Shun's knife blades (crafted at 16 degrees, which is significantly sharper than European-made knives that are typically 22 degrees) are maintained with multiple layers of super-strong steel that are used in traditional Japanese craftsmanship. Better yet, even with that heavy-duty material, Shun still figured out a way to package it into a lighter-weight feel, while giving it a beautiful swirl design.
Shun has been winning "Knife of the Year" Awards since its existence. Top chefs worldwide have loudly proclaimed Shun Knives are the best they've ever used. It's no wonder the name "shun," refers to a time when food is at its peak of perfection – such as when fruits and vegetables are perfectly ripe. That perfection is what Shun strives for in its products.
BlueStar Stoves – Your Oven, Your Way
Here's a novel idea: wouldn't you like to create your own custom oven and stove top? We customize the food we eat everyday, so why not have the same for the item that prepares it for us? We shouldn't have to settle for such an important appliance to be incredibly bare-bones and restricted in use.
Enter BlueStar: where creating your kitchen is like making your own personalized ice cream sundae. Toppings and all.
BlueStar provides configurations that can be made-to-measured to your own cooking desires. There are integrated cooktop accessories, which include charbroilers, built-in griddles, and even French Tops.BlueStar's Platinum Series provides a power level of 25,000 BTU burners and includes an integrated griddle/charbroiler system that can be moved to any position on the stovetop. And of course, you can arrange the burners where you want them. There's even a culinary series, which offers either open or sealed burners. And if you're daring, there are extra-large convection ovens with True European Convection.
But now for the customized experience. BlueStar stoves can be customized in the following ways: There's size, which ranges from 24-60 inches. You can have as many as eight burners, or substitute a burner or two for a griddle or a charbroiler. You can go with or without a backguard (up to 24 inches). They're all the colours of the rainbow and more for both the base and knob colours. You have your choice of trim from standard stainless steel to antique copper or brass. And finally, you have your stove doors, which can have a standard top-to-bottom opening or swing open from either the left or right.
That's just a taste of some of the customizations available from BlueStar. But perhaps you aren't certain of what's best for you. No worries. BlueStar has recruited award-winning chefs such as Michael Symon, Ford Fry and Jose Graces, who've provided expert advice on not only what BlueStar product might work for you but also what works for them.