The modern world is characterized by high mobility, dynamic lifestyles and constant movement.
In these realities, car rental plays a significant role, providing flexible and convenient ways of transportation for different categories of people. The importance of vehicle rental has become especially relevant in the changing habits and needs of modern consumers. Renting a car allows you to customize your choice of vehicle for specific tasks and situations. Customers can choose between different models, types and classes of cars depending on their needs, whether it is a business trip, a vacation with family or a short trip. In addition, renting allows you to avoid significant capital investments and pay only for the time actually used. This is especially true for those who need a car temporarily. Finally, car rental makes motor transportation accessible to a wide audience, including those who cannot afford to buy a personal vehicle. Analysts have estimated that the global car rental market was worth $92 billion in 2021 and will grow to $140 billion by 2027.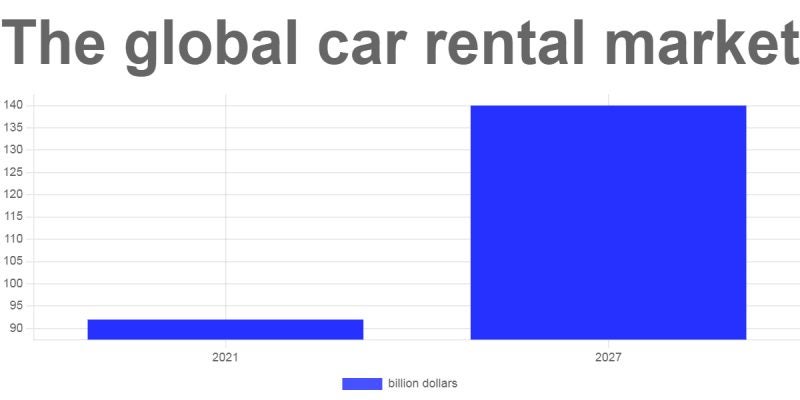 Traditional car rental remains an option for gaining access to vehicles, providing customers with choice, flexibility and service levels. However, as the industry evolves, new business models such as carsharing are emerging. This is the concept of renting a car for a short period of time through special mobile apps. This format provides customers with the convenience of real-time booking, payment and access to the car. Each approach has its pros and cons, let's consider them in detail.

Traditional car rental
Traditional car rental assumes that the client receives a car for a certain period of time from a specialized rental company or dealer. Pros of such a solution:
Choice of car: The customer is able to choose a car from a diverse range of vehicles, including different models, classes and equipment to meet their specific needs and preferences.
Long-term leasing: Traditional leasing allows renters to borrow a car for an extended period of time, which is especially convenient for corporate clients or those who need a car for an extended period of time.
Service and Maintenance: Rental companies provide service and maintenance for the car, which frees the customer from worrying about regular maintenance and repairs.
Minuses of traditional car rentals:
Limited rental time: In most cases, traditional rentals provide a limited number of available miles and a specific rental period, which can be inconvenient for those who plan short trips.
Carsharing
Carsharing is an innovative car rental model that gives users access to a vehicle on a temporary, on-demand basis. Instead of signing up for a long term rental car like a traditional rental, users can rent a car for a short period of time, hours or even minutes. Users can book a car through a mobile app or web platform, paying only for actual usage. Carsharing provides a selection of different models and types of cars, allowing renters to match the vehicle to their needs. According to Ameco research, the global car sharing market size is estimated at $6.6 billion in 2021 and is expected to reach $35.2 billion by 2030 with a compound annual growth rate of 20.8% from 2022 to 2030.
Pros of carsharing:
Flexibility and convenience: Carsharing offers the convenience of instant access to a car on demand, without the need for advance reservations. This is especially convenient for short trips or in case of unexpected plans.
Savings: Carsharing can be more cost-effective than owning your own car, as users only pay for the actual time used and distances traveled.
Lack of worries: Users don't have to worry about maintenance, repairs, or car insurance – all of these aspects are provided by the carsharing company.
Cons of carsharing:
Limited location: Carshare cars are only available in certain areas or drop-off points, which can limit the geography of use.
Cost for long trips: For long trips, carsharing can be more expensive than traditional renting or owning your own car.
In today's mobile environment, where flexibility and affordability are important, carsharing is becoming an increasingly popular alternative to traditional renting. It provides new opportunities to meet transportation needs while at the same time helping to conserve resources and protect the environment.
Comparative characteristics
When comparing traditional car rental and the innovative carsharing model, there are a number of key findings that can help determine the best option for specific needs and situations.
Flexibility and affordability:
Traditional Rental: Owning a car under a traditional rental provides longer access to a vehicle, but requires advance planning and reservations.
Carsharing: Carsharing provides instant access to a vehicle on demand, making it a great option for short trips and unexpected situations.
Economic Benefits:
Traditional Rental: Traditional rentals can be beneficial for long trips where only a flat rental rate is paid.
Carsharing: Carsharing is economical for short distances as users only pay for the time used and kilometers traveled.
Environmental component:
Carsharing: Carsharing helps to reduce the number of cars on the road, making a positive contribution to the environment.
Car choice:
Traditional rental: Renters can choose from a limited number of models available from the rental company.
Carsharing: Carsharing provides a variety of car models and types, giving the opportunity to choose the best vehicle.
Depending on individual needs, travel time, and other factors, both traditional rentals and carsharing have their own unique advantages. However, carsharing, with its convenience, cost-effectiveness and environmental contributions, is a promising and responsible alternative to traditional operating formats.
by Nikita Legkov, Top Manager in the car business
Sources:
ELECTRIC CAR RENTAL MARKET SIZE, Mordor Intelligence 
Car Sharing Market Growth Opportunities and Forecast till 2030, Ameco research, May, 2023
Car sharing – Worldwide, Statista
Keywords: car rental, carsharing, car rental market