With new exquisite courses opening all across the world, golf is booming in popularity, and it's not hard to see why. By design, golf is the socially distanced game par excellence, doesn't really require as much social interaction as many other sports, and offers golfers wide open spaces, fresh air, bright sunshine, large expanses of green grass, and a safe escape from the stresses of life. This is especially important after the unexpected

Covid-19 pandemic
.
Thinking of a golf trip? Great! Borders are gradually reopening, and so is golf tourism. There's no shortage of top-end golf destinations across the globe, each offering a vast array of amazing courses and playing experiences. 
Here is our list of the world's top 5 destinations that should be high on your golfing bucket list for 2022. From the highlands of Scotland to the idyllic beaches in the Dominican Republic and beyond, these five places offer some of the planet's ultimate locations to play. 
1. Dominican Republic
Paradisaical white-sand beaches, crystal-clear turquoise-blue waters, natural and cultural treasures, luxury retreats, a great foodie scene and exquisite 18-hole tropical link-style golf courses bracingly close to the Caribbean Sea… The Dominican Republic has it all, and definitely deserves to be the top bucket list destination for any golf enthusiast.
With 350 days of tropical sunshine a year, the country has become a hotspot for luxury travel and a top-rated tourist destination, with some of the most beautiful golf courses not just in the Caribbean, but in the whole world.
Perched along majestic seaside cliffs, wide sandy beaches and dunes framed by sparkling aquamarine waters, most of the Dominican Republic golf resorts are to be found in the southwestern part of the country, each offering spectacular scenery to be admired at every hole, not to mention the stunning sunsets that regularly take your breath away.
There are many great golf resorts in the Dominican Republic, but Corales Golf Club in Punta Cana (pictured above and below), designed by Tom Fazio, one of the greatest golf architects of our time, may have the best overall collection in the country, featuring six seafront holes set on white rocky cliffs next to the azure Caribbean Sea.
2. Scotland, United Kingdom
Scotland is the birthplace of golf, the place where it was invented. Didn't you know? The Scots cultivated the foundations of the modern game. The first record of golf in Scotland dates all the way back to the 15th century, and the first 18-hole course was formed in the country. The home of the game remains the ultimate golf trip several hundred years later.
There are over 550 world-class golf courses and resorts to choose from in picturesque Scotland now, including legendary seaside links courses, which are the typical, dune-scaped courses that draw American professional and avid golfers.
3. Florida, USA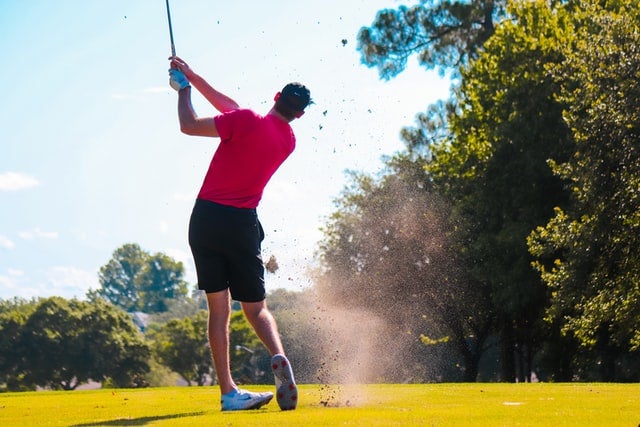 Golf is a year-round sport in sun-kissed Florida, the southeasternmost U.S. state. The Sunshine State appears to have the highest number of golf courses per capita in the United States of America. There are basically more golf courses than fast food restaurants in Florida. 
Whether you are headed to Orlando, Jacksonville, Miami, Palm Beach, Naples or anywhere in between, there are fiendishly challenging golf courses designed by world-renowned architects for you to show off your swing and swagger. The sun almost always shines here, the grass is almost always green, and the golf courses are absolutely marvelous.
4. Sicily, Italy
Sicily, the Mediterranean's largest, sunniest and most captivating island, is another prime golfing destination. Golf tourism is on the rise in this tri-cornered, mountainous island off the toe of Italy's boot, which is also a hotbed of adventure tourism. From scuba diving, hiking, trekking and rock climbing to kitesurfing, paddle boarding, kayaking and windsurfing, there's a lot to do in Sicily.
Many of the island's best golf courses come with Instagram-worthy hotels, clubhouses and luxury resorts with endless picturesque sea views, featuring top-notch amenities for kids and adults alike, such as glistening infinity pools, standout spas, well-equipped gyms, massage rooms, wellness areas, floodlit tennis courts, children's play areas, and gourmet dining.
5. Vietnam 
Golf tourism is booming in Vietnam, recently honored as the Best Golf Destination in Asia for 2021 at the eighth annual World Golf Awards held in Dubai, one of the United Arab Emirates. Vietnam has emerged as one of the world's newest élite golf destinations, and continues to evolve at a rapid pace with superb new courses added regularly. And it's easy to see why. The country's awe-inspiring natural beauty combined with the creativity and imagination of some of the most acclaimed golf course architects of all time has resulted in truly sensational course layouts, providing the backdrop for some of the planet's most stunning golf experiences.
What more could you possibly want? Pack your bags, get out your passport, book a flight, and get ready to be charmed by these absolutely breathtaking golf courses.