A Passion For Collecting
Dave Ellis of Exquisite Knives is one of the most passionate knife collectors around. His enthusiasm for knives isn't just limited to collecting them and appreciating them, Dave is a retired ABS Master Smith. For those of you who are new to the knife world, the ABS is the American Bladesmith Society. It's a non-profit organization that is comprised of bladesmiths that carry on the tradition of forging steel blades. A Master Smith is the highest skill rating the ABS offers. If you've never seen a high-quality collectors' knife, this article is for you.
CAS Knives
Have you heard of CAS Knives? It's a knife brand created by the Sobral brothers of Argentina—rising stars in the collectors' knife world. CAS knives are forged by Claudio Sobral, he specializes in fixed blade knives, particularly large bowie knives and camp knives. You could call it a speciality as Claudio states he has no intention of creating non-fixed blade knives in the foreseeable future. Their designs are appealing to people who love big hunting/all purpose knives.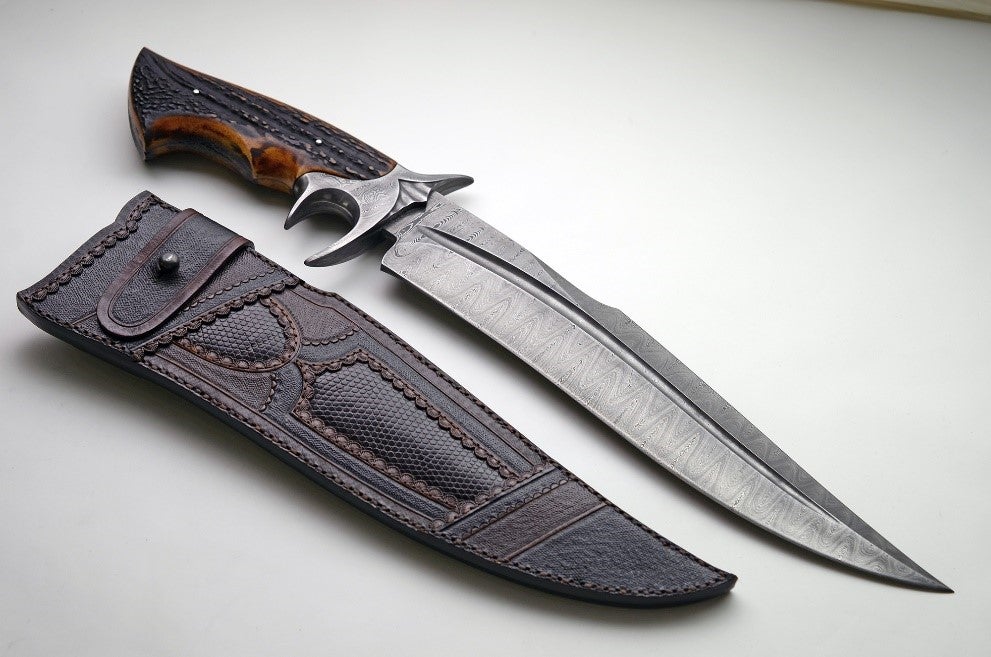 While CAS knives are increasingly becoming a household name, Dave has known about them for years. As an avid knife collector and connoisseur of blade art, he was impressed by their work and reached out to them quite some time ago. That's the passion behind Exquisite Knives—his website and virtual showcase. Mr. Ellis loves nothing more than finding rare collectors' knives and showcasing them to the world.
CAS: The Boss Subhilt Fighter
One such example of a rare collectors' knife is a CAS original, The Boss. This deadly beauty sports a subhilt handle which is sculpted stag. Stag is known for having an extremely durable texture and good feel in the hand..The OAL is approximately 19", with the blade comprising about 12" of that length! It's a big knife for sure, which may be why it's called The Boss.Not only is the blade Damascus steel, but the guard is as well. Damascus is a type of forged steel named after the capital city of Syria.
The technique to forge Damascus blades in ancient times is different than the technique of pattern welding made famous by Bill Moran in the early '70s. Pattern welding creates a highly similar look to ancient Damascus blades—of which, the original technique has been lost. Knives made with the pattern welding technique are referred to as Damascus despite it being a different, more modern forging technique.
Barring the technical details, the important visual difference is thatmodern pattern welding techniques give the smith much more control over how the pattern on the knife looks. As you can see with The Boss, the Damascus pattern sports a highly aesthetic uniformity on the blade. Ancient Damascus blades were rougher and looked more like ripples in water.
All of this is neatly housed in a beautifully crafted scabbard with exotic inlays. Because the sheaths are custom made by the youngest Sobral—Marcelo, you can bet everything is handcrafted and custom made to perfection. A premium package commands a premium price, the knife is valued at $4800.
Exquisite Knives, Exquisite Details
Knife collecting is all about the fine details, and Dave is an expert at appraising and evaluating collectors' knives. It's for this reason that Exquisite Knives is dedicated to high-end custom knives from some of the most celebrated custom knifemakers of our time. Legends such as Bob Loveless, Bill Moran, Buster Warenski, and many more, are all too familiar to Dave. Their knives have at some point passed through his hands as part of his collection or have gone up for sale on the site.Dave is an expert at tracking down these rare knives for other collectors with his sharp appraisal skills and by tapping his extensive network of knife aficionados and fellow custom knifemakers.
If you'd like to know more about Dave and these rare collectors' knives, you can do so here.