As the Holiday season quickly approaches it's never too early to start thinking about the people on your nice list. Show your loved ones how much you care by giving an investment gift that will withstand the test of time and can be passed on for generations. The team at Swagger Magazine is gifting readers the gift of time by doing the heavy research for you with this Swagger Approved watch list. If you've got a loved one who is an avid watch collector, or you want to help start someone's collection, read below.
The Ultimate Gift: Piaget Polo Watch 

The holidays are quickly approaching! Have you done your holiday shopping yet?
If not, consider the Piaget Polo Watch. The Piaget Polo Watch is a great gift for anyone who has swagger in your family. This novelty watch is part of the 888 limited series, so it will not be around for long. Piaget offers both complimentary delivery and a 30-day return policy. The Piaget Polo Watch has a 42-millimeter steel case, a green PVD dial with luminescent hour markers in rose gold. Additionally, this watch has a sapphire crystal back. This watch is automatic is second, minute and hour hands. Simply put, this watch has some serious swag. For only $11,900, this watch will be the best holiday gift of all time. The Piaget Polo Watch is truly the ultimate holiday gift that carries some serious swagger. Any passerby who sees someone wearing the Piaget Polo Watch will not doubt whether or not the wearer has swag; the answer is evident.
Piaget is a world-wide boutique with 90 stores in 23 different countries. The brand offers high class and stylish jewelry and watches. Piaget goods are manufactured in 2 locations in France. Each piece is artfully and carefully crafted in founder Georges Piaget's motto: "always do better than necessary." Each piece of work is truly a piece of art. Each Piaget watches utilizes the ultra-thin technique. Each watch is incredibly thin, thus requiring an expert technique. A single watch movement may involve over 400 components. Over 15 different techniques are used when creating a watch, calling for complete precision.

Hawaiian Lifeguard Official Watches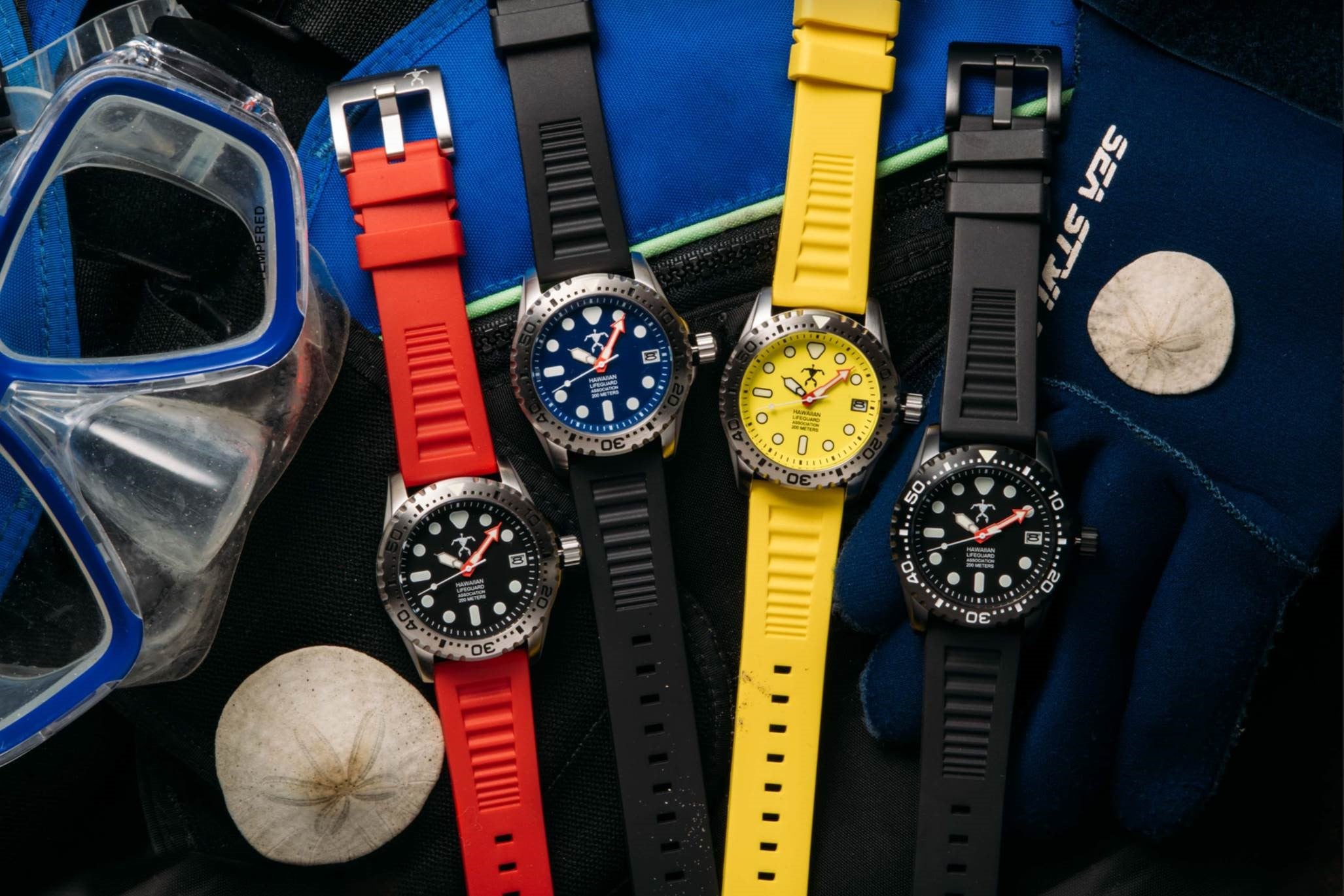 When the Hawaiian Lifeguard Association (HLA) wanted an Official Watch that could withstand the enormous force of the massive swells and waves of Hawaii, they reached out to Barry Cohen of Time Concepts, LLC, founder, former owner and CEO of Luminox Watch to create their official timepieces. There are only a few places on the planet with waves of 50 feet and more, which is the reason Hawaii hosts so many big wave surf contests, and these waves can take a toll on many watches not engineered to take this type of punishment.  Dealing with the force of the huge waves of HI is different than simply making a water resistant watch for swimming or diving – the force of the massive waves puts an incredible amount of pressure on timepieces that can easily challenge their stated water resistance.  The HLA watches are dive style watches of outstanding quality, with superior fit and finish, and most importantly stands up to this unusual water condition.   The company reports having had very few water failures over the past 5 years, and a defect level well below 1%.
The lifeguards of the HLA are known as ocean safety and rescue experts, and regularly train US Special Forces (including Navy SEALs) on ocean rescue techniques.  The rescue methods employed by the HLA are the template of ocean lifeguarding worldwide.  They were the first to use the jetskis to expedite rescues and they invented the rescue sled towed behind the jetskis to pull people up onto them to get them out of harm's way.
The Official Watches of the Hawaiian Lifeguard Association are rugged, with 42mm 316L stainless steel cases, case backs and tight 120-click bezels that won't turn from inadvertent contact.  They have screw case backs and screw crowns to ensure 200 meters of water resistance and all watches are tested in both air pressure and water to guarantee they're sealed tight before leaving the factory, which is a dust-free, temperature and humidity controlled clean-room environment, atypical for watches in this price range.  They come on genuine rubber straps, and the dials and case backs sport the HLA petroglyph logo proudly.   The varied collection includes black, blue, white and yellow dials, with straps in black, yellow or red.  The brand colors of the HLA are black, yellow and red, with yellow and red representing the difference between caution and danger.  All straps feature easy on/off fingernail spring pics to enable strap changes in a matter of seconds with no tool needed.
Time Concepts is offering Swagger readers a special 25% discount with use of the code "Swagger" on this series (or any of their watches) on their website, just in time for gift giving, or perhaps as a gift for yourself.  Go to hlawatch.com.
Victorinox Swiss Army: Timeless Meets Titanium
The recently launched Fieldforce Sport Titanium Limited Edition is the perfect gift for the Holidays. From the makers of the original Swiss Army Knife ™ established in 1884. The lightest Fieldforce ever, made for any occasion. The FieldForce Sport Titanium LE offers featherweight strength, stylish red bezel, and a Super-LumiNova® enhanced display. A North American Exclusive; limited to 1,400 individually numbered pieces . Includes Limited Edition red packaging – perfect for holiday gift giving.
Since 1989, we've been making watches right here in Switzerland. Each one is crafted and designed to strike the perfect balance between performance and timeless elegance. And by the time you put a Victorinox watch on your wrist, it's already passed over 100 quality control tests; so you know it will be ready for anything and appropriate for every occasion.
MARQ Driver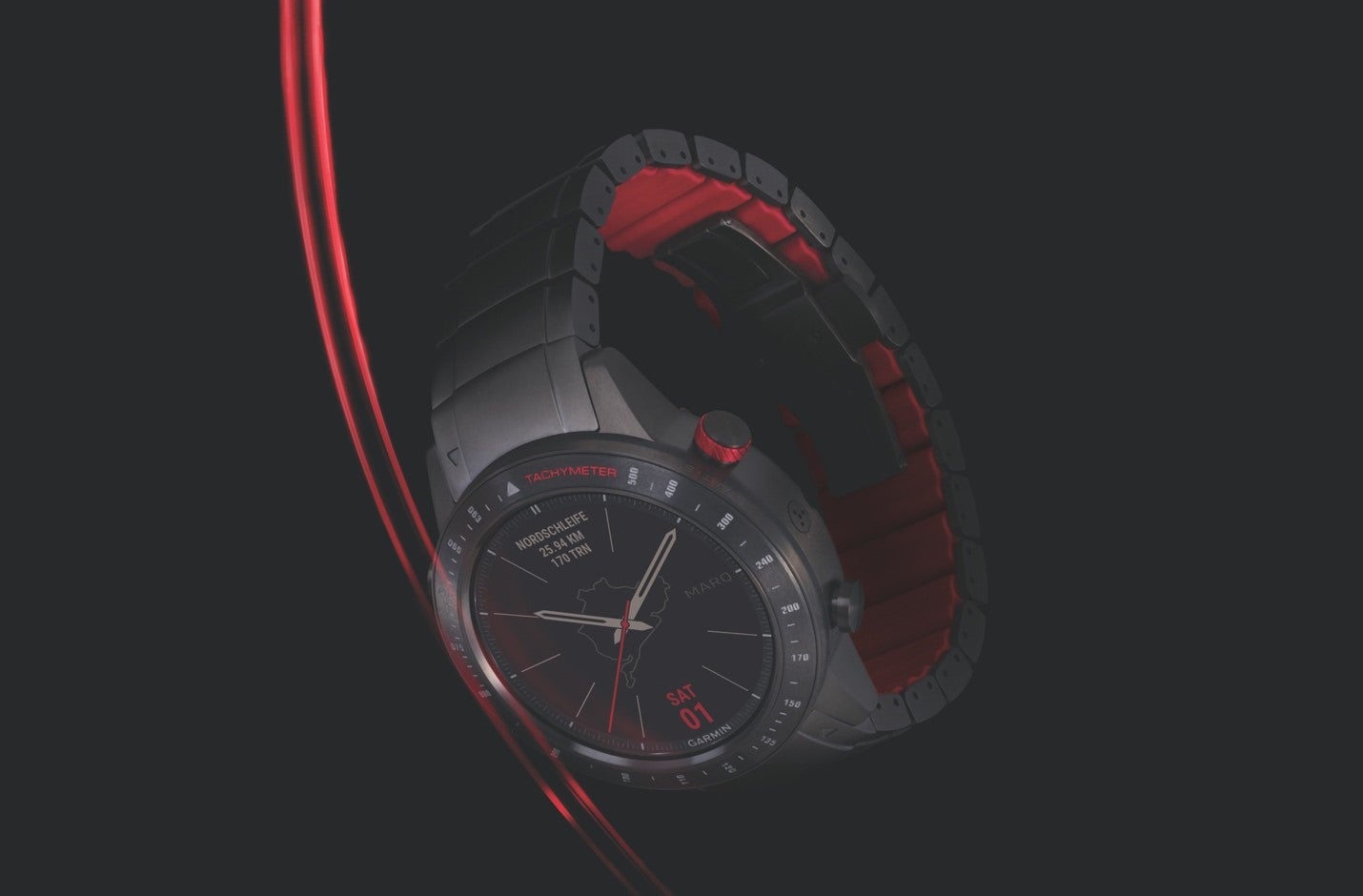 Whether you set course records or are inspired by those who do, MARQ Driver accelerates that passion for racing.
It is the only modern tool watch with smart features and 250 preloaded global racetracks. MARQ Driver is built for the car enthusiast with auto lap splits, live delta time a track timer and a tachymeter bezel.  Built with a hybrid bracelet, a titanium shell on the outside for a sleek and refined look, with a soft inner material suitable for any activity. These individual titanium outer links with silicone inner links create a uniquely comfortable, lightweight and breathable metal bracelet. Individual titanium outer links with red silicone inner links create a comfortable, lightweight and breathable metal bracelet unlike any other. Treated with a carbon gray DLC (Diamond Like Carbon) coating, this watch can not only withstand daily wear and tear but also the high vibration environment of racing. The MARQ watches feature an always-on, sunlight-readable display with GPS and premium smartwatch functionality, including built-in music storage, Garmin Pay, smart notifications, daily activity tracking, as well as wrist-based heart rate and a wrist-based pulse ox sensor. All watches are compatible with Garmin's QuickFit solution for quickly and easily changing between different straps and bracelets. Internal, rechargeable lithium battery provides up to 12 days of battery life in smartwatch mode, 28 hours in GPS mode, 48 hours in UltraTrac™ mode and 9 hours in GPS mode with music. To view the entire MARQ Collection visit garmin.com/marq
(Rado)The Captain Cook Collection: Combining Vintage with Modern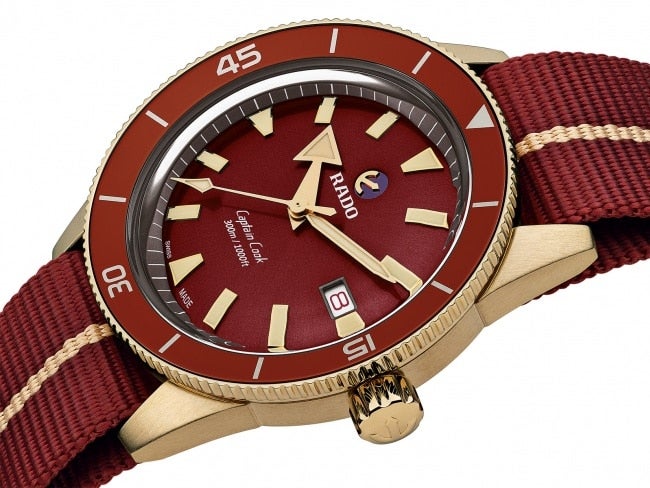 If you seek a timepiece that captures an essence of timelessness and vintage flavour, while still embodying a sense of modernity and uniqueness, the Rado Captain Cook Collection is your treasure discovery.
Rado first produced the Captain Cook from 1962-1968 as a prototypical dive watch, which was very common for watches in that era. But as vintage-style dive watches became trendy in the 21stCentury, Rado resurrected the Captain Cook model in 2017 to huge critical success. While the 2017 model is oh-so similar to the original, the latest 2019 model might as well have been designed from scratch.
How so? This automatic timepiece contains a mix of materials including high-tech ceramic and sapphire crystal, while still maintaining vintage details. It's the type of watch that shows how old models can be given up-to-date features, and be developed into something novel and new. Constructed at 42mm wide, the watch comes with dial colours of grey, black, navy blue, green, brown and light silver. Also new for 2020 is the Rado Captain Cook Bronze, which instead has a bronze case material. Think of it as your classic watch, with some added character.
The Captain Cook is a watch truly designed to stand the test of time. And yes, what we may call modern now, will of course be considered vintage once this timepiece is passed down.