Now before we make it sound so cavalier, let me tell you why we think that this HCG1 Professional Gaming Headset is your best value option out there.
So let me just sum it all up for you. You might be able to find a headset with great directional sound, and you might find a headset with a professional microphone quality. You might find it with the highest level of comfort, although finding that kind of quality is hard even when you are willing to spend more than $200. However I can assure you that NOBODY else will offer you a 2 year satisfaction guarantee on your headset, and that is why any other headset you look at can't hold a candle to the kind of value that the HCG1 delivers to you, not even all those brands that you have heard of before. But don't take my word for it. Try it out, and if you don't love it, then take advantage of the satisfaction guarantee. After all that is what it is there for!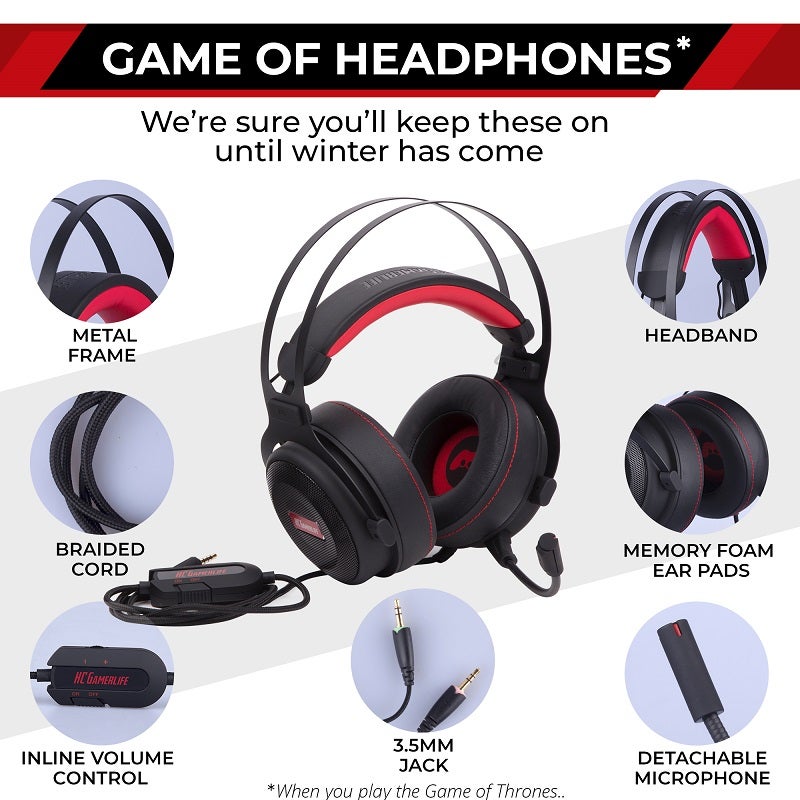 Still not convinced? No problem, here are some of the things our customers have said about the HCG1's:
Corgi 5.0 out of 5 stars  A gaming headset that's built to last
… Where this headset really shines is the superb audio quality. They sound like $200+ Sennheisers. I play PlayerUnknown's Battlegrounds daily and these have really improved my game compared to my old headset. I can much more clearly hear quiet sounds like footsteps, and that makes a huge difference in being able to calculate the position of an opposing player. They get plenty loud, especially if you've got them plugged into a device with a high quality amp….
Craig Butikofer 5.0 out of 5 stars  Honestly surprised.
…+THESE THINGS SOUND BETTER THAN MY 518S. SERIOUSLY.
+DETACHABLE MICROPHONE WITH A STANDARD 3.5MM CONNECTION
+Build quality; this thing is almost all metal. I have 518s (Senneheiser) and they don't feel as well built as these. I was pretty shocked. They have that bar that goes across the top and it's all metal and they're really comfortable. You can wear these things for hours and hardly notice. They're a good deal heavier than 518s (more metal and the microphone component)
+Driver size: these are 35mms, and actual good ones. Outside of music and audio stuff I play a lot of PUBG and these have a super wide sound stage, I can actually hear footsteps and silenced fire that I was missing or misplacing before, it's been actually really nice….
sarah  brahosky  5.0 out of 5 stars  I have hated headphones for years
...I have tested these headphones for several things. The first thing I did was throw on some music. Few things will test your headset's abilities like some thumping music. They perform beautifully. The massive sound drivers built in to the headset provide you with a clear, crisp, and beautiful sound.
Second, I have been playing a number of different games while having them on. The first one was Diablo 3. There are sounds going on in the game that I didn't even know existed till I plugged this headset in! I also fired up Fallout 4 so that I could test the headset's capabilities as far as a 3D sound environment. I was blown away. The Fallout franchise is well known for their stunning music, and I never realized just how incredible it is within the game itself. I was able to pinpoint the movement of enemies to either side of my character. Amazing sound!
Next I wanted to touch on comfort. As I stated before, every headset I have ever owned has been an uncomfortable experience from beginning to end. That has not been the case with HCGamerLife's product. I stayed up late the other night and wore the headset for 3 hours. Not an ounce of discomfort. The headset is build to adjust to your head without any work on your part. They fit my 4 year old's head and my giant head, and I don't have to adjust anything! The padding and lightweight design is fantastic for a great deal of prolonged use.
Finally, I wanted to touch on the incredibly sturdy design. The entire frame is metal. No plastic parts to wear out in a short time and snap when you put them on three months later. The metal flexes, which lends itself well the the fit and comfort I mentioned earlier. I have young children who get into EVERYTHING.
I can't see them breaking this headset unless it ends up in the toilet or something, but they are old enough to know not to mess with them(Hopefully!)!
Currently on sale for $129.99