FROM MAN CAVE TO MAN CASTLE
Transform your man cave into a man castle fit for a king. We've narrowed down a wealth of gear, appliances, and decorations into a curated list of the ultimate guide to man cave essentials to keep you cool and comfortable in your castle.
Corridor 8179 Media Console
Designed with the home theater in mind, the award-winning Corridor 8179 Media Console is the ideal centerpiece for any man cave. With its architecturally inspired louvered hardwood doors, the cabinet conceals generous interior spaces that can host the most robust home theater setup. Its unique design allows for full sound dispersion and IR-signal access – even with the doors closed. Flow-through ventilation features promote airflow and allow heat to escape, helping preserve the life of your components inside. As thoughtfully designed on the inside as the outside, this four-door cabinet opens to a center compartment specially designed for a soundbar, while adjustable shelves allow you to host components of various sizes. Additional innovative features include generous cable cut-outs and integrated wire routing channels to preserve the uncluttered design; removable back panels to easily access and connect devices; hidden wheels for ease of placement and access to the back of the cabinet and levelers to account for uneven flooring. Boasting a sleek wood cabinet design sharply contrasted with a satin-etched glass top and black steel base, this is a must-have piece for the ultimate entertainment space.
Buy now
Transformer Table 4.0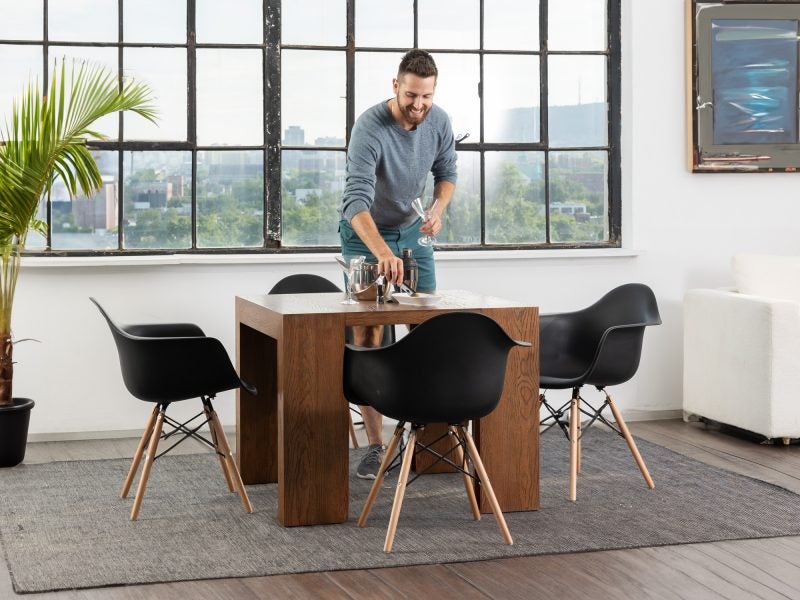 Take your living space to bold new frontiers with Transformer Table 4.0. This extendable dining table set offers style and function for those busy with entertaining, family, or anything else life throws at them. Coming in six exquisite solid wood finishes, the set includes a six-in-one dining table, a self-storing bench, stackable chairs, and a versatile coffee table with storage. With a focus on sustainability and durability, the furniture combines steel hardware, real solid wood, and a lifetime warranty on the telescopic mechanisms. The high-end, heat, liquid, and scratch-resistant design can support up to 1,500 lbs, and is easy to move and adjust as needed. 
Choose from finishes that include Scandinavian Oak, American Walnut, Aged Elm, and more. Elevate your man cave with the Transformer Table 4.0's versatile and unique features that will fit and furnish your personal space
Buy now
The Maxwell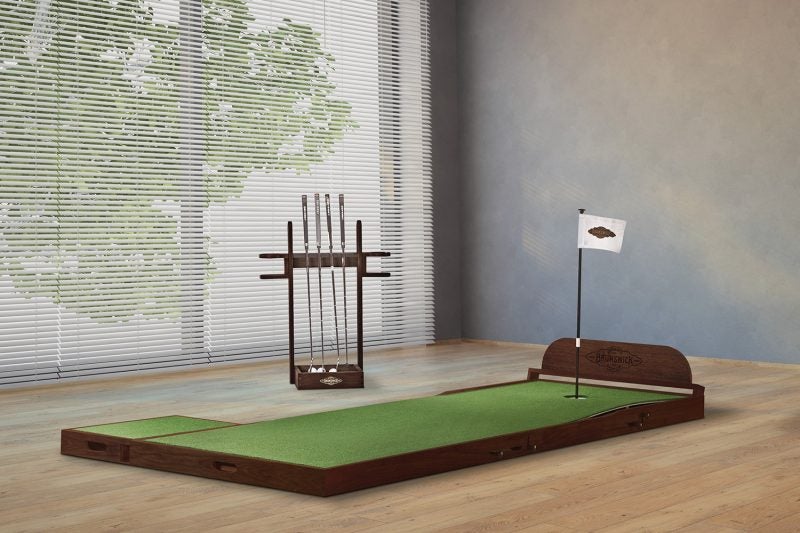 Upgrade your man cave and take your putting game to the next level with The Maxwell. With up to 50,000 customizable combinations, you'll master every break, shave strokes off your short game and leave your opponents behind. This putting green comes with everything you need to sink more birdies and less 3-putts including a putter rack that holds up to 4 putters (putters not included). For a limited time, save 40% on The Maxwell with promo code BRUNSWICKSWAG on www.brunswickbilliards.com.
Buy now
Club Sport Neomatik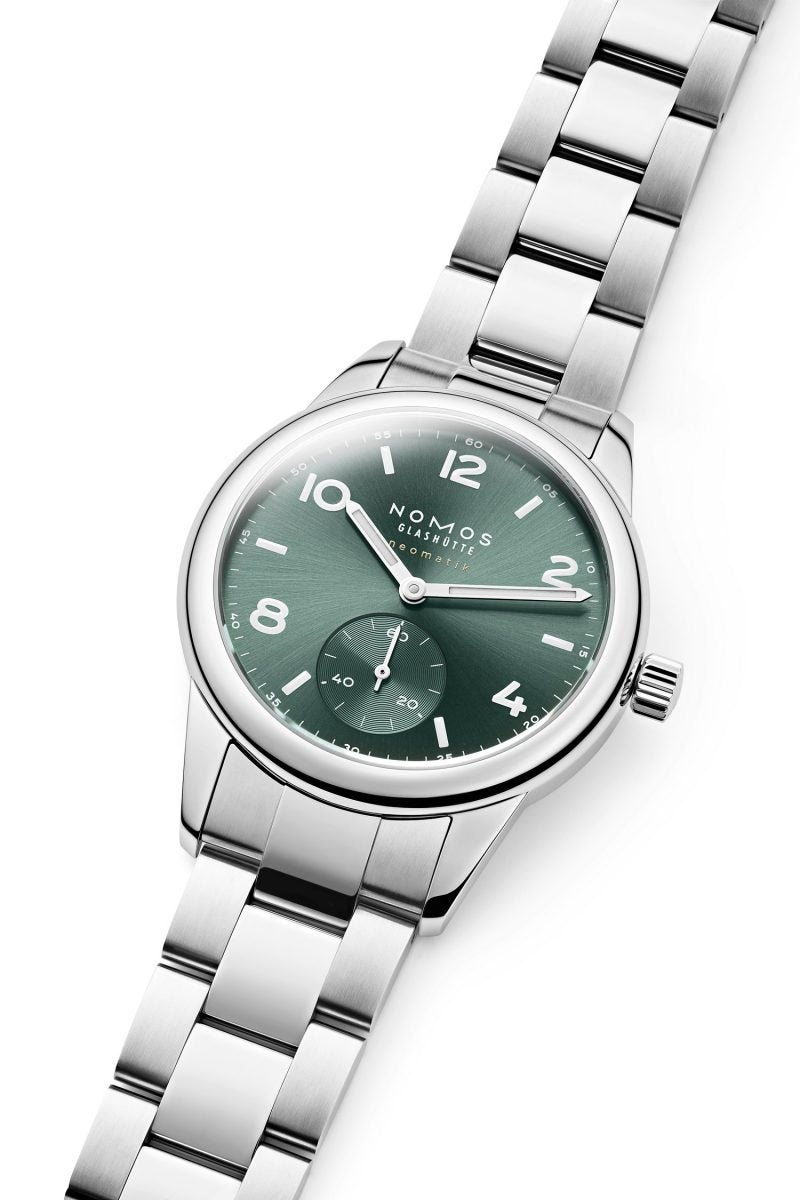 Club Sport neomatik in petrol green from NOMOS Glashütte has a case diameter of 37 millimeters—the automatic watch with elaborate sunburst finish dazzles on any wrist. It accompanies you through busy weekdays with its motivating sportiness. This high-performance model is powered by DUW 3001, the innovative caliber from NOMOS Glashütte. The movement developed and manufactured by NOMOS is just 3.2 millimeters in height and equipped with the NOMOS swing system for optimum accuracy. Those who want to lose no time between working at the desk and jumping into the pool are in good hands with this watch as Club Sport neomatik petrol is water resistant to 20 atm and stays put on your wrist while swimming.
Buy now
Nerdytec: Couchmaster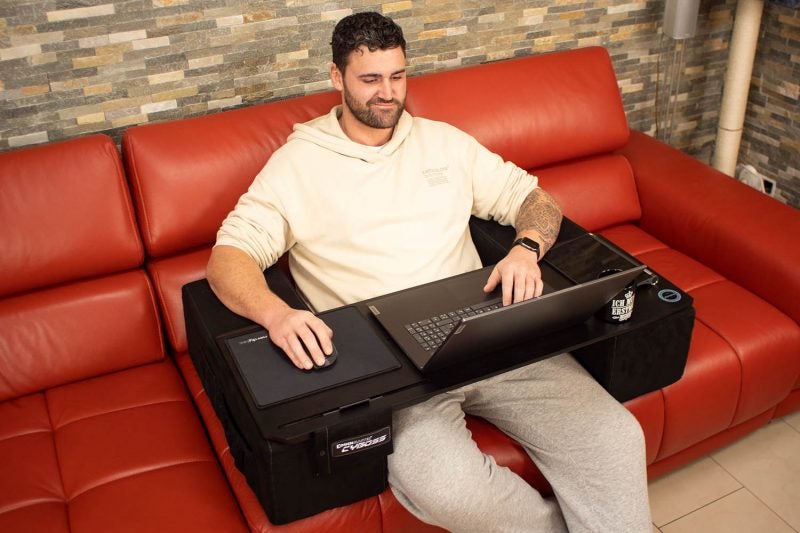 Enhancing your gaming and work setup cozily doesn't require splurging on an overly expensive chair or sticking to a conventional workstation, especially within the man cave realm. Instead, consider utilizing your ultimate comfort zone – your couch – and refining it into an ergonomic setup using Couchmaster.
Couchmaster products offer unparalleled transformation. Envision ample room for your keyboard and mouse, meticulous attention to ergonomic correctness, and enticing features: integrated USB ports, laptop-friendly ventilation grille, convenient side pockets, plus customizable add-ons like phone or tablet holders and a snack tray.
You have a variety of choices for different models, each offering materials like bamboo or plastic for the board, and cushion options like microfiber or leather. This allows customization based on your preferences Additionally, select dimensions, shapes, and color combinations that suit your taste. Special editions like the CYPUNK and CYPUNK² stand out with distinctive designs, adding a touch of uniqueness.
In this wholistic environment, you're equipped to tackle various scenarios while indulging in gaming or work pursuits. Embrace a new approach to couch-bound endeavors that promise comfort, style, and adaptability beyond traditional furniture confines.
Buy now
Logitech G CLOUD Gaming Handheld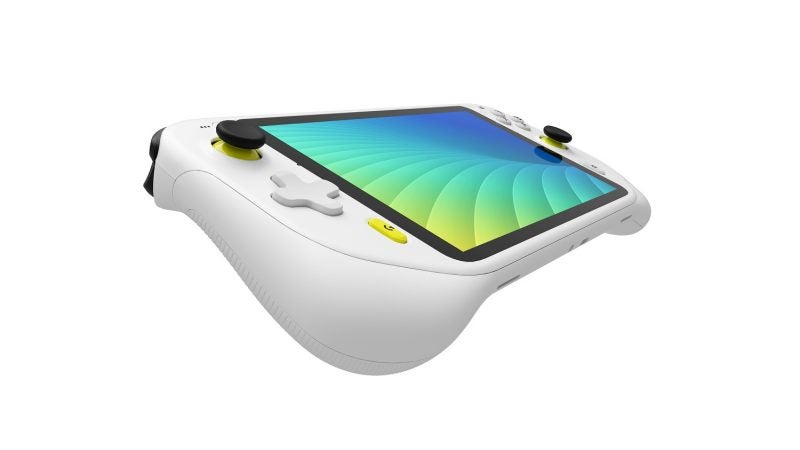 Logitech G CLOUD takes massive libraries of AAA titles and advanced graphics (up to 1080P / 60FPS) from the cloud and puts it all into your hands. This allows you to play a ridiculous amount of games from your console titles on XBOX Game Pass, to thousands of your favorite PC games on NVIDIA GeForce Now, Shadow PC, and even Steam Link. Just pick up CLOUD and play anywhere you have WiFi.
Valencia Theater Seating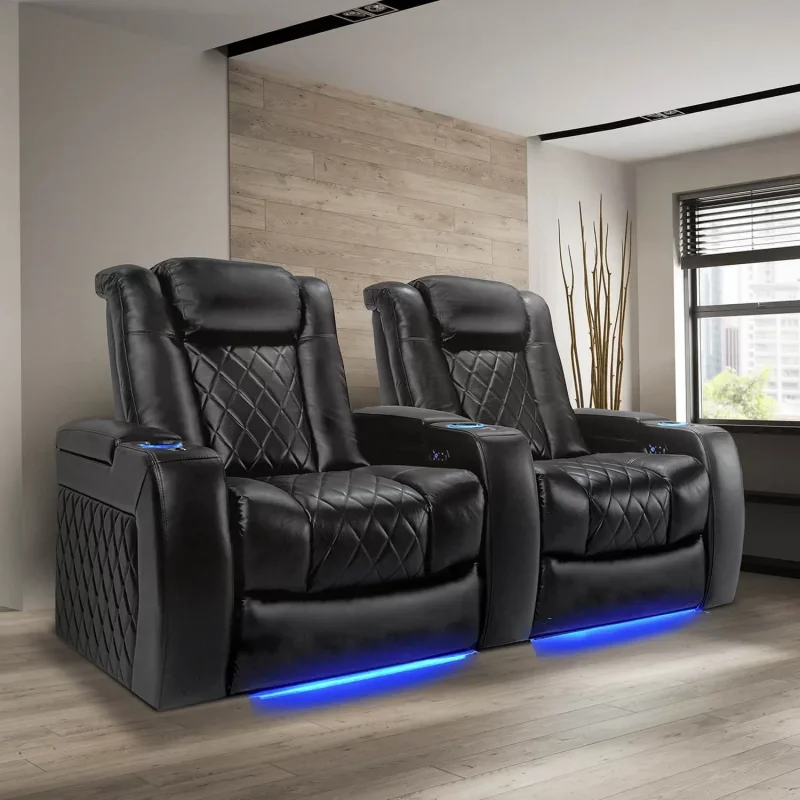 The Valencia Theater Seating Ultimate Luxury Edition exceeds the status quo with the mixture of premium Semi-Aniline Italian Nappa Leather 20000 and advanced technology. 100% ultra smooth & supple matte leather coverage and innovative materials have resulted in unparalleled design and opulence. Equipped with LED RGB lighting, memory control panel, perforated French diamond stitching, Parisian velour-lined armrest hidden storage compartments, USB & USB-C ports, and black chrome hardware. This is Valencia's most luxurious model yet! The high-end leather is akin to the likes of a Rolls Royce and other luxury cars. Access your freedom of choice with a selection of multiple configurations. Fulfill your desires and create a set customized to your ultimate luxury.
Epson Home Cinema 4010
The Epson Home Cinema 4010 4K PRO-UHD projector is the ultimate home theatre experience. It's packed with features that make everyday life easier, more entertaining, and more productive. It's the perfect device for anyone who wants to do more with their projector. The 4K Ultra HD Home Theater Projector is the ultimate addition to your home theatre. It's great for watching movies, playing video games, or even streaming TV shows and sports. You can use it with any HDMI connectivity so there are no limitations on what you can watch! And because this projector uses an advanced 3-chip design, it delivers incredibly bright images in full color with incredible detail and clarity. This means you get a picture that's crisp and clear from edge to edge of the screen. With HDR compatibility, colors look more vibrant than ever before too. Experience movies like never before when using this projector! If you want the best picture possible from your projector, then look no further than this 4K Ultra HD Home Theater Projector.
Get your Epson Home Cinema 4010 4K PRO-UHD Projector today!
Buy now
Nanoleaf Lines 
Nanoleaf Lines are LED smart light bars that are used for wall art to enhance any movie-lover or gamer's experience at home. The lines can be put together in any shape or design imagined. After the creation is mounted to the wall above your TV or computer the color pattern can be chosen with Nanoleaf's Screen Mirror. This feature, available on the Nanoleaf desktop app, allows the Lines to light up according to what is on the screen. The major color scheme of a video game will be reflected in the light bars above the computer screen, adding ambience to the entire room. Nanoleaf Line's unique combination of building blocks and electronic space upgrade make for a great holiday gift. The man in your life will have fun putting this decoration together and enjoying the elevated technological experience.
The "Smarter" Kit comes with 9 Lines and connectors to begin creating.
Buy now
Samsung Neo QLED 8K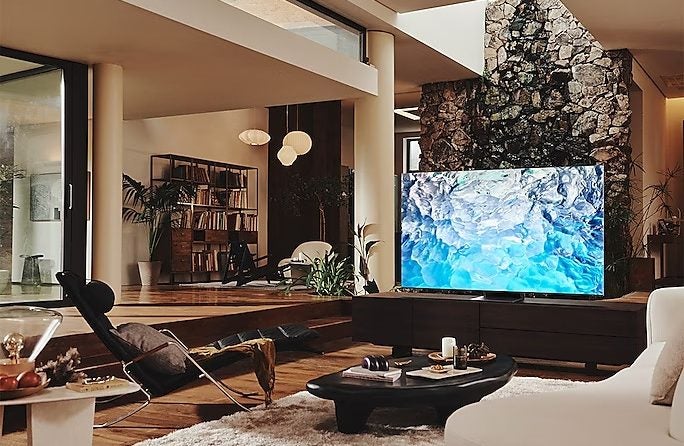 Whether you're gearing up for the big game or latest console launch, it's time to elevate your home entertainment centre with Samsung's Neo QLED 8K. Here's why: Allowing you to see even the smallest details, the 8K resolution is powered by Quantum Matrix Technology Pro with ultra-fine light control. The Neo Quantum Processor 8K with AI-powered 8K picture makes it great for sports, movies or gaming. Bigger, wider TV screens with 21:9 and 32:9 ratios give you a larger viewing area and elevated gaming experience. The Game Bar display allows you to optimize your gameplay with a comprehensive menu, such as screen ratio adjustment, input lag check, FPS, HDR, wireless headset and more.
Plus, its anti-reflective screen reduces glare and reflection for a distraction-free viewing experience. Infinity Screen is virtually bezel-less, so your entertainment is seen how it is meant to be viewed. Quantum HDR 32x sets the new standard for incredible detail and brightness. Enjoy extreme brilliance across the colour spectrum for a billion vivid, lifelike colours for an immersive viewing experience. Don't forget the Samsung HW-Q950A Soundbar with Dolby Atmos and DTS:X. The two let you hear each distinct sound as it flows around and above you, just as you would in real life.
However you design your space, just remember: bigger is better. But when it comes to screen size, the TV also needs to perform. The Samsung Neo QLED 8K does just that and more.
Buy now