Boulder Medicinals: A Craft Approach
By Rob Nielsen
"At Boulder Medicinals, we take a craft approach to the hemp industry. All of our full-spectrum CBD products are derived from 100% USDA certified organic hemp grown on our family farm in Boulder, Colorado, and they're processed and formulated right down the road in our lab."
Boulder Medicinals is a family-owned company fueled by the power of healing hemp since 2017. The company started when the number of hemp farms in Boulder County could be counted on two hands. At the time a legal grey area existed — "it was a cottage industry of small-time farmers", according to their founder — and CBD was not yet in wide retail distribution.
That changed with the passage of the 2018 U.S. Farm Bill, which legalized the large scale production of hemp throughout the country. With ideal climate conditions conducive to hemp farming, two states became the battleground for hemp agriculture: Colorado and Kentucky. Although the number of hemp farms in Boulder has increased five-fold in just two years, Boulder Medicinals hasn't been dissuaded by this increase in competition.
"Quantity does not equal quality, and all hemp is not created equal," says Tony. "We knew early on that our company value of sustainability had to come through in our products. One thing most consumers know and appreciate is the word organic. We saw an opportunity to set ourselves apart from the competition by staying true to our values and growing hemp in a way that was kind to the plant, to the Earth, and to the end consumer." This meant following the
strict guidelines of the U.S. Department of Agriculture (U.S.D.A.) to become "certified organic", a designation that very few hemp producers in the United States have attained.
These strict requirements helped Boulder Medicinals become a true seed-to-sale company. "We track every step of the process, start to finish, and each step is just as important as the last." This sits in stark contrast with most hemp producers in the United States, who rely on industrial hemp farming, heavy machinery, and pesticides. This technique often results in hemp that is stripped of many of its core benefits as a plant medicine.
The cannabis plant has over 100 chemical compounds, many of them beneficial in their natural state. When we think of hemp, we think of big green leaves, but the true value of the plant lies in the "trichomes", small and delicate crystalline-covered hairs on the plant that contain the beneficial compounds that make CBD so desirable. When hemp is harvested by industrial machines, those benefits are physically stripped away. In doing everything by hand, organically and without harmful growth conditions, Boulder Medicinals creates premium hemp-derived
products with a noticeable difference in appearance, in taste, and in the relief of common ailments it may provide.
To that end, the company has been humbled by the consistently positive feedback it receives from its community, which ranges from climbers and yoga practitioners to athletes and people suffering from chronic conditions. Boulder Medicinals is quick to point out that it makes zero claims about the efficacy of its products but is always encouraged to hear the profound testimonials of its customers.
The measure of a CBD product line can often be found in the quality of its "tincture", the small, brown, apothecary-like bottles from which CBD can be administered one dropperful at a time. It is often taken sublingually, under the tongue, for rapid absorption through the veins. Boulder Medicinals CBD tincture comes in 3 flavors: Peppermint, Orange-Vanilla, and Natural and in 4 strengths: 250mg, 500mg, 1000mg, and 1500mg.
For Boulder Medicinals, the benefits of its full-spectrum tincture are impressively varied: one of its most loyal customers in Colorado, DeeDee, put it this way: "I have suffered from severe Ulcerative Colitis for many years. Boulder Medicinals 1500mg tincture has enabled me to get off of several strong prescription medications, and I am doing better than ever. I am amazed, as is my doctor."
Cooper Bastian, a well-known competitive climber in Boulder, Colorado, is better able to enjoy his passion when not distracted by physical ailments: "I use CBD for joint pain and inflammation. I have used several products and Boulder Medicinals tinctures just give me more relief. They also taste great — I take the Orange-Vanilla flavor in my morning coffee. Their use of MCT oil also fits right into my Keto-based diet."
And even man's best friend gets to enjoy the benefits of CBD. Boulder Medicinals offers a pet version of their tincture that includes Wild Alaskan Salmon oil, and the relief it provides for many pups (and their owners) is impressive, especially in older dogs with arthritis. But even young pups see the benefit — the company is fond of telling the story of Spirit, a little Jack Russell Terrier puppy rescued from a busy intersection in Los Angeles. As a traumatized rescue
dog, Spirit suffered in a constant state of anxiety throughout her day, could never be left alone, and sometimes even frequent daily visits to the dog park couldn't work out her tension — with 1 dropperful of Boulder Medicinals CBD Pet Tincture, she's relaxed on the couch within 30 minutes.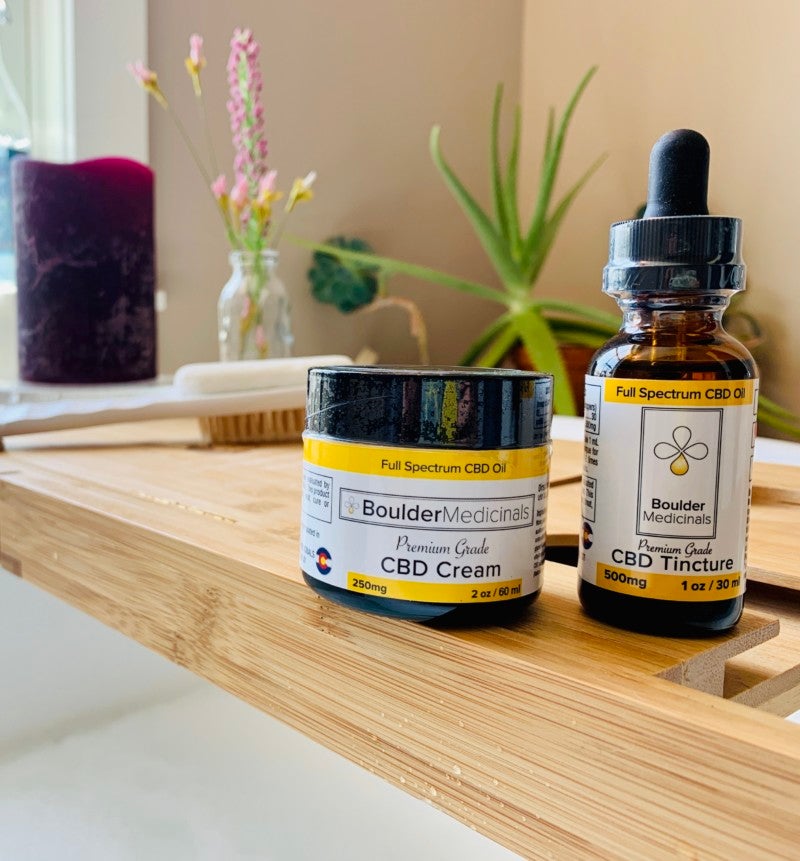 With the tincture at its core, Boulder Medicinals offers a complete line of full-spectrum CBD products, including their very popular hemp pre-rolls, a balm for deep muscle pain, and a transdermal patch that can be left on to provide relief for up to 48 hours. Find out more at BoulderMedicinals.com or follow them on Instagram @BoulderMedicinals.