Contrary to popular belief, CBD (cannabidiol) doesn't get you high. That's the work of THC (tetrahydrocannabinol), which is the principal psychoactive constituent of cannabis. On the other hand, CBD is the component responsible for putting your body, mind (and most likely your spirit) at ease, especially after a stressful day.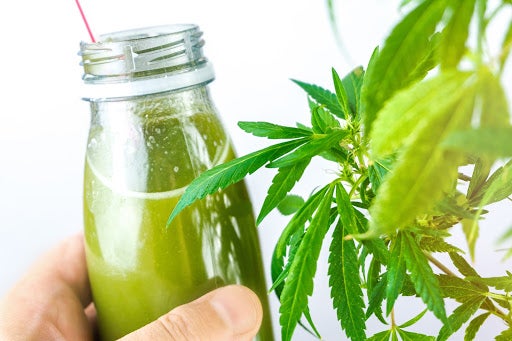 That's not just it! There are many other benefits that users can enjoy when using CBD products. Besides offering a sense of calm during a period of anxiety, they also have proven medicinal advantages.
Some people use CBD products as an anti-inflammatory and to fight insomnia. They are also known to lower cortisol (which is the hormone that's activated by stress). 
What's a CBD drink? 
A CBD drink is made by infusing hemp extract with your beverage. Hemp extracts come in various flavors, which complement a variety of beverage combinations, meaning you'll never run out of ideas.
All you have to do is to add a few drops of CBD tinctures to your mixers, and you've got yourself a refreshing CBD drink.
In this post, you'll get to learn how to safely infuse CBD oil into your preferred cocktail. We'll also highlight the effects of CBD-infused cocktails.
To help you get started, we'll round up the post by sharing three of the easiest and tastiest CBD-infused cocktail recipes that you can make from your home.
Introducing CBD cocktails
With CBD being one of the most discussed products of this time, it is no brainer that people are always scouting for ways to consume CBD oil.
So, why not try to add CBD oil to your favorite cocktail? 
Nothing beats the feeling of unwinding after a stressful and eventful day with a tasty beverage. Mixing CBD with alcohol helps you get the best of both worlds ‒ enables you to ride on the relaxation train while maintaining your focus on what you're doing.
Key ingredients in CBD cocktails
You probably know how to create a good cocktail, but do you really know how to make a CBD-infused drink? Some of the ingredients we use on other cocktails may not be ideal for a CBD drink. 
But why is that the case?

Here, we look at some of the key ingredients used in cocktails and their effects on CBD-infused drinks:
There's been lots of research on the effects of mixing CBD and alcohol and how they affect each other. Some studies reveal that the two ingredients amplify the effects of the other, and that's why one of the main benefits of such a cocktail is improved sleep.
Many of us enjoy adding some sugar or sugar syrup into our favorite cocktails, but this isn't recommended for CBD-infused cocktails. Sugar and CBD don't always mix. This is because the two ingredients promote totally different results.
For instance, we already understand that CBD has some medicinal benefits, such as being an anti-inflammatory. On the contrary, sugar can promote inflammation. This means that you won't benefit from the full potential of CBD drinks when mixed in one drink. The CBD extract will be busy dealing with the negative response from the sugar.
If you must add sugar to your mix, it would be advisable to go for a more natural alternative like raw honey or even stevia.
The main ingredient in a CBD drink is the CBD extract itself. But with so many companies manufacturing substandard CBD oils full of impurities, you ought to be careful about the product you use.
You want to ensure that you only use the purest CBD oil possible when making your CBD drink. To achieve this, you need to vet all brands before making a purchase and ensure that their products are verified and approved for human consumption.
Benefits of CBD-infused drinks
Dancing taste buds aside, here are a few benefits to adding CBD oils to your cocktail:
Boosting healthy sleep patterns 
When was the last time you slept 'like a baby'? Quite long? Then a CBD-infused cocktail is your answer.
In most cases, after taking an alcoholic drink, you often get that 'snoozy' feeling, which experts believe to be a result of increased adenosine production. However, this burns off rather quickly, and that's why you can find yourself waking up in the middle of the night or very early in the morning.
CBD helps boost the sleep you may get after consuming alcohol by helping you sleep off the alcohol.
Promote relaxation and focus
Cocktails are a gem when you just want to unwind from a busy day. They provide you with the relaxation you so much needed. However, any alcoholic drink will make things appear foggy for you, especially since you are exhausted.
That's where CBD comes to the rescue. Instead of feeling all distrait, having some CBD infused in your cocktail makes you feel focused and energized. You remain relaxed but focused.
Improved CBD activation periods
Did you know that CBD drinks are the most effective CBD edibles? Having a CBD-infused drink boosts the activation time of the cannabinoids.
To put it into perspective, when you consume a CBD cookie, it will take some time for your body first to digest the food particles to get the CBD. But whenever it is mixed with a liquid, the absorption begins in the mouth, meaning it doesn't even have to interact with the stomach acids, which thereafter increases their bioavailability.
The best CBD-infused cocktails to make at home
Now that you understand the nitty-gritty of CBD drinks, let's now take a look at our top three CBD drink recipes you can easily make from home: 
CBD Gin and tonic
Are you a gin and tonic lover? Why not add some CBD and enjoy greater benefits? Here's a quick gin and tonic CBD cocktail that you can easily make:
Ingredients
1½ ounces gin

3½ ounces tonic water

¼ ounce lemon juice

15 mg CBD oil
Directions
Combine all ingredients in a shaker and mix them. Pour the mixture into a glass with ice cubes (or without), and you can decorate by topping it with an edible flower or fruit peel.
      2. CBD Mezcal Margarita
Spice up your Margarita cocktails by adding CBD to your mixture. Here's how: 
Ingredients
1-ounce mezcal

1-ounce aquavit

¾

ounce lime juice

¾

ounce agave syrup

1 pinch sea salt

15 mg CBD tincture

cannabis leaf or edible flowers to garnish 
Directions
Add all ingredients to a cocktail shaker and mix them into a fine mixture. Add garnish of choice for aesthetics.
      3. CBD Mint Julep
This refreshing cocktail is perfect for kicking relaxation mode into a full-on overdrive. Here's how you can make this whiskey-centric cocktail into a porch pounder:
Ingredients
2½ ounces bourbon

½ ounce simple syrup

Cannabis leaves and mint leaves + extra for garnish

15 mg CBD tincture
Directions
Muddle the leaves and simple syrup in a chilled julep cup

Add the bourbon and top with pebble ice and CBD tincture

Garnish with cannabis leaves and mint springs
Final Thoughts 
Now that you know how to make your own CBD-infused cocktail, what are you waiting for? CBD-infused drinks are super helpful to those that wish to unwind but still remain focused.
Furthermore, they come in handy with loads of other benefits that alcohol in its own would not offer. Regardless of the situation, always drink responsibly: don't operate machinery, drive, or care for the children while under the influence.