"Am I rough enough, am I tough enough?" asked Mick Jagger in the classic song Beast of Burden.
You don't need to ask if that's the case with a Vitamix blender. They are rough and tough enough for just about anything. Soups, smoothies, frozen desserts – check, check, check, and then some.
Known as powerful, durable, and robust, Vitamix machines perform a wide range of functions, from blending, mixing, and pureeing to chopping, grinding, muddling, aerating, and foaming. And they are available in both household and commercial models, with a plentitude of accessories and attachments. So whether it's for your homemade small batches, or for restaurants, smoothie shops, or dining establishments – Vitamix makes a machine suited to your purpose.
Dave Lew, Vice President of Marketing and Product Development for Vitamix, says that the company strives to "help people eat healthier, and helps people achieve their personal ambitions from the kitchen."
And the brand does so in a variety of ways: for some Vitamix enthusiasts, it's about fitness; for others, it's the ability to eat more nutrient-rich foods in a way that minimizes waste.
"We've been really seeing tremendous push from people who really want to enjoy whole foods, and put them in a smoothie, or a sauce, or something more advanced like a soup," Lew says. "These machines give consumers and professionals a lot of options when it comes to getting the most out of whole foods. It's a good way to have a meal on the go. Or you can use the machine to process ingredients as supporting components of a recipe."
On any scale, users love making unique creations, he says. "It enables chefs to be better at their craft and fitness athletes – whether marathoners, triathletes, or Iron Man competitors – to achieve their best. Vitamix allows people to make great foods that help them be the best they want to be."
For home use, nothing beats the Ascent® Series A3500, popular for those who want to make custom smoothies, soups, frozen desserts, dips, and spreads. (In fact, there's a smoothie cup that attaches with a sipper, for the drink "on-the-go.")
"There's nothing like starting the day with a simple green smoothie," Lew says.
Vitamix's A3500 is equipped with a wireless sensing technology that enables it to accommodate an assortment of accessories, including the AerTM Disc Container. The original aerating container was created for commercial users and chefs but the concept is now very popular on the household side as well. Think of the large coffee chains that do cloud macchiato and cold foams. This could be you. Or you could blend a hollandaise in about 15 to 20 seconds.
In addition, for the A3500 and other Ascent or Venturist® model blenders equipped with the wireless technology, you can purchase the 12-Cup Food Processor Attachment, a compact, lightweight unit that performs a full array of food processing tasks so you will not need a second kitchen appliance.
In sum, the A3500 is not just a workhorse; it's a highly versatile machine. You can unlock the machine's full potential with 5 programs and 500-plus recipes available through the recipe section of Vitamix.com. Plus, the A3500 comes with an unbeatable ten-year warranty.
"It makes blending, or whatever you want to create at home, possible," says Lew, adding that the creativity has no limits with the food processor attachment.
"We're offering simple solutions that make blending and food prep way easier in your home."
Lew's favorite mix is a Sweet and Spicy Beet Spread that combines the essence of many good-for-you foods, and is most of all, delicious. "It turns bright red, and it's kind of a showstopper when people come over to your house. Hummus, in general, is a simple recipe that's so much better when prepared yourself, at home. Many people might not know this, unless they've made it with a Vitamix."
Stephen Hosey, Blending Applications Manager for Vitamix and a member of the Vitamix Culinary Team, adds: "Our machines are very robust and designed to outlast the competition. They maintain a really high standard of excellence every time you use them. And they're easy to use."
When it comes to Vitamix models designed and built for commercial use, the Vita-Prep® 3 is a next-level product that Hosey says is a workhorse performance blender designed for use by chefs and foodservice pros. "It's really meant to work long and hard for many years. From chopping delicate ingredients, to blending tough purées, the Vita-Prep 3 is the ideal tool for supporting the demands of high-volume kitchens and processing difficult, back-to-back blends. It has a newly-designed motor, with the power and dependability to take on commercial needs."
Company culture
In the 1920s and 1930s, Vitamix came into being as a company that sold kitchen equipment, health foods and vitamins, as well as an early model blender. The company's founder John Barnard – or "Papa Barnard" – became one of the earliest advocates for healthy, whole foods, a position the company has embraced and promoted over many decades.
Today, Jodi Berg is the fourth generation to head the company, as president and CEO. "Culture to her is the essence of everything that we do," says Lew.
"We believe we have performance that inspires. It liberates and nourishes the zest for life. It's the foundation for everything we do. All across our company, we embrace performance that inspires – from how we design our products, to how we manufacture them, all the way to how we communicate about them," he asserts.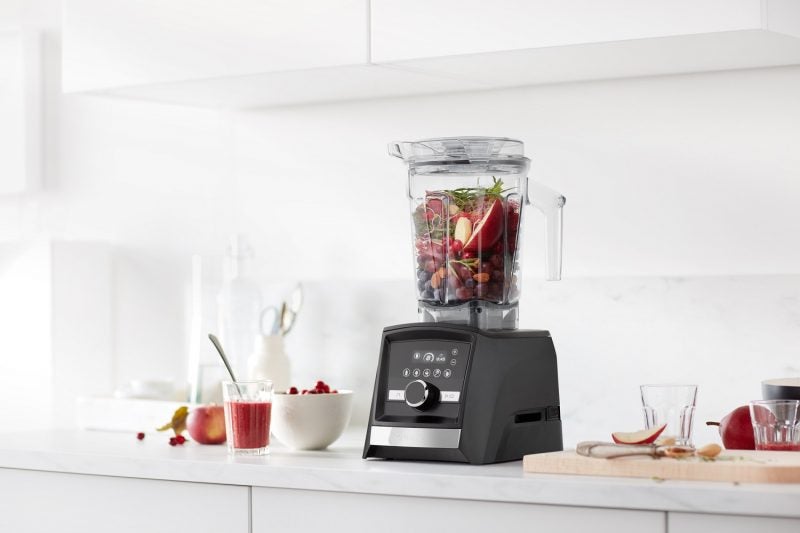 "You'll see our culinary team in the kitchen using our products as part of their everyday job and their everyday life. Because if we ourselves are not champions of our products, how can we market them to anyone else? We are the first person that we answer to. Our products have to meet our own high expectations before we ever ask somebody else whether it meets theirs. If it doesn't meet ours, it's never going to meet theirs, and that's how we approach our business."
Coming soon as part of the 100th anniversary: custom content to help consumers reach their health goals. Vitamix will be taking followers on a journey to experience life with Vitamix through a personalized guidance and support program. Plus, they will be debuting a 100th Anniversary Cookbook; hosting live blend-alongs; and offering challenges and rewards based on each individual's unique goals. Look for opportunities to participate this summer at www.vitamix.com or follow the company on Instagram @vitamix.
All this presents an opportunity to reaffirm and reinvigorate the brand's purpose, to help people liberate and nourish the zest for life. New products and initiatives will make Vitamix performance accessible to more people in more ways.
"Whether it's that gratification that you get when you cross the finish line of your first marathon, or when you have your family over and you make that perfect meal that has been enhanced by Vitamix – that's what makes Vitamix, Vitamix," Lew says.
"Other people can make great blenders. We have enabled so much more, which is why people have gravitated toward the brand for over a hundred years."