Everyone has close ties with his home. Your home awards innumerable opportunities to be yourself. Here you can sing happy songs and create roars of laughter. Your home reflects your tastes, likes and instincts. Every home décor item says something about your lifestyle and personality. You are free to design your home according to your aspirations and requirements. Among the list of styles like vintage, contemporary, modern and traditional, you can give any touch to your home.
In the current era, a home without decoration is only a concrete building with room to accommodate all the family members but is not a source of inspiration for them. It is where we extract all our comfort and forget all our worries. If our home is not giving a warm and cozy feel, we will leave no stone unturned to make it relaxing and presentable.

Contemporary age has seen abundant home decorating programs on the rise which shows man's affiliation with his home and dependence on it. If your home cannot produce a happy expression on your face, you can find it nowhere. It is this reason, despite the busy life, today's man has designed heavenly homes that are captivating in view and comforting in feel. 
We take you for a while to one of the modern home's living rooms. It is as luxurious as a five-star hotel. Everything from doors, windows, furniture, curtains to area rugs is majestic and creates a high-end appeal. The in-depth coverage of the modern home's single room would take long. Let's come out of the contemporary home and stop in the hallway. See how they have not missed the entrance and have adorned it like a paradise. Let's see how it happens.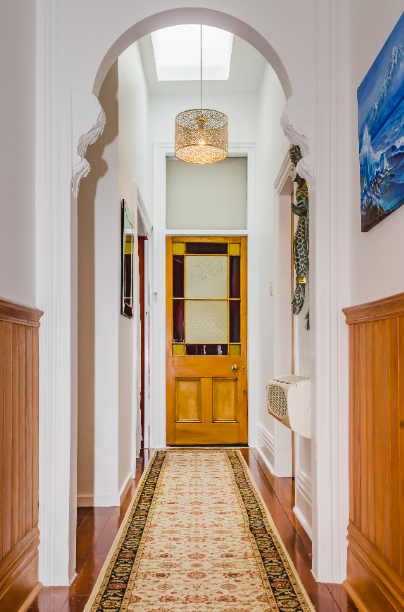 Make it inviting with Lighting:
We find hallways in different shapes and sizes. No two hallways are coequal in shape, nor do they give similar benefits and uses. Whatever shape and size your hallway poses, it looks spacious and illuminated when you allow free natural light flow. A  hallway with a large window looks brighter and more prominent, but not all homes construct windows in the entrance. If you are lucky enough to have a wide entrance with a sizable window in it, lit up your entrance with natural light and keep turned on the skylights ( if have). In the night the entrance's shiny appearance is inviting and creates a wonderful impression on the visitors. 
You can also brighten up the corridor with artificial lights. A big mirror hanging on the wall can also reflect light and illuminate the space. Other than capturing light, a mirror can serve its original purpose; that is every person can look at his appearance and get up at every exit and entrance. Thus, a hallway can be an intentional part of the home's interior.
Don't leave it Bare:
You can set your entrance as per your taste and enjoy the benefits it offers. Among zillions of hallway embellishment techniques, placing runner rugs on the corridor's bare floor would genuinely impart an awesome look to space. Spreading rugs in the interior is old fashion but this antique piece of art even today is revitalizing the inner space and producing a luxurious vibe. Runner rugs come in plenty of shapes and lengths; choose the one that can perfectly blend with the background themes. No need to leave the entryway bare when runner rugs in bright hues, solid textures and fascinating patterns are waiting to ornament your home.
Make it Memorable with Hangings:
As a general custom, people love to display their traveling adventures and memorable gatherings on the walls. Undeniably, this prevailing custom adorns the interior and has a pleasant impact on the family members. You can give character to the hallway by trying unexpected décor.
Yes, draw pleasure by hanging the beautiful and engaging art pieces and décor items that you otherwise intend to display in the living or bedroom. Wall hangings will make the place memorable and add to the fun and attraction of the spot. Before hanging a splendid object on the wall, contrast between the wall paint and the hanging piece. Usually, on a whitish or creamy base, bright-colored decorating fragments would create a statement.
Seating Plan:
Generally, seating is considered 'no need' in the hallway, but if it is wide enough, you can put in it a bookshelf, or a storage system with drawers. Place cozy chairs or a cushioned bench in a sophisticated corner and the seating is done. You will come to know the value of seating in the hallway when you are out of your room on a rainy day and want to enjoy the rainfall sitting on the comforting chairs. Arranged seating in one corner of the hallway makes the whole scene enchanting and homey. Do you remember, when you go shopping, the entryway is the ideal spot to wait for a short while, until the driver starts the car and gives a horn that your wait is over?
Entrance Door:
No other age, but this focused on the improvement of the hallway. Today, this spot is fully decorated and sends dynamic and luxurious rays to the visitors. When the outsiders step into this mesmerizing section of the home, they feel like they have entered a paradise.
The main door is the most conspicuous element of the entrance that leads you to the heavenly route. Paint it more inviting and colorful. If you look for a soothing and serene environment, you can select neutral and ivory colors. The current age favors bright hues that give you tons of fun and coziness. Miss not vibrant colors in the entrance and give it a dynamic touch.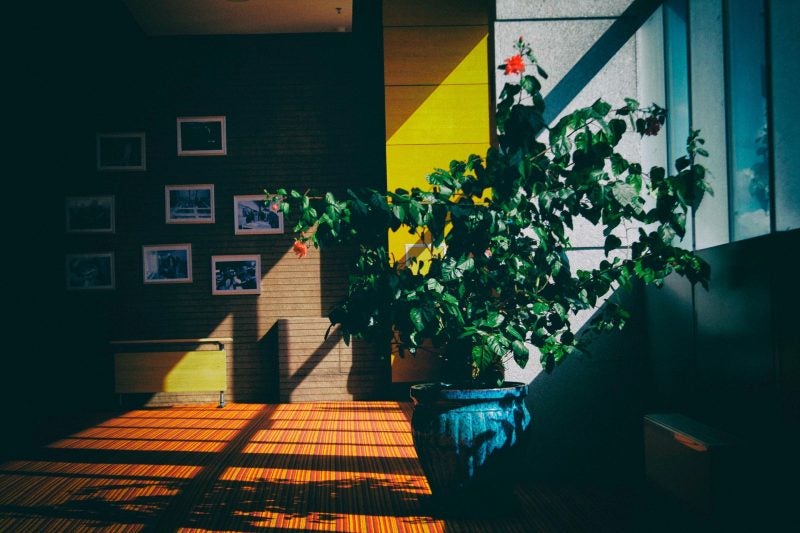 Go Green:
Even a little touch of natural objects creates a healing and reinvigorating feel in the atmosphere. No age denied the luxury and relaxation that nature offers. We cannot complete the elaboration of the heavenly route without going green. As you manage bright white light in the entrance, also, make sure the presence of green plants and fragrant flowers in the hallway. People place a well-grown potted plant at one corner of their hallway and thus, the scene catches the visitors' eyes.
Cool your eyes with natural, and fresh green plants at every exit and entrance. These little steps to adore your entryway made it feel like a restful interior location. Before leaving, we recommend never forget to decorate the spot which is a mirror image of the interior decoration. 
Want Runner Rugs?
No other platform can give you a range of products that go well in any redesigning scheme. Yes, RugKnots is a destination where you can find a list of artistic items that can equally adorn the interior or exterior. Starting from the hallway to the kitchen and bathroom, our company presents exceptional rugs that you can buy at friendly rates!