Practice makes perfect, as people say. But what happens when you are launching a brand new luxury hotel in a crowded market, such as Toronto? How exactly should the soft opening go? What are the mistakes you should try to avoid? And how should you prepare for the grand opening so you can finally start pushing out your message in the most impactful way? Let's explore Hotel X Toronto's experience from their soft opening in Toronto as a useful example.
Embrace Your Competitive Advantage
I recently had the chance to pick the brain of Hotel X Toronto's Director of Marketing, Matt Black. We first started chatting about how the message of your hospitality brand changes over time as your guests help to shape it. I asked him what message they want to put out now, as opposed to before they started their soft-opening year. "I almost would have put Urban Resort in the name or actually called this a resort rather than a hotel," Black says. "It's not just a marketing gimmick. We really have that resort feeling: we're removed from the downtown core, where you would not be able to gain the type of space that we have here. And we've got a huge amount of outdoor space, lush gardens, and we've got 750,000 square feet space in the building alone."
From my experience visiting Hotel X Toronto, he is exactly right. This is a hotel that transports you entirely, and also makes you feel like never leaving. You don't even feel the need to go out and explore the city, thanks to incredible views from the hotel and its SkyBar. Even if you do decide to head downtown, you'll be eager to return and enjoy everything that Hotel X has to offer–the restaurant, watching the sunset with a cocktail in hand from one of the rooftop bars, or just simply ordering room service, watching a movie in the screening room, or practicing yoga in the wellness center. It is certainly an urban resort.
Slide References into Your Messaging
The hotel's location gives them another competitive advantage, as they are located outside of the city near the exhibition area. Their name was inspired by the fact that for two weeks every year, Toronto hosts the Canadian National Exhibition, which is known as the "Ex." Black mentions that "when someone says 'let's go to the Ex,' if you're from the area, they know exactly what you're talking about."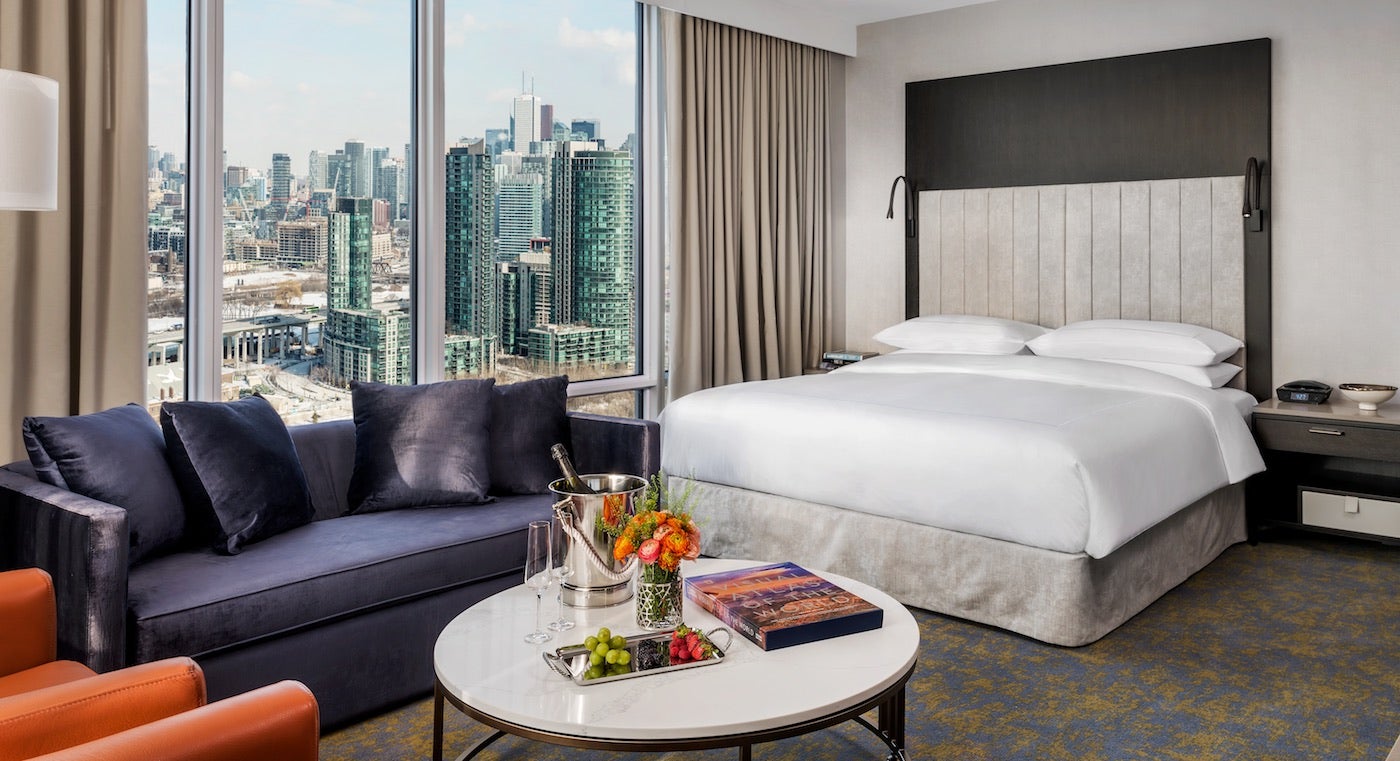 Offer What the People Want
When I asked Black about how the demographics of their clientele has changed, he pulls out some interesting details: "Most people come just to have a staycation and come from within a two-hour driving radius. So, they're coming to really be tourists in their own city and enjoy the resort atmosphere that we have." This fact is not too surprising, as the hotel is still in its soft opening phase, and hasn't done extensive promotions yet.
While the hotel opened officially in March, the grand opening will be in November 2019. Black mentions that "there's still a few pieces left to go here," mainly some amenities and extras that are getting the final touches. To their credit, guests don't even realize that some of the amenities are still on their way. There is already a restaurant named Maxx's Kitchen, two bars, a rooftop swimming pool that is open year-round, a Nespresso Café, and a screening room. One exciting amenity that will open up for the hotel's grand opening: Canada's first Guerlain spa.
Take Feedback Seriously
 In their case, the soft opening is not the time to spend a lot of money on marketing; instead, it offers a valuable chance to focus on becoming better by responding to feedback and implementing important changes before the big launch. That's very important when it comes to a luxury hotel because guests naturally have high expectations. With Adele Gutman, VP of Sales and Marketing at Library Hotel Collection, who is known in the industry for her approach to handling feedback, leading the way, it's not surprising that the most important thing for Hotel X Toronto is to always hire the friendliest, happiest people, and to also take feedback very seriously.
"If you look through the TripAdvisor reviews and the actual responses from the hotel, you'll understand," Black says. "We are not perfect, but when things happen, it's how you deal with it and what you do. We always try to uncover what happened. Where's the root of the problem?" Of course, no company is always going to hit home runs, but Hotel X Toronto strives to address every concern. For example, they changed their restaurant menu because a guest claimed that there were not enough vegetarian offerings on it.
Hotel X Toronto's example is a great one of how to navigate through a perfect soft opening (or a soft launch of any kind), with many nights booked at nearly full capacity months before the grand opening. They provide a solid case for why you need to be open to feedback—it can help shape not just your level of service, but your messaging and branding as well so you can stand out easier in a crowded market.