There are few things better than riding a motorcycle. Some rides are thrilling, while others are tranquil, and every biker likes to get something different from their time on the road. There is something you will share in common with a lot of bikers out there, though; a love of fashion and style. To help you meld these two interests, this article will be exploring some of the most iconic biker styles found on the road today, giving you everything you need to level up your motorcycle style game.
The Off-Roader
Off-road bikes come in a range of different styles, though they often share similar attributes. The sort of gear you find for bikes like this will usually come with heavy branding and aggressive styling. Visorless helmets can be paired with a set of goggles to complete the look, protecting your eyes from bugs and other debris. Thanks to the danger associated with off-road biking, gear in this category tends to come with a lot of excellent safety features.
The Cafe Racer
Cafe racers were originally designed to be light, fast, and maneuverable, but many companies have developed classic designs to make them more beautiful than ever. The style which goes along with bikes like this is usually quite simple. An open faced helmet with vintage goggles, a simple shortcut black or brown leather jacket, a pair of thick jeans, and some solid boots on your feet will make you look like you've come right off of the streets of Italy. Basic stripes and other designs are often found on cafe racer riders.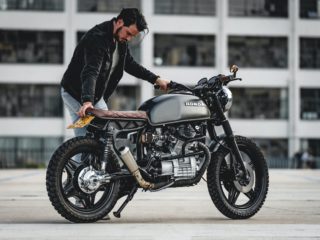 The Hardcore Biker
When people hear the name Hell's Angels, a very specific look will come to mind; full black leathers, an open face helmet with sunglasses, and a long scruffy beard to go with it. Of course, you can leave the beard out, but you will probably want to adopt some of the other features this style brings. Large graphic patches, tassels, and even jewelry can be very popular amongst bikers. Of course, though, motorcycle accidents are far more common than those in cars, and it's worth thinking about your safety before your style.
The Speed Racer
Modern race bikes are just as popular as ever, but the styles which come with bikes like this often change according to what the real racers are wearing. Many teams release their own gear which will give you the chance to stay safe and look great at the same time. Full closed-face helmets, leathers with colourful designs, and a lot of protection are all common features of gear like this. Much like off-road equipment, you can expect a lot of the stuff being aimed at racers is going to include comprehensive safety features.
Looking great should always go along with staying safe. Riding a motorcycle can be dangerous, and you should never put your style above your personal protection. That said, it's well worth taking a look around on sites like Instagram to see if you can find any inspiration before you seal the deal on your style.