Most men choose the clothes they purchase because of personal style and price. But how often do we stop to consider how the clothes that you purchased are manufactured? What is going on behind the scenes?
The editors at Swagger came across this new consciously created men's streetwear brand,
Spiritual Narcissist
that caught our attention.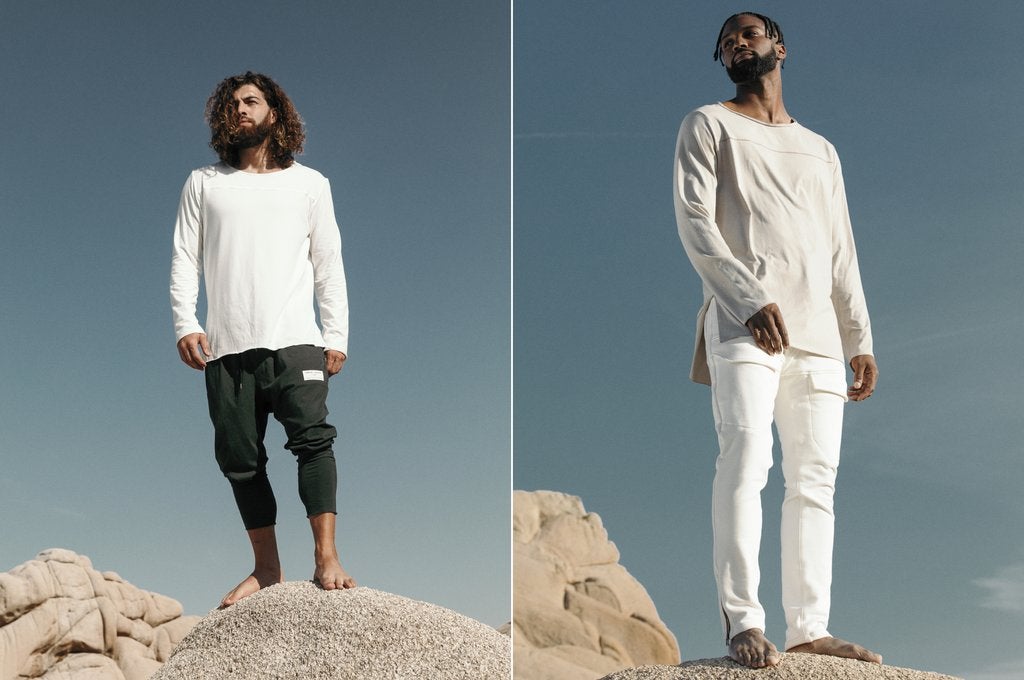 Spiritual Narcissist is made in Los Angeles, CA. using only responsibly sourced fabrics, an environmentally conscious process, and employing fair labor wages. SN represents quality, responsibility and sustainability in every respect. Each piece is hand cut and sewn in Los Angeles at a family-owned manufacturer.
The streetwear line was created because the founder Mark Sauer and co-founder Austin Floyd felt there wasn't any brand on the market that they could stand behind the looks, the mission, and help people become more consciously aware of the clothing they are purchasing.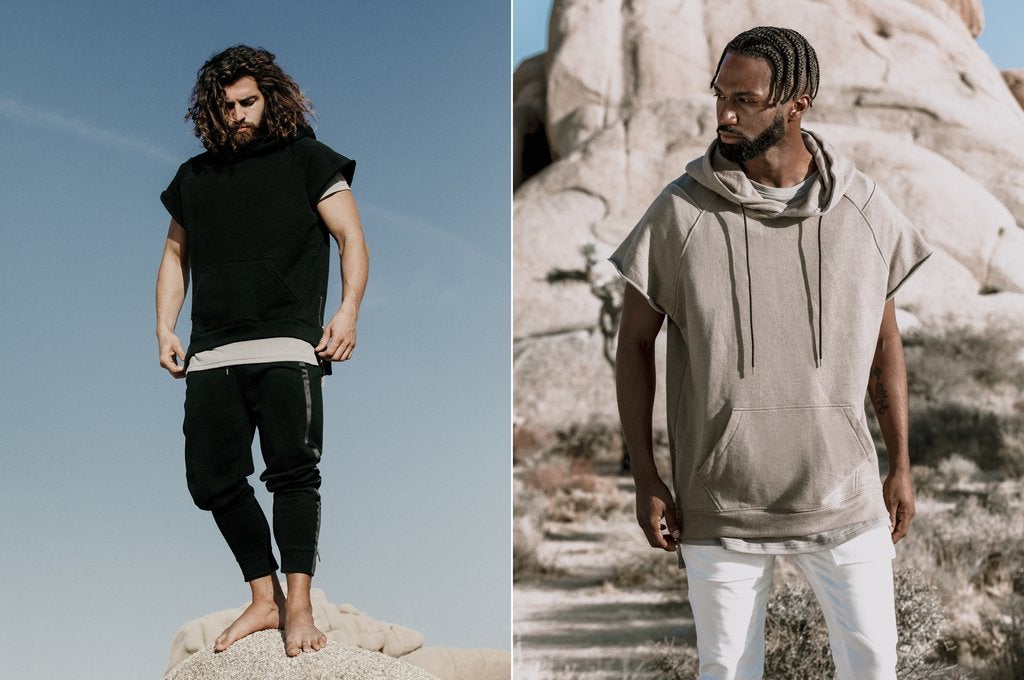 Mark and Austin spent time creating cohesion throughout the brand with the fabric colors, attention to detail is unmatched and the directional lines of seams and taping map energy flow.
"I LOVE THE WAY THE CLOTHES FEEL. YOU CAN TELL THE DIFFERENCE IN QUALITY AS SOON AS YOU PUT THEM ON. THE FABRIC FEELS BUTTERY AND UNLIKE ANYTHING I'VE WORN BEFORE. THE INTRICATE THOUGHT THAT WENT INTO EVERY PIECE CAN BE SEEN FROM THE HIDDEN POCKETS TO HOW EACH PIECE LAYERS PERFECTLY. THIS IS EXACTLY WHAT I WISHED I HAD (BEFORE I HAD IT.)"
– Sam Cohen
The clothes make you feel elevated while the sustainable fabrics like TENCEL and organic cotton keep you grounded. Tencel fibers are derived from sustainably sourced, renewable raw-material wood and produced via environmentally responsible processes. It embarks a new standard of sustainability and comfort with long-lasting softness, incredible color retention and breathability.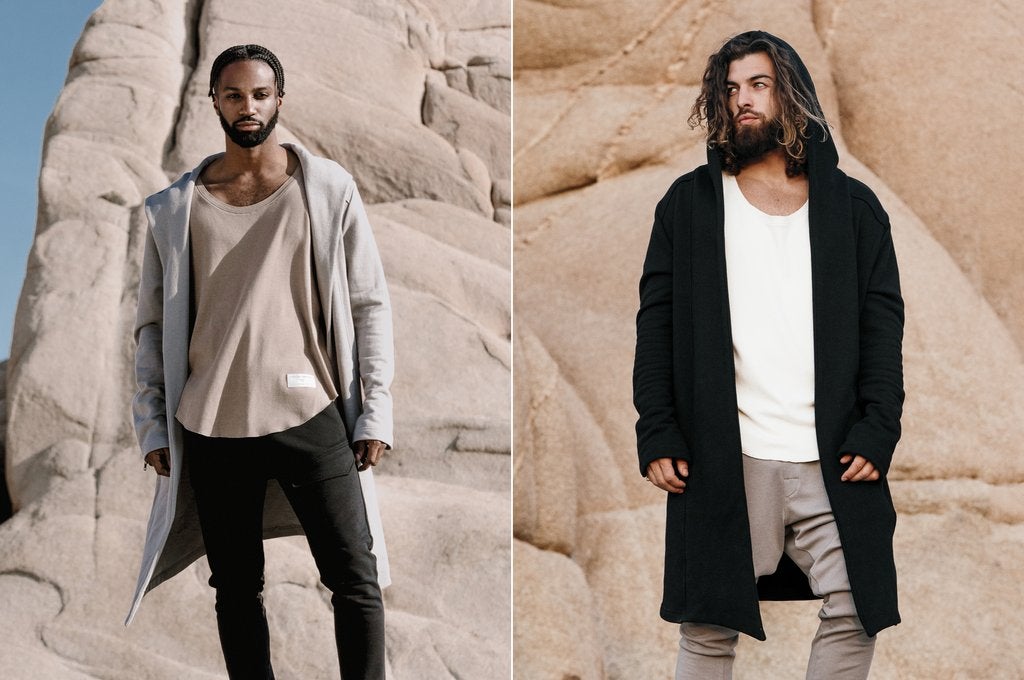 This balance between ascension and grounding is reflected in the color palette as well.
"SPIRITUAL NARCISSIST IS A REPRESENTATION OF THE GREAT POLARITY: LOVE AND FEAR. WE'RE ABOUT DISSOLVING SEPARATION – ILLUSIONS OF FEAR, AND RECOGNIZING THAT ALL IS LOVE. SN IS A FORCE FOR TRUTH, FOR LOVE, AND ALL THAT BRINGS LIGHT TO OUR SHADOWS. OH, AND IT'S CLOTHING…"  Mark Sauer, Founder of Spiritual Narcissist.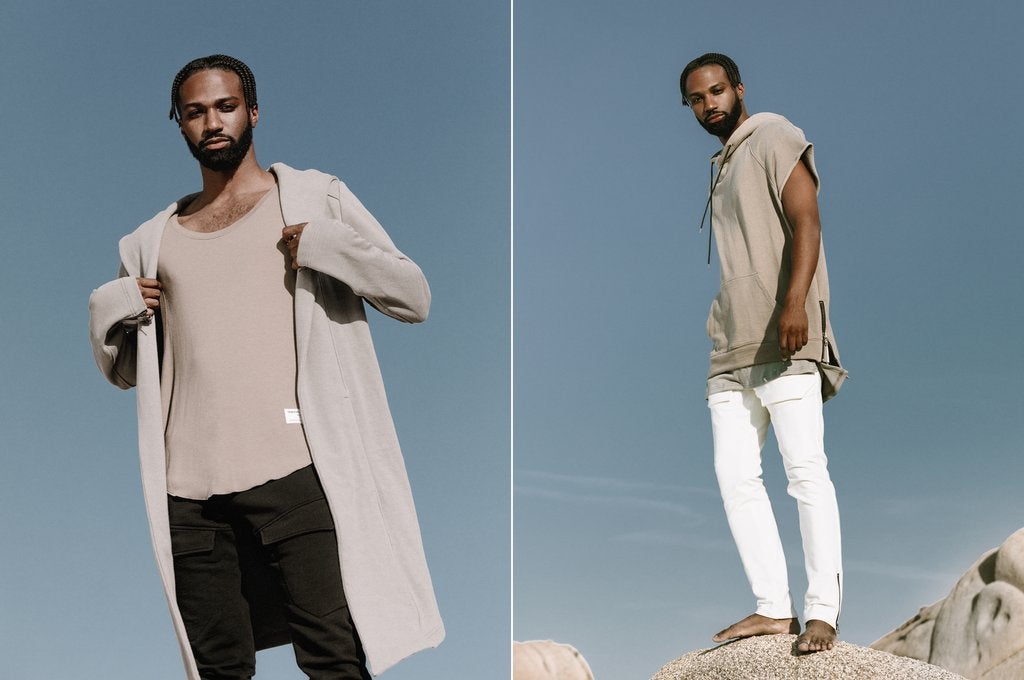 The founders Mark and Austin took some time to answer our Q and A's
Q: What prompted you to develop this high-quality streetwear line for men?
A: We love streetwear, but with every piece we owned we always wanted to change things. We were sick of wearing things we didn't love and joked about creating our own line. With the uncertainty 2020 brought were reminded of the brevity of our time on Earth and decided to go for it. Now or never. Additionally, regardless of price point, many other brands aren't sustainable and don't pay fair wages to employees or have healthy manufacturing environments. If we were going to do a line, we wanted it to be done right- enriching the lives of those who wear it AND those who make it, plus protecting the resources of our planet. Each piece is handmade by a family-owned & run manufacturer here in Los Angeles.
Q: Explain to us about the fabric and how it was consciously created?
We use TENCEL fibers which are derived from sustainably sourced, renewable, raw-material wood and produced via environmentally responsible processes. These fibers are woven with organic cotton. Our fabrics are produced in LA and ship only 10 miles to our LA production facility. We even chose our fulfilment center, located in Las Vegas, based on its ideal distribution location so our garments could find their way out our customers in the most efficient way possible.
SN's goal is to make the highest quality garments without sacrificing sustainability. 
Q: What has been the response from consumers since you launched?
Our fans are loving the pieces and the fact that they are a true combination of fashion and comfort. We created pieces that are meant to sustain our customers through their everyday activities into full moon parties, overnight spiritual medicine ceremonies and everything in between. The insanely soft feel of the fabrics and the attention to detail have been the fan favorites so far.
Q: What are your goals for 2021 with the line?
Awareness – not only about the brand, but its message and purpose. Spiritual Narcissist is a representation of The Great Polarity: Love and Fear. We're about dissolving separation, the illusion of Fear, and recognizing that all is Love. SN is a force for Truth, for Love, and all that brings light to our shadows. Oh, and it's clothing… We also plan to incorporate hemp fiber into our fabrics moving forward, which will, of course, be sourced using sustainable farming practices- hopefully permaculture.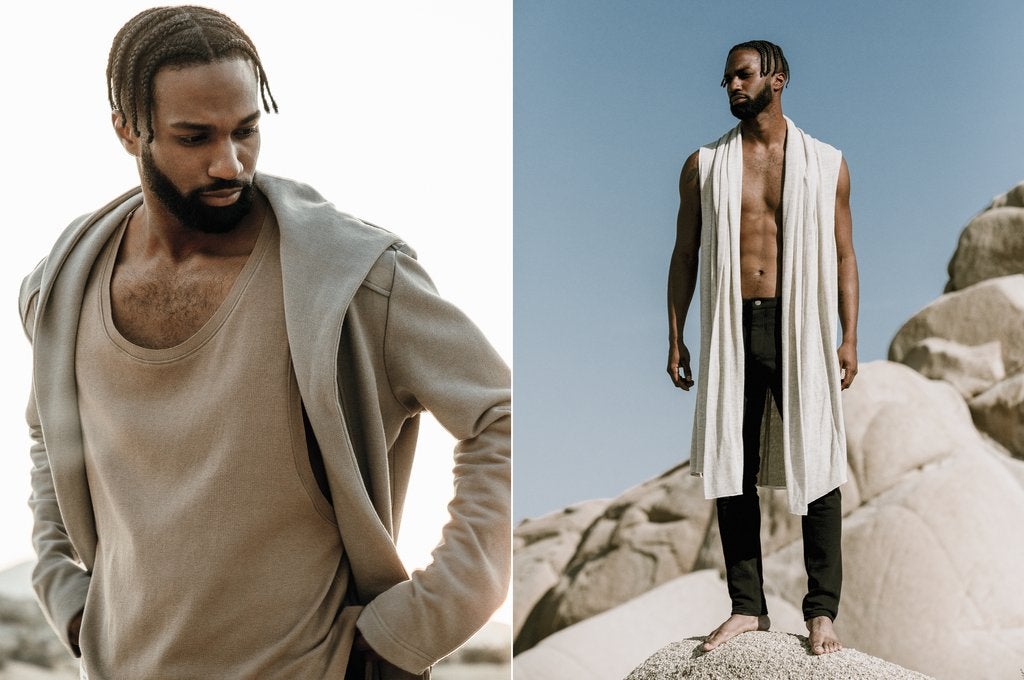 Thanks to Austin and Floyd for taking the time to share their new consciously created streetwear line with our readers. We applaud them for developing a brand that everyone can feel proud for wearing, and look great!
Check out more at: Spiritualnarcissist.me
Instagram:  @spiritual.narcissist