Joe Mimran launched Club Monaco thirty six years ago, setting off a chain of events that led him to become one of a few who redefined the modern fashion industry.
He remains highly influential, with forward-thinking style and ubiquity.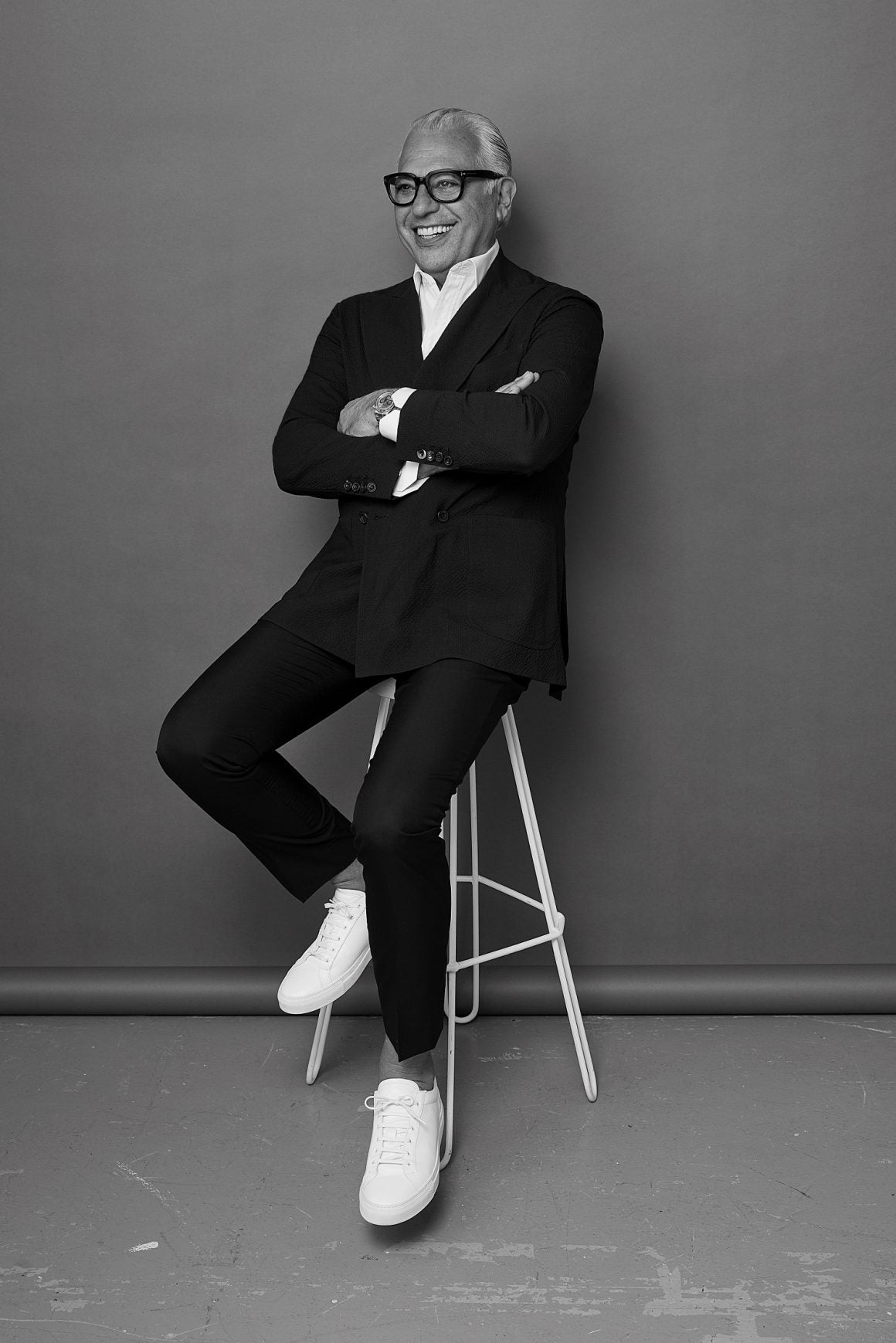 Today, the designer, clothier icon, and investor is also known as one of the former judges in Dragons' Den, CBC's entrepreneur reality show.
The story of his entry into apparel began at a very early age.
He assisted his mother, Esther – a former couturier in Morocco – in her Toronto-based home boutique garment business. As the operation grew, it necessitated the purchase of a small factory in Toronto's garment district in the mid-1970s. Joe led operations, manufacturing and finance.
"I was inspired by the design, and aesthetic world," recalls the 68-year-old. "I like designing products, inspired by great prints, inspired to want to be an entrepreneur."
Esther's company evolved into Ms. Originals, tailoring suits and pants for women, and soon thereafter, Joe and brother Saul hired designer Alfred Sung, with a goal to create their own line of clothing.
It was a gamble that paid off, when The Alfred Sung collection swiftly soared in popularity across the continent.
By the mid-1980s, he launched yet another line, based on his belief that a plain, white quality cotton shirt could not be readily found. The now-iconic Club Monaco brand was born. Unfortunately, the plan didn't quite go smoothly at first.
The Bay and Eaton's department stores were disinterested in carrying the product. To the Mimrans' chagrin, Club Monaco merchandise had already been manufactured.
"We realized that we had all these goods coming in and the only way we could move forward was to open our own stores," he says.
And so they did. They rolled the dice on a 5,000 square-foot store, opened in trendy Queen Street West in Toronto, showcasing an array of attire. The day it opened, in September, 1985, saw their marketing campaign pay off in a major way, with line ups just to get into the store.
"It's interesting in a couple of ways. From adversity comes something terrific. We realized as we opened our own stores, we'll cut out the wholesale margin."
At that time, such a move was unheard of – typically retail stores would have bought through a wholesaler, such as Gap selling Levis, he says.
"Sometimes you just have to dive in, make the mistakes, fix it, move forward, make more mistakes, and try different things."
Mimran himself dived in, and not only opened a flagship Club Monaco store in New York City on Fifth Avenue in 1995 – but also opened another 120 stores in the next four years.
That success caught the eye of Polo Ralph Lauren Corp., who purchased both Club Monaco and Caban (another Mimran line) in 1999.
"How you succeed is to fill a void, to create something new or give people what they don't have. That's always the best place to start," he explains, as the essence to his achievements.
On this side of the millennium, Pink Tartan – a women's line – was yet another successful venture, appearing in high-end retail outlets such as Holt Renfrew and Saks Fifth Avenue, as well as its flagship in Toronto's Yorkville.
In 2006, Mimran's Joe Fresh Style was launched as a private-label apparel line for Loblaw Companies Limited. It has since become one of the top brands in Canada, seen in forty supermarkets, as well as nearly seven hundred  locations in the US.
Joe Fresh opened free-standing stores – their first on Granville St in Vancouver in 2010, and later in New York City in 2011, with 350 more following.
In 2019, Mimran spearheaded gry mattr, a collection of home and office accessories that include eyewear, office furniture, pens, drink ware, stationery, and décor.
"I think today people do want authenticity. Real craftsmanship. I think all of these trends go back to local manufacturing, integrity of product, and the storytelling," he says.
Ever keen to tap into the next big market, Mimran is the Chairman of investor group Gibraltar and Company, Inc.
Among the string of companies he's helping boost are Flow Water (alkaline water sold in a Tetrapak), Silver Paws (dog apparel), protein bar SimplyProtein, and a high-powered disinfectant designed for fabrics and surfaces.
He recently bought Tilley Endurables, taking an active role in expanding the famed safari hat product line, while reinvigorating the brand.
"People come to me for business investment or business advice, and I find it super interesting to see where the trends are, and where things are headed," he says.
Streaming music was one of those trends he spotted, when he became an early investor in Spotify, a success story few would have predicted back in 2008.
In another example of being ahead of the curve, Mimran was one of the founders of a company called Cannasat in 2004, the first Canadian cannabis company to go public.
"We had an ownership interest in the only licensed growth facility in Canada at the time – Prairie Plant Systems," he recalls. "We were too early at the time, and that company morphed into a pharmaceutical company called Cynapsus, which later sold successfully."
Returning to the cannabis arena of late, he became an advisor to the BRNT Group, and an independent director on the board of Canopy Rivers.
Whether selling pens, pants, Safari hats or stationery, the common struggle for any business in the 2020s, according to Mimran, is getting above the noise – making sure the name is known.
"I think for brands, that is the big challenge: breaking through, finding your audience, and then being able to talk to that audience in a real way, and offering them something that captures their imagination," he says.
"The big line these days is: you don't sell products anymore. You sell stories; you sell experiences related to you. This is what people want. This is what they're connecting to."
Twitter @JoeMimran