Danish watch brand Oliver Green presents its first NFT:  all profits donated to WWF
The emerging digital phenomenon of NFTs has reached the watch industry. And for Danish  watch brand Oliver Green, their first NFT has more to it than great design. For a period of three  weeks, the digital asset is up for auction on the OpenSea marketplace platform. The winning  bid will be donated to the wildlife conservation organization, World Wide Fund for Nature (WWF).
For Oliver Green, taking responsibility for the world, and staying aware of one's own role, is considered  the natural matter of course. The launch of their first NFT is therefore not driven by profits. Instead, they  want to be a brand that reaches beyond its products. Donating the full hammer price to WWF was  consequently a decision easily made.
Creative Director, Andreas Herring elaborates, "As Official WWF Partners for Nature, we already support  the organization through yearly donations. This NFT not only gives us, but our customers, an impactful  role when it comes to protecting our nature and wildlife."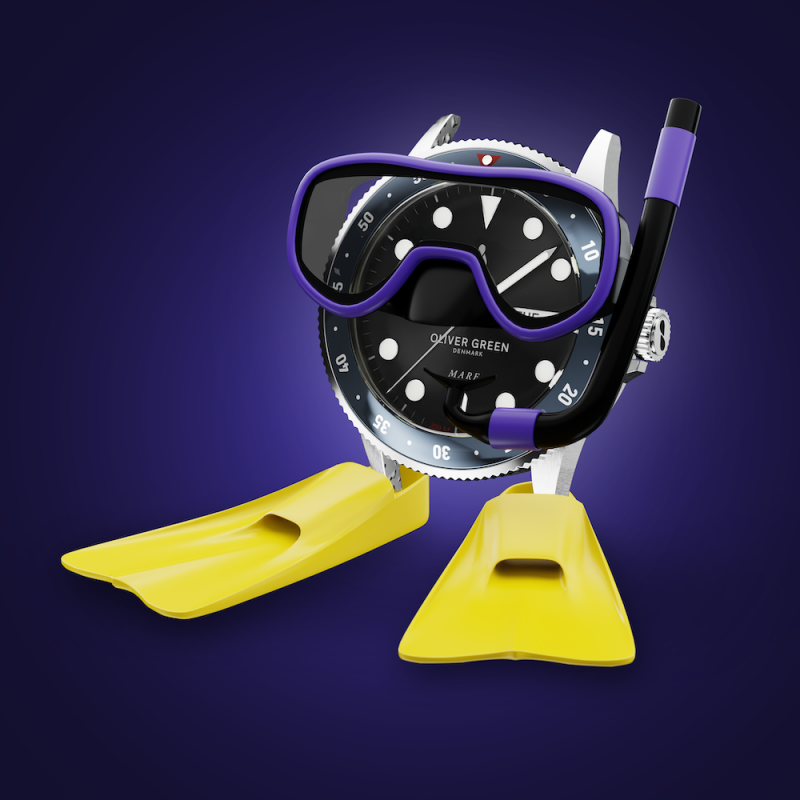 With projects in every corner of the world, WWF works intensively to promote freshwater and ocean  conservation, protecting ecosystems and marine life of oceans, rivers, and lakes or the like. When  deciding upon the expression of their NFT, it was exactly WWF's extensive presence within freshwater  and ocean projects alongside the brand's own inclinations towards naturistic designs that helped set the  scene. The idea behind the NFT was to bring to life the diver's watch, Mare, as depicted with goggles, a  snorkel, and flippers while making subtle references to WWF.
What is an NFT and why buy it?  
An NFT (non-fungible token) can be anything digital bought with cryptocurrency, such as a piece of  digital artwork, music, video, or even a digital certification of a real-life asset. Though still an emerging  phenomenon, it is popular among artists and creators who now share a medium to showcase their  creations. NFTs and blockchain technology is paving the way for artists to monetize their work while  collectors have full transparency into the authenticity of their purchases.
With built-in authentication, NFTs represent digital scarcity as it secures proof of exclusive ownership.  For Andreas Herring the argument is clear, "The buyer gets to own the one of a kind, original item. This  stands in stark contrast to most digital creations, which are almost always infinite in supply. There can  only be one owner of our NFT. It's like a physical collector's item, only digital. So instead of getting an  actual oil painting to hang on the wall, the buyer gets our digital file instead."
FAQ 
Read a guide on how to place your bid on olivergreen.com. 
The auction is live from May 24th until June 13th 2022 on OpenSea.
The winning bid receives the NFT, an official donation certificate from WWF, and a Mare watch in Black.