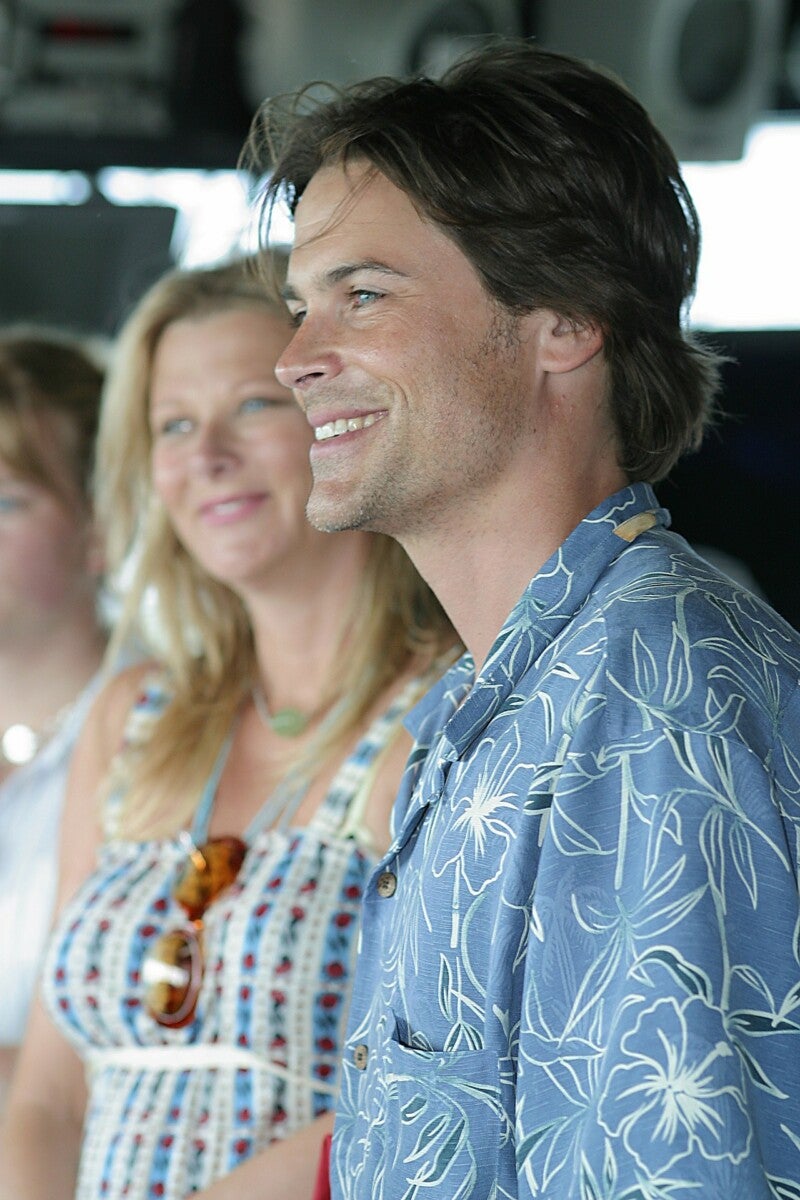 Rob Lowe wants people to know that he's not just a pretty face frontin' the Profile skincare line. He's actually the man who took 6 years developing it. Not only did he secure the financing, he worked directly with labs and chemists to formulate and test each product, and he also designed the packaging. He built the entire company from the ground up. So it's safe to add a successful business entrepreneur to his growing list of career accomplishments, which include but are not limited to actor, director, producer, and writer. Take that LinkedIn.
The Profile line contains 7 skincare products: a cleanser, an exfoliator, a shave gel, a post-shave serum, a moisturizer, an under-eye cream, a sunscreen, and a fragrance. Cute story: During development of the scent of the fragrance 18 Amber Wood, Lowe finally arrived at what he thought was the perfect scent. He wore it without mentioning anything about it to his wife Sheryl Berkoff, a key player in the company's development, just to see if she noticed. Not much goes overlooked by a professional makeup artist, she noticed he was wearing a new cologne, and she even complimented him on it without knowing it was the fragrance he actually designed. The couple, who have been married almost as long as Lowe has been sober, believe that communication is the key to a strong and lasting marriage. It also helps to be best friends, Lowe openly admits. He would eventually like to add hair care, including a styling product, to the line. 
But why would an ageless wonder like Lowe feel compelled to create a men's skincare line when it's apparent he's already mastered the art of graceful aging? One of the reasons is because he's always felt fortunate enough to have professionals taking care of his skin, but the average male doesn't. They neglect their skin either because they don't want to designate time to a regular skincare routine, or simply because they never think about preserving their youth. They believe there's plenty of time to worry about such things without taking into consideration that men's skin, after the age of twenty, begins to lose collagen every day, which can lead to premature aging. And it's much easier to take a stand against aging than it is to reverse it.
Lowe's number one goal, however, with Profile was to develop a line based on proven results with ingredients known to work toward keeping skin younger looking. Things like hyaluronic acid, a humectant that keeps skin moist and lubricated; charcoal for removing impurities; and bio-mimetic peptides that play a significant role in skin repair and regeneration. Lowe admits that he didn't want to rely on celebrity-endorsed gimmicks or sexy advertising to sell his products, though there's no denying he is a sexy celebrity, admired by both men and women alike. Instead, he took a no-bullshit approach to sales and became the face of his own creation. What better salesman than the guy who whole-heartedly believes in the products he personally engineered? The same products he uses in his daily skincare regimen, which always includes, even if he's running short on time, REVIVE Eye Rescue serum. Lowe says he'll keep this roller ball in his pocket for a fast under eye refresh before a meeting, to reduce puffiness and dark circles. Lowe has confessed that sleep is underrated and that the average male needs at least 7-9 hours sleep, which, like many men on the go, he's often too busy to get. One of the reasons he feels the under-eye serum is so beneficial is that no one but you will know you went to bed way too late the night before.
If there's one thing Lowe believes in it's taking care of himself. With over 30 years of sobriety under his belt, he attributes his good looks to alcohol abstinence, low-carb healthy eating, regular exercise, and routine skincare maintenance. Though he still hasn't yet figured out what a dadbod is or if he has one, but since he is a father, he's come to graciously accept the idea that's it's okay –even though most would argue that he shows no signs of having any kind of dadbod. His two sons, both adults now, were taught at a young age the importance of personal hygiene and grooming. Lowe jokes that as adolescents he coaxed them through the awkward stages of maybe a little more deodorant and a little less cologne before showering them with his skincare wisdom, which is pretty basic for the most part. Cleanse, exfoliate (before shaving), moisturize, and sunscreen even on overcast days. Develop a routine and stick to it. Lowe has a proven track record with sticking to things he sets out to do. He firmly believes in taking ownership of everything he does and actively seeking out good things, one of which is living a well-balanced life. Another is giving back. One way he does this is by partnering with the Wounded Warrior Project, a charity organization that services wounded veterans of military actions following 9-11. Part of the proceeds of every sale from Profile Cobalt provides support and resources to enhance the lives of veterans. Add philanthropist to his resume.
To make Profile even more enticing (and Lowe even more handsome if possible in the eyes of animal lovers all over the world), the line is Leaping Bunny certified, which means no animal ingredients in the products and no animal testing in the lab. Though Lowe doesn't make any promises that by incorporating his line into your daily regimen, you'll look like him, he says you will look the best you can look, and that is no bullshit.