Work takes up long hours of the day, so why not make it as enjoyable as possible?
It's difficult enough to have an outstanding work-life balance, but if you work remotely, it can pose even more of a challenge. If you want to encourage better separation between work and home life, consider setting up a home office that's optimized to help you do your best work! 
By setting up a home office, you will have a unique space where you can be productive and make achievements. At the end of your work day, you can close the door behind you and feel a sense of peace as you relax and unwind. To make the office space uniquely yours, add your favorite snacks and sodas, glamorous decor, and unique technology that helps get you through the day. By filling the room with small comforts, it will be more enjoyable to get up in the morning, head to your office, and start the day.
To help you kickstart your office transformation, we've compiled a list of 11 ways you can make the space fit your needs for the best workdays possible. Whether you want your office to feel comfortable, chic, or a more professional extension of your home, these items will transform the space into a place you will truly enjoy. 
Continue reading to discover each item in detail to begin elevating your home office!
1. Make the Walls Pop With One Kings Lane Mirrors
A simple way to elevate any space is with the decor. Wall mirrors from One Kings Lane are versatile and match any room, so they're a great place to start your office transformation. 
Whether you prefer black, white, silver, or gold, One Kings Lane has a mirror that perfectly fits your home office. You can keep it simple with oval or square mirrors or get creative with fun geometric shapes. Mixing and matching different styles on the wall or getting one larger statement piece to place above your desk can also add a fun, quirky touch. 
Not only do they look great, but mirrors also help make any space look larger, so if your home office is on the smaller side, you can expand the feel of the area with various hanging mirrors. If you want your office transformation to feel timeless, mirrors are certainly the way to go!
2. Add a Personal Touch Using Curtains From Pepper Home
Putting curtains in your living room and bedroom may seem obvious, but have you considered how they'd look in your home office? It may be time to upgrade if you have very simple, outdated, or incorrectly sized curtains in your work area! 
With beautiful fabric and colors that speak to your personality, custom curtains from Pepper Home can transform your workspace into your new favorite room in the house. Sheer curtains will give you the perfect outside view while ensuring the natural light is on point for your endless virtual meetings. However, if you'd like a little more privacy, try light-filtering or even blackout curtains for your office space. 
If you choose a colorful curtain option, they will brighten the room and encourage positivity as soon as you enter the door. Curtains may seem like just a tiny detail, but they will truly make all the difference in elevating your home office. 
3. Brighten the Space With Flower Delivery From BloomsyBox 
Nothing feels more refreshing than a fresh vase of flowers. They add life to your room, make it more vibrant, and give you a reason to stop and literally smell the flowers. However, our busy lives sometimes make keeping a fresh bouquet on the table difficult. With BloomsyBox, you can ensure you always have beautiful arrangements to admire while you work. They offer weekly, biweekly, and monthly subscriptions, so you'll continuously refresh your space. 
Bright colors encourage bright ideas, so a vibrant bouquet at your desk can be a game-changer for your productivity levels! It's a small detail to include flowers on your desk, but it can make all the difference if it brings you joy.
4. Hold Your Focus With Healthy Olipop Sodas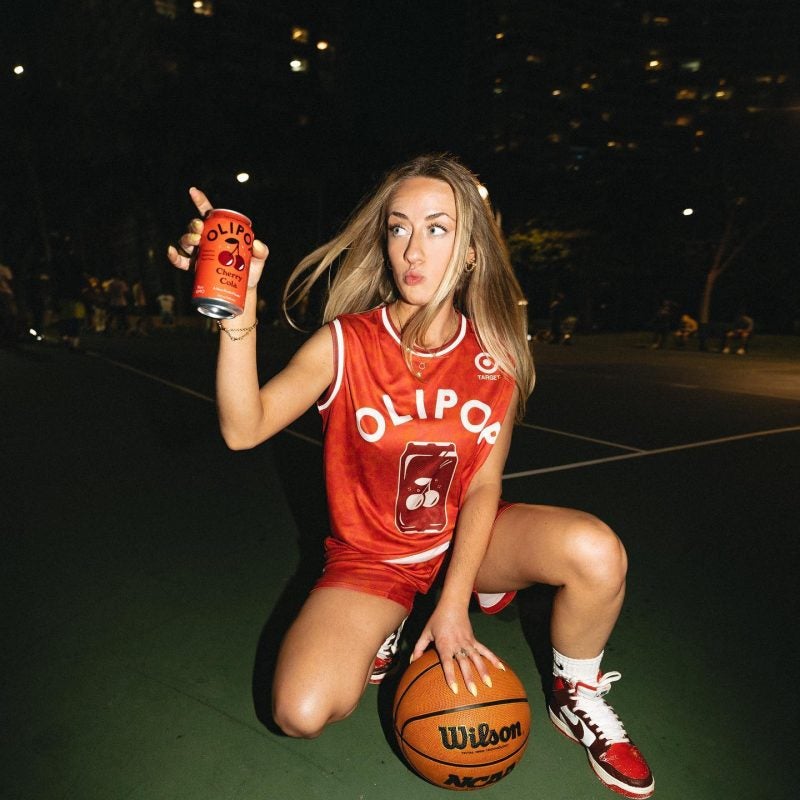 Stay hydrated throughout the day with a beverage you'll enjoy! Olipop's healthy soda is perfect for those who love traditional soda but want to stay on top of their wellness plans. They're packed with quality ingredients that taste as good as they are for your health. 
With flavors like Banana Cream, Tropical Punch, Orange Squeeze, and Cherry Vanilla, it's the perfect sweet treat to have throughout the day. The bubbles will wake you up and prepare you for that after-lunch stretch. Even looking at the bright packaging will put you in a good mood. So, if you're craving something sweet or need a pick-me-up to get you through the afternoon, Olipop is the ultimate item to keep around in your home office. After all, you can't enjoy a space thoroughly without great beverages!
5. Stay Refreshed With a hOmeLabs Beverage Fridge
If you've ever walked out of your office and into the kitchen to grab a drink and got distracted doing something else, a hOmeLabs beverage refrigerator is just what you need. If you have a space for all your refreshing beverages in your office, you can stay focused without feeling pulled in another direction. It's convenient, will keep your favorite sodas cold, and will surprise you with how much it can increase your productivity! 
Simply slide your chair over to the fridge, grab an ice-cold drink, and return to your task flow. The more you can get done during work hours, the sooner you can shut the door to your office and relax. Without distractions and a reason to work through the day, your focus will be better than ever!
6. Stock Up on Your Favorite Snacks from Thrive Market
Why go through the effort of getting your favorite snacks at the store when you can have them delivered directly to you? Thrive Market is an online shop that sells health-conscious food at lower costs than you'll find in the grocery store. By stocking your office with your favorite snacks, you will have everything you need throughout the day. 
Whether you prefer sweet or savory options while you work, there are endless options to find exactly what you're craving. To work hard, you certainly need a bit of fuel throughout the day! Stock up on everything you'll need in your office, and it will give you something to look forward to as you start work for the day.
7. Add Movement to Your Day With a FlexiSpot Standing Desk
Sitting down all day can feel exhausting. If your smartwatch constantly tells you to stand every hour, or you don't feel like your exercise rings are closing as frequently as you'd like them to, it could be time to invest in a standing desk from FlexiSpot. 
Adding movement to your day will help your brain stay focused and can relieve some of the stress you're holding in your neck and shoulders. If you feel stir-crazy from sitting, simply click a button, and the desk will rise to allow you to stand. Otherwise, the desk also fits the average sitting setting if you prefer to sit back and relax. With the option to get on your feet more, you'll feel more at ease adding movement to your day. There's a reason these desks are so popular!
8. Talk and Text Without Limits With Red Pocket
A solid phone plan is one of the more apparent necessities for a home office. If you're tired of overpaying each month, and hidden costs seem to add up out of nowhere, it may be time to consider other mobile plans like Red Pocket. 
Unlimited data plans will let you talk, text, and connect with your coworkers without worrying about an increasing phone bill. Red Pocket even enables you to make international calls for free, which is perfect for those late-night overseas business calls. With 5G and outstanding service, it will remove the worry of a text not sending or a call being dropped. We all know nothing is more awkward than dropping off a call when your coworkers start talking.
9. Make the Best Energy Decisions With Power Wizard
As you consider your phone plan, you may also want to look at the company that takes care of your electricity. With Power Wizard, you can light up your home office and plug in all your essentials without a huge electricity bill. With a plan curated to your needs, you'll feel confident that hidden fees aren't tricking you. 
It can feel frustrating to make plan changes, but Power Wizard makes it simple and easy to get a quote and save money. A home office isn't complete without your technology and the perfect lighting, so do yourself a favor by getting the best electricity available. If you're feeling more adventurous, you can even consider installing rooftop solar panels. It's great for the environment and can save you money in the long run!
10. Brighten Your Desk Essentials With Ban.do
Work essentials don't have to be boring. If you're used to using plain, conventional folders, notebooks, and calendars, it's time for a colorful upgrade! Ban.do has cute desk accessories that will brighten your day. With vibrant designs, including much-needed motivational quotes, you will be excited to open up your agenda and be on top of your schedule and tasks. 
You can get a matching set or get creative by mixing and matching the various styles. With so many options, including fun felt and gel pens, stickers that will keep you on track, and USB drives to store all your hard work, staying organized has never been easier. They even have fun decor that lets your space shine with your personality. Once you buy something from Ban.do, you'll have difficulty shopping for office essentials elsewhere!
11. Keep Calm With Artizen Essential Oils
As you start winding down for the day, plug in your diffuser, add lavender or rose essential oils, and let the aromatherapy help you relax. It will give you something to look forward to after an extensive workday. Using essential oil sets from Artizen with scents like refreshing peppermint, bergamot, and more will offer you a serene atmosphere. 
Feel your best as you work through your tasks by turning on your diffuser with the essential oil and transitioning from work to relaxation. These multi-purpose oils can even transition from your home office to your bathroom as you take a soothing bath or shower. 
Ready To Upgrade Your Office Space?
With so many great products to add to your office, there's no doubt you'll love venturing into the room to begin your work. Get creative with decorating, keep refreshing food and beverages close at hand, and feel at ease as you accomplish everything you need to throughout your day. 
Since we work most of the day, being in a personal, enjoyable space is essential. You may struggle to concentrate on tasks if the room isn't exactly how you like it. Whether you want to add just a few new items or totally re-do the room, the right office essentials will make it a unique place!