Nothing feels more suited for autumn easy-watching than tuning back into Stars Hollow to remind yourself of how much you love
Gilmore Girls.
Something about the changing leaves, the temperature dropping enough to make coffee your go-to beverage, and the explosion of colorful knitwear just feels so unavoidably Gilmore.
The ultimate comfort show deserves the ultimate viewing party. This fall, we're helping you host the perfect Gilmore Girls gathering with all the right touches. From fashion to food and ambiance, we've got you covered when it comes to creating a night to remember spent catching up with your favorite girls — both real and fictional.
1. Capture the Whimsy of Stars Hollow With Snif's Cherry Perfume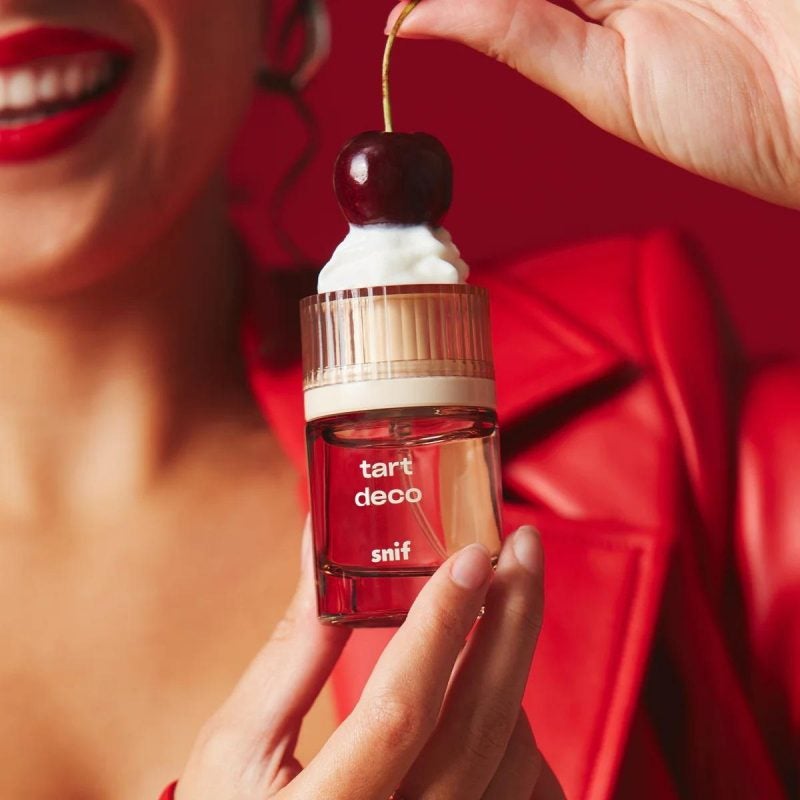 To begin your Gilmore Girls adventure, you'll want to set the scene with some whimsical touches to your usual style. After all, one of the defining features of the show is the characters' eccentric fashion sense and love for all things fun and funky.
Snif's cherry perfume is a delightful fragrance that captures the playful and sophisticated essence of the show's characters. It offers a beautiful blend of black cherry, vanilla, and birchwood that's perfect for setting the mood. 
As your guests arrive, the tantalizing scent will welcome them, instantly drawing them into the world of Lorelai and Rory. Even after the party, a spritz of this perfume will bring back fond memories of laughter, friendship, and a night well spent — both with your friends in real life and your favorite on-screen mother-daughter duo.
2. Lounge Like a Pro With Johnny Was
Comfort and style are the names of the game when watching your favorite episodes, and tunics for women from Johnny Was provide both. With a variety of colors, patterns, and sizes, these tops offer the perfect blend of casual elegance and laid-back coziness.
They're made of soft, breathable fabric that's ideal for lounging. Dressing like Lorelai has never been so easy or so enjoyable! Pair a tunic with leggings or jeans, and you have a look that's effortlessly chic and comfortable. Offering style without compromising comfort, these tunic tops are a must-have for any Gilmore Girls viewing party.
3. Storage Meets Style With One Kings Lane
Organization is key when hosting a viewing party, and an ottoman with storage from One Kings Lane is your perfect ally. These fashionable pieces offer ample storage space while still providing the cozy look you're aiming for. The sleek designs and quality craftsmanship make these standout pieces in any living room. 
Stash blankets, remote controls, snacks, or wedding gifts from your scary great-grandmother Lorelai without cluttering your space. With practical functionality and elegant aesthetics, this ottoman serves as a central hub for your viewing party, ensuring everything is in place when you need it. Your guests will appreciate the convenience, and you'll love the stylish addition to your decor.
4. Keeping It Clean With Tumble's Washable Rugs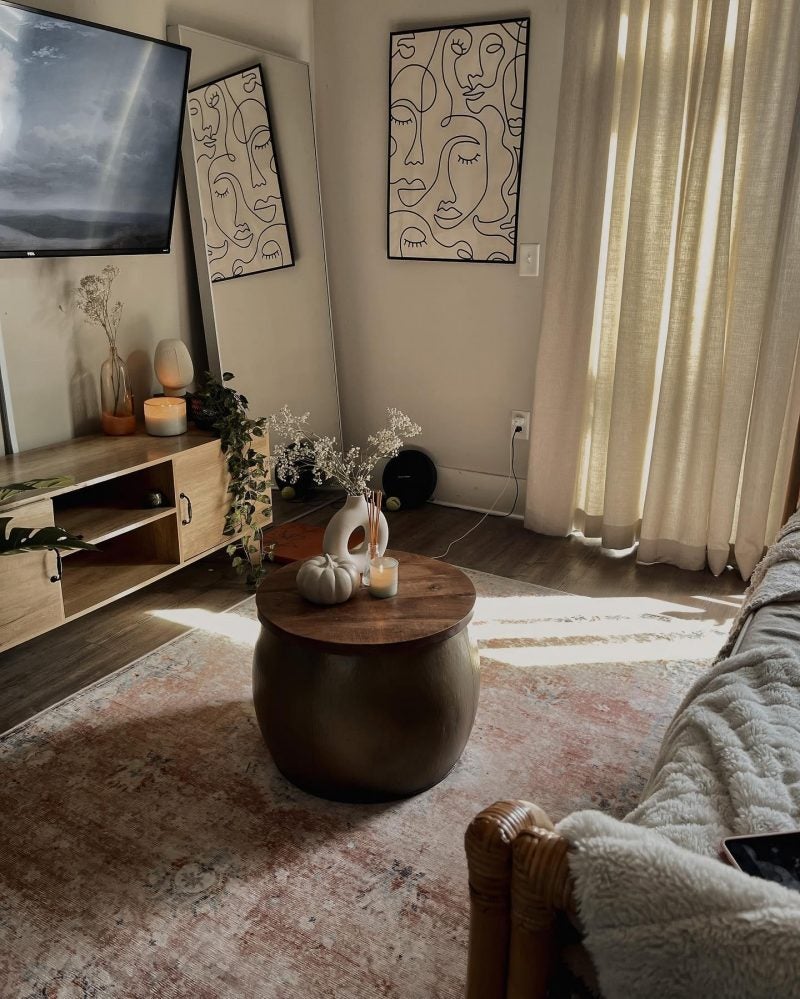 With food, drinks, and enthusiastic fans, spills can happen — especially at funny, emotional, or pivotal moments where you can't help but react! Keep your space looking pristine with Tumble's washable rugs. 
Available in various patterns and colors, they're the perfect way to bring some of the zany but stylish elements of Lorelai's vibe into your own home … Without adding stress to your post-viewing party clean-up strategy. That's because rather than needing to be dry cleaned or steam cleaned, Tumble's rugs only need to be tossed into your washing machine.
These rugs are designed with modern living in mind, offering both elegance and practicality. Made from high-quality materials, they resist stains and make your life so much easier. If the Emily Gilmore in your life tends to make surprise, stressful visits to your home, forcing you to run around tidying in no time at all, opt for Tumble washable rug for ease of care and style.
5. Get a Lorelai-Approved Look With Jones Road Beauty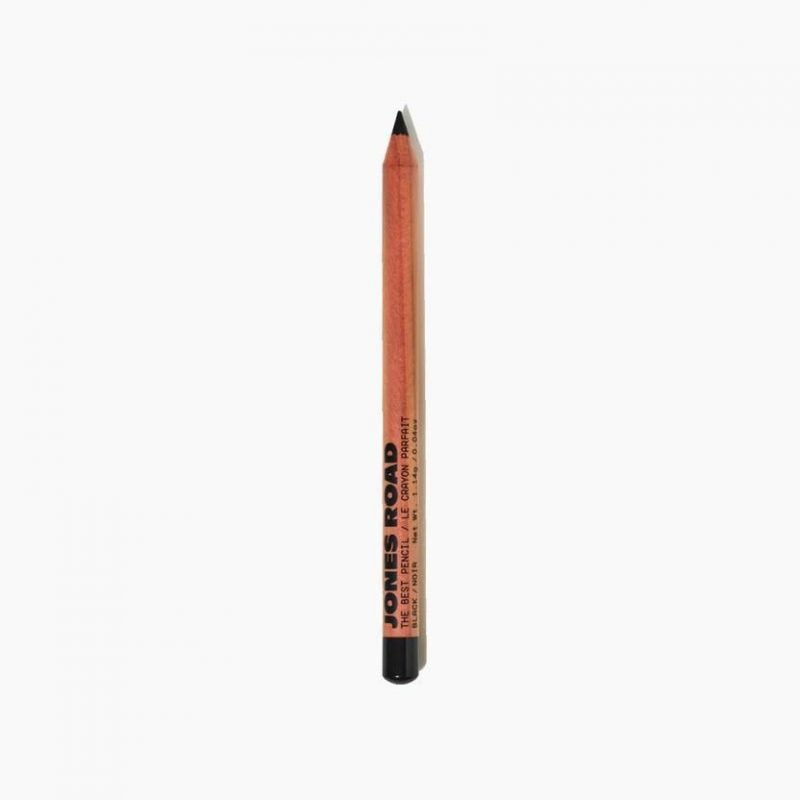 Lorelai's sharp looks are a big part of the fun of the show. Part of her signature vibe isn't just her killer hair — it's also her makeup, which often includes perfectly drawn eyeliner in a simple shade. The eyeliner pencil from Jones Road Beauty lets you capture Lorelai's iconic look. 
This top-of-the-line cosmetic item is smooth, long-lasting, and smudge-resistant. It's perfect for creating precise lines or a smoky effect. Its professional-quality results add a subtle touch of glamor to your viewing party. 
You'll recreate Lorelai's simple but striking style with a few strokes, making for great conversation starters among guests. Whether you're an expert or a makeup beginner, Jones Road Beauty provides you with a tool to express your creativity and love for Gilmore Girls.
6. Keep Things Bubbly With Olipop's Healthy Soda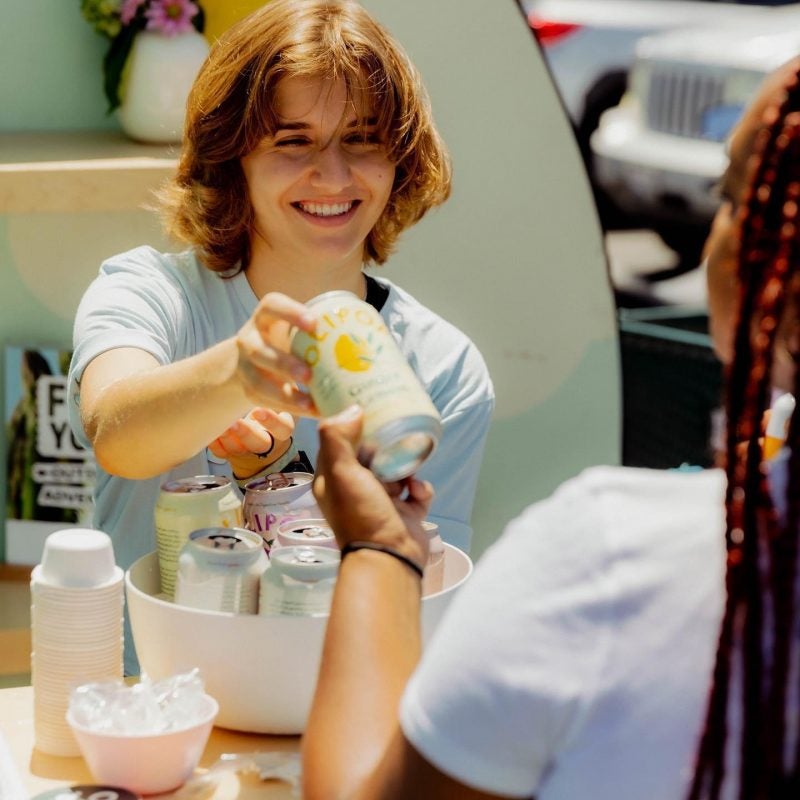 Refresh your guests with a modern twist on a classic beverage by serving Olipop's healthy soda. With a variety of flavors, this delightful drink offers a taste sensation that pairs perfectly with the episodes you'll be watching. 
While the Gilmore girls themselves tend to reach for the sweetest option available at any given moment, it's worth occasionally listening to Luke's wisdom and reaching for something that isn't likely to give you a sugar high. Bonus points if it's still tasty and refreshing!
Made without artificial sweeteners, Olipop provides a guilt-free indulgence that's just as bubbly as your favorite characters. The unique blend of flavors and effervescence will excite your taste buds and enhance your viewing experience. 
7. Pamper Your Own Paul Anka With ElleVet Sciences
In the excitement of preparing for your Gilmore Girls viewing party, it's easy to overlook the four-legged members of the family. But since Lorelai herself eventually falls in love with the quirky and maladjusted sweetheart dog Paul Anka, your pet deserves the best during your viewing party.
ElleVet Sciences' pet CBD can create a soothing experience for your pets that aligns perfectly with the comfortable atmosphere of your gathering. ElleVet Sciences' products are specifically formulated for animals, offering a gentle and soothing effect that can help pets feel at ease during the hustle and bustle of the party.
The range includes various applications, allowing you to choose the best fit for your pet's needs. Whether it's a chew or an oil, pet CBD provides a natural way to relax your pet without any harmful additives. Many pet owners appreciate the noticeable difference in their pets' demeanor, noting increased contentment.
Even if your pets are not usually stressed, the lively environment of a viewing party may be new to them. Pet CBD can ensure they remain comfortable and content while you and your guests enjoy the show.
8. Embrace Some of Emily's High-Class Charm With Sips by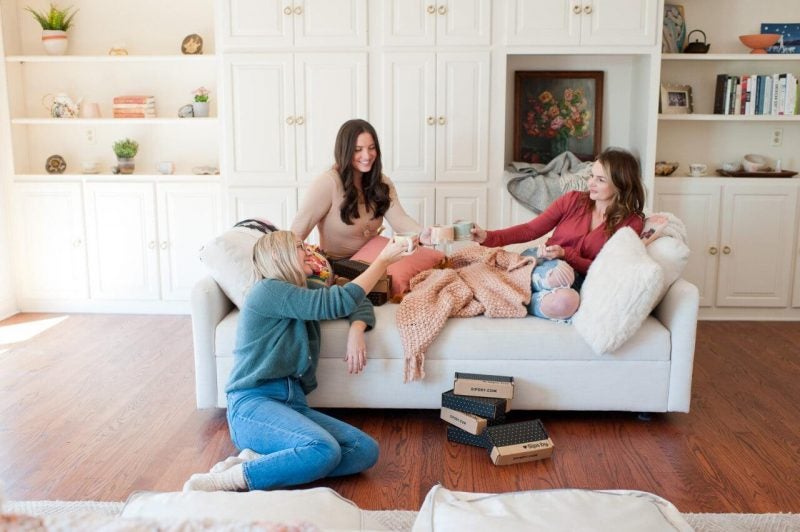 While Lorelai and Rory tend to be coffee drinkers, there's no question that Emily Gilmore is more of a high tea kind of gal. Embrace all of the characters' quirks and tastes with tea gift sets from Sips by to give you a (slightly less) caffeinated beverage often to sip while you watch.
These sets include a selection of fine teas, ranging from classic blends to exotic infusions, personalized to your tastes and needs, which makes it ideal for groups that can never agree on the best flavors. As you brew and pour, the delicate aromas and robust flavors become a sensory experience that adds depth to your viewing party.
Whether you're a seasoned tea enthusiast or are just exploring this elegant world, Sips by offers a range of options that cater to all tastes. The act of sharing tea becomes a communal experience, reflecting the friendships and family bonds celebrated in Gilmore Girls. Let each sip be a reminder of the joy and warmth the show brings to so many hearts.
9. Cheers to a Great Night With Non-Alcoholic Spirits From Aplós
Celebrating special moments often involves a toast, and non-alcoholic spirits from Aplós provide a perfect way to say cheers without excluding anyone from the party. These beverages are crafted with attention to detail, replicating the taste, aroma, and mouthfeel of traditional spirits without the alcohol content.
Aplós offers a range of options catering to various taste preferences. The versatility of these spirits allows for creativity in mixing both cocktails and mocktails, ensuring that every guest can enjoy a beverage that suits their palate. The bottles are elegantly designed, adding a touch of sophistication to your party setup.
While Lorelai tends to go for a gin martini — dryness depending on how serious Emily looks in any given episode — and she and Luke toast their impromptu engagement with so-called "chick beer," non-alcoholic spirits are the perfect substitute so that you can enjoy a drink while remaining as clear-eyed as possible to enjoy your favorite series to the fullest.
10. Bring Some Stars Hollow Coziness Into Your Space With Pepper Home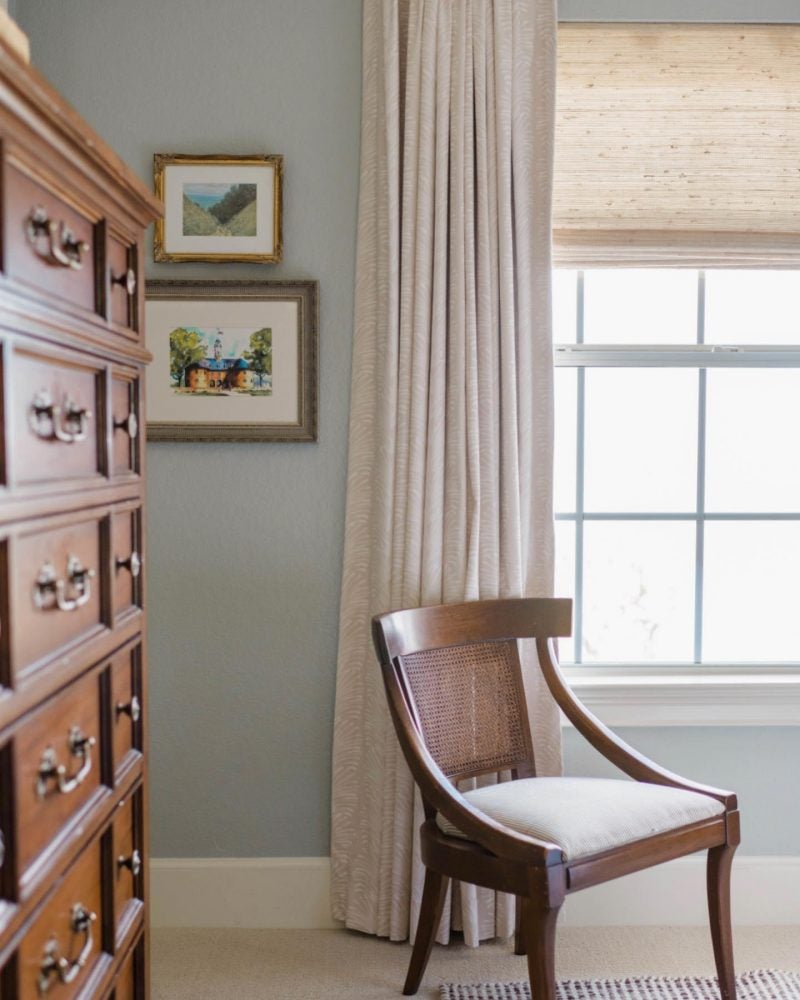 Setting the scene for your Gilmore Girls viewing party is about more than just the screen; it's about creating an ambiance that reflects the warmth and charm of Stars Hollow. With custom curtains from Pepper Home, you can achieve that unique atmosphere, tailoring your space to match the cozy vibe of the show. Available in a myriad of colors, fabrics, and designs, these curtains allow for personalization to suit your decor preferences.
As you draw the curtains closed, you'll notice how they contribute to the overall mood, creating a sense of enclosure and focus that enhances the viewing experience. The high-quality fabric ensures durability, while the elegant designs add a touch of sophistication.
The choice of curtains isn't just an aesthetic decision but a thoughtful addition that speaks to your dedication to hosting a memorable event. They can help you embrace the eccentric but oh-so-cozy style Rory and Lorelai's house so flawlessly captured.
11. Caffeinate Like a Gilmore With Breville's Espresso Machine
Coffee's central role in the lives of Rory and Lorelai is undeniable, and your viewing party wouldn't be complete without this energizing brew. The Breville Bambino Plus espresso machine lets you bring the coffee shop experience right to your living room. With its user-friendly features and sleek design, you can easily prepare a range of coffee drinks, from simple espressos to creamy lattes.
While Lorelai tends to go for filter coffee at Luke's more often than not — and far be it from us to argue with her coffee canniness — an espresso machine adds an element of sophistication to your viewing party. It turns coffee-making into an engaging experience, inviting guests to participate and choose their preferred concoctions. 
As you all laugh, cry, and debate over the best Gilmore Girls episodes, the rich aroma of freshly brewed coffee fills the room, enhancing the experience and keeping everyone perked up for the next episode.
12. Bring Stars Hollow to Life With a Projector From PVO
If you want to feel totally immersed in your return or first journey into Stars Hollow, a portable projector from PVO is the ultimate viewing party tool. This small yet powerful device turns any room into a mini cinema, offering an immersive viewing experience with crisp and clear images. The projector's compact design and easy setup make it perfect for both indoor and outdoor viewings.
What truly sets this mini portable projector apart is its adaptability. With adjustable settings, you can fine-tune the projection to suit various surfaces and lighting conditions, ensuring optimal clarity and color accuracy. Connect external speakers for a more theatrical effect because you definitely won't want to miss any of the rapid-fire dialogue. That's half of the fun!
A projector transforms your viewing party into an event, a shared journey into the heart of Stars Hollow and its captivating characters. And since the projector is portable, it means that if you want to host a viewing party part two, you can bring the projector to a friend's house and continue the fun.
Oy With the Products Already!
Hosting the perfect Gilmore Girls viewing party this fall is a delightful way to celebrate the show and enjoy quality time with friends and family. With careful planning and the right products to bring your favorite show to life, you can create an experience that resonates with long-time fans and newcomers alike. 
From setting the mood to keeping everyone comfortable and nourished with snack options that pay homage to the Gilmore girls' crazy eating habits without leaving you feeling bloated and guilty, you'll have everything you need to enjoy your favorite show in style.
All that's left is to set your program for the party! Are you starting from the first episode and seeing how far you can get in one sitting? Are you hopping between all of the holiday episodes? Is there one season that stole your heart? Are you having a viewing of only your favorite episodes?
However you plan to attack your viewing party, good times are guaranteed. It'll be a viewing party that has everybody saying "Copper boom!" by the end.
by Shannon Sparks