We all know that, in most cases, the brides tend to be the ones who take ownership of a wedding day while the grooms try to help out where they can, provide emotional support as needed when stress hits, and generally try to stay out of the way!
However, this doesn't mean you can't get involved and have your say on all the things that mean the most to you. Plus, you might like to focus on ways you can make your new bride even more thrilled and excited on the big day by surprising her with something. You could consider numerous options to make the day even more memorable for all the right reasons.
Send Her a Heartfelt Letter
You might like to astonish your sweetheart by sending her a heartfelt letter before you meet at the altar. Having a handwritten, romantic note delivered to her that she can read as she gets ready for your nuptials can remind your soon-to-be spouse why you fell in love with her in the first place. You can talk about how you picture your lives together, why she means the world to you, and what you promise to provide as a husband.
While your vows can cover some of these things, it's lovely to surprise your partner with a unique keepsake while preparing for the wedding so she knows you're thinking about her and can't wait to marry her. This is sure to be something she remembers and cherishes forever.
Deliver Her a Beautiful Gift
Another idea is to surprise your fiancé with a beautiful gift on the morning of your vows. You might, for instance, buy her something blue or old that she can wear or carry down the aisle as part of the "something old, something new, something borrowed, and something blue" tradition. Alternatively, you could send her a massive bunch of flowers, a piece of jewelry, or an artwork you designed and created yourself or made by another person but that you know she'll love.
You might even purchase her a romantic book, such as a special edition of Romeo and Juliet or a hardbound copy of love letters or poems across the years, etc. Think about your beloved and who they are, what they're passionate about and admire, and this will help you come up with a meaningful gift that will bring a big smile to your future bride's face. 
Fly in a Family Member or Friend
If you know your fiancé was disappointed that someone in her family or a close friend could not make it to the wedding, you could rectify this. Pull out all the stops to do what you must to help this cherished person make it on the day. Fly or otherwise transport them in and then send your partner a note or text message telling them to answer a knock on the door or go to a particular part of the hotel or other venue, etc., to find a surprise.
The loved one they weren't expecting to see can be waiting there. This surprise will make your fiancé's jaw drop in delighted shock.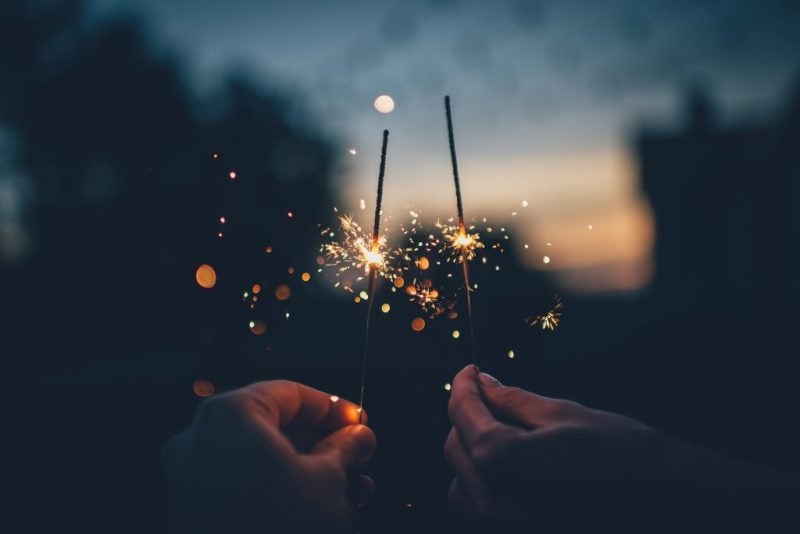 Produce Unexpected Entertainment
You and your fiancé may have already organized some entertainment for your wedding reception, but that doesn't mean you can't go behind her back, in the best way possible, to procure an additional option. For instance, you might arrange for a fireworks display as you're cutting the cake or for all the guests to produce long-lasting sparklers for a memorable send-off as you leave the reception.
If you know your almost-bride particularly loves a certain singer, band, DJ, magician, comedian, or other entertainer, you could surprise her by hiring this person or group to perform at the reception. Alternatively, you might even decide to learn or write a song for your beloved yourself. Either way, you're sure to surprise your partner and all the wedding guests.
Other ways to surprise your loved one include arranging for a special breakfast and pamper session for your bride and her bridal party on the morning of the wedding or setting up a billboard or other type of sign with sweet words that you know she'll go past on the way to the ceremony. You could shock her by planning an amazing honeymoon to one or more of her dream destinations or put together a slideshow of all your special memories together that you showcase at the reception. 
The list of ways to surprise your new bride is long and only limited by your imagination (and perhaps budget), so get creative and find a meaningful option that will have a significant and positive impact. Going to this effort is a lovely way to show your love.