When we got the chance to review the 2019 BMW X7 xDrive 40i, and immediately thought, ROAD TRIP! Full-size luxury SUV's are not for the track no matter how well they drive. Most of them will be used as young athlete haulers, grocery fetchers and road trip warriors. On a lucky day, if you happen to be waiting for a pick up from or to the airport you may find one of these luxury SUV's picking you up. The latter is one of my personal favourite experiences when returning from traveling. When I find myself at the airport, being a car buff I actually walk up and down the Airport Limo pick up line and scope out which car I'd like to be driven home in and usually vocalize my requests to the concierge. Sometimes I get weird looks, sometimes my requests are met with a shirt car talk dialogue.
Seven seats. Great, but why now?
Even though
BMW
, along with so many other auto makers, is focusing on developing their electric program they are still fully aware of the never ending and growing demand for crossovers and SUV's. Over the past decade SUV and crossover sales has not only grown exponentially but more and more models have been added by manufacturers. Small ones, big ones, electric ones, hybrid ones, diesel ones, micro ones, ultra fast ones, super luxury ones. You name it and there's a good chance there is a company out there ready to deliver exactly what you're looking for, catered to almost any budget.
So here's why.
BMW believes that they were losing out on some market share to the likes of Mercedes Benz and Cadillac to name a few when it comes to the seven seater wars. The all new 2019 BMW X5 is a fantastic SUV. From the iDrive 7 infotainment system to the new silky inline six cylinder engine. However with no offering of a third row seating for the little ones, families have no choice but to move into other brands. The X7 looks to hang on to those consumers in house instead of watching the potential customer walk across the street to a competitors showroom.
We must admit, the X7 drives a lot smaller than it actually is. The light and fluid steering had a lot to do with this, even with the rap video approved upgraded 22" inch M wheels. We recall how much we loved the 2019 X5 for how nimble the car was in all driving situations, most noticeably in slow driving conditions where the previous generation X5 would be a little challenging. Mall parking lots and tight squeeze places would not be ideal for its predecessor.
The X7 even with the added inches to its length and height remains very maneuverable and easy to park. Of course, you still get the slew of cameras, sensors and parking assistance technology that you get with the iDrive 7.0.
Gas consumption is rated at 20mpg in city driving and 25 mpg on the highway with a combined rating of 22.
We were able to beat all those ratings across the board with 21 city driving mpg, 27 mpg on the highway and achieved 23 combined. We were impressed with the fact that we drive over 700 kilometers on one tank.
The engine is the same 3.0 Litre inline-six that you'll find in all 40i BMW's (I.e 340i, X3 M40i, X4 M40i) and most likely to appear in the upcoming second-generation 4 series Coupè and grand Coupè.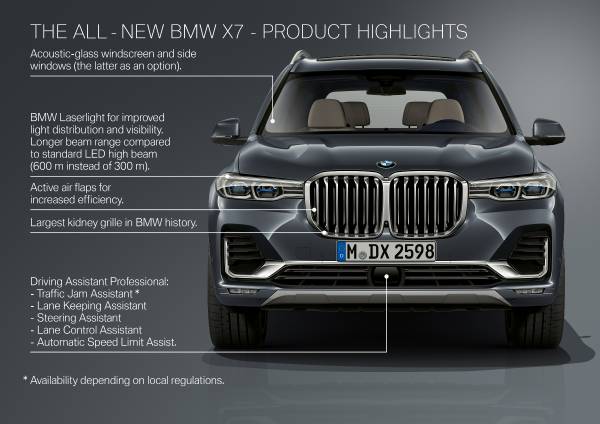 We managed to take the smooth driving X7 on a small road trip to Niagara On The Lake and noticed a lot of BMW drivers give us heavy glances on the road as we cruised by them. When we parked for photoshoots and social media story updates on the vehicle we were approached with quite a bit of fanfare. The same happened when we pulled into gas stations for stops. It seems you don't need to spend hundreds of thousands of dollars on an exotic sports car to turn heads.
The X7 is a great road trip vehicle with heated and cooled comfortable seats. Effortless passing power, a powerful stereo system, and fairly decent fuel economy for such a large vehicle. When you think Cadillac Escalade, Lincoln Navigator, Infiniti QX80. You will have no choice but to think BMW X7 as well. Yes, you could argue that the aforementioned vehicles come loaded with eight-cylinder engines. But fear not, should you wish to option the X7 with the 50i package. You will get a throaty 456 horsepower and a tire scorching and very impressive 479 lb-ft of torque V8 engine.