One of the leading Canadian appliance brands, Monogram Appliances, has reached another milestone by introducing a unique and highly anticipated Monogram Professional Range to their appliances collection in Canada.
The special professional range combines exceptional functionality, form, and luxury. The products aim to take cooking experiences to another level and inspire us towards new twenty-first century culinary milestones.
To celebrate this new exclusive line Monogram Appliances has teamed up with Michelin-Pedigreed Chef and Founder of Toronto-based Alo Group, Patrick Kriss. Patrick Kriss is a highly trained, experienced, and professional chef who has worked with prestigious kitchens worldwide. Kriss has worked in Michelin –starred restaurants and others in France and New York. Alo Food groups include Alo, Alobar Yorkville, and Salon. According to Bob Park (Chief of Brands for GE Appliances Canada), Patrick Kriss has set standards for dining excellence and reinstated the culinary industry in Canada. Bob further claims that Kriss' commitment and craftsmanship are what defines Monogram.
The collaboration is motivated by the mutual desire to improve culinary creativity throughout Canada. In addition, the partnership seeks to inspire and teach professional cooking in the comfort of Canadian homes.
As a tribute to the fantastic service and dedication from all Canadian frontline workers, Patrick Kriss led his team in preparing a special luxury dinner using the New Monogram Professional Range. The luxury dinner took place outdoors at the Monogram Design Centre in Toronto where the nominated frontline workers wined and dined.
SWAGGER had the opportunity to preview this luxurious dining experience with an exquise 3-course meal. The meal, prepared by Chef Patrick Kriss and his team was live streamed and cooked using the new Monogram Professional Range.
SWAGGER is proud to say this 5-star experience is exactly what the front of the line workers deserved for their hard work and service during these challenging times.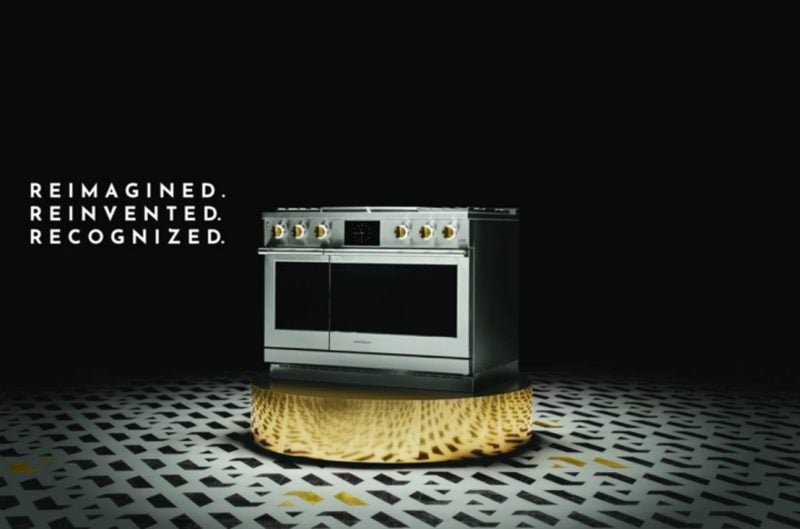 The award-winning appliance boasts top-notch craftsmanship and exclusivity. Every bit of it is a combination of thoughts from the best craftsmen. Its knobs are very precise with brass accents and sapphire glass. Indeed, the recipient of The Architectural Digest Great Design Award is the one to bring professional cooking to our homes.
Features
An exclusive TrueTemp™ burner that will allow you set gas burners at an exact temperature.

Perfectly fitting 3-piece grates

The Industry Recommended Exclusive Custom Color LED Accent Lighting. The lighting is the perfect match for your dining ambiance and kitchen décor.

It also has automatic and precise oven modes that seamlessly monitor the cooking progress and adjust cooking times to prepare refined dishes.

A hot air fry mode- the fry mode crisps food substances without using butter and oil.
The product will be available in three sizes, that is;
In addition, it will have two models, a dual fuel with a gas cooktop model and an electric oven or all gas models. Monograms' Professional range will be available at all Canadian retailers.
The partnership between Monogram and Patrick Kriss will indeed take Canadian Culinary experiences to another level, thanks to their incredible passion for the culinary industry. In a statement accessed by our team, Patrick Kriss explains "The opportunity to work with Monogram to show our appreciation to frontline healthcare workers who have worked tirelessly to keep Canadians safe and healthy is an honour and a privilege," 
This dynamic partnership is a great honour to the respective industries in their quest to enhance excellence in their respective sectors while improving the lives of Canadians.
Shop the full range at Monogram Appliances