So much power comes from one small ingredient, that it pays to always have it handy. That ingredient is eggs – a protein-punch that can carry you through any of your day's dips, be it breakfast, lunch or dinner. (Or even a snack, a quick-fast, "linner" or brunch – whatever.)
For those of us who are still dutifully doing laps around the neighborhood, lifting weights in the home gym, doing the jump rope, stationary or outside bike, sit-ups, what have you, you might be surprised to learn that the best after-workout way to replenish the system is to eat some eggs.
The protein in eggs – especially after a good exercise – helps the body to repair and grow muscle. Eggs are an ideal fit for your post-workout meal or snack, with two large eggs providing 13 grams of protein. It's chock-a-block filled with minerals and vitamins like vitamin A, D, E, folate, iron, and zinc. So think of the energy you've burned as your muscles burn, and now know there's a simple way to get those muscles in even better shape.
Call them an all-in-one package that will give you the added push; they can easily be incorporated into any healthy meal for an energy boost. Something delicious and fresh in your day.
You can feel like you game the system too, not needing to pull together a ridiculous number of ingredients just to feel like you're "doing healthy." Eggs take minutes – minutes! – from fridge to plate, and can be added as a boost of protein and nutrients to practically any meal. Roughly the same amount of time it'd take you to nuke last night's pasta, and hey, you could slice and dice a delicious hardboiled egg on top of that, and fire up your energy.
Easy-peasy. Fry, poach, or drop into a shakshuka. Boom – yummy plus fast equals eggs-cellent. For a portable snack to enjoy post-workout, you can't go wrong with a simple serving of hardboiled eggs. And oh yeah, it's not egg-spensive either. Look, there's so much hustle in the day – even if we're not driving through traffic to and from work, and frenetic in our cubicles. One thing less to worry about, is how much time to make a meal, or whether we're giving our bodies the right fuel.
"Do eggs" like a boss with Zucchini Pasta, Pizza with Eggs, Avocado and Egg Breakfast Sandwich, Greek Burrito Snack Wrap and really, sky's the limit. Check out the high protein recipes on eggs.ca – each recipe has 20g protein per serving or more.
Really, it'll take you to the next round of munchies, and beyond. No time for the hangry.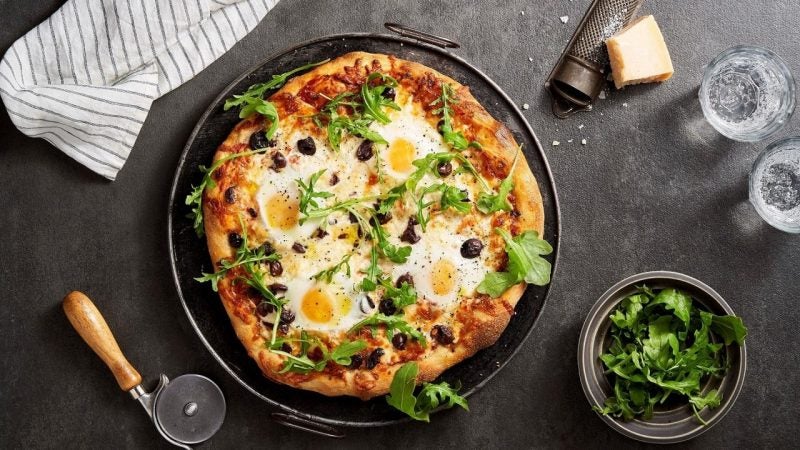 No other food item is this versatile, and can be mixed in with virtually any kind of other food, and makes you happy at any time of day. French fries, maybe, but are they going to get you through Zoom fatigue? Are they going to help you get the oomph back after the 2pm slump in your day? Yeah, no. If you don't believe us, take it from four-time World Championship medalist and three-time Olympic medalist Andre De Grasse, who picks eggs as his go-to protein to get him through long days.
View this post on Instagram
The point is, any time of day or night, eggs can fill you up, and give you a healthy feel-good meal. Your bones and muscles will benefit from post-workout eggs, plus, you can change up the recipes as often as you change up your workout regimen.
Take the stress out of meal prep. Do eggs. And your body will thank you.
Check out eggs.ca and Get Cracking on Instagram or Facebook for more quick, easy egg recipes you can make yourself, anytime.