The world of hot sauce is a beautiful and tasty place. It's time to add a bit of heat to this cold winter season – heat that offers real flavor to your favorite foods. The team at Swagger Magazine did the ultimate taste testing and rounded up the ultimate hot sauces that will be sure to spice up your life.
ATX Hot Sauce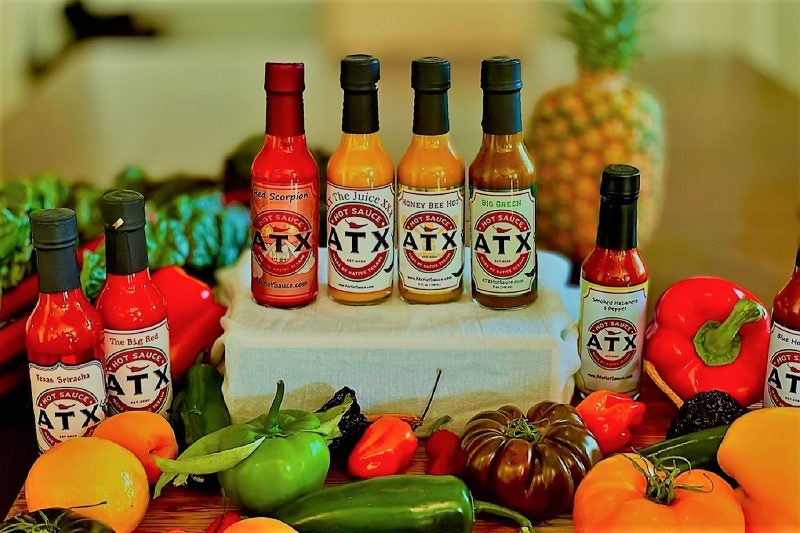 ATX Hot Sauce is the latest great brand out of Texas, arguably the home state of hot sauce, and in the city with the most cache, Austin.  This fast-growing brand has a large stable of the more standard types and a company mantra of flavor first, with the heat level a secondary consideration.  But they also have an impressive range of unique and innovative flavors that cover any taste or application.
Harmonious blends of peppers ranging from mild Poblanos and Jalapenos/Serranos, fruity Fresnos and Habaneros, all the way to insane Carolina Reapers and other super-hots; along with freshly peeled spices like ginger, cardamom and turmeric, and ingredients like pineapple, coconut, apricots, etc.  With 14 flavors in total there is truly something for every hot sauce lover.

Each flavor is made with fresh blends of locally sourced vegetables (whenever possible) in small batches, and all ATX sauces are months long fermented hot sauces so no vinegars and added salt are required, just where appropriate for the particular flavor. The flavor first focus has resulted in a stellar 4.93/5 customer review rating across all platforms, and a rapidly growing social media fan base.  The ATX Hot Sauce YouTube channel alone has several thousand followers and many videos with 40,000+ views!  There they show exactly how each hot sauce flavor is made, and how you can make your own hot sauce with a virtual library of tips, tricks and guidance.
We expect this brand to continue its rapid growth. No gimmicks, just great carefully crafted hot sauce. And with more and more scientific evidence of the benefits of capsaicin and fermented foods, these delicious hot sauces could even help you live longer. And enjoy the endorphins along the way of course.
Visit ATXHotSauce.com to view the product line.
Nate's More Better Hot Sauce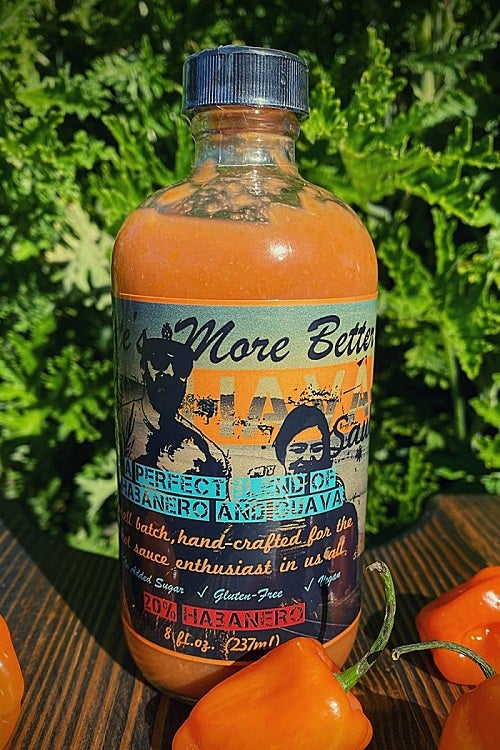 Habanero + Guava = HAVA SAUCE! This is our premiere hot sauce, bursting with refreshing tropical citrus heat! First ingredient is FRESH HABANEROS, 20% to be exact, which means it is a little hotter than your average sauce, just enough to give your mouth that sweet tingly burning sensation. Next, GUAVA PUREE, slightly less, allowing the habanero to remain in the spotlight but promoting a slightly sweet tropical sensation. The two are then blended with a combination of citrus juice (orange, lemon, and lime), ginger, tomato, carrots, onions and apple cider vinegar.
The result is FRESH, DELICIOUS, ALL-NATURAL, HOT SAUCE without any added sugar! This sauce makes everything better, from eggs to your favorite sushi rolls!
Nate's More Better Hot Sauce began in San Diego, right after Nate and his wife had their second baby, a time when grabbing a local burrito was frequently easier than making food at the house. BUT IT'S ALL ABOUT THE SAUCE! They realized a burrito is only as good as the sauce that goes with it! Nate started making his own sauces for friends and family with all-natural fresh ingredients and fresh PEPPERS! People soon realized the importance of quality ingredients and unique flavor combinations and demanded more. Nate sought after a facility and luckily found California Hot Sauce Solutions in Oceanside, with amazing owners, who helped the sauce come to life!
Ghostly Garlic
Ghostly Garlic Hot Sauce is one of Pepper Palace's premier Small Batch, Hand Crafted and All Natural hot sauce products. If you are looking for the perfect combination of heat and flavor, look no further! Ghostly Garlic combines the supremely spicy ghost pepper, the sweet heat habanero pepper, and the flavorful cayenne pepper. Along with the perfect mix of peppers, Ghostly Garlic contains cloves of chunked garlic that stay suspended in the bottle and add an immense garlic flavor profile to the sauce. In combination with the garlic, a hint of lemon citrus flavor can be detected as the garlic flavor dissipates and the peppers begin to burn.
This 5 oz bottle of sauce is packed with tons of flavor and the perfect amount of heat. Ghostly Garlic is a versatile sauce that will pair perfectly with anything you put it on. Fans of the sauce like to add some to their eggs, drizzle it on their pizza, and mix it with butter to create a tasty wing sauce! Try it out today in Pepper Palace's retail stores or order it online here! Find out why Ghostly Garlic is one of Pepper Palace's best selling hot sauces!
TRUFF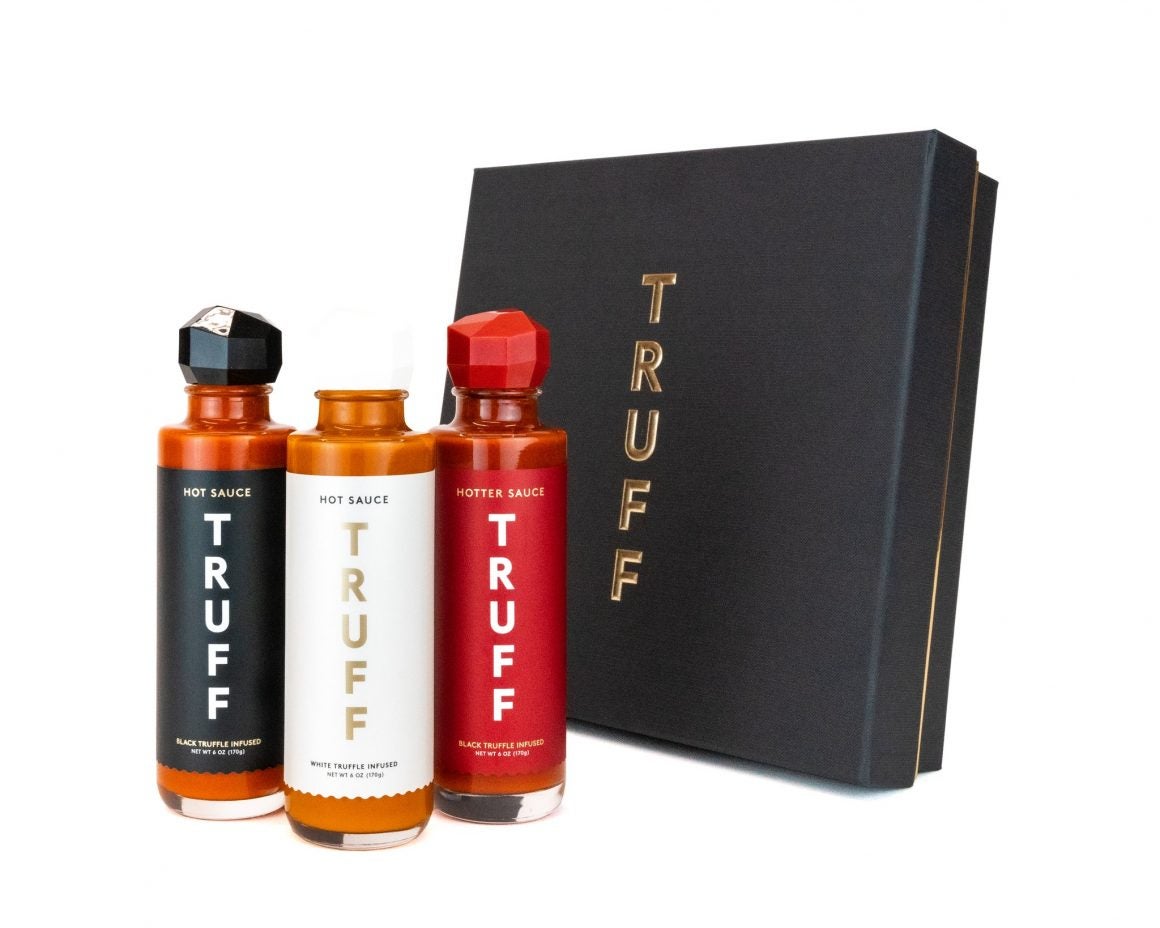 The creators of TRUFF wanted flavors in a hot sauce that they couldn't find anywhere else. They wanted to create a luxury brand in the hot sauce space. TRUFF broke all the rules of hot sauce making down to its handsome packaging. With an aim to create a truly umami flavor profile in a hot sauce, TRUFF truffle infused luxury hot sauces were born. TRUFF's combination of ingredients delivers a flavor profile unparalleled to hot sauce. Now gourmands, chefs, and home cooks can't get enough of it. Oh, did we mention Oprah is also a fan?
The original TRUFF hot sauce combines chili pepper, black truffle, vinegar, agave, and spices to create a unique and thoroughly satisfying flavor. It will elevate any dish you put it on and turn it into a five star culinary experience. The agave makes for a sweeter sauce. Try it on eggs.
The HOTTER TRUFF hot sauce kicks up the heat and flavor by combining chili pepper, black truffles, habanero peppers, and spices. HOTTER is for the experienced hot sauce lover who wants a little sweet and even more heat.
The WHITE TRUFF hot sauce celebrates the unique flavors of seasonal white truffles, chili pepper, and coriander. Made in limited batches, this flavor was created to capture the essence of the holidays in a whole new way.
TRUFF hot sauce is a bit sophisticated and a mind-blowing flavor combination that just works. TRUFF is guaranteed to put a smile on your face and a zing on your tongue. You can say it's like putting a bow tie on a chili pepper.
This TRUFF variety pack is the perfect gift for any chef but there is no shame in keeping it for yourself.
Hot Mouth Pepper Sauce
Known for his culinary skills with family and friends, Sean Leiba decided to make a homemade pepper sauce in July 2020.  His guiding principles for the Caribbean-inspired recipe were flavourful, balanced, premium all-natural ingredients and not overwhelmingly hot. He made a simple post of the pepper sauce on his Facebook page July 3, 2020 and he was shocked at the response. People from all over with diverse backgrounds started making inquiries if his pepper sauce was available for sale. In response, he came up with a brand name, Hot Mouth Pepper Sauce, picked up some jars, created labels, and started shipping out and making personal deliveries.
Sean was again surprised at the response from those who tried the pepper sauce. They absolutely loved it! Glowing testimonials on it being incredibly flavourful and referrals lead to the pepper sauce being shipped to New York, San Francisco, North  Carolina, Atlanta, Florida, Virginia, British Columbia, Calgary, Ottawa, Bowmanville, Guelph, and all over the Greater Toronto Area within a couple of months.
Inspired by the overwhelming support for his homemade pepper sauce Sean decided the next step was to develop for commercialization while maintaining the guiding principles. Product formulation, sourcing ingredients, finding the perfect bottle, and professional graphic design are all in place. The flagship and original flavour, Tropical Heat, is available for sale to individuals now, and plans are in the works for distribution in retail stores as well as additional original and  innovative flavours.
Nothing makes Sean happier than to see and hear customers enjoying Hot Mouth Pepper Sauce.  You are encouraged to Follow and Like on Instagram and Facebook @HotMouthPepperSauce for specials and prizes offered regularly.
Enjoy and keep on pouring!
Contact Us To Buy: seanleiba@gmail.com
Lola's Fine Hot Sauce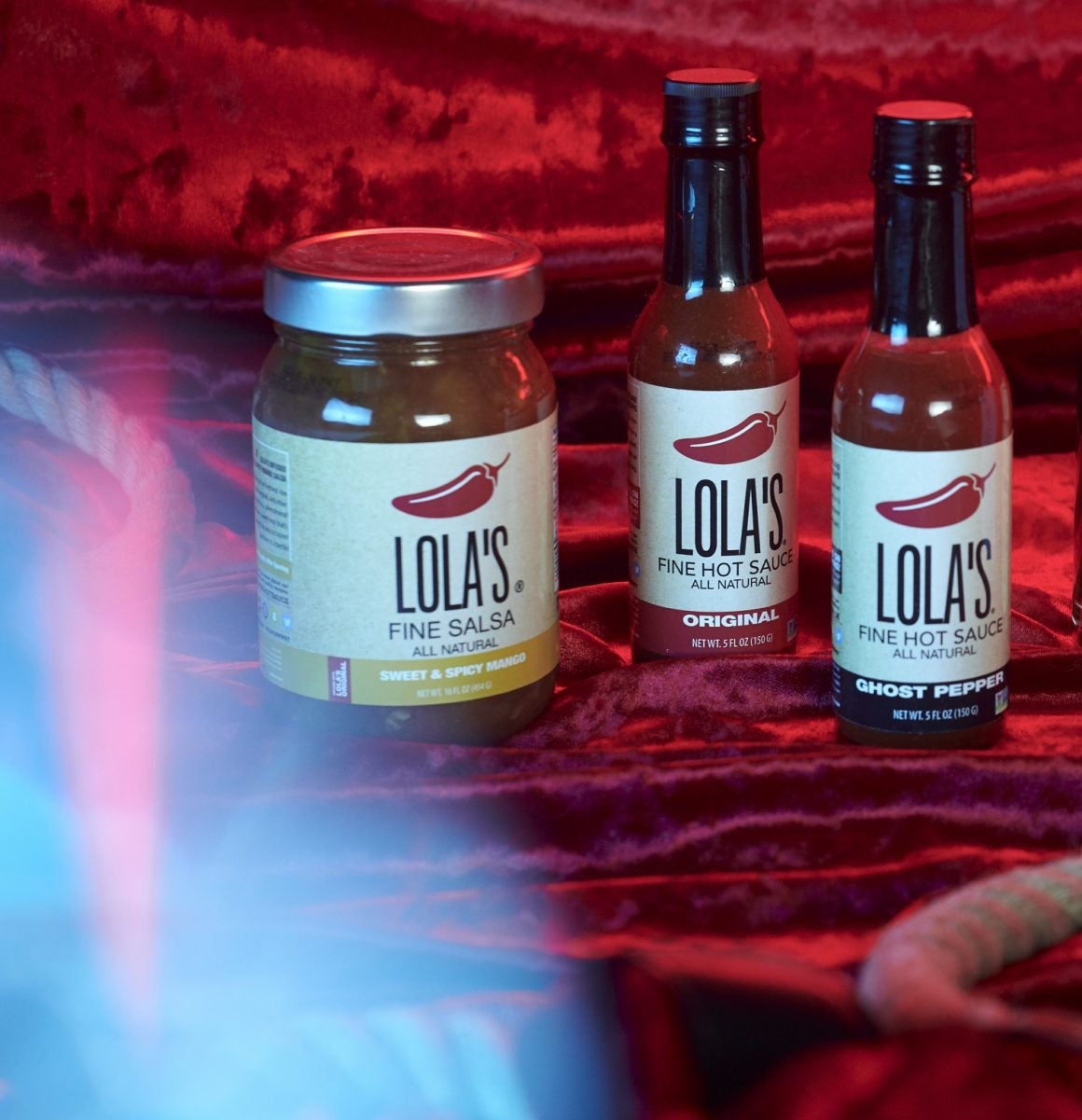 In the Philippines, Lola means grandmother. In this family, Lola is mom.
Growing up Taufeek Shah had a very unique childhood. His dad was deployed on active duty serving in the US Army, and his mom was starting her own medical clinic in the heartland of Iowa. His mom was always helping take care of local farmers and was looked up to as a beacon of light in their community.
Every night for dinner Taufeek's mom made sure he and his sisters had a home cooked meal and each meal was accompanied by her delicious, signature hot sauce which had been in her family for generations.
In 2016, Taufeek brought her hot sauce in for a food day at work and people loved it! They said it was the best hot sauce they had ever had. After that, Taufeek knew he had a new calling and needed to leave the corporate world of finance to bring Lola's hot sauce to tables all around the world. 
Lola's is unlike any other hot sauce in the market because we use fresh real ingredients with umami flavors that enhance any cuisine and adds depths of flavor while complementing any dish.
Lola's is a generational family recipe finely created using the freshest all-natural ingredients to provide a truly unique fine hot sauce for everyone. All of our flavors use the world's hottest peppers for delicious flavor and not intense burning heat. Our products are vegan, all natural, non-gmo project verified, & gluten free.
Lola inspires us daily and we are proud to be able to share this seasonal recipe with you. We hope that her sauces inspire you as much as she inspires us.  We got together with Lola herself and used our Ghost Pepper hot sauce to create this delicious, timeless appetizer that will grace our tables this Christmas and for years to come. we hope it's on yours as well! 
Find Lola's online at www.lolasfinehotsauce.com or in over 10k retailers and restaurants across the United States and Canada including Farm Boy, Costco, BJ's, Stop & Shop, Giant, Fairway Market, Whole Foods, Walmart, and Kroger! For great culinary ideas and general foodie-isms follow Lola's on Facebook, Instagram and Twitter @Lolasfinehotsauce.
Greene's Gourmet Hot Sauce

Greene's Gourmet is the perfect hot sauce for anyone seeking amazing flavor balanced with heat. Each hot sauce is all natural, gluten free, non-gmo and handcrafted in small batches in Vermont with flavor as the top priority. Greene's Gourmet Hot Sauces are sure to please any palate this holiday season.
Taste them all with Greene's Gourmet "The Firehouse Five" – great as a gift or personal indulgence.
The Firehouse Five includes the rich and mellow Smokey Red, the delicious tang of the Very Verde, the sultry simmer of smoked chilies in the Texas Chipotle, the exotic ginger and habanero in the Dragon's Fire, and the full-flavored heat of the Atomic Habanero.
You will use food as an excuse to eat these awesome hot sauces!
Get the Firehouse Five for $25 and save $5.
Individual bottles are $6.
Men Pa'w Hot Sauce! 

We all have that person in our lives. They have swagger for days! They're the life of the party! When it comes to bringing the spice to an event, you can count on them to spread it on thick! The issue comes with finding some swag to give them to show that you can't imagine life without them. What gift could you provide them that will make them feel appreciated? For that wild card on your gift list, try Men Pa'w's Hot Sauce!
Men Pa'w's Hot Sauce offers a gift set where you can choose three of four amazing Haitian hot sauces. Choose any combo of Red Sauce, Green Sauce, Umami, and La Bomba or let random chance choose which sauces will be given. Each sauce has its own unique flavor and swagger to match the gift recipient. These sauces contain a variety of peppers including Chocolate Habanero, Red Habanero, and Fatalii. Olive oil and several Haitian spices round out the flavor profile for each sauce. This gift set is perfect for those who enjoy the finer things in life or need to spice things up on the regular!
Created by Ms. Carline Phanor, Men Pa'w's Hot Sauce is a labor of love. She gained experience in Caribbean spices and dishes while working at a popular restaurant in Haiti. While owning her own restaurant in Champ De Mars, Port Au Prince, she created her own hot sauce. This hot sauce has gone on to win the Hot Pepper Awards of 2013 and the 3rd Place Hot Pepper Award in the Scotch Bonnet category.
If you're in need of some special swag for that unique person in your life, try gifting them Men Pa'w's Hot Sauce! Let the bold flavors of these specialty sauces show how much you appreciate that someone who spices up your life.