Many a great story has begun with a drink…or a few. Some drinks, like the Moscow Mule, have great tales all their own. A cool drink with a kick, the Moscow Mule, despite its Russian-inspired name, was concocted at the Cock 'n Bull pub in Hollywood, CA, in 1941. While the details of its history, like those of many bar fables, are a bit hazy. One thing is for sure- this drink's tale of origin is as colorful as its flavor is bright. Below, we've compiled a few of the more noteworthy, interesting, and weird facts about this classic American cocktail.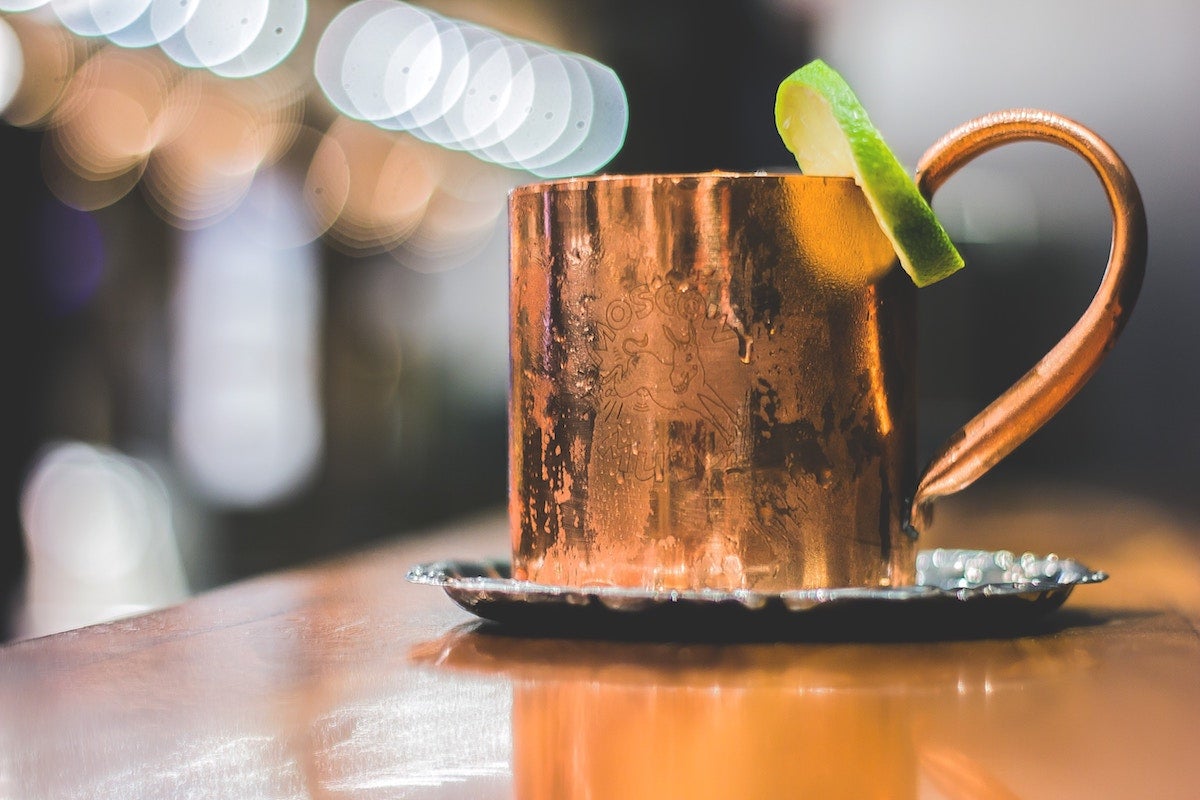 1. The recipe was concocted from ingredients nobody wanted.
Jack Morgan, owner of the Moscow Mule's home of origin at the Cock 'n' Bull Pub in Los Angeles, had a stockroom full of Cock 'n' Bull-brand ginger beer. Which to his chagrin, nobody seemed to want. The joint's head bartender, Wes Price, told the Wall Street Journal after the drink's sensational comeuppance that he incorporated ginger beer because he was "just trying to clean out the basement." The idea of liquor and ginger beer may have been inspired by the Mamie Taylor, which is a whiskey and ginger beer mix. Though vodka is a bar staple today, it wasn't too popular at the time. John Martin, having just bought the then tiny Smirnoff vodka company, was trying to pedal his product without much luck.
He then came upon the Cock 'n' Bull and, as the story goes, shared a drink with Morgan, who shared his frustrations over his ginger beer surplus. After some alcohol-fueled brainstorming, the guys came up with their master plan. From those two less-than-popular ingredients came one of the most popular drinks of all time.

2. Those copper cups were the result of another surplus
The copper cups were undoubtedly the vessel of choice from the very beginning of the Moscow Mule's heritage, but their origin has often been disputed. Some say an immigrant named Sophie Berezinski brought 2,000 copper mugs with her to California when she came to the States from Russia. As this version of the tale would have it, she'd designed the mugs herself and had them manufactured at her father's copper shop in Russia. Unfortunately, sales proved impossible in the impoverished Soviet Union, so she made her way to America. When she arrived in the U.S., her husband was apparently less than enthused about her luggage and threatened to throw the mugs into the trash.
To avoid such a wasteful fate, she carted them around L.A. Serendipitously, she found a willing buyer at the Cock 'n' Bull where Morgan and Martin were in search of a proper vessel to complement their original creation. Her story is corroborated by the Moscow Copper Company of Santa Barbara, Calif. However, some disbelief is natural because of the fact that in 1925, Joseph Stalin had launched his "revolution from above" and nationalized essential industries, including copper, setting outlandish goals like a 250 percent increase in overall industrial development and 330 percent expansion in heavy industry alone. A missed quota could have had dire consequences, which makes it unlikely Berezinski or her father would have risked carting so much product out of the country.
The other version of the story, slightly less colorful but potentially more plausible, comes from Martin himself. Martin said he remembered Morgan's girlfriend, a "great, big buxom woman" named Osalene Schmitt, joining in their initial brainstorming session. Osalene's family owned a copper mine, lending her access to plenty of copper.
3. It Made Smirnoff Famous
Vodka was a relatively new spirit stateside. Most people hadn't heard of it at the time, let alone tasted it. Smirnoff was originally owned by a poor Russian immigrant who sold the company to Martin in 1939. Despite his entrepreneurial know-how, Martin was unable to sell the vodka on its own. Upon his arrival in California and subsequent collaboration with Morgan, however, success was quick to come for both the men. Martin was soon helming one of the most impressive and successful marketing campaigns in history and the Moscow Mule propelled Smirnoff vodka into the limelight. Smirnoff remained the vodka of choice for the Moscow Mule for several years after the drink's inception.
4. It Was Nearly a Casualty of War
During the Cold War and era of McCarthyism, anything Russian was considered suspect and taboo. Hollywood, the Mule's birthplace, was blacklisted, and a rumor circulated that Smirnoff was a Russian vodka. New York bartenders organized a boycott of the cocktail in response to pledge their patriotism and defiance of Russia. In truth, however, Smirnoff originated stateside in Bethel, Connecticut.
5. Four People Once Sued for Damages Over Effects Related to the Moscow Mule
In 1947, four Los Angeles residents filed a lawsuit claiming $10,000 in damages, saying they had witnessed a live "lizard or salamander" crawl out of a bottle at a local pub. The plaintiffs claimed this event caused insomnia, violent nausea, and recurring nightmarish visions in which "mules and lizards…leer at them from the necks of ginger beer bottles." It's not entirely clear whether these patrons had issue with the cocktail, were under the influence of some other substance, or were just really great at telling tall tales.
Hollywood seems to have been the perfect birthplace for such a cocktail, destined for stardom. From its booming origins decades ago to its resurgent popularity in recent years, this fantastic and curious cocktail is a true American classic.