February is a month where we all experience the "February Blahs". The weather is meek, the temperature is down and our moods need some help being uplifted. Valentine's Day mid-way through the month, help us all find ways to indulge in simple pleasures and euphoric experiences. One great way to do this is through wine and chocolate, both of these items individually release dopamine into your brains and dopamine is our feel good transmitter that helps to elevate your mood. Feelings of happiness and pleasure, can therefore be increased with both red wine and chocolate. Together, you can double the effect and indulge in a natural high with your friends, your partner and even by yourself.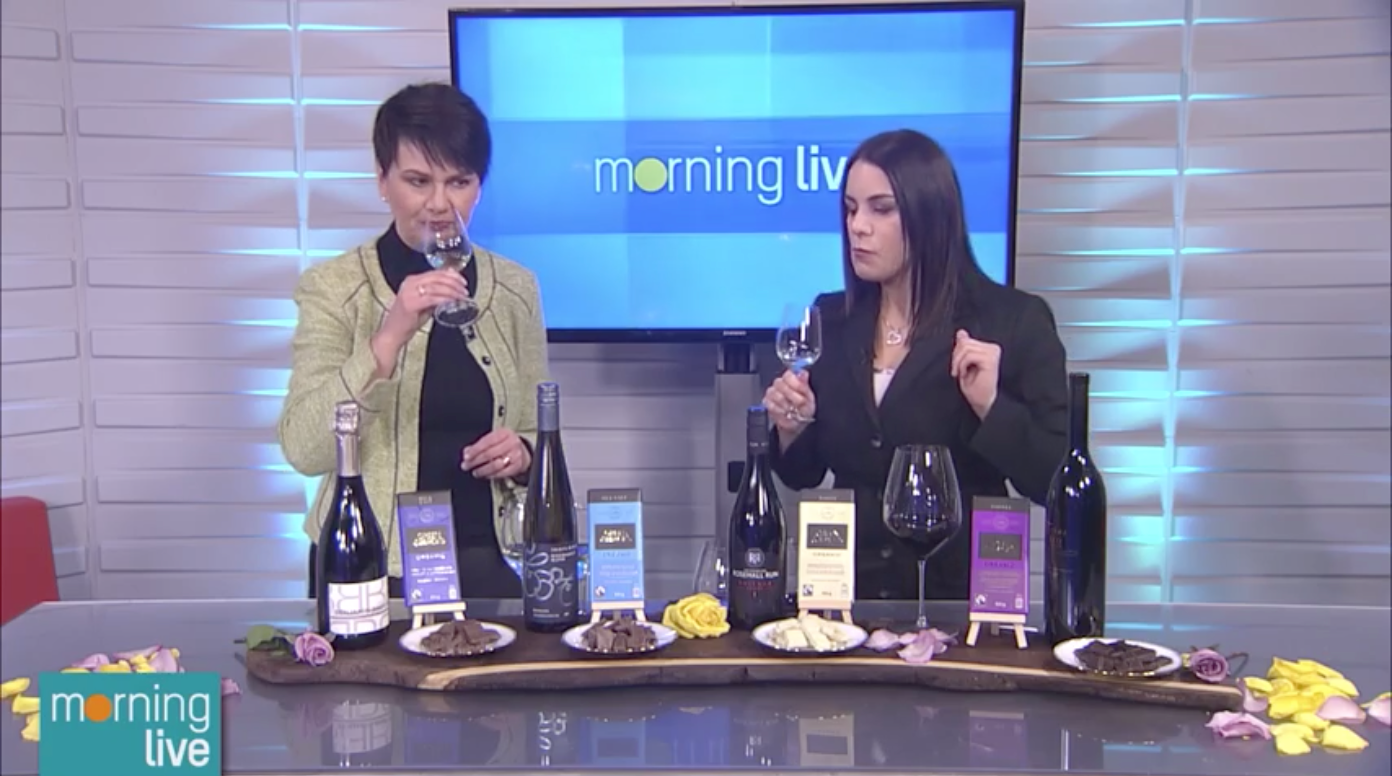 So, in the name of playful love, I decided to come up with a fun way for you to 'find your wine and chocolate personality'. I partnered up with Green and Black's, a premium, organic, ethically sourced chocolate company to create exclusive pairings with Green & Black's chocolate and notable Canadian wines. Find out what chocolate flavour matches your personality and uncover what Canadian wine you should serve your go-to chocolate with for the perfect romantic pairing. Don't worry if you fall into more than one category – multiple personalities can work to your advantage in this fun activity! 
Timeless Classic
Your perfect match is Green & Black's Organic Milk Chocolate, a rich and flavourful milk chocolate that balances the intensity of the cocoa with the relative sweetness of the milk.

As a milk chocolate lover, you are a timeless classic when it comes to romance. You're caring, thoughtful, and you put your heart into everything that you do. You love the comforts of reliability, but that doesn't curb your keen sense of adventure. Green & Black's milk chocolate is your go-to, and with good reason: it never lets you down.
For a truly remarkable Valentine's Day experience enjoy this classic treat with some bubbly to elevate the rich cocoa and milk with it's crisp and dry notes. This pairing moves up a notch with an ultra premium and exclusive sparkling made from 100% chardonnay grapes from Nova Scotia. Fresh and delightful, the pairing will have you not wanting to share with more than one other person! 
Green &Black's Organic Chocolate Pairing:  Milk Chocolate
Super Wine Girl's Wine Pairing: Benjamin Bridge Méthode Classique Reserve Brut Sparkling 2013 from Nova Scotia $75 Vintages @LCBO
Deep Thinker
Your perfect match is Green & Black's Organic Sea Salt, a delicious milk chocolate punctuated with delicate flakes of Anglesey sea salt sourced from Halen Môn.
You are a thought-provoker. You might seem quiet and reserved to some, but that's because you are busy contemplating deeper ideas. Flakey Sea Salt leaves your palate with more to contemplate, and the creamy milk chocolate helps keep you on your toes with its rich caramel notes.
This Valentine's Day enjoy the Green & Black's Organic Sea Salt chocolates delicate and complex flavours by pairing it with a fresh glass of Riesling. This pairing blends both sweet and salty for an surprising palate experience! 
Green & Black's Organic Chocolate Pairing:  Sea Salt Chocolate
Super Wine Girl's Wine Pairing: Thirty Bench Riesling from Beamsville Bench in Niagara, Ontario $22.95 @ Vintages @LCBO 
Hopeless Romantic
Your perfect match is Green & Black's Organic White, a milk chocolate made from fragrant Madagascan Vanilla and pressed to perfection for a wonderfully creamy and smooth texture.
White chocolate is simple, delicate and intriguing. You are a hopeless romantic searching for surprising, sweet pleasures in life, love and food. You don't rationalize great taste to anyone and you aren't afraid to pull out all the stops for the right person, especially on Valentine's Day.
For the most romantic tasting experience, make the Green and Black Organic White Chocolate shine by pairing it with glass of fruity and elegant Pinot Noir to elevate the chocolates pure, sweet and creamy notes. An abstract pairing, but one you are sure to adore! 
Green &Black's Organic Chocolate Pairing: White Chocolate
Super Wine Girl's Wine Pairing: Rosehall Run Defiant Pinot Noir VQA from Ontario's Rosehall Run Vineyard, Ontario Prince Edward County $19.95 @LCBO 
Life of the Party
Your perfect match is Green & Black's Organic Toffee, a premium dark chocolate with wonderful distinctions of crunchy Yorkshire toffee pieces for a sweet bitter taste.
You are the life of the party, and like the crunchy surprise of the toffee, you love to add your own little bits of fun and creativity to everything you do! You love to host, share and participate, as your easy charm and gregarious nature liven up any room. Amusing, lively, and unique, you enjoy making a scene big or small and are drawn to embracing life through new opportunities and experiences.
Serve this delicious and dark treat at your Galentine's Day or romantic getaway with bae with an even dark and robust Bordeaux inspired Cabernet blend to elevate the the wonderfully savoury and exciting flavours.  The toffee in the dark chocolate compliments the tannin and oak flavours in a full-bodied red wine. Such a wonderful pairing! This one is sure to make you swoon!  
Green & Black's Organic Chocolate Pairing: Toffee Chocolate
Super Wine Girl's Wine Pairing: Trius Red Cabernet Sauvignon Blend from Niagara, Ontario $22.95 @LCBO