Piaget — a name synonymous with timeless luxury and refined watchmaking. For over a century, each remarkable treasure, handcrafted at the intersection of sophistication and opulence, has been designed with the utmost elegance. These haute horlogerie creations display more than merely the time of day; they symbolize a heritage of craftsmanship and tradition that transcends time itself.
Few companies can rival the quality, let alone the style, of a Piaget timepiece. These elegant and everlasting watches can be worn around the wrists of the daring and the discrete, complementing a spectrum of styles. A Piaget work of art will endure decade after decade as each priceless moment of time ticks by.
Timeless Luxury, Redefined
Piaget Metiers d'Or watches are exceptional luxury timepieces that have won the world over for generations. In 1979, Piaget produced the Polo model, the renowned and beloved sports design. This timepiece has stood in a class all its own as one of the greatest additions to the horological catalogue. Though each Polo model is special in its own unique way, there's no denying that the new Piaget Polo Skeleton 42mm Rose Gold watch is a favorite among connoisseurs and collectors alike.
How did Piaget improve upon a design so stunning and confidently cool that it was worn proudly by the great jazz artist Miles Davis? By bolding returning the watch to its most basic and natural beauty: its bones. Such an act is far more than a simple design change.
It's a movement. 
The Piaget Polo Skeleton Rose Gold Watch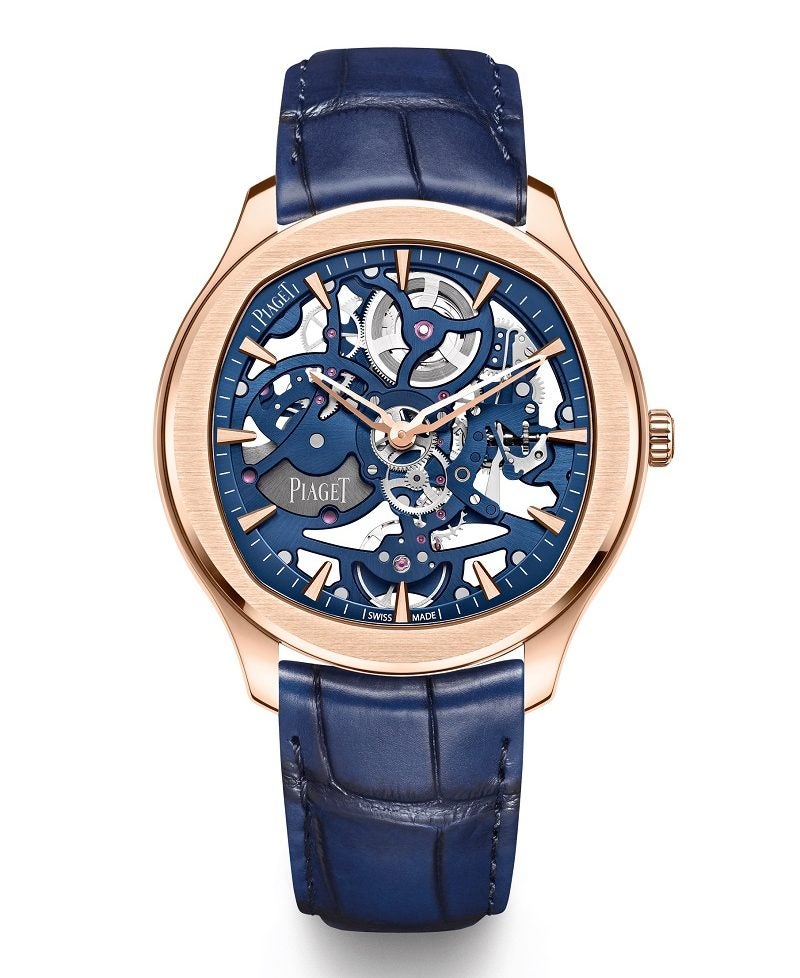 At 2.4mm thick, the Polo's mechanical face is the thinnest in the world. This ultra-thin evolution is only complimented by the 42mm steel case and flawless 1200S1 self-winding mechanism that places this timepiece on the cutting edge of horology. The micro-rotor movement of the automatic dial will captivate audiences close enough to appreciate its finest details, but it's the 18k rose gold case that'll first catch an onlooker's eye.
Every Piaget watch is handmade, rendering a timepiece that's as beautiful yet unique as its owner. Style, luxury, exclusivity; no matter how you try to define the luxe nature of the Piaget Polo Skeleton watch, its elegance will always render you speechless.
Raw Beauty That Goes Beyond Skin Deep
Piaget's history of producing only the most expertly-crafted jewelry has garnered respect throughout the industry. And yet, the new 1200S Skeleton Movement is so exquisitely polished that even its predecessors are awe-struck. Three years of research and dedication to refinement has dramatically improved the 1200P Movement's function and appearance. Though the 1200S is 30 percent thinner than previous models, it boasts an exclusive 950 platinum micro-rotor and sweeping aesthetic alterations that add grandeur without girth.
The balance bridge generates a stellar symmetrical appearance that is as pleasing to the eye as it is comfortable on the wrist. The reduced width achieves ultimate thinness with a minimum measurement of 0.11mm while the 6.5mm platinum casing fuses modern design with traditional artistry. A 44-hour power reserve and a water-resistant design only serve to strengthen its longevity. For those who prefer to set their style by the scene, the wrist strap can be effortlessly interchanged via a satin-finished "H" design.
If a perfect marriage of slimed mechanics and unadulterated aesthetics exists, then it can only be found in the craftsmanship of the Piaget Polo Skeleton watch.
The Piaget 1200S Skeleton Movement is the next step in luxury time technology and it's time that you added one to your collection. This Polo watch once again stands as a true pioneer in the industry and a pinnacle of absolute extravagance. Discover the Piaget Polo Skeleton Rose Gold Watch at www.piaget.com