5 of the Best Headphones to Fit Your Lifestyle
Headphones used to be almost exclusively for music. The average use, however, has evolved into something we need all the time, whether in the office or out in the world. If you are anything like me, finding a pair suited to your needs can make all the difference. 
I headed to The Source, Canada's largest tech retailer, to find a pair that fits with everything – whether you are looking for durable and snug earbuds to last while being active, or crystal clear audio for daily meetings. I tested each pair to find the best features without compromising style or comfort. Here are five of the top picks sure to not miss a beat. 
Taking the SkullCandy Rail out of its case, the first thing I noticed is just how light they were. Even in my ears, it was easy to forget they were there. With the affordable price tag of $99, the simple-to-use app accompanying the headphones made it easy to tweak audio settings to achieve that perfect sound. 
Being someone who often switches between multiple devices, with Bluetooth® multipoint pairing, I can connect these buds to two devices at once. For example, I was watching a movie on my laptop when my phone rang and the buds automatically connected the call without me pausing or pressing a button. 
One of the standout features was the built-in Tile™ finding technology. This was a real lifesaver on multiple (daily) occasions when I misplaced the headphones. It really cut down on time spent frantically searching.
Additionally, the built-in controls meant that with a simple tap of my finger, I could answer or end calls, play or pause music, and manage other media functions without needing to fumble for my phone. These features, and even voice control, can all be customized in the app. 
The comfort of the Skullcandy Rail was commendable. Once I placed them in my ears, they hardly budged throughout the day, which was a big plus for me, as I've had issues with earbuds slipping out in the past. Colour options include classic matte black, but I went with the bone-coloured model for a little more flash. 
Price: $99
Clear Calls From Anywhere, Anytime:
Jabra Elite 7 Pro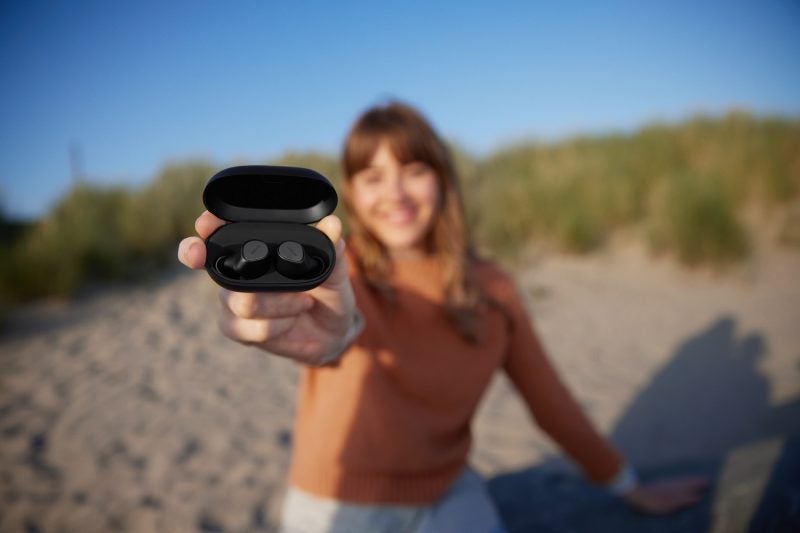 Dealing with the cacophony of city streets or even overpowering the blaring dance music at the gym is a defining feature of any good set of headphones. Fortunately, Jabra's Elite 7 Pro wireless earbuds do these things exceptionally well. 
I spend the work day in meetings, sometimes from a variety of locations. Jabra's tiny headphones cut out most of the background noise and wind to an impressive degree. Taking it a little farther, I tried them out in a few different environments and was able to chat normally without any worry about being heard – including crowded street corners, a busy conference centre, and even panting up a hiking trail. 
The multipoint Bluetooth® connections got pretty interesting, especially switching to mono mode which allowed me to use the individual earbuds on separate devices. I waslistening to music and working on my laptop, when a call came in from a colleague over Zoom, and the buds automatically connected to the call without having to lift a finger from my keyboard. A great feature for my fellow multitaskers. 
Price: $199.99
For The All Day Headphone Wearer:
Galaxy Buds2 Pro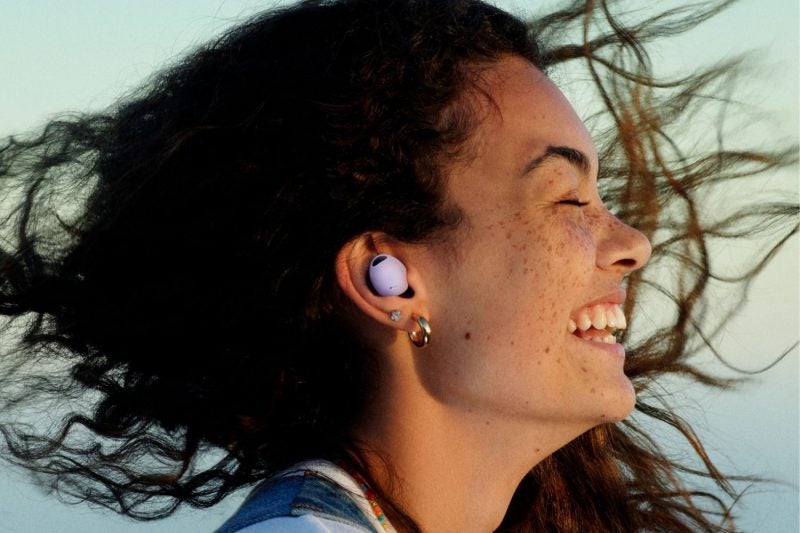 Trying to find headphones that could be comfortably worn all day is both a challenge and a need for many (myself included). Samsung's much-lauded Galaxy Buds2 Pro are probably one of the best solutions for this problem.
These wireless earbuds provide impressive audio and music quality with soft rubber pads to keep them secure without any irritation. Long periods of wearing earbuds can get uncomfortable, but that wasn't an issue with these. At several points throughout the day, I forgot I was wearing them. 
Noise cancellation is something I don't have a lot of experience with, but wearing these while working, made all the difference. Probably the coolest part was how well the voice detection could understand the difference between someone talking directly to me and background chatter. 
The GalaxyBuds2 Pro performed in the gym, and in the rain, with a water resistance rating that can withstand being submerged in up to a metre of water for 30 minutes. There is no need to worry about sweating up a storm and these are great for all weather running. 
Durable and comfortable in both black and gold beige options, this is one of the most impressive options for under $300.
Price: $289.99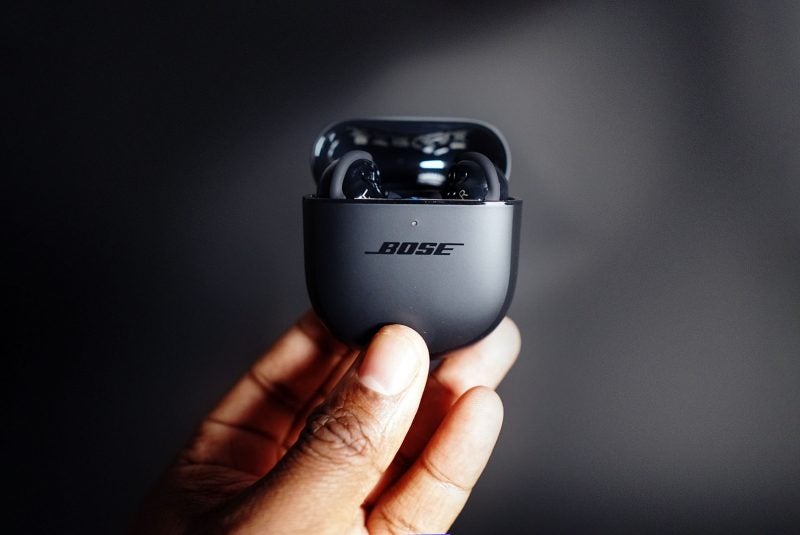 Bose has a well-earned reputation as one of the biggest names in audio. The tiny Bose QuietComfort Earbuds II impressed me right out of the package. These were my favourite for listening to music out of the dozens of headphones I sampled.
Nothing compares to music and audio quality. Coming in both black and soapstone, the adjustable EQ settings via a phone app and overall warmth and richness of sound ranks up there with much larger wrap-around headsets.
The audio pick-up and clarity on phone calls were impressive. All the noise cancellation features are adjustable, and I got a little too into Quiet Mode when needing to block out the world completely. 
I cannot recommend these headphones enough.
Price: $379.99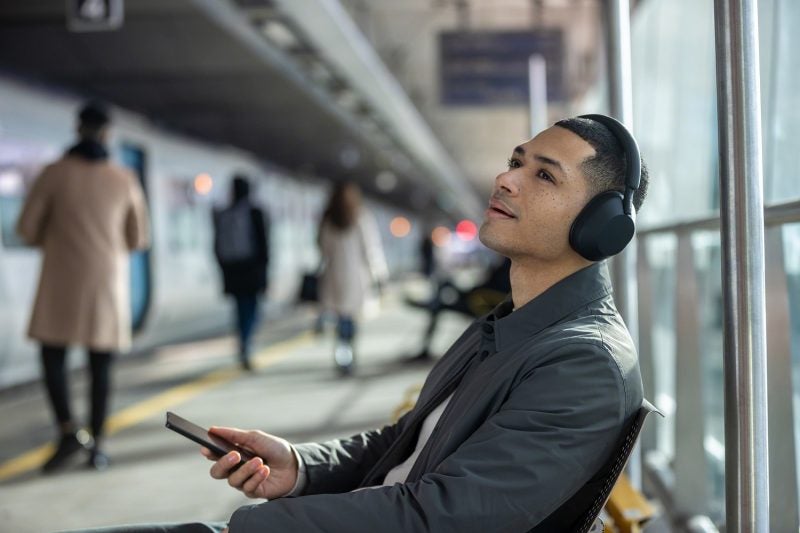 After not having used a set of full wrap-around headphones in years, trying out the different models was a lot of fun. Nothing will beat the convenience of compact portable earbuds, but when it came to entertainment, these made all the difference. 
It was definitely close with a few of the models available at The Source, but the Sony WH-1000XM5 impressed me the most. 
These do all the things you expect and need from wireless headphones, including really exceptional indoor call quality. Music producers will want to take note as well. 
It was when I sat down for gaming that they really rang true. A bit large for the gym or track, the headset blew me away when playing online. I even threw them on while watching a late-night movie. It sounded like being in the theater while housemates with much better sleep schedules remained undisturbed. 
Price: $499.99
All headphones are not created equal, and the perfect pair depends on your purpose and needs. Whether you need clear calls or buds you can wear all day, the best in music quality, or complete immersive audio for gaming, you can find the best pair for you at The Source, located in major malls across Canada, or at TheSource.ca.
By Peter Nolan