DoFasting

is an app designed for

intermittent fasting

that provides a variety of features that aid in your weight loss journey. Additionally, the brand offers a few

physical products

that you might be interested in as well.
Based on various criteria, I have reviewed the DoFasting app and compared it to other, similar products.
And let me tell you – the intermittent fasting industry can be a competitive one.
If you're an intermittent fasting enthusiast or simply curious about time-restricted eating and would like to know if DoFasting is worth your time, stick to the end. Having that said, let's dive a bit deeper.

DoFasting at a Glance
DoFasting is an app that provides personalized intermittent fasting features and insights. Here is a brief product overview. I'll explain these points in much more detail later on in the article.
What we like
Personalized
Easy-to-use
Weekly health reports
Numerous fasting programs
Educational articles
Backed by science
What we don't like
Pricier than the competitors

No free trial
Price
6-month plan – $11.50/mo

($46.00/mo without a discount).

3-month plan – $16.00/mo

($32.00/mo without a discount).

1-month plan – $37.00/mo

($74.00/mo without a discount).
Our rating
Bottom line
I would recommend the app based on the many features that, indeed, made my weight loss journey feel easier. In addition, the DoFasting app is useful for both new and advanced users of intermittent fasting.
The app guides you through every obstacle you might encounter and makes you feel like a pro in no time! You can download the app on your smartphone, or set up an account directly from the DoFasting website. However, there is no desktop app and you will need to use the app from your mobile device.
Is Losing Weight Important for You? Here's How DoFasting Will Get You There
Weight loss might be difficult at times. You could think that you must avoid your favorite foods, and, therefore, are constantly running out of healthy meal ideas.
Luckily, DoFasting is built for everyone who needs to lose weight. The 7 intermittent fasting programs you can choose from are tailored to each user's specific needs. The optimal number is between 5% and 10% of your body mass in the first six months. However, it depends on a person how many pounds you can drop specifically.
In addition, there are countless real-life success examples of people who lost up to 50 pounds.
You can choose an intermittent fasting routine that best suits your lifestyle. There are 7 of them going from 12 to 36-hour fasts.
DoFasting includes quick exercises that don't require any additional equipment and can be done at home. Professional trainers construct the exercises, which range in length from 10 to 30 minutes.
Finally, you can eliminate the stress of deciding what to eat for dinner by selecting from over 5000 meals. The recipes are updated on a regular basis and  can be filtered by category. Most importantly, all of the meals are nutritious and safe to eat while trying to lose weight.
1. Master the principles of intermittent fasting quickly
Intermittent fasting is a great way to increase overall health and is used for weight management. In addition, fasting lowers blood pressure and blood sugar.
Keeping that in mind, it's important to have the right tools to reach the best results. Fasting without any assistance can be more complicated than it sounds.
The DoFasting blog has a lot of articles covering every aspect of this time-restricted eating plan. From thoroughly explaining all types of fasting to addressing concerns regarding exercise, nutrition, and the do's and don'ts of fasting.
Also, the DoFasting tools, like the progress tracker and calendar, are handy when trying to understand fasting. The fasting tracker keeps you updated on your calorie and water consumption as well as your weight loss progress , and helps you attain your goals more efficiently.
Moreover, the intermittent fasting app reminds you of your eating and fasting windows and teaches you how to reach your desired weight as quickly and conveniently as possible. After a while, you'll feel like a true fasting pro yourself! It can be that easy to master the principles of intermittent fasting.
2. Balance your nutrition as well
Before getting into intermittent fasting, you must look back at your diet. There are no significant dietary restrictions required. What matters most is that your nutrition is balanced.
Eating healthier meals and avoiding highly processed foods can help boost immune responses. This is where the DoFasting app comes in handy as well.
Features that can help you balance your nutrition:
5000 healthy recipes

20 

Calorie tracker

Water intake tracker

Tips and guidance
The app has a section where you can find nutritious meal suggestions for any of your preferred diets. There are recipes for everyone. You can follow a vegetarian, low-fat, diabetic, gluten-free diet, or everything in between. Every meal is healthy, balanced, and will go well with your personal fasting plan.
Besides that, you will always be aware of your calorie intake, since the DoFasting app does have a water and calorie tracker.
Likewise, there will be no need to search through all of the information available. The reason behind it is that the app contains daily tips, articles, and guidance to assist you in your weight loss and intermittent fasting journey.
These features should help if you ever hit a brick wall when trying to adjust your diet and lose weight. After all, achieving your goals is easier when there are fewer obstacles ahead.
3. Get daily education and motivation
Therefore, you will always have the information you need. This is because it will be provided to you regularly without you having to look for it yourself.
Fasting or not, every method of losing weight can become difficult and demotivating at some point. Luckily, DoFasting seems to be aware of the problem. Whether you are trying to educate yourself or find motivation – the app has both. It includes the following features:
Daily motivational messages

Suggestions on how to reach your goals faster

Daily tips and articles

DoFasting community

Challenge mode
The daily motivational messages you receive on your intermittent fasting journey assist you in sticking to your plan. The app reminds you of your accomplishments and streaks, and it seems as if someone is continually rooting for you as you get closer to success.
The app focuses on personalization; therefore, you'll get a personalized fasting plan. Also, the app will constantly monitor your progress.
Moreover, after downloading the app, you are welcome to join the DoFasting community on Facebook. Here you can share your progress and get valuable advice if you ever face any obstacles from those that have been in the same situation before.
You can also read other people's success stories to keep you motivated. This way, you are less likely to quit, and your weight loss journey should be smoother.
4. Boost progress through exercise
A well-balanced diet and exercise habits can help efficiently reduce body fat. Therefore, you don't have to be physically active, but your results will be faster, and you'll feel better overall – if you are.
Physical activity may enhance brain health, help control your weight, lower the risk of disease, strengthen your bones and muscles, and increase your ability to complete everyday tasks.
DoFasting offers you effective training routines. Within the app, you'll easily find short home workouts that can be done by anyone – beginners and pros.
On the app, you'll get meal suggestions as well as workout suggestions. This is due to the fact that your intermittent fasting plan will track your calories, water intake, steps, and weight.
Likewise, your workout guide will determine the best time to perform those activities based on your fasting schedule and meal ideas to fuel that session. Make sure to get that daily movement with DoFasting and collect all of the health benefits it will lead to (such as weight management, of course).
Inside the DoFasting's App
I've been testing the app for 2 months and tried a few fasting types. Here, I'll walk you through the app.
Home tab
When opening the app, there is the home tab.
Here you can find different types of fasting to choose from. Each one is briefly described and categorized by difficulty, for weight loss, and better health.
After that, you'll also see a fasting tracker which tracks your chosen intermittent fasting programs. It also includes a fasting timer. This way you'll always be informed about your fasting and eating windows and the progress you make.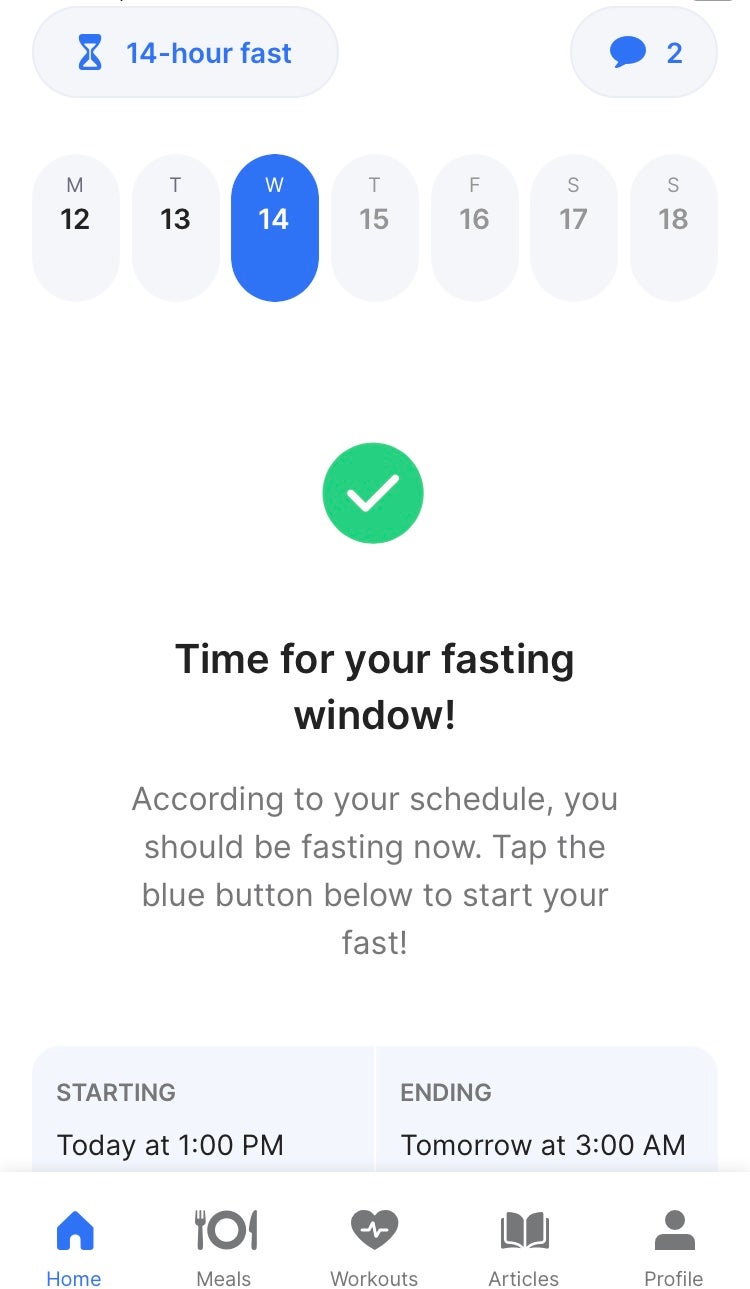 Moreover, every week you'll get a weekly report summarizing your wins and losses and the progress you made on your fasting plans.
You'll see your tasks for today by scrolling a bit lower. A weight tracker, calorie tracker, water tracker, and step tracker are all included. You'll get personalized information prepared by health professionals and be able to see your progress if you log these trackers daily.
Moreover, I suggest using every feature and providing as much information about yourself as possible to obtain the best results.
Meals
Next, on the DoFasting app, you'll see the Meals tab.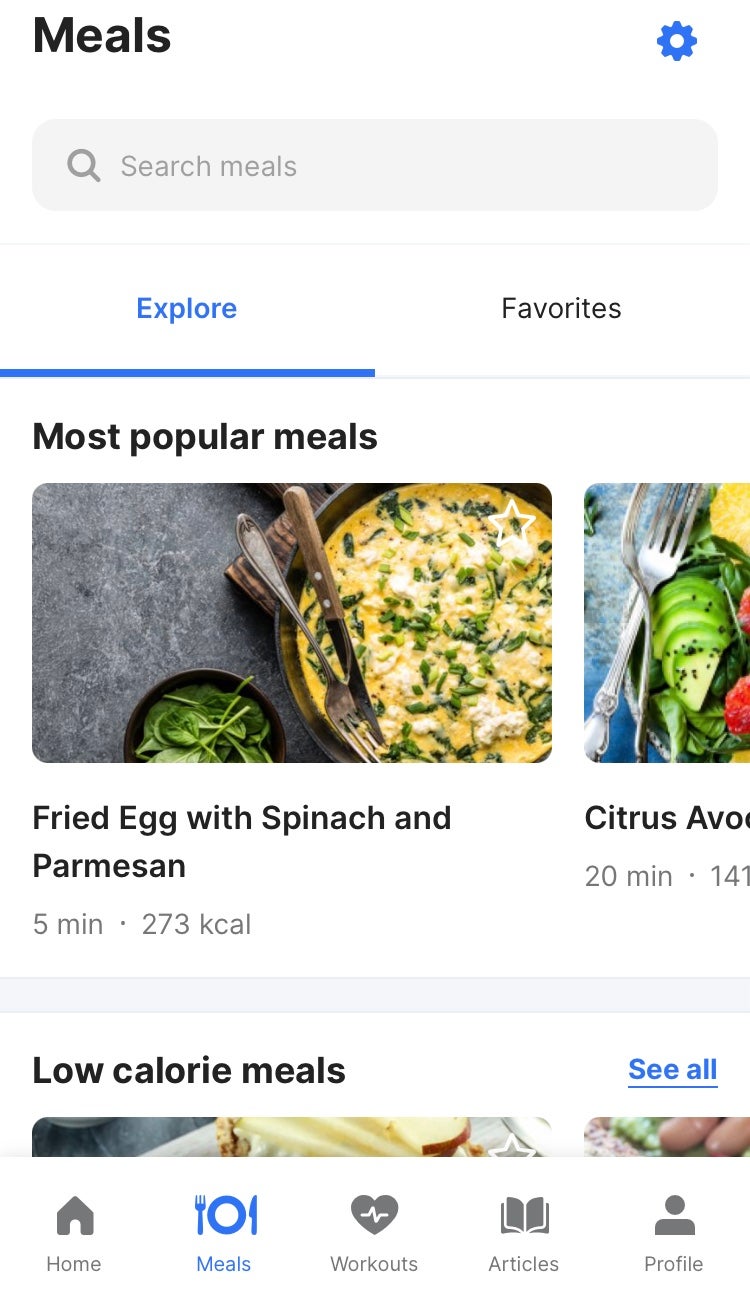 After entering the tab, you'll see various categorized recipes. The categories go from the most popular meals to diet-specific ones. You can add the recipes to your favorites in order to find them easier the next time.
If you have a specific meal in mind – you can also use the search bar and find it in no time.
When you press on the meal, you'll find all of the information needed:
Preparation time

Calories

Nutritional value

Ingredients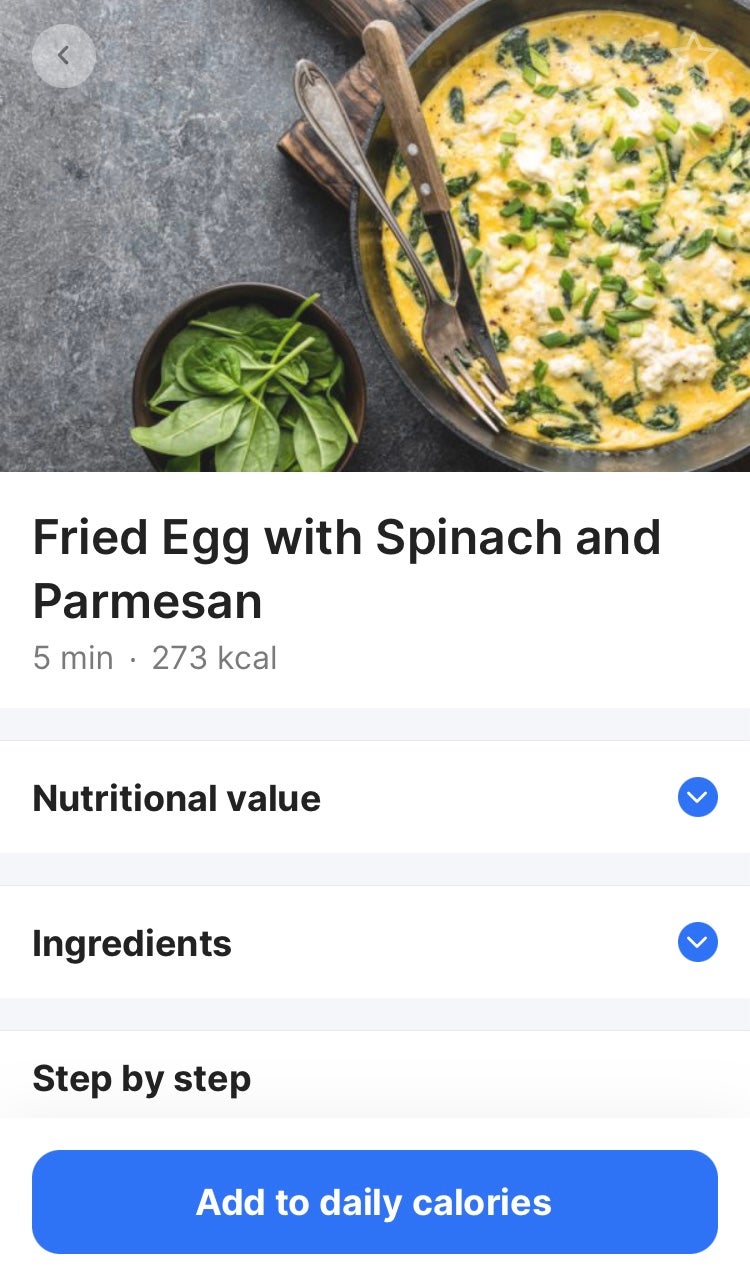 It's effortless to select any meal you want, and the majority of them are simple to prepare. Furthermore, knowing how many calories you consume makes it easy to adjust your meals to meet your weight loss goals.
There is a total of 5000 recipes on the DoFasting app. The recipes are updated every day.
Workouts
Next on the list, we have the Workouts tab.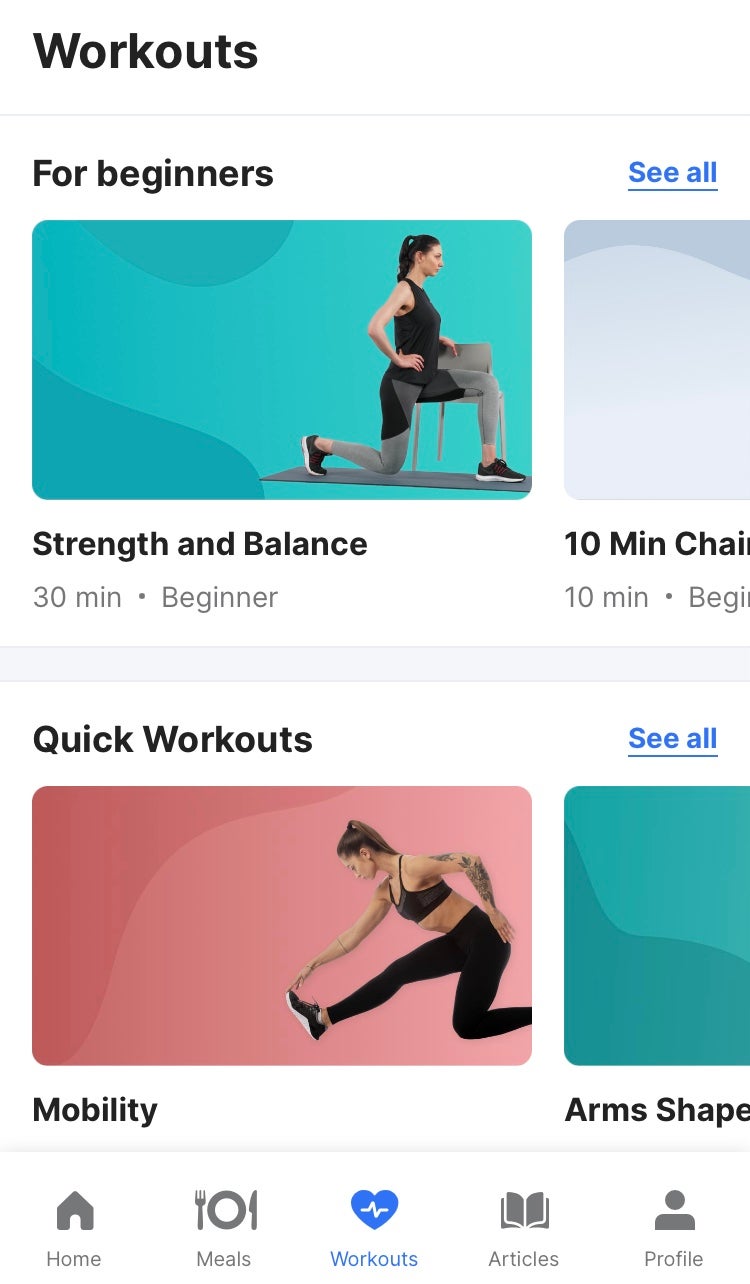 Here, you will see categorized workouts. There are workouts according to difficulty. There are also workouts categorized by length and targeted body part. So, you can choose whatever you feel like at that moment.
Or maybe you want to work on your mobility? No worries, there are workouts for that as well.
When you press on a specific workout, the app will present you with the following information:
Workout length

Level

Equipment

Workout flow

Video instructions
Therefore, you can easily access the workout you need, add it to your intermittent fasting routine, and enhance your results. You'll receive better results since you'll burn more calories and boost your metabolism.
Articles
Last but not least, you'll be granted a tab of Articles.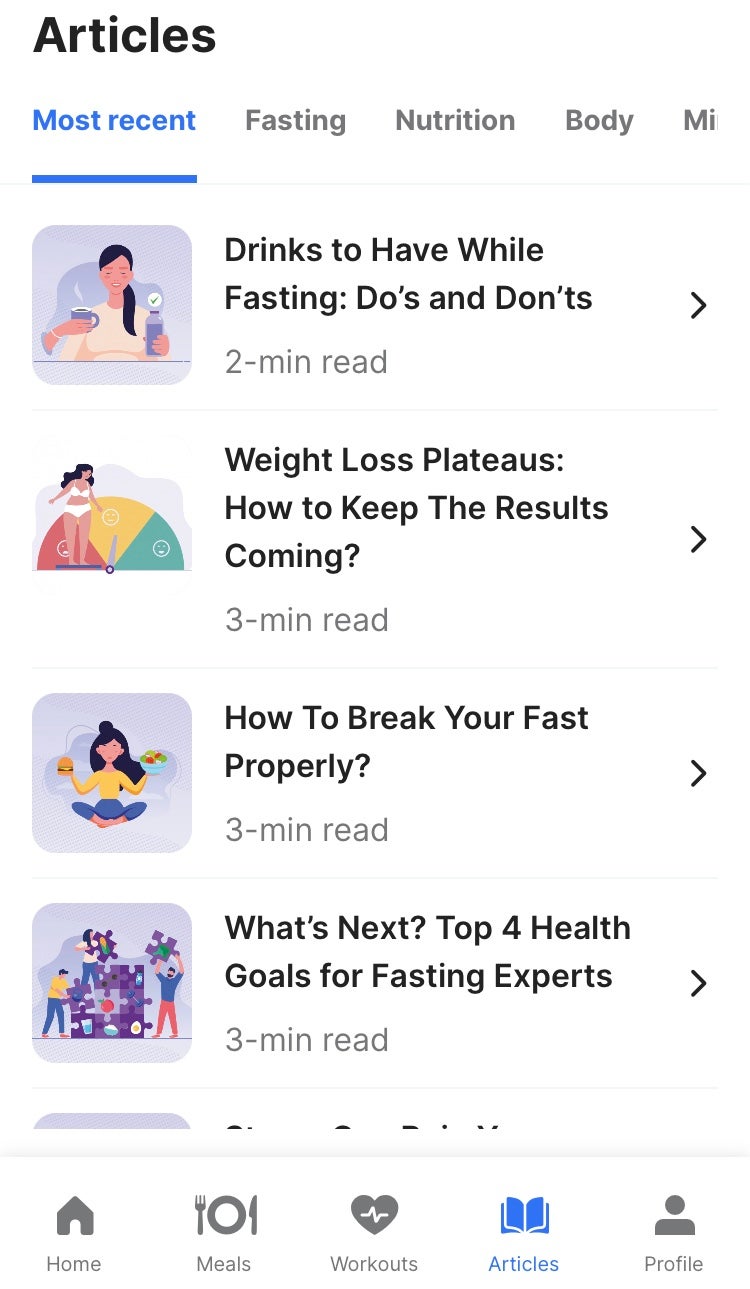 From there, you can start exploring various topics, from basic information about intermittent fasting to everything about weight loss, nutrition, and your body. The article tab is the place to get detailed answers to your questions. The articles are also categorized, so you shouldn't face any problems when searching for something specific.
When you press on an article, you'll get to read engaging content that explains advanced topics in an easy-to-understand manner. You'll also be informed about the read time, which typically varies from 3 to 5 minutes.
Start Your Program in 3 Steps
To start using the the DoFasting program, you must complete 3 of the following steps.
Step 1: Fill in the quiz
When you download the DoFasting app from the app store or google play, you'll need to fill in the quiz. The quiz has 14 questions about your habits, body measurements, and desired goals.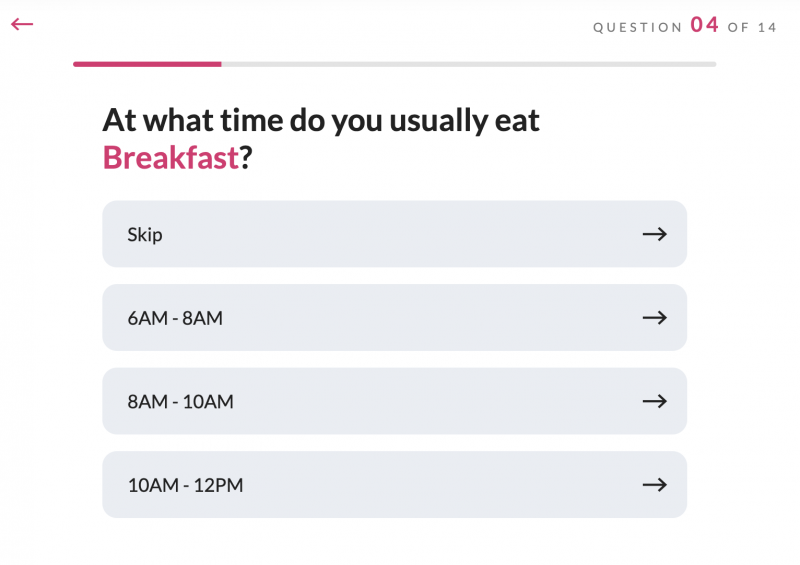 It's critical that you complete this baseline survey since it will provide you with a customized weight loss program. Moreover, the app will provide you with other features and professional guidance according to your data.
If you wish to check it out yourself, you can find the quiz here.
Step 2: Choose your subscription
After finishing the quiz you'll see a summary of your results and be given an opportunity to choose your DoFasting subscription. There are three of them:
6-month plan – you'll be charged every 6 months.
3-month plan – you'll be charged every 3 months.
1-month plan – you'll be charged every 1 month.
If you are ready to dive into intermittent fasting you might want to choose the 6-month plan, since you can save the most money. In addition, you'll only be charged once every 6 months.
However, if you just wish to try it out – a 1-month plan is the best choice. Or, if you're somewhere in the middle, don't hesitate to select the 3-month subscription.
Step 3: Choose the fasting plan that is right for you
After you've finally entered the DoFasting's intermittent fasting app, it's time to choose the fasting plan that's right for you.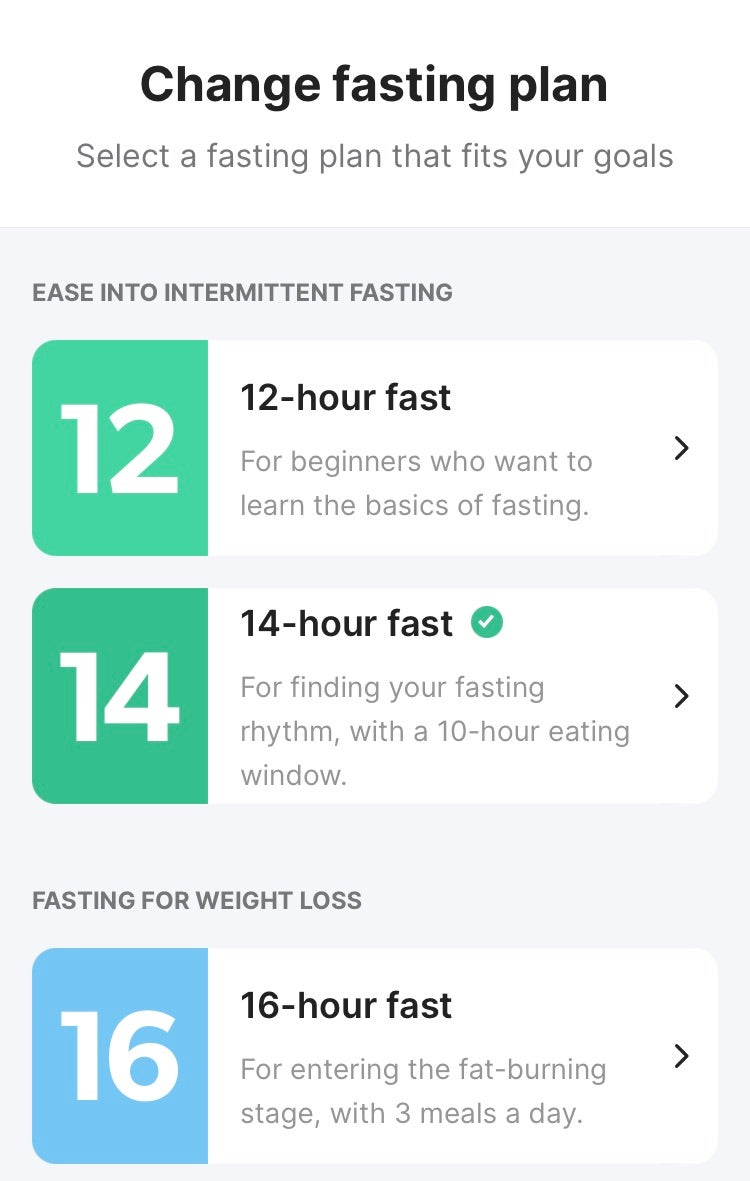 for beginners and advanced users. You can also choose them according to your goals – health benefits or weight loss.
The 12- and 14-hour fasts are ideal for beginners and provide a gentle introduction to intermittent fasting. The 16, 18, and 20-hour fasts are the most effective for weight loss and are best suited to people who have previously fasted. Finally, the most extreme ones – 24- and 36-hour fastings – are reserved for professionals. They are focused on overall health.
Pricing List: How Much Does DoFasting Cost?
Now that we've covered everything you can find on the DoFasting app, it's time to take a look at the prices. As I've mentioned above, you can choose one of the three subscription plans:
6 month plan – $276.00 ($69.00 with a discount)
3 month plan – $96.00 ($48.00 with a discount)
1 month plan – $74.00 ($37.00 with a discount)
Now,  the price tags might seem higher than usual. However, remember that the app provides a wide range of services that have been shown to benefit you in reaching your goals and has been backed by various customer success stories.
Cancelation Policy: Cancel at Any Time
If you are unsatisfied and wish to stop using the DoFasting app, you can cancel your subscription anytime. This means that you don't need to wait until your subscription expires. However, in order to receive a refund, you must prove that the service was malfunctioning or was not as envisioned.
As a result, you must contact customer service within 14 days after the purchase and provide precise details about the problem. However, bear in mind that there are no assurances that you will be repaid.
If you have bought the service through the google play store or the apple app store, you must then contact the store's user support. If you wish to read their cancelation policy, go here.
The Science Behind the App: Does It Work?
Even though it appears to be another straightforward program that serves as your personal, virtual, intermittent fasting helper – it was developed using scientific research.
This implies that the DoFasting team of nutritional experts created your diet plan, workout routine, and food menu. As a user, you'll receive all of the tips you need to attain your ideal weight. This covers calorie intake, macronutrient requirements, water consumption, etc.
The program is safe to use. However, do consult your doctor if you have a history of eating disorders.
Personalized calculations
Everyone is unique. It's much appreciated when the products are tailored just to YOU. This is why some people enjoy the DoFasting app the most.
Your app is completely personalized due to the questionnaire you have to fill in when first entering the app. This questionnaire determines your goals and the best ways to reach them.
The system evaluates your required calorie intake, fats, proteins, carbs, water consumption, and exercises, making the plan unique to you. In addition, you can always adjust your fasting plan to ensure that it completely meets your unique demands.
You also choose your meals based on your diet preferences or restrictions.
Moreover, in order to achieve the best results, you must follow your own, individual weight loss path. This guarantees no major changes in your lifestyle and that you can continue to feel good and stay motivated for as long as possible.
Weight and fat loss
The amount of weight you can lose using the DoFasting app is determined by your plan and how well you stick to it. After one or two weeks, you could expect to see the numbers on the scale shift.
The results can go from a couple of pounds to over twenty. Moreover, I have seen success stories of people losing even more. Besides, according to experts, it's safe to lose 1-2 pounds per week.
It's best to lose weight slowly but steadily since you'll be more likely to keep it off in the long run. Therefore, the app is safe to use.
The app also focuses on fat loss, rather than just weight loss. This is why it offers a reduced-calorie diet, and exercise. But again, do consult your doctor if you have a history of eating disorders.
Moreover, several success stories and reviews are available that demonstrate DoFasting's ability to help people lose weight. You can see that the positive side wins against the negative.
DoFasting Supplement Review: How Do They Aid Weight Loss?
Now that you know everything about the app, let's move on to the DoFasting supplements, shall we?
DoFasting Appetite Suppressant
The DoFasting Appetite Suppressant or the Essential Fiber Complex Box is another product that concentrates on your new healthy lifestyle. The essential fiber complex box includes glucomannan and cellulose.
The product's primary goal is to minimize cravings during your fasting window. It will satisfy your hunger and keep you from breaking your fast. The appetite suppressant can help you remain on track and achieve your weight-loss objectives more effortlessly.
Worth mentioning that the product is entirely natural and science-based. Besides, glucomannan can reduce cholesterol and is known to decrease your appetite.
So, if you ever feel unmanageable hunger pangs during your fasting period – the essential fiber complex can be a real life-saver.
You can get this DoFasting appetite suppressant with the plan or separately in the shop.
Pros
Boosts fat loss

Boosts metabolism

Regulates blood sugar

Stops cravings

Prevents bloating

Regulates cholesterol

Boosts energy levels

Good for gut health

Rejuvenates the skin
Cons
Two flavors: Orange and Strawberry

Pricier than usual
Price
Ingredients
How it works
Glucomannan can be found in the roots of the elephant yam. It's a 100% natural dietary fiber. The fiber takes up space in your stomach, making you feel full without consuming any calories. It has zero macronutrients so it's not digested by your body.
The soluble fiber in glucomannan absorbs water in our digestive system. The fiber grows several times its initial size. All in all, the ingredient works by suppressing our hunger while refocusing our bodies on fat burning.
Cellulose is an ecological dietary fiber derived from "sun-fed" plants. It improves colon health by cleansing and boosting digestion. Cellulose can  be used to alleviate constipation and cleanse your digestive system. This will help speed up the fat-burning process.
DoFasting Apple Cider Vinegar Gummies
DoFasting apple cider vinegar gummies provide your daily nourishment. The gummies are enjoyable and simple to use. Because the components are completely natural, there are no artificial sweeteners. The gummies are also free of gluten, gelatin, dairy, lactose, and eggs.
This package of vitamins can help reduce your sugar cravings while intermittent fasting and enhance your overall health at the same time.
Besides, they come in a fruity flavor, free from the sour taste of stand-alone ACV.
You can get these DoFasting supplements together with your plan, or buy them separately from the DoFasting website.
Pros
Boosts metabolism

Supports weight loss

Improves nervous system

Good gut bacteria

Helps digestion

Prevents chronic diseases
Cons
Ingredients
Apple cider vinegar

Supplemental B vitamins

Beet Juice

Pomegranate
How it works
Apple cider vinegar is enriched with acetic acid. It contains pectin, vitamins B1, B2, B6, and C biotin, and niacin pantothenic acid.
The supplemental B vitamins can improve your brain function and heart health and reduce the risk of heart disease.
Beet juice and pomegranate are abundant in minerals but low in calories.
Smart Scale Review
The DoFasting smart scale is advertised as your weight-loss buddy. It's essentially evaluates your progress in great detail.
Because you can link the app to the scale and view all you need to know in one place, the scale is an excellent addition to the DoFasting app. You are always up-to-date with your weight and progress.
Additionally, the program provides individualized fat loss suggestions and a wide range of body measures. It's beneficial for both beginners and experts in fasting to step on a scale and observe every detail of their progress.
As well as other physical products, you can get the smart scale with your intermittent fasting plan or buy it separately from the shop.
Pros
Free shipping

1-year warranty

Personalized recommendations

12 parameters

Links with smartphone

Links with the app
Cons
Pricier than usual

Can affect mental health
Price
Who and when should use this product?
Although the scale is highly beneficial to fasters, it's also valuable for people attempting to reduce weight overall. It doesn't matter if you're a newbie or an expert – the scale provides a simple method of knowing body changes at all times.
All of the body measurement parameters:
Body weight

Ideal weight

Body mass index

Basal metabolic rate

Body fat mass

Visceral fat

Skeletal muscle mass

Bone mass

Body water

Protein

Body type

Metabolic age
As you can see, there are quite a few measurements. These measurements are what makes the scale unique from any other.
Is DoFasting Legitimate: What Do Customers Think?
As I've mentioned before, DoFasting does get feedback from its users. From what I've gathered, you could get an idea that the app really is promising. Hence, let's take a glance at the reviews from real people:
So far, so good! Based on my quiz results, they recommended a 14-hour fast. I'm on week two, and it's been easy with the app. I drink my water, eat what I want (fewer carbs) and update my status. I noticed that I'm going over my 14-hour window, so I may update to 16 hours in a few weeks. Baby steps. But this app makes it easier for me. I highly recommend it."
"Great way to track fasting. It keeps me motivated to not break my quicker than I should and minimizes my never ending snacking in the evening."
"It helped me to get rid of extra fat. When I start using the app all features were clear and easy to follow. Thanks"
"I enjoy the app as it keeps me accountable for my fasting routine. It's not the first time I do intermittent fasting but it's the first time I am enjoying it."
"Pleasing experience, mostly the lost weight!!!!! Who could've imagined that I will be able to begin losing weight when I am in my fifties and here I am. Way way way more energy and way more self confidence."
You can also take a look at other articles I gathered of people who reviewed the product:
To spice things up, take a look at a few before and after photos:
That's some great results, would you agree? These are only a few examples, so don't hesitate to explore the reviews and stories from users a bit more yourself.
How DoFasting Compares to Other Health and Weight Loss Programs?
There are several health and weight loss programs out there. This is why surfing the internet for the perfect one might be intimidating. Don't worry, though, as this is where I'll compare some of the most popular apps around.
1. BetterMe
BetterMe is an app focused on weight loss. It offers 10-minute educational videos about how to live a healthier life. Additionally, it includes on mental exercises prepared by professionals. The app also provides home workouts and nutrition suggestions.
The main features:
Trackers

Yoga

Meal plans

Mental exercises
Compared to DoFasting, the app is free, which is one of the reasons you could prefer BetterMe. It also focuses more on mental wellness, which might be useful for individuals who have difficulty maintaining the proper mindset when reducing weight.
Even though I would still choose the DoFasting app since it offers a more personalized approach to weight loss and intermittent fasting, BetterMe also seems to lack in-depth educational material and answers to fasting questions.
2.  Simple
Simple is an app that tracks your meals and eating habits. It's an easy-to-use health program that also gives you insights into your health. One thing I noticed, though is that the app focuses on why you want to lose weight and your mental state.
When entering the app, you can choose from two goals – "improve my health" or "lose weight."
You can choose a 7-day trial that costs $27,98 or a 12-week plan that costs $111,46. A bit pricier than DoFasting.
Furthermore, the DoFasting app has more functionality and is somewhat more affordable than Simple, so I would still pick DoFasting in this case.
3.  Bodyfast
Bodyfast is another fasting app that offers you a personalized fasting plan. It has weekly challenges and meal recipes.
As I've analyzed this one, I concluded that it's quite a generic app. Nothing that makes it stand out from the other ones. One thing that might pique your curiosity, though is that you can use it for free.
However, the free version is loaded with ads and can get frustrating to use. If you decide to purchase an add-free plan – it would cost $69.99 a year. The price makes it a bit more affordable than DoFasting.
When the two are compared, DoFasting is the winner. While Bodyfast is an excellent app for those looking for something simple and uncomplicated, DoFasting provides far more options, personalization, and benefits for your weight loss journey.
DoFasting, for example, provides over 5000 meal options, whereas Bodyfast has just over 100.
In Summary: Is DoFasting Still Worth It in 2022
Is DoFasting worth it?
Yes, and, to be honest, many internet customer reviews seem to agree.
DoFasting, as we established in this review, is one of the best apps for everyone. Beginners and experts, those looking to reduce weight, and those who simply want to enhance their health.
It's entirely personalized, entertaining, simple to use, and compatible with physical items like appetite suppressants and smart scales. Besides that, it includes lots of educational articles that you can read.
We've gone through all there is to know about DoFasting. As things stand, you should be able to decide whether or not you want to try this product provider for yourself.