Swagger Magazine is excited to present our latest feature taking a deep dive into the best CBD products. We have sampled a wide selection of gummies, creams, cigars, skincare routines, male performance capsules, coffee, sprays, first aid, and roll-ons. You name it; we have tried it in order to bring you the best of every form of CBD imaginable.
What is CBD?
CBD has numerous health benefits to those who use it infrequently or as part of a wellness routine. CBD or cannabidiol is a molecular compound found in cannabis and hemp plants. Backed by scientific evidence, the benefits of CBD are numerous and widely renowned.
CBD Benefits
CBD can relieve pain, anxiety, and depression, reduce acne and further studies are ongoing into helping to relieve symptoms of cancer and neurogenerative diseases such as Alzheimer's. Research suggests that CBD modulates many physiological functions in the brain and body through the endocannabinoid system and other intrinsic mechanisms.
Use CBD for health ailments and peace of mind. It is important to note if you are having any severe and recurring health problems, you should always speak with your doctor to find the root of the problem. Available to anyone now, CBD can be used safely and effectively as part of a long term treatment plan discussed with your doctor or your own at home natural wellness strategy. Read along for Swagger's top picks and information on the best CBD products to try:
cbdMD – Gummies
Start Your CBD Journey with These Gummies
You may find it nearly impossible to navigate the winding labyrinth of online information about CBD. Early research on the cannabis-derived substance points to a range of possible benefits. But some CBD disciples and unscrupulous companies twist this information into wild claims. From CBD oil tinctures and vape juices to drinks and snacks, it's challenging to figure out where to start. To make matters worse, there are thousands of brands vying for your attention. But we're going to make this easy for you. Start with these 300 mg CBD gummies from cbdMD – perfect for beginners and experts.
Why cbdMD CBD Gummies?
There are endless CBD products to choose from, and many provide incredible wellness support. But gummies represent an easy and most pleasant way to start your CBD journey. They're convenient, they allow for adjustable serving sizes, and they make taking CBD a far more enjoyable experience than other methods. For instance, some of the biggest complaints consumers make about CBD oil tinctures center around undesirable flavors and oily consistency. But who doesn't like deliciously sweet gummies? cbdMD's CBD gummies are a favorite among CBD enthusiasts. They recently won the award for Best CBD Gummies in a poll of the largest CBD users group on Facebook. It's also worth mentioning that cbdMD offers CBD-infused gummies, while many other companies simply apply a CBD coating. That's a crucial distinction since the CBD crystals can fall off of coated products.
CBD Basics: What You Need to Know Today
CBD, short for cannabidiol, comes from various species and strains of cannabis. It's typically most abundant in hemp strains of Cannabis Sativa L. Not to be confused with marijuana, which is still illegal in the United States, hemp is legally defined as cannabis that contains 0.3 percent THC or less. THC is the compound in marijuana that causes its intoxicating effects. CBD is non-psychoactive and does not cause impairment. While many people tout CBD as a wonder in the everyday wellness space, it's best to think of CBD as a way to support a healthy lifestyle as opposed to a cure-all for a wide range of health concerns. For instance, you wouldn't expect to experience muscle gains by taking protein supplements, but never working out and eating junk food. So if you follow a smart diet, exercise regularly, and engage in healthy sleep routines, you'll get the most out of your CBD experience. Most experts also suggest a "low and slow" method for starting CBD. To find the correct serving for your individual needs, start with a small amount of CBD daily, then increase the serving size until you see optimal results.
Superior CBD
cbdMD truly stands out among all of the other options out there. For one, their prices rank among the best in the industry, and many pro athletes have stepped forward to endorse cbdMD. But more importantly, they're also committed to superior quality and safety. cbdMD has recently discovered it is one of only two CBD companies out there that have achieved independent registration for good manufacturing practices (GMP) through NSF International. And while that may sound like a bunch of industry nonsense, it's incredibly important. It means that cbdMD meets or exceeds all federal GMP standards for dietary supplements, and they can prove it. Currently, that's a rare achievement in the CBD industry.
Final Considerations
While adverse reactions to CBD are not commonly reported, it's smart to speak with your doctor before using any wellness supplement. It's especially important to speak with a physician if you have underlying health problems or take prescription medication.
Buy Now
Boulder Medicinals – Tincture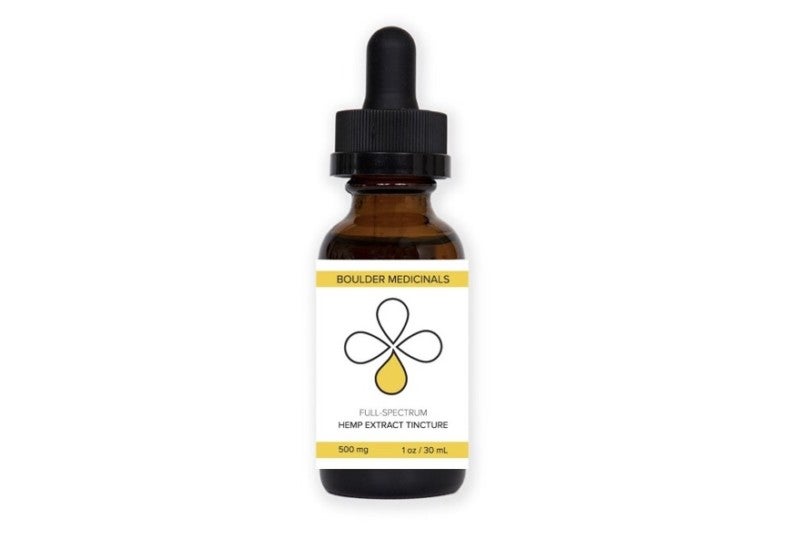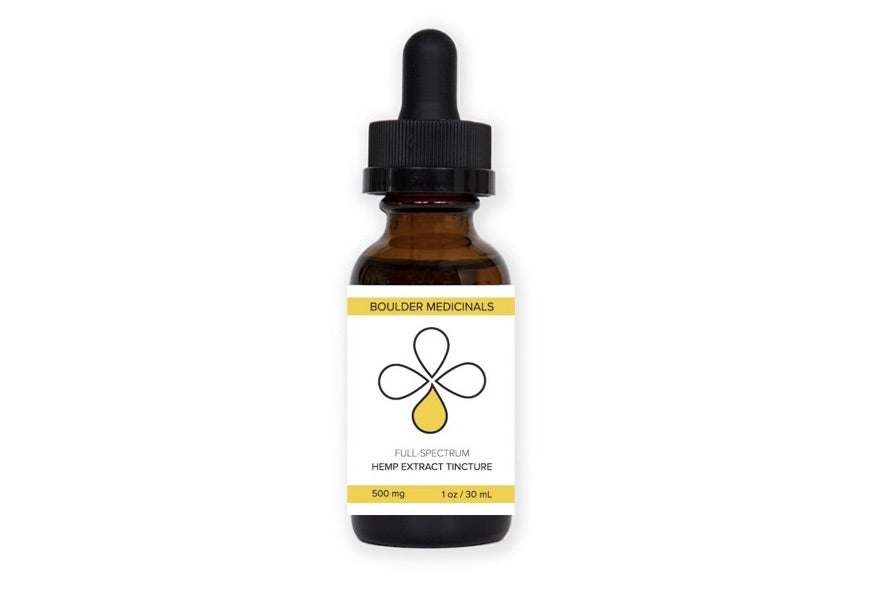 Boulder Medicinals – 500mg Craft CBD Tincture 
Boulder Medicinals Full-Spectrum CBD Oil extracted from 100% U.S.D.A. certified organic hemp grown on the family farm in Boulder, Colorado. The oils used in their premium products are processed and formulated in their lab right down the road in Boulder. The 500mg Craft CBD Tincture is mainly used for relief from muscle and joint pain but is also known to help alleviate anxiety, depression, nausea, and sleeplessness. Administer Boulder Medicinals Craft Tincture sublingually. 1 to 2 dropperfuls under the tongue for rapid absorption into the veins. Boulder Medicinal customers like to take a few dropperfuls to start their day, before & after a workout, or to help get a good night's rest. Boulder Medicinals offers their full-spectrum CBD tincture in 4 strengths: 250mg, 500mg, 1000mg, and 1500mg and in 3 delicious flavors: Peppermint, Orange-Vanilla, and Natural.
Does Full-Spectrum Matter?
There are three main kinds of CBD. The most beneficial is known as full-spectrum, which means it includes the full spectrum of the entire cannabis plant and its 100+ cannabinoids. When CBD is combined with a minuscule amount of THC (<0.3% by law in the United States), it produces what's known as The Entourage Effect. Think of a lock and key mechanism: all it takes is a minimal amount of THC to provide powerful pathways for CBD. All Boulder Medicinals products are made with only full-spectrum CBD oil to ensure optimal benefits for its customers.
Buy Now
Maxx Relief – Super Cream
Terry and Marge are the founders of Maxx Relief and are truly passionate about helping others to explore the healing power of the best CBD products.
"I had pain myself for years, and I was about to give up golfing when I came across CBD products.  CBD helped me to overcome my pain and I want to make sure that others can benefit from these great products the same way I did," said Terry.
"The market is flooded with so many CBD products. It can be overwhelming to figure out which ones are worth your money. We did all the research and hard work to find the best CBD products that will provide maximum relief from the health problems you and your pets are suffering from", said Marge.
Terry and Marge have come up with a secret formula that has enabled then to infused up to 5000gm of CBD into their Super Cream without it feeling oily on your skin. Their cream renowned for its skin healing properties before, now has the power of pain relief thanks to the infusion of CBD. Everything on the surface and below will benefit from the use of Maxx Relief's Super Creams available in 500mg, 1000mg, 2000mg, and 5000mg CBD.
Buy Now
Zool Organics – Capsules and Coffee

CBD Super Coffee
Zool Organics carefully curates Super Coffee for java and CBD lovers from all walks of life. Decades of experience working with CBD, coffee, and endless passion have resulted in a perfectly-smooth, evenly-roasted cup of coffee every time. Zool Organics is committed to producing a perfect roast to ensure a premium coffee drinking experience enhanced with CBD.  The coffee comes in four bold, rich flavors that come in different strengths and roasts infused with premium CBD. The experiences include Colombian Supremo – a perfect balance of caramel sweetness and mellow acidity with subtle nutty undertones, Donut Shop – a straightforward medium roast bright and beloved with a crispy finish and no overwhelming acidity, Breakfast Blend – gently roasted for pure brightness underscored by a subtle sweetness, and Swiss Water Decaf – with no caffeine, low acidity and the perfect blend of earthy and nutty tones. There is something for everyone from the coffee connoisseur to those only looking for a caffeine boost with the perfect balance of CBD. One of Swagger's top ways to indulge is in our morning mug, and Zool Organics is here to make your day extraordinary. Exclusively for Swagger Magazine readers Zool Organics has given us a 25% off discount code! Use the code ZOOL to receive 25% off your purchases.
Shop Now
Male Performance Capsules
Looking for something to help you in the bedroom? CBD can help you here as well. Zool Organics Male Performance Capsules contain 25mg of CBD per capsule. These performance capsules help stimulate libido, promote increased energy levels, improve circulation, boost your immune system, and enhance your mood. Everything you need to have a great time all in one capsule. Sexual health, mental health, and body health all go hand in hand, and this Male Performance capsule touches every system. The ingredients include Raw Organic Maca, Longjack Root, Korean Ginseng Extract, and DHEA. The synergistic combination of these organic ingredients, along with hemp-derived cannabidiol, makes this a premium product, just for men.
Shop Now
Cannaisseur Brands – First Aid, Roll-On, and Social Media Giveaway!
First Aid Kit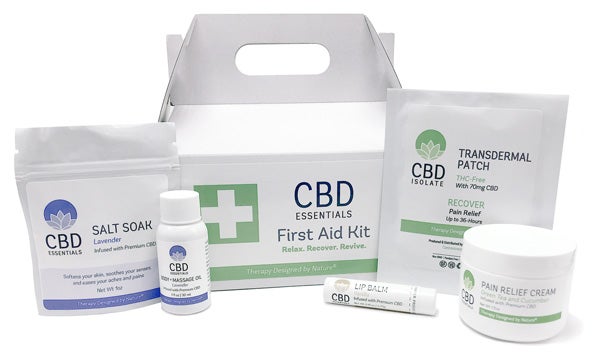 Cannaisseur Brands CBD Essentials includes their bespoke First Aid Kit. The First Aid Kit is an assortment of the best CBD products for all your emergency needs. Included in this deluxe kit are 1.5oz Green Tea and Cucumber Cream, 1oz Lavender Oil, 1oz Eucalyptus Salt, Peppermint Lip Balm, and an unscented CBD patch. A safe and natural alternative to relieve pain and reduce stress, this kit offers premium CBD infused products beneficial for all your minor injuries.
Recovery Oil Roll-On
The Recovery Oil Roll-on provides powerful all-natural pain relief on the go. This therapeutic, nongreasy topical oil is specially formulated to help rejuvenate aching joints, soothe sore muscles, and hydrate dry skin. Organic fractionated coconut oil is known for its anti-bacterial and anti-viral properties. This is combined with a hydrating Jojoba and Hemp seed oil blend, anti-inflammatory essentials oils such as green tea and cucumber, lavender, eucalyptus, peppermint and infused with full-spectrum, premium CBD and select terpenes. The result is this fantastic all-natural, fast-acting roll-on. The recovery roll-on is recommended for use pre/post-workout or lifestyle activity, headaches, minor injuries such as cuts and bruising, and post waxing or shaving. Apply directly to the affected area and massage well. Repeat as needed for desired relief.
From Cannaisseur Brands, the First Aid Kit and Recovery Oil Roll-on may relieve symptoms associated with arthritis, tendonitis, fibromyalgia, muscle and joint pain, acne, headaches, psoriases, rosacea, and eczema. All-natural and fast-acting, Cannaissuer Brands full-spectrum CBD products are lab formulated, and third party tested. Check out our social media contest @swaggermag today through Monday (July 17th-20th) as we pick lucky entrants to win each of these two amazing CBD products!
Shop Now
Calyx – Spray
In botany, a calyx [kay-liks, noun] is the sepals of a flower – forming a whorl that encloses the petals and creates a protective layer around a flower in the bud. We see a connection between the purpose of a calyx and the properties of the cannabidiol (CBD) molecule. At Calyx Wellness, they capture the essence of these qualities by doing the same for their community, being a trusted provider of hemp-derived CBD infused products that have been developed to harvest, maintain and protect good health. In paying homage to wellness, Calyx believes in the protection of wellness itself.
Calm CBD Spray consists of 600mg of CO2 extracted CBD isolate from certified organic, non-GMO hemp plants with an infused flavor sensation. This application method provides convenient, on-the-go dosing with 6mg per spray, also providing flexibility to get a precise read on what dosage works for their unique body chemistry and bio-availability. CBD works within your endocannabinoid system to encourage homeostasis within the body, making it an effective natural treatment for a wide variety of ailments: mental health, pain management, and digestive safekeeping. CBD is a natural potent anti-inflammatory, antioxidant, and neuroprotectant. This is holistic self-care, maintenance, and regeneration.
Wellness lives in the Calyx community. It is a complex and multilayered experience. There are dimensions to wellness – social, emotional, spiritual, environmental, intellectual, and physical. Calyx believes hemp and CBD can touch upon all of these areas. Calyx Wellness consistently aims to be a channel for funneling the versatile benefits of hemp to our consumer circle. Amazing things are happening here, and Calyx wants to invite everyone to join in becoming part of it.
Buy Now
Daddy Burt – Lotions and Creams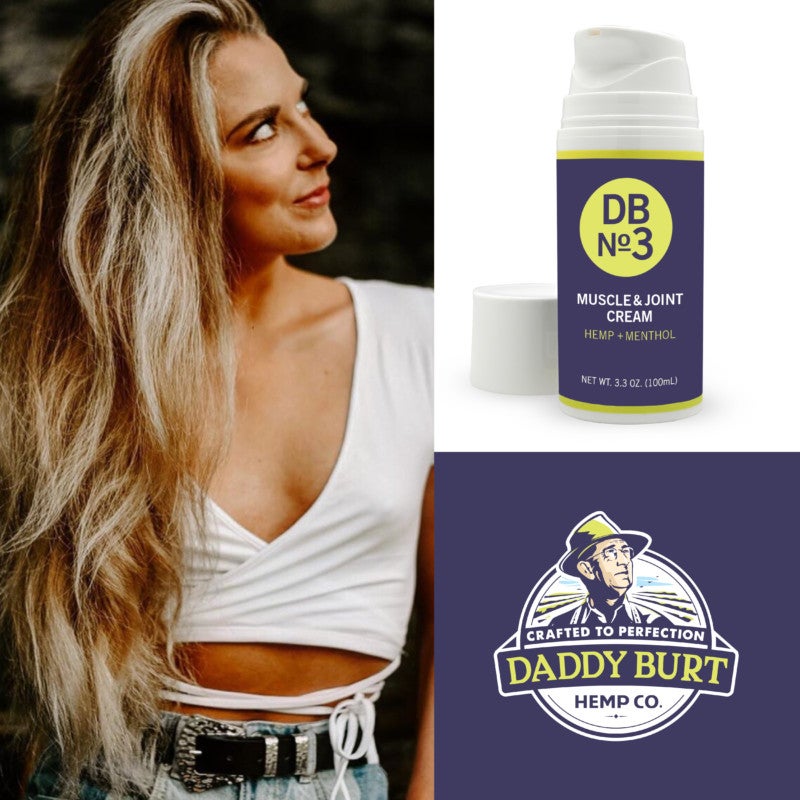 Daddy Burt Hemp Co. Has A History Of Always Doing It Right
Joe "Daddy Burt" Burton was a leading Kentucky hemp farmer in the 1930s and '40s. He also ran a barge on the Kentucky River from Madison County to Woodford County, moving his and other farmers' harvested hemp for processing near Versailles. Known for never cutting corners and always doing it right, Daddy Burt was commissioned by the Governor of Kentucky to increase his operations and assist Kentucky farmers in growing hemp during the World War II 'Hemp for Victory' campaign of 1942.
To continue his great-grandfather's legacy, Bob Estes founded Daddy Burt Hemp Co. in the Bluegrass State. It is of great importance that our products are derived from hemp grown in the sunshine of Kentucky, Estes said. The healing and wellness comments from our customers is gratifying to me personally. Bob Estes gives accolades to the Kentucky Department of Agriculture for initiating Kentucky's hemp program. Farmers from other states are coming into Kentucky to model our craft of cutting-edge genetics, cultivation, innovative harvesting, and rigorous product quality control program.
Daddy Burt Hemp Co. is recognized by the U.S. Hemp Authority's Official Certification for hemp processors/manufacturers. The voluntary certification program demonstrates a commitment to working with Congress, regulatory agencies, and law enforcement at a time when the Food and Drug Administration continues its evaluation of how to handle hemp products.
Bob Estes is excited to carry on his great-grandfather's legacy of hemp production in a new era and to be on the front of the industry. Central Kentucky is the center of unprecedented growth in farming and manufacturing for this revived crop, he said. I believe Daddy Burt would be pleased with the quality we are producing. With great respect to Joe "Daddy Burt" Burton, Daddy Burt Hemp Co. stands committed to offer products of superior quality by never cutting corners and always doing it right.
At Swagger, we recommend you try the Daddy Burt Hemp Co Rejuvenating Lotion and Muscle and Joint Cream. Their smooth non-greasy and effective formulas make this company our choice for topical applications of CBD.
Shop Now
Acme Hemp Labs – Cigars
History of Acme 420 and Hemp Cigars
Acme 420 was created in 2009 by Andy Scheer and their family. Andy Scheer, the creator of the Magar (the Original Cannagar / Marijuana Cigar), was asked to produce Magars to be sold to the public when it became legal in Colorado to do so. Up till then, since 1973, the Magars were made and given as gifts only to close family and friends. By 2010 Acme 420 was producing Magars for sale to Medical Marijuana Patients at Lincoln Herbal Dispensary in Denver. Acme 420 snowballed by 2012. Magars were in dispensaries all over the state in approximately 100 locations. Speed forward to 2018, Acme 420 had created the fully legal Hemp Cigar version of the Magar under the name of "Hegar" through their sister company Acme Hemp Labs.
Acme Hemp Labs hemp cigars are 100% hemp-based cigars, meaning they are not a blunt, and they are not a wrap; they are also NOT a palm leaf knock off. Hegars are completely wrapped fully with hemp leaf around high CBD hemp flower, reaching up to 24%~. Hegars have gained a vast internet response and testimonials over the last couple of years. Testimonials like Cari Carmona from High Times saying this about Acme Hemp Labs "Hegar":
"…thanks again for the Hemp Cigar! It was so great, and you wouldn't be able to tell the difference honestly if no one told you it wasn't THC. Wow-what an amazing product you have…"
Acme Hemp Labs has created a unique opportunity to socialize and medicate.
Experience the Europhia without the Paranoia today.
Buy Now
KULCBD – Skincare Routine
KULCBD Get Glowing Beauty Kit
KULCBD beauty skincare products contain Full Spectrum, farm-to-factory-to-formulation in the US, by controlling the CBD hemp extract's source and manufacturing. Every product provides for you the potency of CBD, so there is no guesswork. KULCBD has made it easy to experience all the benefits CBD offers with a luxurious 5-step, easy to use system called Get Glowing Beauty Kit. Designed to work synergistically together, the Get Glowing Beauty Kit provides the most effective results for healthy skin appearance. In addition to Full Spectrum CBD, each product contains hydrating essential fatty acids, repairing vitamins, essential antioxidants, and balancing probiotics that provide calmness, smoothness, and clarity of tone. Overall you will enjoy a healthy, youthful appearance inside and out. Your Get Glowing Beauty Kit includes:
Exfoliating Cleanser
A sulfate-free cleanser with apricot seed powder to gently clean and polish the skin. The benefits of CBD, Apple Fruit Extract, Probiotics, Green Tea, and Panthenol (Pro-vitamin B5) do their job hydrating, brightening, unclogging pores, and strengthening lackluster skin.
Anti-Aging Moisturizer
This daytime moisturizer contains Trehalose, Galactorabinan, and Scendesmus Rubescens Extract to work together to provide a physical barrier against harmful polluting agents. This helps to neutralize and strengthen the skin from damage and premature aging. The moisturizer also contains Hemp Seed, CBD, Jojoba, Shea, Green Tea, Chia Seed, and Marshmallow Root extracts. Rich in antioxidants and nourishing fatty acids, these ingredients form a protective seal over the skin's surface to protect you from the damaging effects of the environment.
Glö Serum
A cocktail of natural Hemp Oil, CBD, Squalene, Sweet Almond Oil, Milk Thistle, Borage Oil, Elderflower, Tamanu Oil, Camellia Oil, Rose Hips, and Evening Primrose Oil. These ingredients are rich in Omega-3, 6 and 9 fatty acids, vitamins, and antioxidants that fortify and strengthen the natural skin barrier while trapping in extra nourishment and moisture retention. This serum provides calmness, smoothness, protection, clarity of skin tone resulting in an overall healthy youthful glow.
Night Repair Cream with Retinol
When it comes to reversing the signs of skin aging, Retinol is hands down the industry's gold standard ingredient. It can assist in accelerating skin renewal and reduces the appearance of wrinkles, fine lines, clogged pores, and age spots. Overnight the cream reveals firmer, smoother, and more evenly-toned skin. This luxurious, restorative cream includes Probiotics Pseudoalteromonas Ferment Extract, Chlorella Vulgaris Extract, and Lactobacillus Ferment. These ingredients boost the production of collagen, which helps restore moisture to dry skin and helps reduce redness. Also included are anti-pollution and digital device repairing ingredients Trehalose, Galactorabinan, and Scendesmus Rubescens Extract. This newly introduced technology strengthens the skin barrier function from the exposure and damaging effects caused by cell phone and computer use.
KULCBD Tincture
This special Tincture contains 800 mg of Full Spectrum hemp-derived cannabidiol extract, essential oils, and potent terpene plant extracts blended perfectly for maximum effectiveness. MCT oil is effortlessly absorbed by the body, making it an excellent carrier for CBD Oil.
Using a skincare system is essential because it assures that all of the ingredients of each product works in harmony without interference with the next. This minimalist line contains ingredients that will benefit every skin type. Order yours to begin the most luxurious skincare regime your face has yet to experience.
Buy Now
That concludes our roundup of the best products and most diverse modes of taking CBD out there. The verdict is in and CBD is officially a beneficial health and wellness product. Now it's just up to you to figure out how you'd like to take it in. Look out for the Swagger social media contest to win some of these best CBD products to try. Welcome to the holy grail.