Natural disasters can happen anywhere and often come with little to no warning. It is best to be well prepared before the chaos begins to better protect yourself and your family.
With the following gear and prep work completed, you won't be running to the packed grocery store to fight for the last jug of water.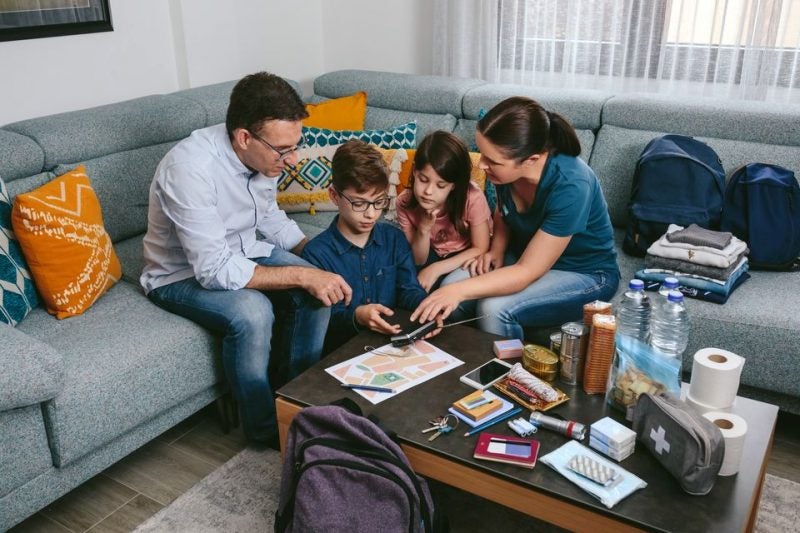 1. Portable Generator
The easiest way to stay safe and comfortable is with a generator. Power outages are very common in all types of natural disaster.
A power source will keep your lights on, refrigerators running and air conditioning or heat working. All of which will greatly aid good health in a disaster situation.
Check out battery-powered portable power stations as opposed to a traditional gasoline. They are indoor friendly and can be brought with you in case of an evacuation.
2. First Aid Kit
The first aid kit should be comprehensive and customized to you and your family's needs. It is also a smart choice, to pack it in a backpack or an easy-to-carry container for travel.
Your first aid kit should have all of the standard items. Plus, back up prescription medications and common medicines that you and your household use.
This is an excellent place to keep emergency hygiene items as well. Such as toothbrushes and toothpaste, soap, feminine hygiene products, and cleansing wipes.
3. Food Reserve 
If you and your family are left stranded at home and stores are closed, it is essential to have at least a few days of food reserve. Keep these items separate from your daily-use pantry.
Choose a variety of non-perishable foods that taste good and provide nourishment. Also, remember to store a reserve of pet and baby food if applicable.
4. Water Reserve
There are several options for preparing a clean water source in case of disaster. It is best to have options for if you are stuck at home or forced to travel.
For home, evaluate the possibility of setting up rain collection. Rain collection barrels hold 50 or more gallons of water. For daily life, it can be used for watering plants. And for emergencies, it can be boiled and consumed or used for bathing and flushing toilets.
You can also keep an indoor reserve for drinking water. If stored in plastic, be sure the water is stored away from sunlight in a cool place. Heated plastic can leech harmful chemicals into water.
For travel, check out a filter water bottle or filter water jug. With built-in high-quality filters, water can be added while traveling and you'll know its safe to drink.
5. Fire Proof Safe 
In recent years, the wrath of forest fires has been seen across the world. If it is from a forest fire or another cause, house fires are devasting. All homeowners should keep their important documents and valuables in a fire-proof safe.
This will also protect your items if your house falls victim to tornado, earthquake, or hurricane damage. Plus, if you need to evacuate and have time to rather belongings, those important items will be in one place and easy to access.
6. Quality Face Mask
A huge health concern with forest fires is the smoke emissions. Smoke inflation causes immediate health side effects; lung damage and death. If you are in a fire-prone area, keep "N95" or "P100" face masks at home to wear during the evacuation.
These masks will also be useful in the case of a large earthquake. Breathing in dust and debris from an earthquake can cause serious health issues.
Summary 
You can never be too prepared. Customize your disaster prep for your area and your family's needs. Be sure to inform the whole household of where your prep items are and how to use them.