Home maintenance can be beneficial in many ways. Besides keeping your home functional and comfortable, it can also increase its value and reduce your repair costs. However, you have to make sure that you perform your home maintenance tasks properly. Improper maintenance practices can worsen existing problems, drive up your repair costs, and put your family in danger. Find out what you should do and should not do when it comes to maintaining your home.
Do Plan Ahead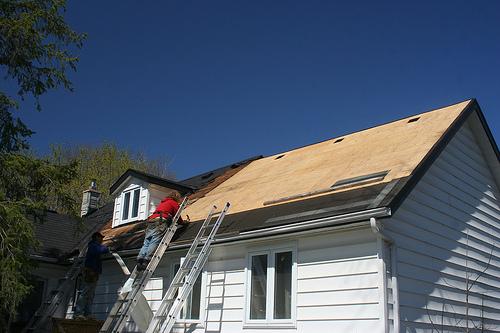 Image via Flickr by Bobolink
It's important to service or repair things in your home in a timely manner. If you're planning to go on a vacation, you should check your home security system before you set off. If your boiler needs servicing or repair, fix it in late summer instead of waiting until it snows. In fact, summer is a great time to do all kinds of maintenance tasks. Repair the roof, install new windows and walls, and bleed the radiators in this season. Since the weather is milder, you can perform your maintenance tasks with minimal hindrance.
Do Follow Instructions
Many items in your home come with manufacturer's instructions. If you are servicing your HVAC system yourself, you should follow the instructions provided in the system's owner's manual. Before handling chemicals, make sure you take the recommended safety measures and know what you should do in case of an emergency. Failure to follow instructions can lead to major equipment problems or injuries.
Do Wear Protective Clothing
Before you start any maintenance task, make sure you're properly attired. Wear protective clothing that suits the job, and cover as much skin as you can. For most tasks, you should wear protective gloves and boots. Avoid wearing loose-fitting clothing and jewelry that can easily get torn or tangled. If you need to work in a dusty environment or with chemicals, use a respirator or dust mask to protect your lungs.
Don't Do Everything Yourself
While some home maintenance tasks are relatively easy and straightforward, others require professional knowledge, skills, and equipment. Some electrical, plumbing, and building jobs involve significant safety risks and must meet certain legal requirements. It is best to leave these tasks in the hands of a professional.
Don't Buy the Cheapest Materials
While you should try to stay within your home maintenance budget, it's not a good idea to get the cheapest building materials or supplies. Cheap materials may be good enough to get the job done, but they won't last as long as high-quality materials. They need to be replaced more often, resulting in higher costs over the long run. Invest in the best quality you can afford to get the most out of your home maintenance efforts and better long-term value.
The most important thing to do before you start a home maintenance task is to determine whether you should do it yourself or leave it to a professional. If you want to keep your home in tiptop condition with minimal time and effort, consider signing up for a regular home maintenance plan. Such an arrangement ensure that everything will be in order and help you detect current and potential problems that are not noticeable to the untrained eye.