Appliances Connection
is holding their Black Friday Sale, offering incredible deals on all the most popular name brand appliances.
If you're in the market for a home appliance, you do not want to miss this opportunity. No other retailer can offer the products in Appliances Connection's Black Friday Sale at these prices. If you find a lower price, they will do everything they can to either match it or beat it. And as an even more appreciable bonus, they offer free delivery to most areas.
Let's take a look of some of what Appliances Connection has to offer—all of which can be found at www.AppliancesConnection.com.
We'll begin with a pair of range ovens from Italian manufacturer ILVE, who are renowned for their handcrafted, gorgeous designs that lend an unmistakable opulence to any kitchen.
Ilve UPN90FVGGIX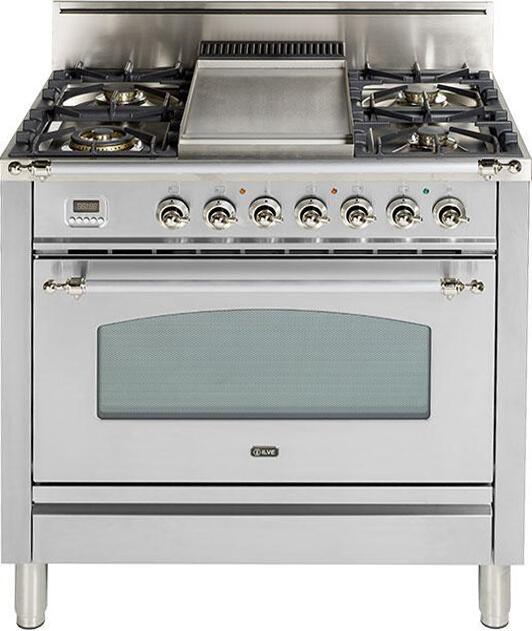 This stainless steel 36" freestanding all gas range from the Nostaligie Series is an opportunity to experience the finest craftsmanship and amenities in oven technology for only $3,199.00, In addition to its four solid brass burners it also carries a sealed griddle, presenting tremendous food preparation flexibility on the cooktop. It also has a specialized wok ring for stir-frying and larger cookware.
Underneath, the oven offers 3.5 cu. ft. total capacity—plenty of room for cooking numerous dishes at once. The convection oven option cooks food more evenly and efficiently than standard ovens, while the commercial-quality infrared broiler delivers the high temperatures you need to seal the flavorful juices into succulent meats—especially when used with the included rotisserie. This is an amazing product at an amazing price, only available from Appliances Connection.
Ilve UMD10FDNS3MGG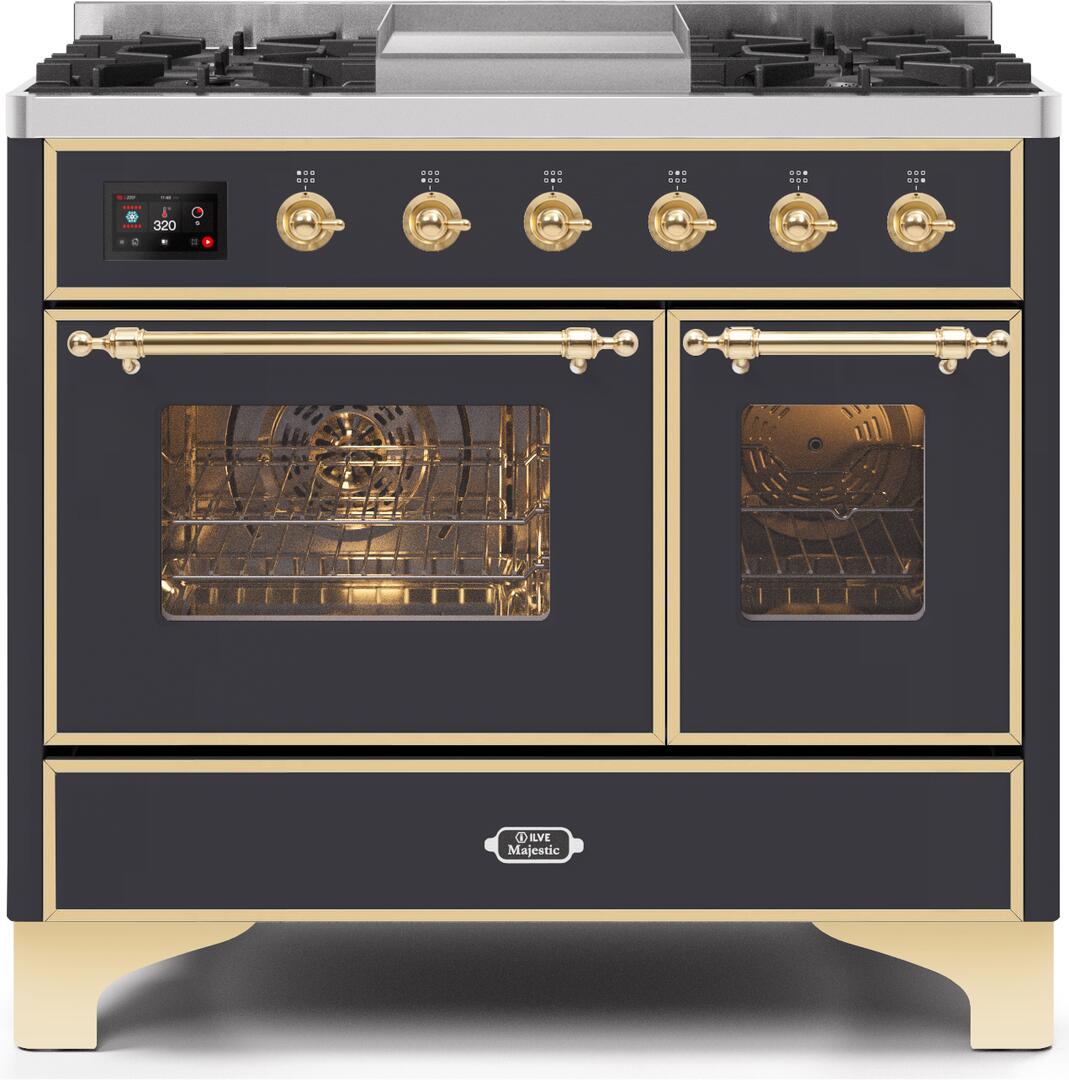 As you can see, this lavishly appointed 40" range from Ilve's Majestic Series of more than lives up to its name, with the brass hardware and trim contrasting beautifully with the exterior, making this a truly exceptional piece. It's also available in a choice of rich colors besides matte graphite as shown, allowing you to customize your kitchen décor.
It's cooking performance is even more impressive that its looks, featuring 6 sealed dual-ring brass burners treated with non-stick nano tech coating that makes cleaning a snap, which can deliver up to 20,000 BTU. Above these sit burners sit durable continuous cast-iron grates for efficient cookware movement.
Below, you'll find a dual-compartment European convection oven with doors that are heavily insulated so to remain cool to the touch. The oven itself is equipped with catalytic panels that will resist sticking of fat or grease and reduce them to light powder residue at normal cooking temperature. And the simple, intuitive digital controls provide straightforward graphics that make operating your oven simple and easy. At the price of $7,969.00, this is the definition of a luxury kitchen appliance you can only find at Appliances Connection.
Frigidaire 28" Freestanding Upright Freezer
Frigidaire has long been one of the most popular refrigeration brands on the market due to its innovation, dependability, and consistent affordability. And this freezer is a prime example.
This slim unit has a 15.5 cu. ft. capacity and a bevy of modern features that will keep your foodstuffs safely preserved, utilizing Frigidaire's trademark EvenTemp cooling system which constantly circulates cold air throughout the freezer, monitored by smart sensing technology that adjusts air flow to maintain a uniform temperature throughout. Four adjustable metal wire shelves, a deep bottom basket, and five spacious door bins allow you to make the most of every available square inch of storage space. It's frost-free design means you don't have to worry about any icy build up. And if you suffer a power outage, the airtight seal door will keep food frozen for over two days. For your long-term food storage, this freezer is an absolute steal at the price of $769.00 during Appliances Connection's Black Friday Sale.
Miele Classic Plus Series 24" Built-In Dishwasher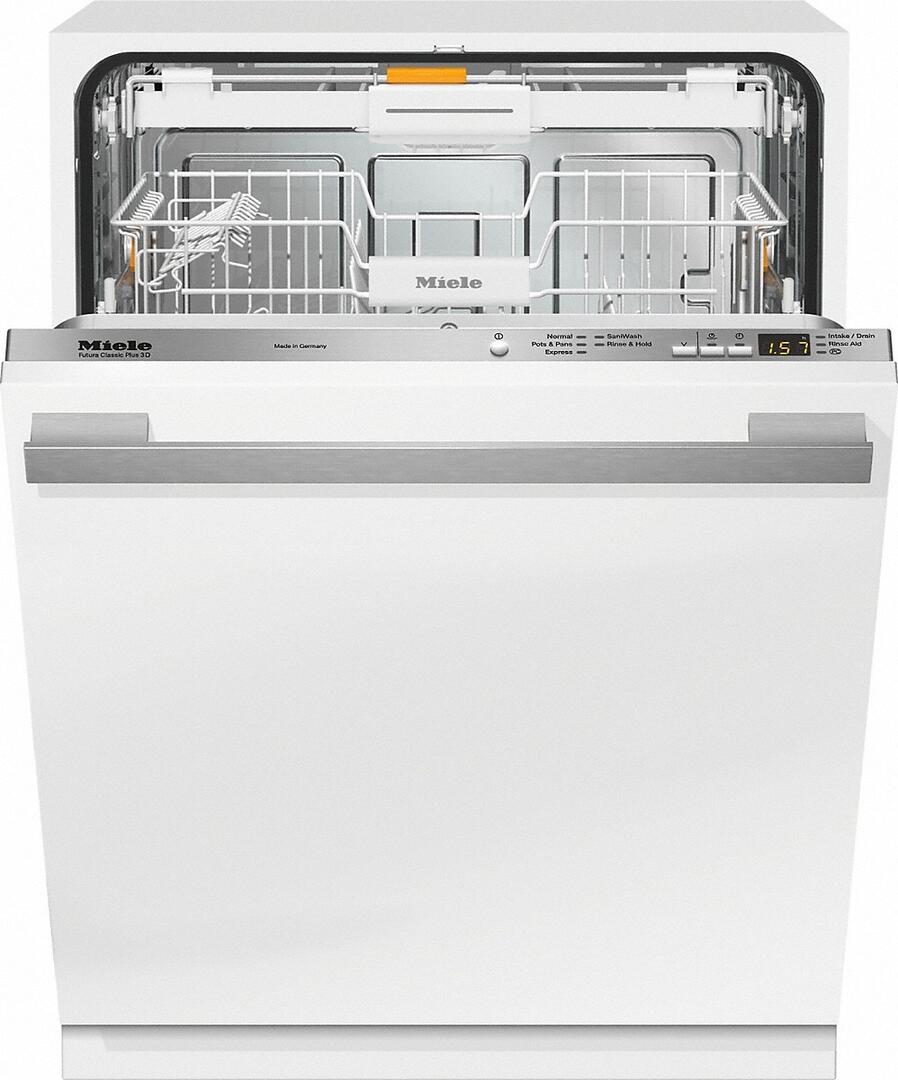 Miele is well-known for its precision German engineering, testing all of their appliances to the equivalent of 20 years' use—which makes this dishwasher's price tag of $1,299.00 even more attractive.
It's loaded with all the power and features you need to tackle the dirtiest dishes, with five wash cycles and enough capacity for up to 16 full place settings. Miele's patented AutoSensor technology adjusts water temperature, water consumption and program duration depending on the number of items needing to be cleaned. Miele's intelligent 3D cutlery tray can be adjusted in three directions and adapts perfectly to various load arrangements, allowing for bulker utensils and flexible load arrangements
Their exclusive CleanAir advanced drying system draws room temperature air through a port at the bottom of the appliance No external air is ever introduced inside of the dishwasher, providing the most effective and hygienic drying possible. And with an Energy Star certification, this dishwasher operates at maximum efficiency—a good thing for both your wallet and the environment.
LG 27 Inch Smart Electric Dryer
A mainstay in the appliance game for 25 years, LG has garnered a solid reputation for delivering durable, affordable appliances for the household that also have the most modern features.
That's especially evident with this dryer model, which is Wi-Fi enabled with Smart ThinQ technology that works with Google Assistant and Amazon Alexa, making it easy to control the unit with your voice. It also has an incredible artificial intelligence feature that selects optimal dryer settings, taking the guesswork out of doing your laundry. That's some seriously advanced tech for the price of $995.00. With 12 dry cycles and five temperature levels, you can customize your cycle for whatever a particular load requires. To quickly refresh your clothes, you can use LG's TurboSteam feature. And the interior drum lighting makes it easy to find individual items when needed.
4 Piece Kitchen Appliances Package
If you're looking to revive your kitchen with new appliances, the smart thing is to buy a package. Appliances Connection offers a myriad of different kitchen packages in a wide range of prices. Here, they've put together a package which combines the very best brands on the market. And at the incredibly low price of $3,059.00, this is a can't-miss opportunity.
The package includes a Bertazzoni Professional Series 24″ counter depth refrigerator that has a no-frost, automatic defrost cooling system, a user-friendly electronic touch interface on side wall on the side wall, and a full-width humidity-controlled crisper that will keep your produce fresher, longer. The 30" freestanding electric range comes from Frigidaire's Gallery Series offers five elements including a SpaceWise triple expandable element and a warming zone along with an oven features 5.7 cu. ft. capacity convection oven with an Air Fry option for healthier food preparation.
For quicker cooking they've included a 30" over the range microwave oven from LG with 1.7 cu. ft. of capacity, 1000 watts of cooking power, an EasyClean interior, and a 300 CFM exhaust fan. And when you're done cooking, you can start cleaning with GE's 24" built in dishwasher that offers enough room for 16 place settings and such powerful features as four bottle wash jets to hit those hard-to reach places and an Auto Sense cycle that senses soil levels and water temperature and adjusts the cycle time
Those are just a few of the fantastic deals waiting for you at Appliances Connection this Black Friday. So, if you've been yearning for new major appliance but have also been waiting for the right price tag to present itself, visit their site at AppliancesConnection.com and take advantage of the incredible savings during their Black Friday Sale.