GRADE A PRODUCTS TO CATCH YOUR ZZZ'S
Because getting a good night's sleep shouldn't be a nightmare. To ensure you don't lose a wink of sleep, we've burned the midnight oil to find the most effective sleep products on the planet. From pillows and mattresses to sleep aids and stylish pajamas, these overnight products are the stuff of dreams.
Quince European Linen Sheet Set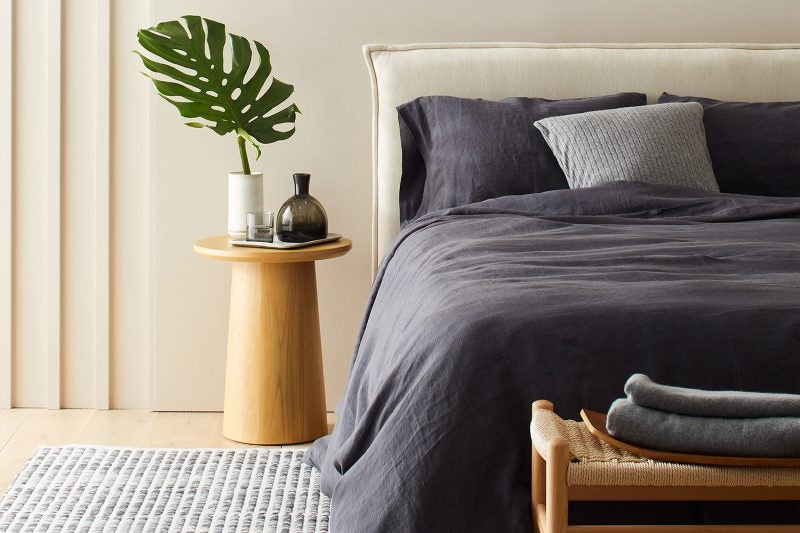 It's a fan-favorite for a reason. The Quince 100% European Linen Sheet Set will give you that effortless luxe, deliberately rumpled aesthetic. Our linen is pre-washed for ready-to-sleep softness, and we designed our fitted sheet with a struggle-free, 16″ deep pocket—so we may not be able to help you fold it, but it's easy to put on. Ethically woven from premium 100% European flax, linen is naturally heat-regulating and breathable to keep you cool in summer and cozy in winter. The natural fibers are super durable without compromising on comfort. You'll feel it get softer with every wash. Our set includes: a fitted sheet & flat sheet, one pillowcase for twin, two pillowcases for full, queen, king, and cal king.
Always transparently priced at 50-80% less than traditional retail

Certified free of harmful chemicals

Resource-light, eco-friendly fabric

Available in nine colors

Special offer: receive $30 credit when you buy two
Bear's Elite Hybrid
Bear's Elite Hybrid is a 14 inch, world-class luxurious, innerspring + foam hybrid mattress that provides superior cooling, comfort and support utilizing innovative technologies.
At first touch, you feel a luxurious quilted, tufted cover with the endothermic Phase Change Material (PCM) plus Celliant(™) smart-yarn technology to promote all-night cooling and muscle recovery.
Its comfort layer is king with a high-density copper-infused foam that is both supportive and helps push unwanted body heat away while sleeping. This vital layer provides the contouring for spinal-alignment and support while also reducing motion transfer.
A zone defense is key with a contour cut transition layer. This innovative foam layer is cut creating 5 different zones to offer differentiated support for different parts of the body, think shoulders and hips. In addition, this layer helps increase airflow throughout the mattress helping create a cooler night's sleep.
Furthermore, it includes an individually-encased innerspring system comprising over 780 coils (in queen) that provide support and comfort. The perimeter of the mattress is reinforced with higher gauge coils to provide extra edge support to prevent roll-off.
Choose from three comfort levels: Luxury Firm, Luxury Plush and Extra Firm accommodating all body types, sleep positions and feels. The Elite Hybrid mattress  is Greenguard Gold certified, uses CertiPUR-US certified foams and fiberglass free! It comes with a lifetime warranty and a 120-night sleep trial.
Buy now
The Noble Pillow Sleep System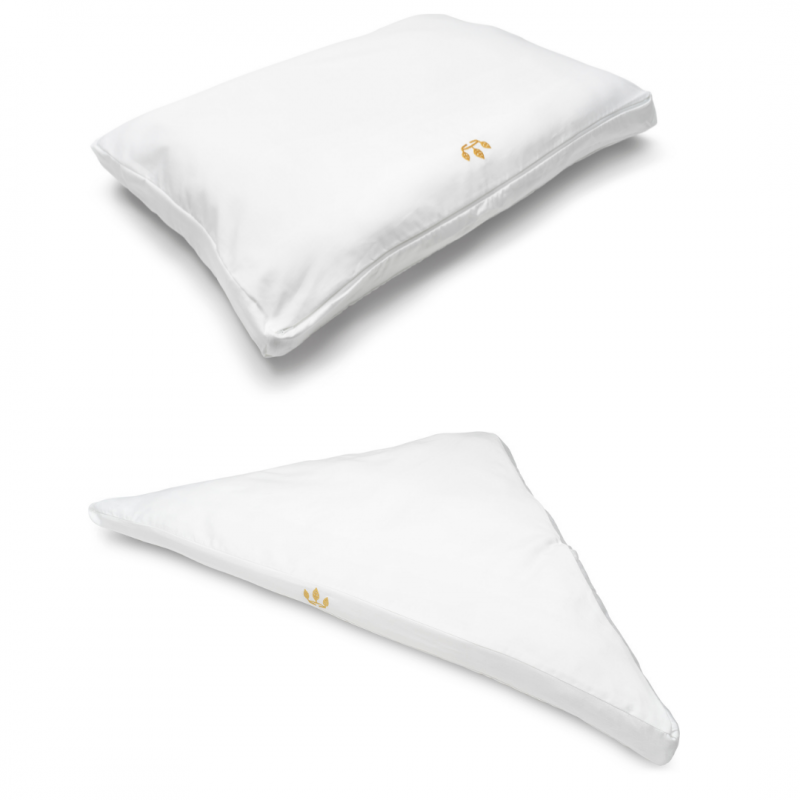 Experience the full benefits of upper and lower body support by purchasing the Noble Pillow Lower Body Pillow and the Noble Pillow Head Pillow to create the ultimate Noble Pillow Sleep System. These pillows can be purchased individually, or, you can purchase both for support from head to toe. Each pillow is orthopedically crafted and features nine anatomically designed sections. They work together to address areas of the body that benefit the most from comfort and support. Contouring and adjustability cater to current sleep habits and adapt to future changes. For example, they will accommodate shifts in posture, weight, and sleep conditions. The pillows are also made with high-end organic materials for comfortable, quality construction.
The support offered through the two pillows can help with a range of complaints, including back pain, hip pain, neck pain, and knee pain. The pillows can also offer relief to those with sciatica, arthritis, scoliosis, and other conditions that can interrupt and prevent good sleep. Individually, the pillows address key areas of the body, but together, they provide a full spectrum of support. Combining the benefits of both pillows helps with less pain, deeper sleep, and a better night's rest, allowing you to get the relaxation you deserve. Get your best sleep with Noble Pillow today!
Clevr Blends Sleeptime SuperLatte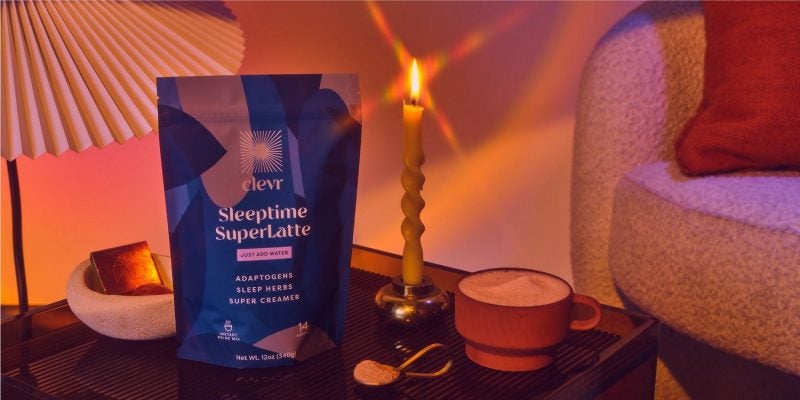 Have you ever been tempted to indulge in a caffeine-laced latte at the end of a long day, knowing that the creamy blend of espresso and oat milk would satisfy your craving, but ultimately keep you up all night? Now you can satisfy your hankering for a latte at any time of night and still get the best sleep of your life.
Clevr Blends Sleeptime SuperLatte is a velvety nighttime beverage that soothes your mind and body as it carries you off to sleep. Made from a blend of oat milk, coconut, carob, chicory, vanilla, adaptogens, sleep herbs, and amino acids, Clevr Blends Sleeptime SuperLatte is a cup of comfort that is sure to become a staple in your evening routine.
Forget about the sleep aids that leave you in a daze the next morning. Sleeptime SuperLatte's sleep-inducing botanicals help you fall asleep faster, stay asleep longer, and wake up feeling refreshed. So sit back, relax and upgrade your nighttime routine with Clevr Blends; you'll thank us later.
Buy now
Cozy Earth Bamboo Pillowcases
It's time to get that much needed beauty sleep with Cozy Earth's Bamboo Pillowcases, a luxury sleeping experience you can feel. Made from 100% Viscose from Bamboo, Cozy Earth guarantees these are the world's softest pillowcase. You'll be able to rest your head without worrying about hot flashes thanks to a breathable and moisture-wicking fabric that feels degrees cooler than cotton. Cozy Earth Bamboo Pillowcases are available in five distinct colors and come with two pillowcases in Standard or King sizes.
Buy now
Cultiver Linen Sheets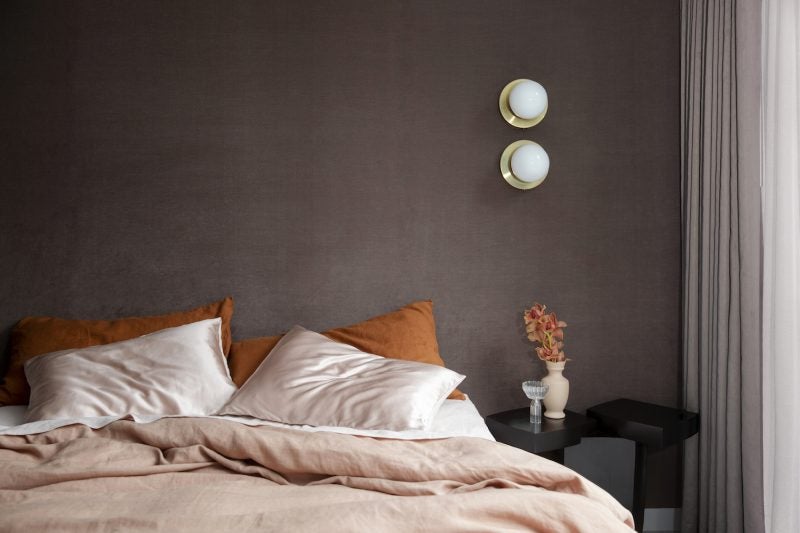 If you're looking for sleep that lasts, linen is the right fit for you. Cultiver offers 100% pre-washed linen sheets made from European flax so you stay cool and comfortable throughout the night. Cultiver sheets are available in fitted or flat, 18 colors and up to four sizes: Twin, Queen, King, or California King. Their sheet sets come with 2 standard pillowcases so you receive the complete linen experience from head to toe. If you'd like extra detail to an already vintage look, Cultiver offers piped linen in three soft colors and as a sheet set. When it's time for sleep, put your worries to rest under Cultiver linen.
Buy now
A Better Night's Sleep is Here: Everlasting Comfort Body Pillow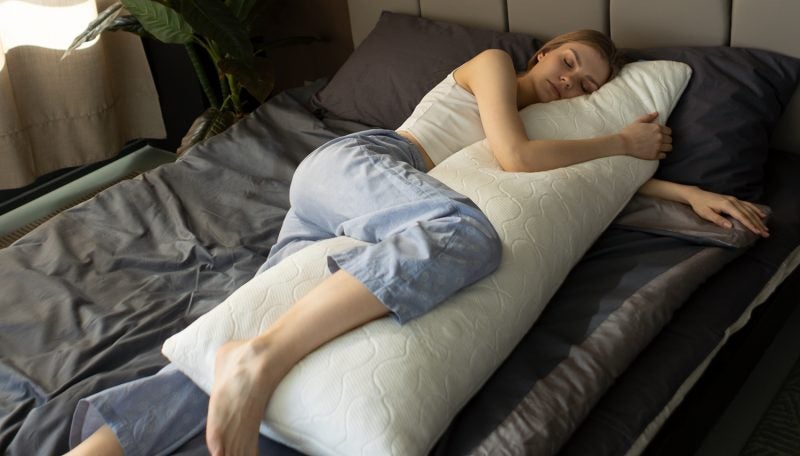 Everlasting Comfort products are carefully designed to provide body support, enhance comfort, all while changing people's lives for the better. With the Everlasting Comfort Body Pillow, the goal was to create a product that struck the perfect balance between full body support and luxurious ergonomic comfort to help everyone get the quality sleep needed to wake up feeling refreshed.
This extra long body pillow measures 20" x 54", and helps back, stomach, and side sleepers minimize tossing and turning throughout the night. Place behind your back, underneath your head, or use it as a hug pillow to alleviate joint pain, muscle tension, all while keeping your spine perfectly aligned. Also ideal for the expectant mother, it can be placed in front of her belly to cradle the extra weight or behind her back for additional support while sleeping or nursing.
Using heat responsive technology, the green tea foam filling absorbs your body heat to soften and contour around your curves for personalized support. The quick spring back nature of memory foam guarantees this Body Pillow will never go flat, retaining its shape night after night.
The result? The best night's sleep you've had in months!
Buy now
Good Morning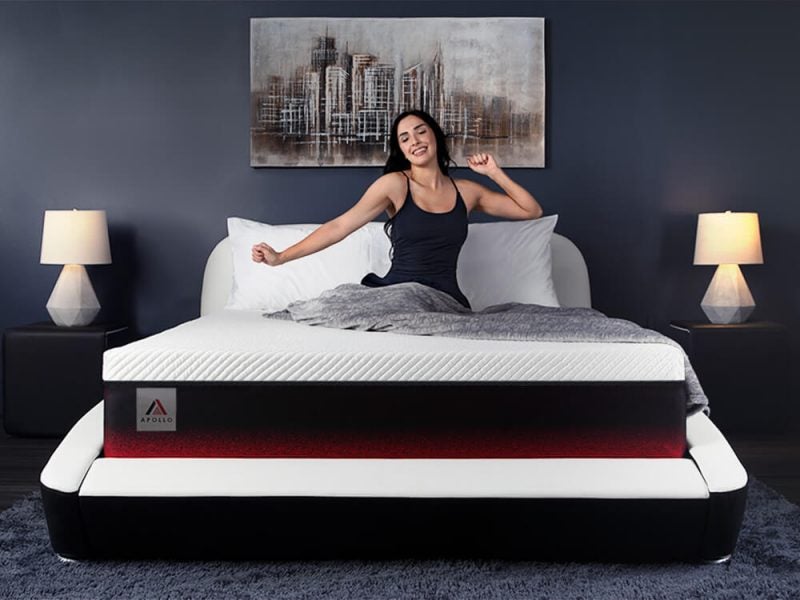 Finally, grab that sleep you've always craved, with a technologically advanced mattress. GoodMorning.com's Apollo Premium Copper Hybrid Mattress has been touted as its most innovative and feature-rich mattress to date. Everything's built for maximum cozy, and regulated temperatures.
Want cool? You get it in both senses of the word – not just "amazing," but Apollo's cooling yarn cover is the latest in super yarns that makes the surface feel like the cool side of the pillow.
The mattress's memory foam is infused with two powerful cooling agents – micro-gel beads and antimicrobial copper. Apollo's top layer is copper-infused, to keep you feeling cool all night.
Meanwhile, adaptive steel micro-coils contour to your body, and give you pressure point relief. Apollo lets you sink in, slowly, ergonomically supporting the back, side or stomach – whichever way you prefer to sleep. And all the while, it maintains the firmness needed for a good – or even great – night's sleep.
Buy now
Puffy Lux Mattress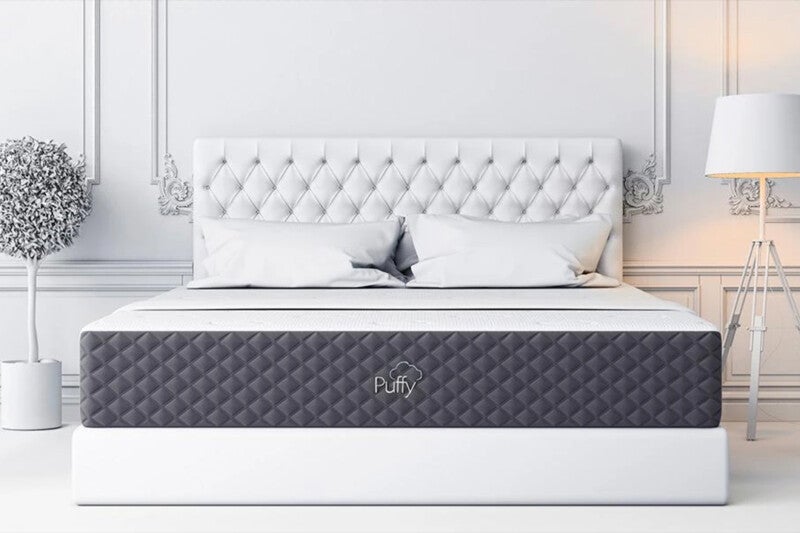 A perfect synergy of luxurious comfort, targeted support, and contemporary style – the Puffy Lux is rated America's most comfortable mattress of 2020 for more reasons than one. As Puffy's flagship mattress, a precise combination of contouring cloud comfort, and industry-leading spinal alignment, sets the Puffy Lux apart as an award winner for all-around perfect sleep. 
With a 4-layer design measuring 14 inches high, the Lux delivers on quality as well as the finer details that make all the difference. Motion isolation, advanced edge support, plus Climate Comfort™ and Cooling Cloud™ foam layers combine for superior sleep.
Puffy takes modern comfort to the next level with immaculate attention to detail. Designed with maximum efficiency in mind, the luxury mattress has a premium zip-n-wash cover that's hypoallergenic with an Oeko-Tex® Standard 100 certification.
If you're ready to take your sleep to the next level, Puffy offers free shipping, lifetime warranty, and a 101-night sleep trial. If you don't love Puffy's famous 'sleeping on a cloud' feel, you can get a full refund. Did we mention all Puffy Mattresses are 100% made in the USA? Feeling sleepy? Our readers get $300 off plus a FREE Pillow with every purchase by checking out at Puffy.com. 
Buy now
Honeydew Sleep: The Scrumptious Pillow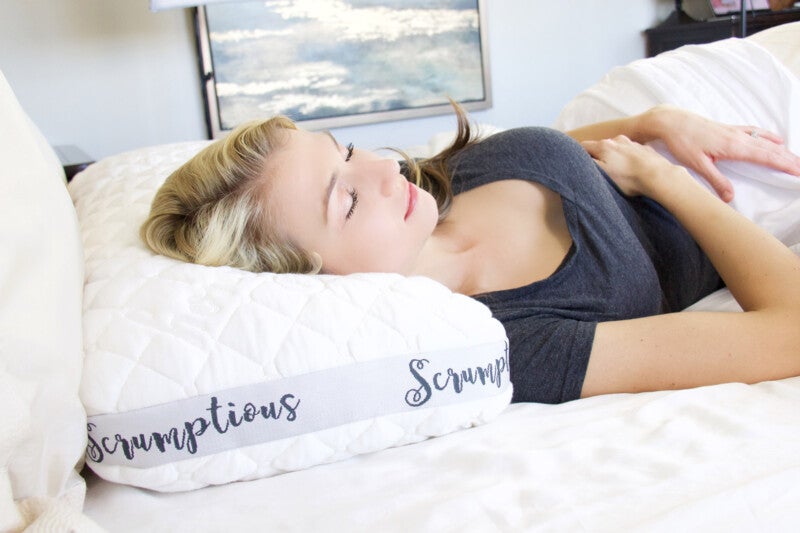 If your pillow isn't every bit as badass as you, there is no way that you are sleeping like a boss. And let's face it, when it comes to getting a good night's rest, anything less than the best is a waste of time (and money). We're here to help. The Honeydew Scrumptious Side Sleeper Pillow is here to change the way you sleep by transcending the ordinary and turning your bed into exactly what it should be – your sanctuary.
Level of engineering, meticulously designed to restore and rejuvenate. With sexy curves reminiscent of a luxury sports car, it is at once both cozy and sleek. Its unique scrumptious curves wrap around your neck and shoulders to provide unrivaled support, and keep you aligned all night long.
What truly sets the Scrumptious Pillow apart and gives it its' namesake feel is the proprietary fill inside. This took years to develop, and (like the pillow itself), is all made in house by Honeydew Sleep in Southern California. Their Scrumptious fill provides the perfect balance of feeling soft and luxurious, while still being substantial and supportive. This fill uses state of the art copper-infused gel to draw heat away from your body, so that you sleep cool, all night long. Combine that with a cover made from natural fibers that wick away moisture so you don't wake up sweaty, and you have a pillow that lets you look hot and feel cool at the same time.
A true boss doesn't settle for the ordinary, and neither should you. All of Honeydew's pillows let you custom tailor the amount of fill inside for a truly bespoke pillow that was made exclusively for your body. Because 'one size fits all' doesn't apply to you.
Buy now