If you are flying to Canada
for your next vacation, Ontario is one of the places you should definitely go to! Sitting along the United States and Canada border, Ontario is a bustling east-central Canadian province nestled near the Great Lakes. 
Almost half of Canada's population has chosen Ontario as their preferred home destination. It's pretty easy to guess why. Ontario has its fair share of incredible cities and stunning landscapes. The vast yet quaint wilderness and the crowds of the cosmopolitan city make it the perfect destination for tourists.
Canadians have a popular saying that you can never get bored in Ontario! There are endless fun things to do in Ontario from attractions like the Niagra Falls, Toronto CN Tower, Hockey Hall Of Fame, and Rikochez Pub & Eatery.
Are you confused about how to kickstart your Ontario vacation? Your travel itinerary has got you covered!
Compiling a list of the iconic places to visit in Ontario is no joke! Here are 5 cool and unusual things to do in Ontario on your first visit.
Climb the Toronto CN Tower
Everyone lucky enough to go to Canada is a fan of the Toronto skyline. When enjoying the stunning views of the Toronto skyline, you will be able to spot a giant hypodermic needle trying to pierce the spectacular sky. That is none other than the iconic CN Tower.
The Toronto CN Tower is the tallest structure in the American region and the third-tallest free-standing skyscraper in the world. With a height of 1,815 feet, it has also been shortlisted as one of the Seven Wonders of the Modern World by the acclaimed American Society of Civil Engineers.
It is a telecommunication hub but with plenty of things to do for tourists. There are three unique restaurant spaces, including a 360 degrees revolving restaurant with a European-style cellar that can hold up to 9000 bottles.
You can also go to the LookOut Level or the SkyPod to indulge in the views. EdgeWalk has also become one of Toronto's most chic attractions over the years, and it is a sight to behold.
Visit the Provincial Parks and National Parks near the Great Lakes. 
If you have come to Canada to immerse yourself in natural beauty, you have made the correct choice! Ontario's provincial borders run through four of the five Great Lakes, Ontario, Huron, Erie, and Superior. These also happen to be the locations of some of the best-known provincial and national parks.
Georgian Bay is home to some of the most incredible national parks, and each has its own unique attraction. The French River Provincial Park is known for its adventure trails, kayaking, and fishing. Killbear is a popular spot for families who visit the shallow waters and gorgeous beaches.
The Marine Park of Fathom Five, located outside Tobermory, is famous for its swimming and hiking activities. And, if you are in the mood to enjoy some quiet, you can visit the Killarney Provincial Park. It is a true gem with its fantastic views of the forests and lakes.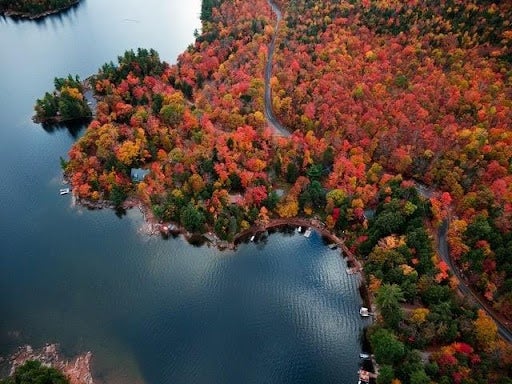 Spend a night of fun at the Casino Niagra
Casino Niagra is one of the most well-known casinos in Ontario, Canada. If you want to spend a night in Ontario, this is the place you should be headed to! Founded as a unique land casino in December 1996, Casino Niagra hosts almost 13 slot machines and 30 gambling tables. There is also a poker room available and a multi-purpose sports section.
Casino Niagara is one of those rare casinos that can be enjoyed by beginners and professionals alike. Four restaurants are serving delicious food, including must-have Canadian delicacies. And, if you happen to visit during the weekend, you will be smitten with Friday and Saturday night live entertainment.
This is hands-down one of the best places to visit for a bachelorette weekend. Just make sure you book your rooms in advance because this place experiences quite the rush.
In case you can't make it to Ontario this time, you can enjoy the live casino experience from the comfort of your house. You can play at online casinos in Ontario where you will find the best package deals and welcome bonuses for first-time users. 
Explore the Royal Ontario Museum 
It's impossible to visit Ontario and not experience a taste of its rich culture and heritage. Located in the heart of Toronto, in Queens Park, the Royal Ontario Museum is everything you would expect and a lot more.
It was established in 1914, and since its opening, the Royal Ontario Museum has preserved works by the world's best designers. Canada's largest museum prides itself on housing more than six million artifacts and 40 galleries dedicated to the world's cultural hotspots.
If you are short on time, make sure you at least see Daniel Libeskind's extension wing made of glass and aluminum, the Allosaurus Dinosaur skeletons, the Egyptian sarcophagus of the Djedmaatesankh mummy that dates back to around 850 BC, the Patricia Harris Gallery of Textiles & Costumes, and the tomb of the Chinese Ming dynasty.
You can also book yourself a room at the Toronto City & Lakeside Retreat Twin Center if you will be frequenting the museum.
Go skating at the UNESCO Rideau Canal
Last but not least, to end your Ontario holiday on the right note, make sure you spend an evening skating at the UNESCO Rideau Canal. Winding its way from the Ottawa South to the Kingston Harbour, the Rideau Canal is pleasant during the winters. 
It is open 24 hours a day between January to late February (sometimes depending on the season). Skating is free, and you will also easily find rentals. Here you will meet a fair share of locals and tourists who come skating to beat the winter blues.
After a few hours of skating, head to the food kiosks that sell apple cider, waffles, hot chocolate, hot dogs, and beaver tails, you will also find picnic tables where you can quietly sit and enjoy your meal!