If there is such a thing as The Great Canadian Bucket List, then Nimmo Bay Wilderness Resort would most certainly be at the top. 
By Jeff Silverstein
Tucked into the Great Bear Rainforest in the Broughton Archipelago along the rugged west coast of British Columbia, the family owned resort has become synonymous with luxury and wilderness adventure and a premier destination for those looking to leave the rush behind and get off the grid.
It was at the top of my bucket list for a while, so when the opportunity presented itself for my wife and I to visit, to say I was pretty stoked about it would be a massive understatement. 

Decades ago, the resort first made a name for itself in elite travel adventure circles as a premium off-grid fishing destination, but in the last number of years, it has become much more than that. In the hustle and bustle of our modern world, it has become a sanctuary – a place of refuge where those lucky enough to experience it are able to find their happy place. A place where  living more mindfully, and treading more lightly just seems like the right thing to do.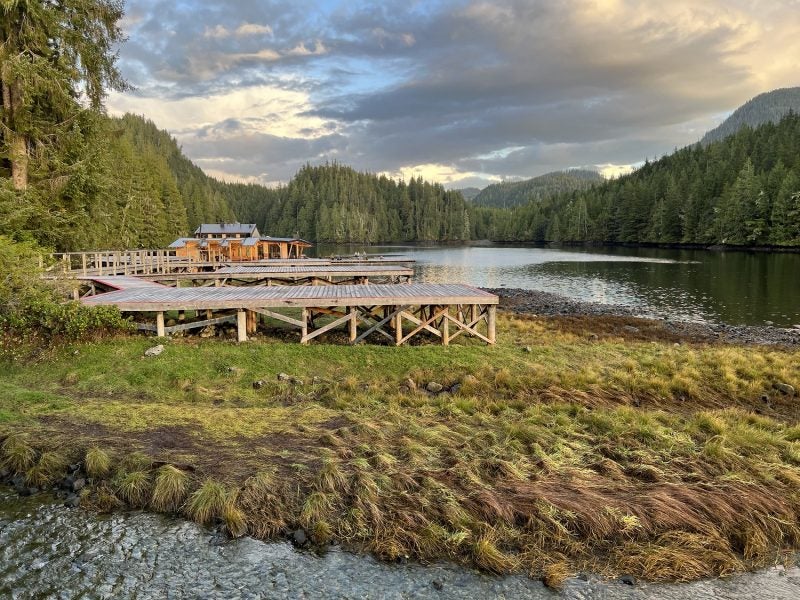 Few places in the world emanate such a powerful energy – a place that is so soothing that it allows you to reconnect with what's really important in life. Tucked along the edges of the Great Bear Rainforest, Nimmo Bay is one of those places.
Not surprisingly, getting there is a bit of an adventure. The resort is only accessible by air or sea. And while most choose to fly from Vancouver to Port Hardy on the north end of Vancouver before catching a seaplane to Nimmo Bay, we elected to drive up Vancouver Island.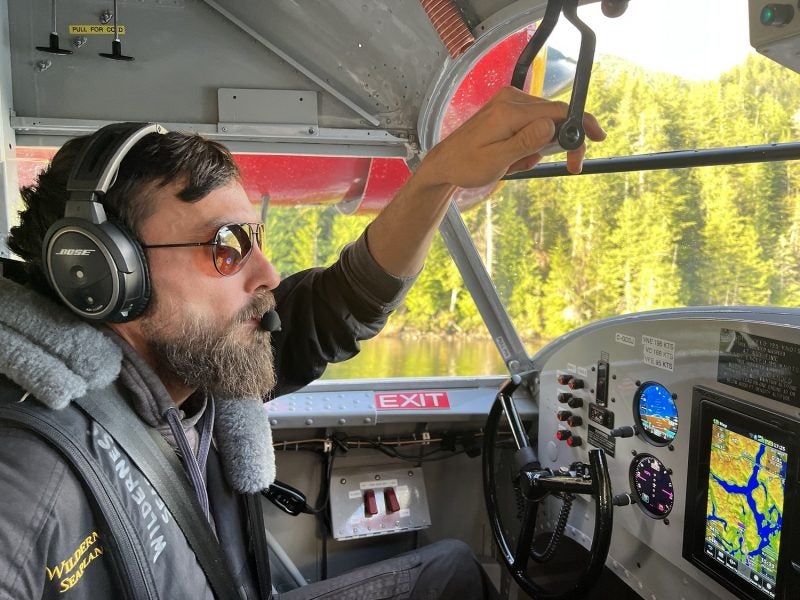 When we finally arrived at the Port Hardy Airport, we got our first glimpse of the aircraft that was going to take us to our happy place – a Grumman G-21 Goose, an amphibious flying boat that was actually designed just before WWII to serve as an eight-seat "commuter" aircraft for businessmen from Long Island, New York.
There's only a handful left, and the 20 minute flight did not disappoint. Our pilot had obviously made the trip countless times, but even he couldn't contain his excitement. That's because it takes you over some of the most magnificent scenery imaginable – rolling mountains and shimmering seas and a 360 degree view that simply takes your breath away and makes you feel you are about to descend into a slice of heaven.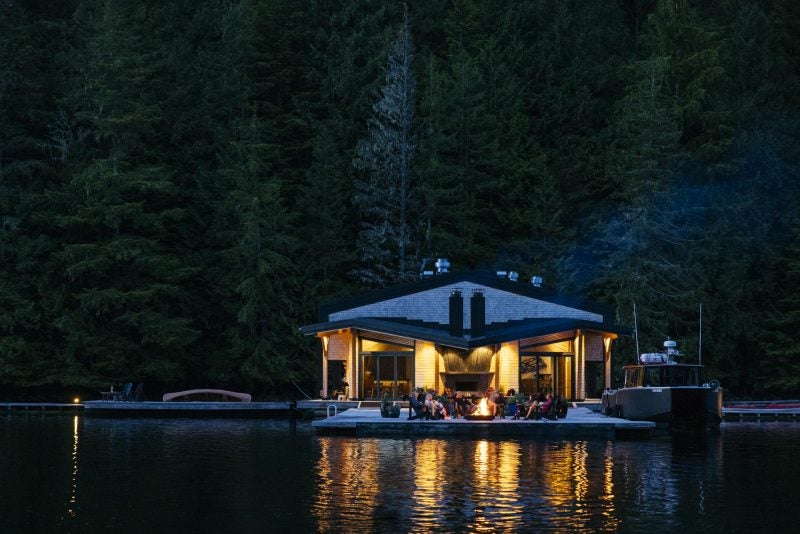 As we started our descent, our floating Canadian wilderness camp came into view, and our glide up to the dock was picture perfect. There waiting to greet us on the dock where guests and family gather for cocktails and trade stories under the night sky were a handful of staff including Craig Murray, the founder of Nimmo Bay Resort. 
Craig and his wife Deborah opened Nimmo Bay back in the summer of 1981, and at the time it was really not much more than a floating cabin. Deborah did all the cooking, and they would entertain up to eight guests at a time. In an effort to sustain and protect the salmon and other species of fish that depend on these remote freshwater rivers, a catch and release program was implemented – something that still holds true today.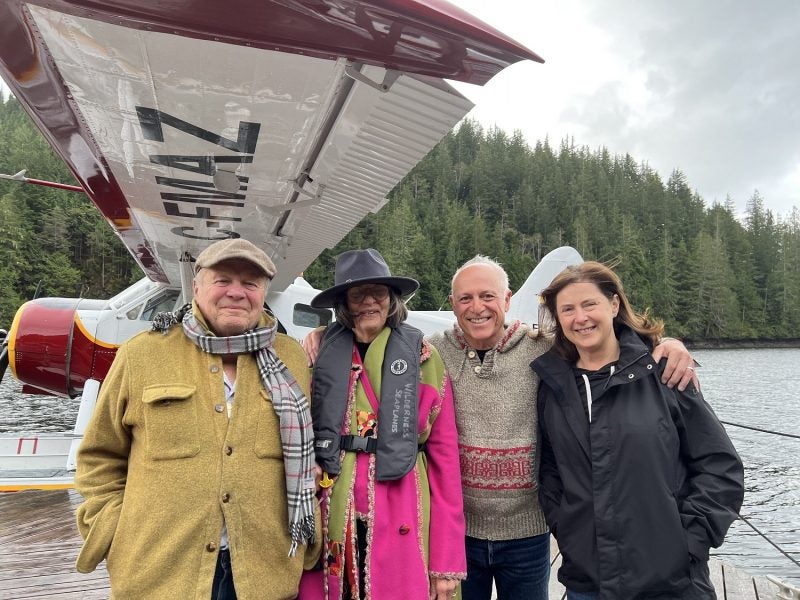 Back then it was almost exclusively all about the fishing, but like the Murrays, those very first guests knew they had discovered something that was truly magical. 
It didn't take long for people to realize that what the Murrays were doing in this remote corner of Canada was something special. Hidden from the rest of the world, and tucked away at the base of a waterfall cascading 5,000-feet from Mount Stephens in the Pacific Ranges of the Coast Mountains in B.C., the place has an almost mystical and spiritual quality about it.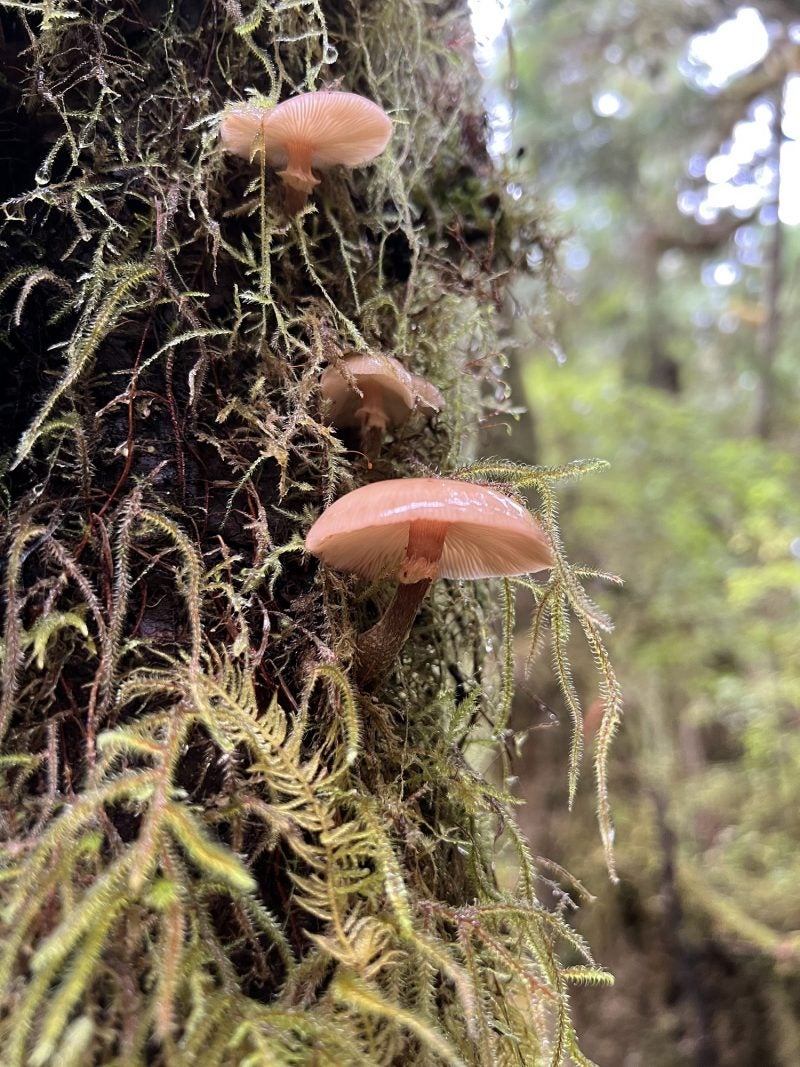 Virtually unchanged for thousands of years, it's the last intact temperate rainforest in the world – a place protected by the region's Indigenous people for millennia. However like so many places on earth, all of this majesty was under threat, and Craig and Deborah quickly found themselves at the centre of a fight to protect the Great Bear Rainforest. 
British Columbia has always been fortunate when it comes to its natural resources, and while these resources have provided much needed jobs and income, managing them sustainably is a massive challenge.
Fish farms and logging posed the biggest threat to this land of grizzlies, bald eagles, coastal wolves, sea otters and bears. At one point, the impact from salmon farming on whales and wild salmon was impossible to ignore.  After a massive public awareness campaign and thanks to the efforts of a number of dedicated environmental groups and scientists including Alexandra Morton from Raincoast Research, those wild salmon stocks have started to come back, and so have the wild orcas and wild salmon.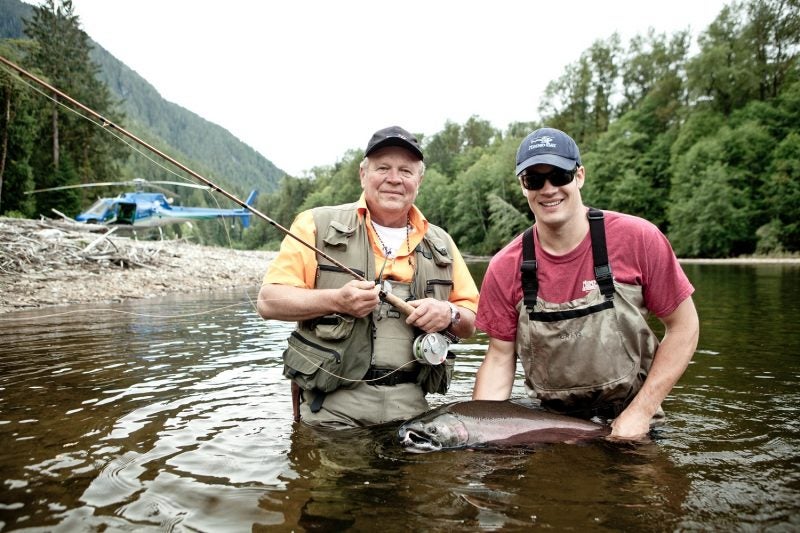 But it isn't just the salmon that are thriving once again. It's the black bears, the grizzly bears, and all of the other species that depend on the health of the wild salmon stocks.  Before Morton's ground-breaking research, much of this was in peril. 
Today, under the stewardship of Craig's son Fraser, Nimmo Bay has become much more than just a rustic fishing lodge. Together with his wife Becky, and rooted in the family's respect for the environment and connecting with what matters most, they have created a world renowned wilderness resort that has attracted the likes of former President George W. Bush, Richard Branson and other titans of industry and in doing so, have played an important role as guardians of the forest.
Wellness is a core offering, and when the lodge expanded in 2017 the Murrays made sure to include a yoga studio, fitness room, and massage cabin dubbed the Cascade Room built along the waterfall.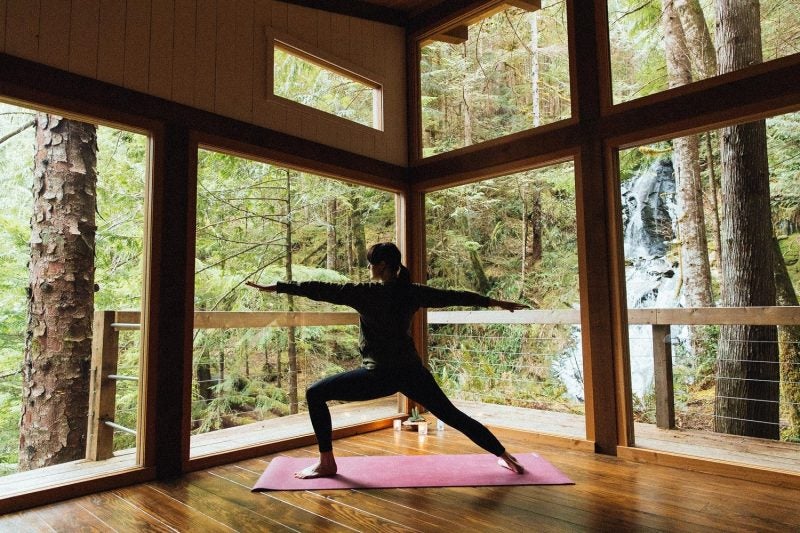 But the resort can accommodate as many as 20 people, and not surprisingly the nine private chalets book up quickly. With access to 50,000 sq miles of coastal wilderness and four heli-pads, there's no shortage of wilderness and wildlife adventure and wellness experiences to choose from. 
And the resort's concierge team take the concept of curated adventure travel to a whole new level. Whether it's whale watching, heli-hiking or fishing,  beachcombing, kayaking, paddleboarding, mindful hiking, wellness treatments, or glacier trekking, every experience is personalized, every wild journey is tailor made to the meet the wishes of their guests.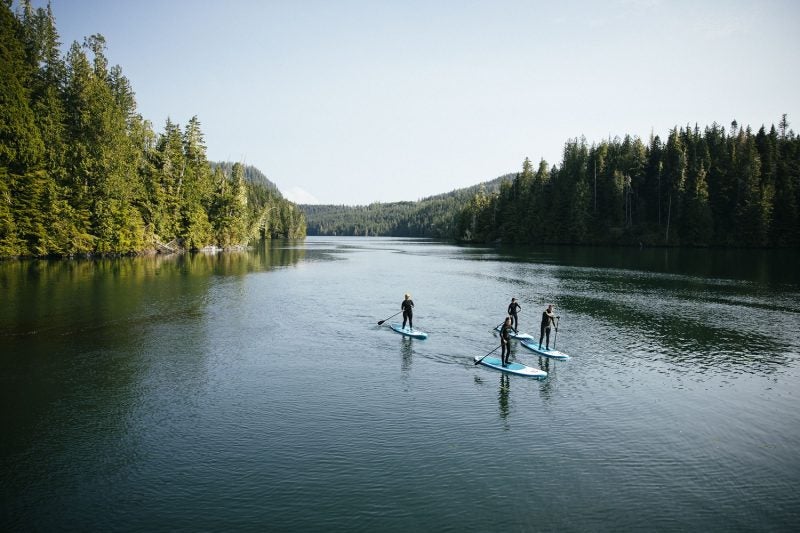 Our four day adventure leaned heavily on wellness and was a chance to unwind and still the mind after a pretty hectic summer. We made liberal use of the two hot tubs located at the foot of the waterfall, took a magical hike among ancient cedars in the Great Bear Rainforest with an Indigenous guide that included an amazing forest sound bath, had a couples massage in the Cascade Room with the sound of the waterfall crashing all around us, and made sure to experience the two wood burning floating saunas. 
Our favourite was the Stargazer, a floating sauna and lounge anchored in a completely private bay surrounded by interlocking blue mountains and sheer cliffs of forest. Beautifully designed with wall to wall windows and skylight, the sauna was a total respite of peace and tranquility. We spent a chilly,  rainy day lounging in our robes dashing in the buff from the gloriously hot sauna into the chilly sea and back – stopping only to read our books and devouring a delicious alfresco picnic wrapped in big fluffy blankets.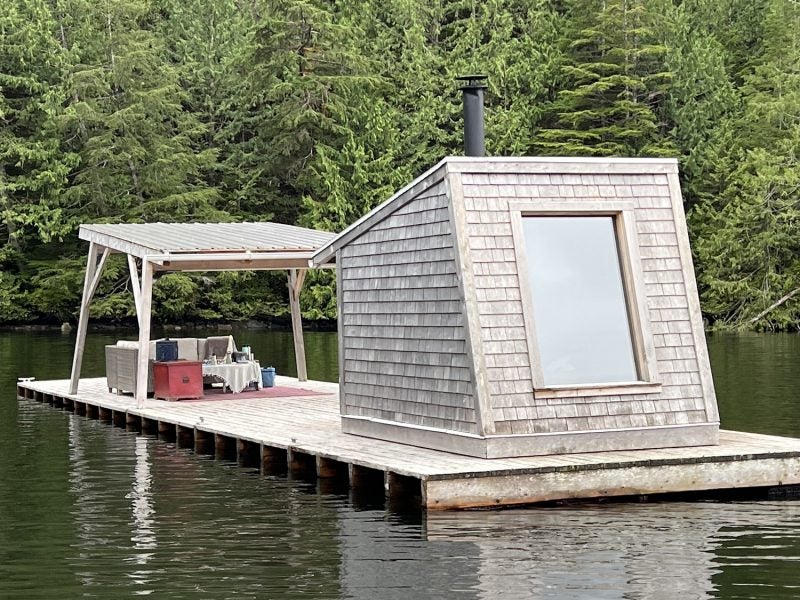 And while there's plenty of adventure to choose from, things turn decidedly upscale when it comes to the meals that bookend the day. Under the leadership of head chef Rob Boland, the culinary team turn out some of the most amazingly inventive dishes I have ever had using sustainably sourced local ingredients. Housed in the reimagined floating restaurant, Little River, the meals were off the chart.
Welcoming guests now for just over 40 years, the Murrays have fully leaned into embracing world-class hospitality, and creating wild experiences that go above and beyond anything else on offer. But it's the focus on place, and preserving and sustaining what nature has bestowed, that really sets Nimmo Bay apart.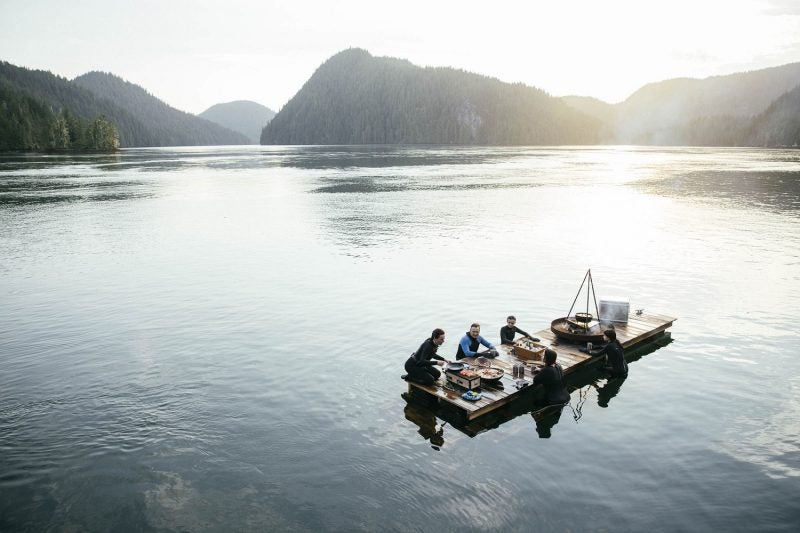 Whether it's supporting Sea to Cedar, a community-driven environmental research and stewardship program, or supporting the Himanis Guardians program under the leadership of Irvin Speck to help the Gwawa'enuxw First Nation care for their traditional lands and waters around Nimmo Bay, to landmark innovations like the hydropower system fueled by streams and waterfalls that provides clean drinking water and up to 80 per cent of the resort's power needs, the Murrays have taken a balanced approach to creating a sustainable future – a future where treading lightly and giving back to the land and the community informs everything that they do.