Cornwall is famous for its beautiful beaches whether you visit the wide surfing bays of the northern Atlantic coast or the hidden rugged coves of the Cornish Riviera in the south.  But, beaches can have hidden dangers to the unwary.  Even those who live near the sea in other parts of the country may be unfamiliar with the unique nature of the Cornish coastline.
Going to Cornwall and not spending a happy time on one of the hundreds of beautiful beaches is like a Cornish cream tea with no clotted cream!  Here's how to safely enjoy the Cornish coastline whichever beach you choose to visit – brought to you by Cornish Secrets, the UK leader in Holiday Cottages & Homes
Equip yourself with a copy of the Tide Tables.  What used to be available as a paper copy (and probably still is) is now

available online

so there is no excuse not to know when high and low tide is.  This won't matter so much on larger beaches but in some locations, like the beautiful Kynance Cove on the Lizard, almost all of the beach disappears at high tide
Choose a

lifeguarded beach aa

particularly if you have children in your party.  On a lifeguarded beach, there will be trained professionals on hand to help keep you safe and assist if you do get into difficulty.  Some beaches only have part-time lifeguard patrols but it is easy to access this information and work out when the safest time is to head down to the beach
Understand the different flags and signs.  The red and white prohibition sign is similar to the one presented to drivers and it means no entry into the water for any bathing or related activities.  The red and yellow flag means the beach is being patrolled by lifeguards and it is safe to swim or carry out other water-related activities such as bodyboarding or using inflatables but within the flagged area.  

The red beach flag means do not enter the water under any circumstances or for any activity.  An example of this would be the presence of rip currents.  An orange windsock means the presence of strong wind conditions which could be offshore so not apparent from the beach.  Never use inflatables when the orange windsock is flying
Learn about rip currents.  These are strong currents which can quickly carry you out to sea and which even strong swimmers cannot swim against. The advice is to swim across the current and out of it because they are usually less than 30ft wide
It's easy to get cut off by the tides coming in – your tide tables can advise you when the tide is starting to come in.  There is about an hour or so when the tide is described as on the turn before it starts to come back in.  The tide does not come in evenly, in a line, it can come in around you leaving sandbanks or bars and it is surprisingly easy to get cut off
The beach might look beautifully inviting with an azure sea and golden sand but the water is still likely to be cold.  Anything below 15°C is classified as cold water and can cause 'cold water shock' which can seriously affect your breathing and movement.  The average sea temperature around the UK coastline is just 12°C
Consider investing in a wetsuit which will make the water temperature more tolerable.  There are loads of varieties available for children which will give you sea access even on cool, grey days
With small children, the golden rule is, never more than an arm's reach away on the beach.  It is so easy for a large wave to come in and pull children off their feet and under the water and you won't be in a position to help if you are lying on the sand reading a book
The use of inflatables needs very close supervision as these are designed for swimming pool use, not for use in the sea
Make sure that you are all protected with Factor 50 waterproof total sunblock.  The effect of the glare from the water and also the breeze as well as the sun can cause serious burns.  Equip children and yourself with sunhats and sunglasses.  A broad sunhat can protect your scalp, neck, ears and nose
Always agree on a safe spot with your children in case you all become separated.  It's like a meeting point.  Some of the lifeguards on the larger beaches will fit a wristband to your child with your contact details should they become separated from you
Remember that cliffs can also be dangerous.  The grass on the top of many cliff areas is notoriously slippery when wet which can occur during periods of low cloud and or with spray from a rough sea.  There are a proportion of people and dogs who lose their footing every year and slip over the edge to a ledge or beach below.  Once you have lost your balance, it is hard to recover it and a trip or slip can escalate into something more serious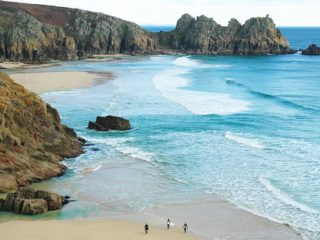 Because Cornwall is a narrow county that tapers in width the further west you travel, you are never more than 20 miles from the sea.  And with over 400 miles of coastline to choose from 158 of which are designated as Heritage Coastline, you will be spoilt for choice.  Being on the beach in Cornwall is why many people come to the principality on holiday.  There are so many different types of beaches from the secluded cove to large open bays which are fully serviced for families, there is bound to be something to suit your tastes.  Everyone has their favourite beach.  
Research the beaches near your holiday accommodation so you know which ones are safe for children and dogs, which have lifeguards and where the quiet secluded spots are.   You can buy much of the equipment you need before you travel such as wetsuits, a roll-up windbreak and assorted beach games.