The Away Aluminum Carry-On is a top-tier luxury suitcase designed to make travelling more convenient and stylish.
With its eye-catching design, this carry-on suitcase is sure to turn heads and provide a seamless experience on your next adventure.
Away is a travel brand that was founded in 2015 to create high-quality luggage that is both practical and stylish. Their attention to detail and commitment to quality is evident in the design of the Away Aluminum Carry-On. Constructed from durable and lightweight aluminum, this carry-on is built to last. It's the perfect size for fitting in the overhead bin of most major airlines, and the wheels are smooth and easy to maneuver. The ergonomically-designed handle is adjustable to various heights, offering comfortable rolling and a comfortable grip.
One of the standout features of the Away Aluminum Carry-On is the ejectable battery that can be added on for an additional $30. This battery is compliant with all airline policies and is TSA-approved, making it convenient when needing to charge devices on the go. The ejectable battery feature also allows users to easily remove it when going through security checkpoints or to use on-the-go.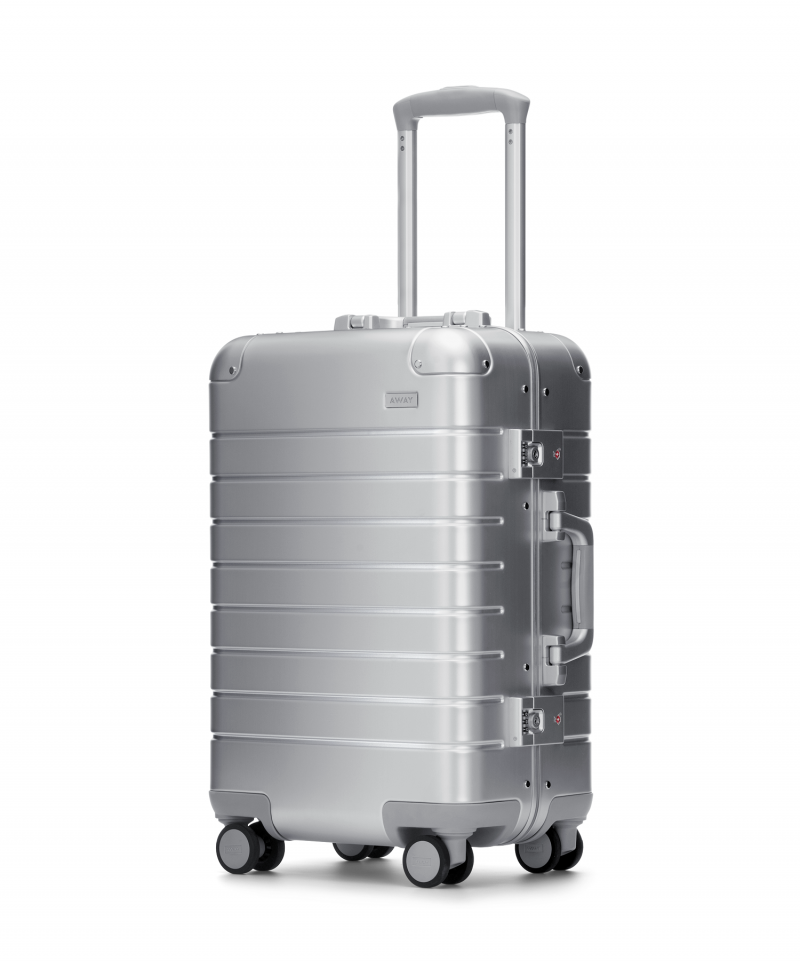 The interior of the carry-on is spacious and well-designed, with compartments that make it easy to keep everything organized. The aluminum construction is sleek and stylish, adding a touch of sophistication to any travel ensemble. Away also pays close attention to detail when it comes to luggage storage between your travels. Each aluminum carry-on comes with an Away branded dust bag, complete with a top handle to simplify the process of storing your luggage while waiting for your next adventure.
One thing to note about this luxurious luggage is that due to the aluminum construction, it is slightly heavier than traditional polycarbonate luggage, weighing in at 4.8kg. Although it does weigh slightly more, the wheels operate so smoothly you won't even notice. While aluminum may scratch and dent more than polycarbonate over time, don't worry – a well-used suitcase tells the story of your many adventures.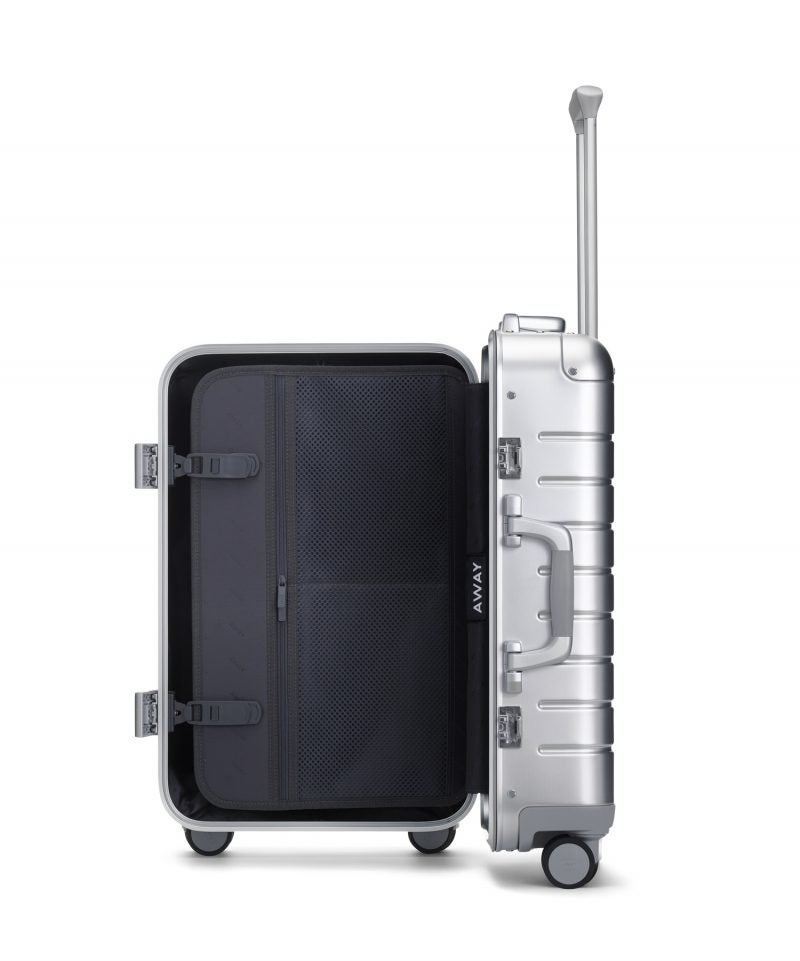 Away is a brand that is committed to sustainability and ethical manufacturing practices. They use recycled materials wherever possible and partner with ethical factories to ensure that their products are made responsibly. Additionally, their luggage comes with a lifetime limited warranty, so customers can be confident in their investment.
Overall, the Away Aluminum Carry-On is an excellent choice for anyone who travels frequently. Its practical features and durable construction make it a top pick for any type of traveller, and its sleek design is sure to turn heads. Test out this piece on your upcoming journey and make sure it suits your needs—if it doesn't, you can send it back to Away anytime within the first 100 days of your purchase.
Check out the Away Aluminum Carry-On and the latest travel necessities on their official website!