In Africa, the provision of very cheap or free food in education centers has become one of the most successful ways through which children are lured into education centers. It is especially effective in areas where most poor people live.
According to research that an organization called Food4thought conducted, there are at least half a billion children in Africa who are primary school-aged children. On the other hand, about 40% of the number of children with stunted growth in the world come from Africa.  
These staggering numbers are some of the reasons why we opted to create a blog on how NGOs, as well as governments, are providing food to children in school as a means of keeping them in school. This paper's importance is to show some of the most successful methods that top food for education organizations are implementing. The article also aims to try and identify why these methods are so successful.
It is essential to realize that education is one of the most fundamental activities that the human race engages in. From a young age, children are subjected to different teaching methods to impart essential life skills in them. While education is vital, it all has to do with the mental and body health of a student. The healthier a student body and mind is, the more likely they will concentrate on their education instead of thinking about food.
For most impoverished families in Africa and the world over, children are often part of the family's labor force. Everyone usually has to pitch in so that the family can get to feed itself. It means that these students do not often get the opportunity to have a proper education. Furthermore, they start working at a young age since school is not prioritized in their part of the world.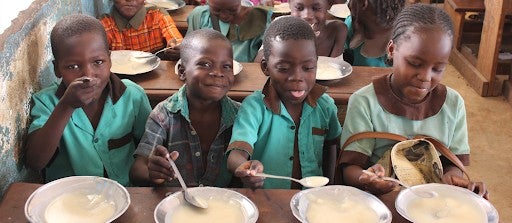 One of the reasons for it is the expensive nature of education systems around the world. Furthermore, due to the poverty ravaging their neighborhoods and families, primary school-aged children are seen as a workforce old enough to help feed other younger members in their families. In these areas, amenities such as the Internet to access products such as books and 'write my paper for me' services are seen as a luxury that only a few can access.
Ways Through Which Food for Education Programs Are Succeeding around the World
Many governments, as well as NGOs, realize the connection between school food programs and education. Therefore, they chose to provide school children with very cheap or free meals to encourage them to come to school. It has become a very successful program around the world due to the following reasons.
Provision of free food and education to children in poverty-stricken areas
We have seen that in the most poverty-stricken areas in the world, children who attain the age of attending primary school often do not do so. Instead, they work alongside their parents, trying to feed their younger siblings. Realize that no parent would wish for their child not to go to school, only if it is not feasible. Where there is not enough to eat, it is easy to understand that there is hardly anything left to pay for school with.
Through providing free primary education as well as free meals, many parents are obligated to take their kids to school. Not only do the kids get to study, but they also get to eat there. It means that parents are left with fewer mouths to feed, and students get a healthy meal and proper education, which is a win-win for everyone.
Working together with local farmers
Many successful 'food for education' programs work very closely with local farmers. They ensure that they get everything they need to provide children with meals from the local communities. It is important as it helps both feed the community as well as put money back in its pocket again. The partnership created between these programs and the local communities ensures that all parents are obligated to take their kids to school.
Implementation of modern technology
As with everything else in life nowadays, utilizing tech in these programs has been a fundamental reason behind the programs' success. Programs like the Tap2eat — digital mobile platform — help children quickly access nutritious food every day.
By now, you realize that school children and adolescents usually require a proper diet if they are to grow and develop properly. A proper diet helps these children be physically and mentally active, which in turn enables them to concentrate in school properly.